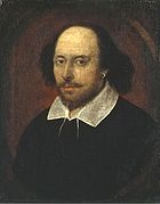 The Tempest
The Tempest
is a play by
William Shakespeare
William Shakespeare
William Shakespeare was an English poet and playwright, widely regarded as the greatest writer in the English language and the world's pre-eminent dramatist. He is often called England's national poet and the "Bard of Avon"...
, believed to have been written in 1610–11, and thought by many critics to be the last play that Shakespeare wrote alone. It is set on a remote island, where
Prospero
Prospero
Prospero is the protagonist in The Tempest, a play by William Shakespeare.- The Tempest :Prospero is the rightful Duke of Milan, who was put to sea on "a rotten carcass of a butt [boat]" to die by his usurping brother, Antonio, twelve years before the play begins. Prospero and Miranda survived,...
, the exiled
Duke of Milan
Duchy of Milan
The Duchy of Milan , was created on the 1st of may 1395, when Gian Galeazzo Visconti, Lord of Milan, purchased a diploma for 100,000 Florins from King Wenceslaus. It was this diploma that installed, Gian Galeazzo as Duke of Milan and Count of Pavia...
, plots to restore his daughter Miranda to her rightful place, using illusion and skillful manipulation. The eponymous tempest brings to the island Prospero's usurping brother Antonio and the complicit Alonso,
King of Naples
Kingdom of Naples
The Kingdom of Naples, comprising the southern part of the Italian peninsula, was the remainder of the old Kingdom of Sicily after secession of the island of Sicily as a result of the Sicilian Vespers rebellion of 1282. Known to contemporaries as the Kingdom of Sicily, it is dubbed Kingdom of...
.
I have great comfort from this fellow. Methinks he hath no drowning mark upon him; his complexion is perfect gallows.

Gonzalo, scene i
A pox o' your throat, you bawling, blasphemous,incharitable dog!

Sebastian, scene i
All lost! to prayers, to prayers! All lost!

Mariners, scene i
Now would I give a thousand furlongs of sea for an acre of barren ground — long heath, brown furze, anything. The wills above be done, but I would fain die a dry death.

Gonzalo, scene i
Miranda: You have oftenBegun to tell me what I am; but stopp'd,And left me to a bootless inquisition,Concluding, Stay; not yet.Prospero: The hour's now come;The very minute bids thee ope thine ear.

Scene ii
What see'st thou elseIn the dark backward and abysm of time?

Prospero, scene ii
The government I cast upon my brother,And to my state grew stranger, being transportedAnd rapt in secret studies.

Prospero, scene ii
I, thus neglecting worldly ends, all dedicatedTo closeness, and the bettering of my mind.

Prospero, scene ii