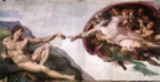 High Renaissance
The expression
High Renaissance
, in
art history
Art history
Art history has historically been understood as the academic study of objects of art in their historical development and stylistic contexts, i.e. genre, design, format, and style...
, is a periodizing convention used to denote the apogee of the visual arts in the
Italian Renaissance
Italian Renaissance
The Italian Renaissance began the opening phase of the Renaissance, a period of great cultural change and achievement in Europe that spanned the period from the end of the 13th century to about 1600, marking the transition between Medieval and Early Modern Europe...
. The High Renaissance period is traditionally taken to begin in the 1490s, with
Leonardo's
Leonardo da Vinci
Leonardo di ser Piero da Vinci was an Italian Renaissance polymath: painter, sculptor, architect, musician, scientist, mathematician, engineer, inventor, anatomist, geologist, cartographer, botanist and writer whose genius, perhaps more than that of any other figure, epitomized the Renaissance...
fresco
Fresco
Fresco is any of several related mural painting types, executed on plaster on walls or ceilings. The word fresco comes from the Greek word affresca which derives from the Latin word for "fresh". Frescoes first developed in the ancient world and continued to be popular through the Renaissance...
of the
Last Supper
Last Supper
The Last Supper is the final meal that, according to Christian belief, Jesus shared with his Twelve Apostles in Jerusalem before his crucifixion. The Last Supper provides the scriptural basis for the Eucharist, also known as "communion" or "the Lord's Supper".The First Epistle to the Corinthians is...
in Milan and the death of
Lorenzo de' Medici
Lorenzo de' Medici
Lorenzo de' Medici was an Italian statesman and de facto ruler of the Florentine Republic during the Italian Renaissance. Known as Lorenzo the Magnificent by contemporary Florentines, he was a diplomat, politician and patron of scholars, artists and poets...
in
Florence
Florence
Florence is the capital city of the Italian region of Tuscany and of the province of Florence. It is the most populous city in Tuscany, with approximately 370,000 inhabitants, expanding to over 1.5 million in the metropolitan area....
, and to have ended in 1527 with the
sacking of Rome by the troops of Charles V
Sack of Rome (1527)
The Sack of Rome on 6 May 1527 was a military event carried out by the mutinous troops of Charles V, Holy Roman Emperor in Rome, then part of the Papal States...
. This term was first used in German (Hochrenaissance) in the early nineteenth century, and has its origins in the "High Style" of painting and sculpture described by
Johann Joachim Winckelmann
Johann Joachim Winckelmann
Johann Joachim Winckelmann was a German art historian and archaeologist. He was a pioneering Hellenist who first articulated the difference between Greek, Greco-Roman and Roman art...
.