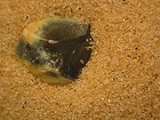 Abrasive
An
abrasive
is a material, often a
mineral
Mineral
A mineral is a naturally occurring solid chemical substance formed through biogeochemical processes, having characteristic chemical composition, highly ordered atomic structure, and specific physical properties. By comparison, a rock is an aggregate of minerals and/or mineraloids and does not...
, that is used to shape or finish a workpiece through rubbing which leads to part of the workpiece being worn away. While finishing a material often means
polishing
Polishing
Polishing is the process of creating a smooth and shiny surface by rubbing it or using a chemical action, leaving a surface with a significant specular reflection In some materials polishing is also able to reduce diffuse reflection to...
it to gain a smooth, reflective surface it can also involve roughening as in satin, matte or beaded finishes.
Abrasives are extremely commonplace and are used very extensively in a wide variety of industrial, domestic, and technological applications. This gives rise to a large variation in the physical and chemical composition of abrasives as well as the shape of the abrasive. Common uses for abrasives include
grinding
Grinding (abrasive cutting)
Grinding is an abrasive machining process that uses a grinding wheel as the cutting tool.A wide variety of machines are used for grinding:* Hand-cranked knife-sharpening stones * Handheld power tools such as angle grinders and die grinders...
, polishing, buffing,
honing
Honing
Honing may refer to:* Honing , machining a surface by scrubbing an abrasive stone against it* Sharpening edged tools with a manual hone* Henkjan Honing , Dutch musician* Honing, Norfolk, English village* Playing Heroes of Newerth...
,
cutting
Cutting
Cutting is the separation of a physical object, or a portion of a physical object, into two portions, through the application of an acutely directed force. An implement commonly used for cutting is the knife or in medical cases the scalpel...
,
drilling
Drilling
Drilling is a cutting process that uses a drill bit to cut or enlarge a hole in solid materials. The drill bit is a multipoint, end cutting tool...
,
sharpening
Sharpening
Sharpening is the process of creating or refining a sharp edge of appropriate shape on a tool or implement designed for cutting. Sharpening is done by grinding away material on the implement with an abrasive substance harder than the material of the implement, followed sometimes by processes to...
,
lapping
Lapping
Lapping is a machining operation, in which two surfaces are rubbed together with an abrasive between them, by hand movement or by way of a machine.This can take two forms...
, and sanding (see
abrasive machining
Abrasive machining
Abrasive machining is a machining process where material is removed from a workpiece using a multitude of small abrasive particles. Common examples include grinding, honing, and polishing...
). (For simplicity, "mineral" in this article will be used loosely to refer to both minerals and mineral-like substances whether man-made or not.)
Files
File (tool)
A file is a metalworking and woodworking tool used to cut fine amounts of material from a workpiece. It most commonly refers to the hand tool style, which takes the form of a steel bar with a case hardened surface and a series of sharp, parallel teeth. Most files have a narrow, pointed tang at one...
act by abrasion but are not classed as abrasives as they are a shaped bar of metal. However, diamond files are a form of coated abrasive (as they are metal rods coated with diamond powder).
Mechanics of abrasion
Abrasives generally rely upon a difference in hardness between the abrasive and the material being worked upon, the abrasive being the harder of the two substances. However, this is not necessary as any two solid materials that repeatedly rub against each other will tend to wear each other away (such as softer shoe soles wearing away wooden or stone steps over decades or centuries or
glacier
Glacier
A glacier is a large persistent body of ice that forms where the accumulation of snow exceeds its ablation over many years, often centuries. At least 0.1 km² in area and 50 m thick, but often much larger, a glacier slowly deforms and flows due to stresses induced by its weight...
s abrading stone valleys).
Typically, materials used as abrasives are either hard minerals (rated at 7 or above on
Mohs scale of mineral hardness
Mohs scale of mineral hardness
The Mohs scale of mineral hardness characterizes the scratch resistance of various minerals through the ability of a harder material to scratch a softer material. It was created in 1812 by the German geologist and mineralogist Friedrich Mohs and is one of several definitions of hardness in...
) or are synthetic stones, some of which may be chemically and physically identical to naturally occurring minerals but which cannot be called minerals as they did not arise naturally. (While useful for comparative purposes, the Mohs scale is of limited value to materials engineers as it is an arbitrary, ordinal, irregular scale.)
Diamond
Diamond
In mineralogy, diamond is an allotrope of carbon, where the carbon atoms are arranged in a variation of the face-centered cubic crystal structure called a diamond lattice. Diamond is less stable than graphite, but the conversion rate from diamond to graphite is negligible at ambient conditions...
, a common abrasive, for instance occurs both naturally and is industrially produced, as is
corundum
Corundum
Corundum is a crystalline form of aluminium oxide with traces of iron, titanium and chromium. It is a rock-forming mineral. It is one of the naturally clear transparent materials, but can have different colors when impurities are present. Transparent specimens are used as gems, called ruby if red...
which occurs naturally but which is nowadays more commonly manufactured from
bauxite
Bauxite
Bauxite is an aluminium ore and is the main source of aluminium. This form of rock consists mostly of the minerals gibbsite Al3, boehmite γ-AlO, and diaspore α-AlO, in a mixture with the two iron oxides goethite and hematite, the clay mineral kaolinite, and small amounts of anatase TiO2...
. However, even softer minerals like
calcium carbonate
Calcium carbonate
Calcium carbonate is a chemical compound with the formula CaCO3. It is a common substance found in rocks in all parts of the world, and is the main component of shells of marine organisms, snails, coal balls, pearls, and eggshells. Calcium carbonate is the active ingredient in agricultural lime,...
are used as abrasives, such as "polishing agents" in toothpaste.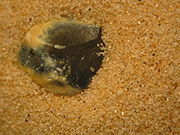 These minerals are either crushed or are already of a sufficiently small size (anywhere from macroscopic grains as large as about 2 mm to microscopic grains about 0.001 mm in diameter) to permit their use as an abrasive. These grains, commonly called grit, have rough edges, often terminating in points which will decrease the surface area in contact and increase the localised contact
pressure
Pressure
Pressure is the force per unit area applied in a direction perpendicular to the surface of an object. Gauge pressure is the pressure relative to the local atmospheric or ambient pressure.- Definition :...
. The abrasive and the material to be worked are brought into contact while in relative motion to each other. Force applied through the grains causes fragments of the worked material to break away while simultaneously smoothing the abrasive grain and/or causing the grain to work loose from the rest of the abrasive.
Some factors which will affect how quickly a substance is abraded include:
Abrasive minerals
Abrasives may be classified as either natural or synthetic. When discussing
sharpening stone
Sharpening stone
Sharpening stones, water stones or whetstones are used to grind and hone the edges of steel tools and implements. Examples of items that may be sharpened with a sharpening stone include scissors, scythes, knives, razors and tools such as chisels, hand scrapers and plane blades...
s, natural stones have long been considered superior but advances in material technology are seeing this distinction become less distinct. Many synthetic abrasives are effectively identical to a natural mineral, differing only in that the synthetic mineral has been manufactured rather than been mined. Impurities in the natural mineral may make it less effective.
Some naturally occurring abrasives are:
Some abrasive minerals (such as
zirconia alumina
Zirconia alumina
Zirconia alumina is commonly used as a sand-blasting medium. It is typically used as an abrasive in casting and foundry processes. Zirconia alumina is a mixture of zirconium oxide and aluminium oxide....
) occur naturally but are sufficiently rare or sufficiently more difficult/costly to obtain such that a synthetic stone is used industrially. These and other artificial abrasives include:
Manufactured abrasives
Abrasives are shaped for various purposes. Natural abrasives are often sold as dressed stones, usually in the from of a rectangular block. Both natural and synthetic abrasives are commonly available in a wide variety of shapes, often coming as bonded or coated abrasives, including blocks, belts, discs, wheels, sheets, rods and loose grains.
Bonded abrasives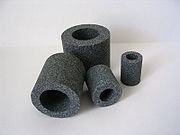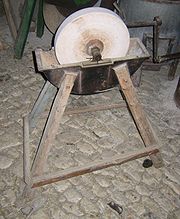 A
bonded abrasive
is composed of an abrasive material contained within a
matrix
Matrix (geology)
The matrix or groundmass of rock is the finer grained mass of material in which larger grains, crystals or clasts are embedded.The matrix of an igneous rock consists of finer grained, often microscopic, crystals in which larger crystals are embedded. This porphyritic texture is indicative of...
, although very fine aluminium oxide abrasive may comprise sintered material. This matrix is called a binder and is often a
clay
Clay
Clay is a general term including many combinations of one or more clay minerals with traces of metal oxides and organic matter. Geologic clay deposits are mostly composed of phyllosilicate minerals containing variable amounts of water trapped in the mineral structure.- Formation :Clay minerals...
, a
resin
Resin
Resin in the most specific use of the term is a hydrocarbon secretion of many plants, particularly coniferous trees. Resins are valued for their chemical properties and associated uses, such as the production of varnishes, adhesives, and food glazing agents; as an important source of raw materials...
, a glass or a
rubber
Rubber
Natural rubber, also called India rubber or caoutchouc, is an elastomer that was originally derived from latex, a milky colloid produced by some plants. The plants would be 'tapped', that is, an incision made into the bark of the tree and the sticky, milk colored latex sap collected and refined...
. This mixture of binder and abrasive is typically shaped into blocks, sticks, or wheels. The most usual abrasive used is aluminium oxide. Also common are silicon carbide,
tungsten carbide
Tungsten carbide
Tungsten carbide is an inorganic chemical compound containing equal parts of tungsten and carbon atoms. Colloquially, tungsten carbide is often simply called carbide. In its most basic form, it is a fine gray powder, but it can be pressed and formed into shapes for use in industrial machinery,...
and
garnet
Garnet
The garnet group includes a group of minerals that have been used since the Bronze Age as gemstones and abrasives. The name "garnet" may come from either the Middle English word gernet meaning 'dark red', or the Latin granatus , possibly a reference to the Punica granatum , a plant with red seeds...
. Artificial sharpening stones are often a bonded abrasive and are readily available as a two sided block, each side being a different grade of grit.
Grinding wheel
Grinding wheel
A grinding wheel is an expendable wheel that is composed of an abrasive compound used for various grinding and abrasive machining operations...
s are cylinders that are rotated at high speed. While once worked with a foot pedal or hand crank, the introduction of electric motors has made it necessary to construct the wheel to withstand greater radial stress to prevent the wheel flying apart as it spins. Similar issues arise with cutting wheels which are often structurally reinforced with impregnated fibres. High relative speed between abrasive and workpiece often makes necessary the use of a lubricant of some kind. Traditionally they were called
coolant
Coolant
A coolant is a fluid which flows through a device to prevent its overheating, transferring the heat produced by the device to other devices that use or dissipate it. An ideal coolant has high thermal capacity, low viscosity, is low-cost, non-toxic, and chemically inert, neither causing nor...
s as they were used to prevent frictional heat build up which could damage the workpiece (such as ruining the
temper
Tempering
Tempering is a heat treatment technique for metals, alloys and glass. In steels, tempering is done to "toughen" the metal by transforming brittle martensite or bainite into a combination of ferrite and cementite or sometimes Tempered martensite...
of a blade). Some research suggests that the heat transport property of a lubricant is less important when dealing with metals as the metal will quickly conduct heat from the work surface. More important are their effects upon lessening tensile stresses while increasing some compressive stresses and reducing "thermal and mechanical stresses during chip formation".
Various shapes are also used as heads on
rotary tool
Rotary tool
A rotary tool is a hand held power tool with a variety of rotating accessory bits and attachments that can be used for cutting, carving, sanding, polishing and many other applications....
s used in precision work, such as
scale model
Scale model
A scale model is a physical model, a representation or copy of an object that is larger or smaller than the actual size of the object, which seeks to maintain the relative proportions of the physical size of the original object. Very often the scale model is used as a guide to making the object in...
ling.
Bonded abrasives need to be trued and dressed after they are used. Dressing is cleaning the waste material (swarf and loose abrasive) from the surface and exposing fresh grit. Depending upon the abrasive and how it was used, dressing may involve the abrasive being simply placed under running water and brushed with a stiff brush for a soft stone or the abrasive being ground against another abrasive, such as aluminium oxide used to dress a grinding wheel.
Truing is restoring the abrasive to its original surface shape. Wheels and stones tend to wear unevenly, leaving the cutting surface no longer flat (said to be "dished out" if it is meant to be a flat stone) or no longer the same diameter across the cutting face. This will lead to uneven abrasion and other difficulties.
Coated abrasives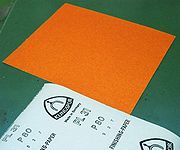 A
coated abrasive
comprises an abrasive fixed to a backing material such as
paper
Paper
Paper is a thin material mainly used for writing upon, printing upon, drawing or for packaging. It is produced by pressing together moist fibers, typically cellulose pulp derived from wood, rags or grasses, and drying them into flexible sheets....
, cloth, rubber, resin,
polyester
Polyester
Polyester is a category of polymers which contain the ester functional group in their main chain. Although there are many polyesters, the term "polyester" as a specific material most commonly refers to polyethylene terephthalate...
or even
metal
Metal
A metal , is an element, compound, or alloy that is a good conductor of both electricity and heat. Metals are usually malleable and shiny, that is they reflect most of incident light...
, many of which are flexible.
Sandpaper
Sandpaper
Sandpaper, also known as glasspaper, is a heavy paper with abrasive material attached to its surface.Sandpaper is part of the "coated abrasives" family of abrasive products. It is used to remove small amounts of material from surfaces, either to make them smoother , to remove a layer of material...
is a very common coated abrasive. Coated abrasives are commonly the same minerals as are used for bonded abrasives. A bonding agent (often some sort of adhesive or resin) is applied to the backing to provide a flat surface to which the grit is then subsequently adhered. A woven backing may also use a filler agent (again, often a resin) to provide additional resilience.
Coated abrasives may be shaped for use in rotary and orbital sanders, for wrapping around sanding blocks, as handpads, as closed loops for use on belt grinders, as striking surfaces on
match
Match
A match is a tool for starting a fire under controlled conditions. A typical modern match is made of a small wooden stick or stiff paper. One end is coated with a material that can be ignited by frictional heat generated by striking the match against a suitable surface...
boxes, on
diamond plate
Diamond plate
Diamond plate, also known as checker plate, tread plate and Durbar floor plate, is a type of lightweight metal stock with a regular pattern of raised diamonds or lines on one side, with the reverse side being featureless. Diamond plate is usually steel, stainless steel or aluminum...
s and diamond steels.
Diamond tools
Diamond tools
A diamond tool is a cutting tool with diamond grains fixed on the functional parts of the tool via a bonding material or another method. As diamond is a superhard material, diamond tools have many advantages as compared with tools made with common abrasives such as corundum and silicon...
, though for cutting, are often abrasive in nature.
Other abrasives and their uses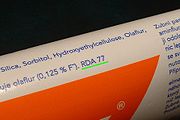 Sand, glass beads, metal pellets
copper slag
Copper slag
Copper slag is an abrasive blasting grit made of granulated slag from metal smelting processes .Copper slag abrasive is suitable for blast cleaning of steel and stone/concrete surfaces, removal of mill scale, rust, old paint, dirt etc...
and dry ice may all be used for a process called sandblasting (or similar, such as the use of glass beads which is "bead blasting"). Dry ice will sublimate leaving behind no residual abrasive.
Cutting compound
Cutting compound
Cutting compound consists of an abrasive suspended in a paste. Like most abrasives, it comes in various grit sizes dependent upon how much matter is to be removed. It is used on automotive paintwork to cut through oxidised paint or to polish out scratches in the paintwork...
used on automotive paint is an example of an abrasive suspended in a liquid, paste or wax, as are some polishing liquids for
silver
Silver
Silver is a metallic chemical element with the chemical symbol Ag and atomic number 47. A soft, white, lustrous transition metal, it has the highest electrical conductivity of any element and the highest thermal conductivity of any metal...
ware and optical media. The liquid, paste or wax acts as a binding agent that keeps the abrasive attached to the cloth which is used to as a backing to move the abrasive across the workpiece. On cars in particular, wax may serve as both a protective agent by preventing exposure of the paint of metal to air and also act as an optical filler to make scratches less noticeable.
Toothpaste
Toothpaste
Toothpaste is a paste or gel dentifrice used with a toothbrush as an accessory to clean and maintain the aesthetics and health of teeth. Toothpaste is used to promote oral hygiene: it serves as an abrasive that aids in removing the dental plaque and food from the teeth, assists in suppressing...
contains calcium carbonate or silica as a "polishing agent" to remove plaque and other matter from teeth as the hardness of calcium carbonate is less than that of
tooth enamel
Tooth enamel
Tooth enamel, along with dentin, cementum, and dental pulp is one of the four major tissues that make up the tooth in vertebrates. It is the hardest and most highly mineralized substance in the human body. Tooth enamel is also found in the dermal denticles of sharks...
but more than that of the contaminating agent.
Very fine rouge powder was commonly used for grinding glass, being somewhat replaced by modern ceramics, and is still used in jewellery making for a highly reflective finish.
Cleaning products may also contain abrasives suspended in a paste or cream. They are chosen to be reasonably safe on some
linoleum
Linoleum
Linoleum is a floor covering made from renewable materials such as solidified linseed oil , pine rosin, ground cork dust, wood flour, and mineral fillers such as calcium carbonate, most commonly on a burlap or canvas backing; pigments are often added to the materials.The finest linoleum floors,...
,
tile
Tile
A tile is a manufactured piece of hard-wearing material such as ceramic, stone, metal, or even glass. Tiles are generally used for covering roofs, floors, walls, showers, or other objects such as tabletops...
, metal or stone surfaces. However, many
laminate
Laminate
A laminate is a material that can be constructed by uniting two or more layers of material together. The process of creating a laminate is lamination, which in common parlance refers to the placing of something between layers of plastic and gluing them with heat and/or pressure, usually with an...
surfaces and ceramic topped stoves are easily damaged by these abrasive compounds. Even ceramic/pottery tableware or cookware can damage these surfaces, particularly the bottom of the tableware which is often unglazed in part or in whole and acts as simply another bonded abrasive.
Metal pots and stoves are often scoured with abrasive cleaners, typically in the form of the aforementioned cream or paste or of
steel wool
Steel wool
Steel wool, also known as wire wool, is a bundle of strands of very fine soft steel filaments, used in finishing and repairing work to polish wood or metal objects, and for cleaning household cookware....
and non woven
scouring pad
Scouring pad
A scouring pad or scourer is a small pad of metal or plastic mesh used for scouring a surface. Some scouring pads have one side made of a soft sponge-like material and the other is the aforementioned plastic mesh.-History:...
s which holds fine grits abrasives.
Human skin is also subjected to abrasion in the form of
exfoliation
Exfoliation
Exfoliation has several meanings:* Exfoliation describes the loss of leaves from a plant.* Exfoliation , is a cosmetic technique aimed at removing dead skin cells from the face and body....
. Abrasives for this can be much softer and more exotic than for other purposes and may include things like
almond
Almond
The almond , is a species of tree native to the Middle East and South Asia. Almond is also the name of the edible and widely cultivated seed of this tree...
and
oatmeal
Oatmeal
Oatmeal is ground oat groats , or a porridge made from oats . Oatmeal can also be ground oat, steel-cut oats, crushed oats, or rolled oats....
.
Dermabrasion
Dermabrasion
Dermabrasion is a surgical procedure that involves the controlled abrasion of the upper layers of the skin with sandpaper or other mechanical means. Nowadays it has become common to use CO2 or Erbium:YAG laser as well. The procedure requires a local anaesthetic...
and microdermabrasion are now rather commonplace cosmetic procedures which use mineral abrasives.
Scratched compact discs and
DVD
DVD
A DVD is an optical disc storage media format, invented and developed by Philips, Sony, Toshiba, and Panasonic in 1995. DVDs offer higher storage capacity than Compact Discs while having the same dimensions....
s may sometimes be repaired through buffing with a very fine compound, the principle being that a multitude of small scratches will be more optically transparent than a single large scratch. However, this does take some skill and will eventually cause the protective coating of the disc to be entirely eroded (especially if the original scratch is deep), after which the data surface will be destroyed if abrasion continues.
Choice of abrasive
The shape, size and nature of the workpiece and the desired finish will influence the choice of the abrasive used. A bonded abrasive grind wheel may be used to commercially sharpen a knife (producing a hollow grind), but an individual may then sharpen the same knife with a natural sharpening stone or an even flexible coated abrasive (like a sandpaper) stuck to a soft, non-slip surface to make achieving a convex grind easier. Similarly, a brass mirror may be cut with a bonded abrasive, have its surface flattened with a coated abrasive to achieve a basic shape, and then have finer grades of abrasive successively appied culminating in a wax paste impregnated with rouge to leave a sort of "grainless finish" called, in this case, a "mirror finish".
Also, different shapes of adhesive may make it harder to abrade certain areas of the workpiece. Health hazards can arise from any dust produced (which may be ameliorated through the use of a lubricant) which could lead to
silicosis
Silicosis
Silicosis, also known as Potter's rot, is a form of occupational lung disease caused by inhalation of crystalline silica dust, and is marked by inflammation and scarring in forms of nodular lesions in the upper lobes of the lungs...
(when the abrasive or workpiece is a
silicate
Silicate
A silicate is a compound containing a silicon bearing anion. The great majority of silicates are oxides, but hexafluorosilicate and other anions are also included. This article focuses mainly on the Si-O anions. Silicates comprise the majority of the earth's crust, as well as the other...
) and the choice of any lubricant. Besides water, oils are the most common lubricants. These may present inhalation hazards, contact hazards and, as friction necessarily produces heat, flammable material hazards.
An abrasive which is too hard or too coarse can remove too much material or leave undesired scratch marks. Besides being unsightly, scratching can have other, more serious effects. Excessive abrasion or the presence of scratches may:
A finer or softer abrasive will tend to leave much finer scratch marks which may even be invisible to the naked eye (a "grainless finish"); a softer abrasive may not even significantly abrade a certain object. A softer or finer abrasive will take longer to cut as tends to cut less deeply than a coarser, harder material. Also, the softer abrasive may become less effective more quickly as the abrasive is itself abraded. This allows fine abrasives to be used in the polishing of metal and
lenses
Lens (optics)
A lens is an optical device with perfect or approximate axial symmetry which transmits and refracts light, converging or diverging the beam. A simple lens consists of a single optical element...
where the series of increasingly fine scratches tends to take on a much more shiny or reflective appearance or greater transparency. Very fine abrasives may be used to coat the strop for a cut-throat
razor
Razor
A razor is a bladed tool primarily used in the removal of unwanted body hair through the act of shaving. Kinds of razors include straight razors, disposable razors and electric razors....
s, however, the purpose of stropping is not to abrade material but to straighten the burr on an edge. The final stage of sharpening Japanese swords is called polishing and may be a form of
superfinishing
Superfinishing
Superfinishing, also known as micromachining and short-stroke honing, is a metalworking process that improves surface finish and workpiece geometry. This is achieved by removing just the thin amorphous surface layer left by the last process with an abrasive stone; this layer is usually about...
.
Different chemical or structural modifications may be made to alter the cutting properties of the abrasive.
Other very important considerations are price and availability. Diamond, for a long time considered the hardest substance in existence, is actually softer than fullerite and even harder aggregated diamond nanorods, both of which have been synthesised in laboratories but no commercial process has yet been developed. Diamond itself is expensive due to scarcity in nature and the cost of synthesising it. Bauxite is a very common
ore
Ore
An ore is a type of rock that contains minerals with important elements including metals. The ores are extracted through mining; these are then refined to extract the valuable element....
which, along with corundum's reasonably high hardness, contributes to corundum's status as a common, inexpensive abrasive.
Thought must be given to the desired task about using an appropriately hard abrasive. At one end, using an excessively hard abrasive wastes money by wearing it down when a cheaper, less hard abrasive would suffice. At the other end, if too soft, abrasion does not take place in a timely fashion, effectively wasting the abrasive as well as any accruing costs associated with loss of time.
Other instances of abrasion
Aside from the aforementioned uses of shaping and finishing, abrasives may also be used to prepare surfaces for application of some sort of paint of adhesive. An excessively smooth surface may prevent paint and
adhesive
Adhesive
An adhesive, or glue, is a mixture in a liquid or semi-liquid state that adheres or bonds items together. Adhesives may come from either natural or synthetic sources. The types of materials that can be bonded are vast but they are especially useful for bonding thin materials...
s from adhering as strongly as an irregular surface could allow. Inflatable
tyre
Tire
A tire or tyre is a ring-shaped covering that fits around a wheel rim to protect it and enable better vehicle performance by providing a flexible cushion that absorbs shock while keeping the wheel in close contact with the ground...
repair kits (which, on bicycles particularly, are actually patches for the inner tube rather than the tyre) require use of an abrasive so that the self-vulcanising
cement
Cement
In the most general sense of the word, a cement is a binder, a substance that sets and hardens independently, and can bind other materials together. The word "cement" traces to the Romans, who used the term opus caementicium to describe masonry resembling modern concrete that was made from crushed...
will stick strongly.
Inadvertently, people who use knives on glass or metal
cutting board
Cutting board
A cutting board is a durable board on which to place material for cutting. Common is the kitchen cutting board used in preparing food; other types exist for cutting raw materials such as leather or plastic....
s are abrading their knife blades. The pressure at the knife edge can easily create microscopic (or even macroscopic) cuts in the board. This cut is a ready source of abrasive material as well as a channel full of this abrasive through which the edge slides. For this reason—without regard for the health benefits—wooden boards are much more desirable. A similar occurrence arises with
glass-cutter
Glass cutter
A glass cutter is a hand tool used to make a shallow score in one side of the surface of flat glass that is to be broken in two pieces. The scoring encourages the glass to break along the score, and not in an undesired direction...
s. Glass-cutters are have circular blades that are designed to roll not slide. They should never retrace an already effected cut.
Undesired abrasion may result from the presence of
carbon
Carbon
Carbon is the chemical element with symbol C and atomic number 6. As a member of group 14 on the periodic table, it is nonmetallic and tetravalent—making four electrons available to form covalent chemical bonds...
in
internal combustion engine
Internal combustion engine
The internal combustion engine is an engine in which the combustion of a fuel occurs with an oxidizer in a combustion chamber. In an internal combustion engine, the expansion of the high-temperature and high -pressure gases produced by combustion apply direct force to some component of the engine...
s. While smaller particles are readily transported by the lubrication system, larger carbon particles may abrade components with close tolerances. The carbon arises from the excessive heating of engine oil or from incomplete combustion. This soot may contain fullerenes which are noted for their extreme hardness—and small size and limited quantity which would tend to limit their effect.