 Pumice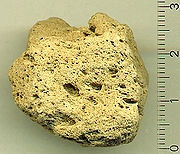 Pumice
icon is a textural term for a
volcanic rock
Volcanic rock
Volcanic rock is a rock formed from magma erupted from a volcano. In other words, it is an igneous rock of volcanic origin...
that is a solidified frothy
lava
Lava
Lava refers both to molten rock expelled by a volcano during an eruption and the resulting rock after solidification and cooling. This molten rock is formed in the interior of some planets, including Earth, and some of their satellites. When first erupted from a volcanic vent, lava is a liquid at...
typically created when super-heated, highly pressurized rock is violently ejected from a
volcano
Volcano
2. Bedrock3. Conduit 4. Base5. Sill6. Dike7. Layers of ash emitted by the volcano8. Flank| 9. Layers of lava emitted by the volcano10. Throat11. Parasitic cone12. Lava flow13. Vent14. Crater15...
. It can be formed when lava and water are mixed. This unusual formation is due to the simultaneous actions of rapid cooling and rapid depressurization. The depressurization creates bubbles by lowering the
solubility
Solubility
Solubility is the property of a solid, liquid, or gaseous chemical substance called solute to dissolve in a solid, liquid, or gaseous solvent to form a homogeneous solution of the solute in the solvent. The solubility of a substance fundamentally depends on the used solvent as well as on...
of gases (including
water
Water
Water is a chemical substance with the chemical formula H2O. A water molecule contains one oxygen and two hydrogen atoms connected by covalent bonds. Water is a liquid at ambient conditions, but it often co-exists on Earth with its solid state, ice, and gaseous state . Water also exists in a...
and
CO2
Carbon dioxide
Carbon dioxide is a naturally occurring chemical compound composed of two oxygen atoms covalently bonded to a single carbon atom...
) dissolved in the lava, causing the gases to rapidly exsolve (like the bubbles of CO
2
that appear when a carbonated drink is opened). The simultaneous cooling and depressurization freezes the bubbles in the
matrix
Matrix (geology)
The matrix or groundmass of rock is the finer grained mass of material in which larger grains, crystals or clasts are embedded.The matrix of an igneous rock consists of finer grained, often microscopic, crystals in which larger crystals are embedded. This porphyritic texture is indicative of...
.
Properties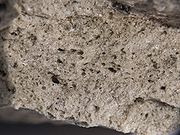 Pumice is composed of highly
microvesicular
Vesicular texture
Vesicular texture is a volcanic rock texture characterised by a rock being pitted with many cavities at its surface and inside. The texture is often found in extrusive aphanitic, or glassy, igneous rock...
glass pyroclastic with very thin, translucent bubble walls of extrusive
igneous rock
Igneous rock
Igneous rock is one of the three main rock types, the others being sedimentary and metamorphic rock. Igneous rock is formed through the cooling and solidification of magma or lava...
. It is commonly, but not exclusively of
silicic
Silicic
Silicic is a term used to describe magma or igneous rock rich in silica. The amount of silica that constitutes a silicic rock is usually put at at least 65 percent. Granite and rhyolite are typical silicic rocks....
or
felsic
Felsic
The word "felsic" is a term used in geology to refer to silicate minerals, magma, and rocks which are enriched in the lighter elements such as silicon, oxygen, aluminium, sodium, and potassium....
to intermediate in composition (e.g., rhyolitic, dacitic,
andesite
Andesite
Andesite is an extrusive igneous, volcanic rock, of intermediate composition, with aphanitic to porphyritic texture. In a general sense, it is the intermediate type between basalt and dacite. The mineral assemblage is typically dominated by plagioclase plus pyroxene and/or hornblende. Magnetite,...
,
pantellerite
Pantellerite
Pantellerite is a peralkaline rhyolite. It has a higher iron and lower aluminium composition than comendite. It is named after Pantelleria, a volcanic island in the Strait of Sicily and the type location for this rock. On Pantelleria the rock is usually found as a vitrophyre containing phenocrysts...
,
phonolite
Phonolite
Phonolite is a rare igneous, volcanic rock of intermediate composition, with aphanitic to porphyritic texture....
,
trachyte
Trachyte
Trachyte is an igneous volcanic rock with an aphanitic to porphyritic texture. The mineral assemblage consists of essential alkali feldspar; relatively minor plagioclase and quartz or a feldspathoid such as nepheline may also be present....
), but basaltic and other compositions are known. Pumice is commonly pale in color, ranging from white, cream, blue or grey, to green-brown or black. It forms when
volcanic gas
Volcanic gas
|250px|thumb|right|Image of the [[rhyolitic]] [[lava dome]] of [[Chaitén Volcano]] during its 2008-2010 eruption.Volcanic gases include a variety of substances given off by active volcanoes...
es exsolving from viscous
magma
Magma
Magma is a mixture of molten rock, volatiles and solids that is found beneath the surface of the Earth, and is expected to exist on other terrestrial planets. Besides molten rock, magma may also contain suspended crystals and dissolved gas and sometimes also gas bubbles. Magma often collects in...
nucleate bubbles which cannot readily decouple from the viscous magma prior to chilling to glass. Pumice is a common product of explosive eruptions (plinian and
ignimbrite
Ignimbrite
An ignimbrite is the deposit of a pyroclastic density current, or pyroclastic flow, a hot suspension of particles and gases that flows rapidly from a volcano, driven by a greater density than the surrounding atmosphere....
-forming) and commonly forms zones in upper parts of silicic lavas. Pumice has an average
porosity
Porosity
Porosity or void fraction is a measure of the void spaces in a material, and is a fraction of the volume of voids over the total volume, between 0–1, or as a percentage between 0–100%...
of 90%, and initially floats on water.
Scoria
Scoria
Scoria is a volcanic rock containing many holes or vesicles. It is most generally dark in color , and basaltic or andesitic in composition. Scoria is relatively low in mass as a result of its numerous macroscopic ellipsoidal vesicles, but in contrast to pumice, all scoria has a specific gravity...
differs from pumice in being denser. With larger vesicles and thicker vesicle walls, it sinks rapidly. The difference is the result of the lower viscosity of the magma that forms scoria. When larger amounts of gas are present, the result is a finer-grained variety of pumice known as
pumicite
. Pumice is considered a glass because it has no
crystal
Crystal
A crystal or crystalline solid is a solid material whose constituent atoms, molecules, or ions are arranged in an orderly repeating pattern extending in all three spatial dimensions. The scientific study of crystals and crystal formation is known as crystallography...
structure. Pumice varies in density according to the thickness of the solid material between the bubbles; many samples float in water. After the explosion of
Krakatoa
Krakatoa
Krakatoa is a volcanic island made of a'a lava in the Sunda Strait between the islands of Java and Sumatra in Indonesia. The name is used for the island group, the main island , and the volcano as a whole. The island exploded in 1883, killing approximately 40,000 people, although some estimates...
, rafts of pumice drifted through the Pacific Ocean for up to 20 years, with tree trunks floating among them. In fact, pumice rafts disperse and support several marine species. In 1979, 1984 and
2006
Vava'u
Vavau is an island chain of one large island and 40 smaller ones in Tonga. According to tradition Maui fished both Tongatapu and Vavau but put a little more effort into the former. Vavau rises 204 meters above sea level...
, underwater volcanic eruptions near
Tonga
Tonga
Tonga, officially the Kingdom of Tonga , is a state and an archipelago in the South Pacific Ocean, comprising 176 islands scattered over of ocean in the South Pacific...
created large
pumice raft
Pumice raft
A pumice raft is a floating raft of pumice occasionally created by ocean-based volcanic activity.Volcanic activity in the South Pacific near Tonga on August 12, 2006 caused the emergence of a new island...
s, some as large as 30 kilometres that floated hundreds of kilometres to
Fiji
Fiji
Fiji , officially the Republic of Fiji , is an island nation in Melanesia in the South Pacific Ocean about northeast of New Zealand's North Island...
.
There are two main forms of vesicles. Most pumice contains tubular microvesicles that can impart a silky or fibrous fabric. The elongation of the microvesicles occurs due to ductile elongation in the volcanic conduit or, in the case of pumiceous lavas, during flow. The other form of vesicles are subspherical to spherical and result from high
vapor pressure
Vapor pressure
Vapor pressure or equilibrium vapor pressure is the pressure of a vapor in thermodynamic equilibrium with its condensed phases in a closed system. All liquids have a tendency to evaporate, and some solids can sublimate into a gaseous form...
during eruption.
Uses
Pumice is widely used to make lightweight
concrete
Concrete
Concrete is a composite construction material, composed of cement and other cementitious materials such as fly ash and slag cement, aggregate , water and chemical admixtures.The word concrete comes from the Latin word...
or
insulative
Thermal insulation
Thermal insulation is the reduction of the effects of the various processes of heat transfer between objects in thermal contact or in range of radiative influence. Heat transfer is the transfer of thermal energy between objects of differing temperature...
low-density breeze blocks. When used as an additive for
cement
Cement
In the most general sense of the word, a cement is a binder, a substance that sets and hardens independently, and can bind other materials together. The word "cement" traces to the Romans, who used the term opus caementicium to describe masonry resembling modern concrete that was made from crushed...
, a fine-grained version of pumice called
pozzolan
Pozzolana
Pozzolana, also known as pozzolanic ash , is a fine, sandy volcanic ash. Pozzolanic ash was first discovered and dug in Italy, at Pozzuoli. It was later discovered at a number of other sites as well...
is mixed with
lime
Lime (mineral)
Lime is a general term for calcium-containing inorganic materials, in which carbonates, oxides and hydroxides predominate. Strictly speaking, lime is calcium oxide or calcium hydroxide. It is also the name for a single mineral of the CaO composition, occurring very rarely...
to form a light-weight, smooth, plaster-like
concrete
Concrete
Concrete is a composite construction material, composed of cement and other cementitious materials such as fly ash and slag cement, aggregate , water and chemical admixtures.The word concrete comes from the Latin word...
. This form of concrete was used as far back as
Roman
Ancient Rome
Ancient Rome was a thriving civilization that grew on the Italian Peninsula as early as the 8th century BC. Located along the Mediterranean Sea and centered on the city of Rome, it expanded to one of the largest empires in the ancient world....
times. Roman engineers used it to build the huge dome of the
Pantheon
Pantheon, Rome
The Pantheon ,Rarely Pantheum. This appears in Pliny's Natural History in describing this edifice: Agrippae Pantheum decoravit Diogenes Atheniensis; in columnis templi eius Caryatides probantur inter pauca operum, sicut in fastigio posita signa, sed propter altitudinem loci minus celebrata.from ,...
and as construction material for many
aqueduct
Aqueduct
An aqueduct is a water supply or navigable channel constructed to convey water. In modern engineering, the term is used for any system of pipes, ditches, canals, tunnels, and other structures used for this purpose....
s.
It is also used as an abrasive, especially in polishes, pencil
eraser
Eraser
An eraser or rubber is an article of stationery that is used for rubbing out pencil markings. Erasers have a rubbery consistency and are often white or pink, although modern materials allow them to be made in any color. Many pencils are equipped with an eraser on one end...
s,
cosmetic
Cosmetics
Cosmetics are substances used to enhance the appearance or odor of the human body. Cosmetics include skin-care creams, lotions, powders, perfumes, lipsticks, fingernail and toe nail polish, eye and facial makeup, towelettes, permanent waves, colored contact lenses, hair colors, hair sprays and...
exfoliants
Exfoliation (cosmetology)
Exfoliation involves the removal of the oldest dead skin cells on the skin's outermost surface, and has been used for many years to help maintain skin. Exfoliation is involved in the process of all facials, during microdermabrasion or chemical peels at medical spas...
, and the production of
stone-washed
Stone washing
Stone washing is a textile manufacturing process used to give a newly manufactured cloth garment a worn-out appearance. Stone-washing also helps to increase the softness and flexibility of otherwise stiff and rigid fabrics such as canvas and denim....
jeans
Jeans
Jeans are trousers made from denim. Some of the earliest American blue jeans were made by Jacob Davis, Calvin Rogers, and Levi Strauss in 1873. Starting in the 1950s, jeans, originally designed for cowboys, became popular among teenagers. Historic brands include Levi's, Lee, and Wrangler...
. "Pumice stones" are often used in beauty salons during the pedicure process to remove dry and excess skin from the bottom of the foot as well as calluses. It was also used in ancient Greek and Roman times to remove excess hair. Finely ground pumice is added to some
toothpaste
Toothpaste
Toothpaste is a paste or gel dentifrice used with a toothbrush as an accessory to clean and maintain the aesthetics and health of teeth. Toothpaste is used to promote oral hygiene: it serves as an abrasive that aids in removing the dental plaque and food from the teeth, assists in suppressing...
s and heavy-duty hand cleaners (such as
Lava soap
Lava (soap)
Lava is a heavy-duty hand cleaner made by WD-40, first produced in 1893. WD-40 acquired the brand from Block Drug in 1999 who acquired it from Procter & Gamble in 1995. It was originally developed by the Waltke Company of St. Louis in 1893. Unlike typical hand soaps, Lava contains ground pumice,...
) as a mild abrasive. Pumice is also used as a growing substrate for growing horticultural crops.
External links