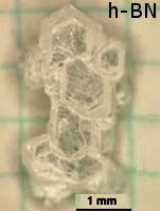 Boron nitride
Boron nitride
is a
chemical compound
Chemical compound
A chemical compound is a pure chemical substance consisting of two or more different chemical elements that can be separated into simpler substances by chemical reactions. Chemical compounds have a unique and defined chemical structure; they consist of a fixed ratio of atoms that are held together...
with
chemical formula
Chemical formula
A chemical formula or molecular formula is a way of expressing information about the atoms that constitute a particular chemical compound....
BN, consisting of equal numbers of
boron
Boron
Boron is the chemical element with atomic number 5 and the chemical symbol B. Boron is a metalloid. Because boron is not produced by stellar nucleosynthesis, it is a low-abundance element in both the solar system and the Earth's crust. However, boron is concentrated on Earth by the...
and
nitrogen
Nitrogen
Nitrogen is a chemical element that has the symbol N, atomic number of 7 and atomic mass 14.00674 u. Elemental nitrogen is a colorless, odorless, tasteless, and mostly inert diatomic gas at standard conditions, constituting 78.08% by volume of Earth's atmosphere...
atoms. BN is isoelectronic to a similarly structured
carbon
Carbon
Carbon is the chemical element with symbol C and atomic number 6. As a member of group 14 on the periodic table, it is nonmetallic and tetravalent—making four electrons available to form covalent chemical bonds...
lattice and thus exists in various
crystalline forms
Polymorphism (materials science)
Polymorphism in materials science is the ability of a solid material to exist in more than one form or crystal structure. Polymorphism can potentially be found in any crystalline material including polymers, minerals, and metals, and is related to allotropy, which refers to chemical elements...
. The
hexagonal form
Hexagonal crystal system
In crystallography, the hexagonal crystal system is one of the 7 crystal systems, the hexagonal lattice system is one of the 7 lattice systems, and the hexagonal crystal family is one of the 6 crystal families...
corresponding to
graphite
Graphite
The mineral graphite is one of the allotropes of carbon. It was named by Abraham Gottlob Werner in 1789 from the Ancient Greek γράφω , "to draw/write", for its use in pencils, where it is commonly called lead . Unlike diamond , graphite is an electrical conductor, a semimetal...
is the most stable and softest among BN polymorphs, and is therefore used as a lubricant and an additive to cosmetic products. The cubic (sphalerite structure) variety analogous to
diamond
Diamond
In mineralogy, diamond is an allotrope of carbon, where the carbon atoms are arranged in a variation of the face-centered cubic crystal structure called a diamond lattice. Diamond is less stable than graphite, but the conversion rate from diamond to graphite is negligible at ambient conditions...
is called c-BN.