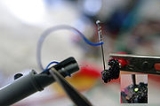 Silicon carbide
Silicon carbide
also known as
carborundum
, is a
compound
Chemical compound
A chemical compound is a pure chemical substance consisting of two or more different chemical elements that can be separated into simpler substances by chemical reactions. Chemical compounds have a unique and defined chemical structure; they consist of a fixed ratio of atoms that are held together...
of
silicon
Silicon
Silicon is a chemical element with the symbol Si and atomic number 14. A tetravalent metalloid, it is less reactive than its chemical analog carbon, the nonmetal directly above it in the periodic table, but more reactive than germanium, the metalloid directly below it in the table...
and
carbon
Carbon
Carbon is the chemical element with symbol C and atomic number 6. As a member of group 14 on the periodic table, it is nonmetallic and tetravalent—making four electrons available to form covalent chemical bonds...
with chemical formula SiC. It occurs in nature as the extremely rare mineral
moissanite
Moissanite
Moissanite originally referred to a rare mineral discovered by Henri Moissan having a chemical formula SiC and various crystalline polymorphs. Earlier, this material had been synthesized in the laboratory and named silicon carbide .- Background :...
. Silicon carbide powder has been mass-produced since 1893 for use as an
abrasive
Abrasive
An abrasive is a material, often a mineral, that is used to shape or finish a workpiece through rubbing which leads to part of the workpiece being worn away...
. Grains of silicon carbide can be bonded together by
sintering
Sintering
Sintering is a method used to create objects from powders. It is based on atomic diffusion. Diffusion occurs in any material above absolute zero, but it occurs much faster at higher temperatures. In most sintering processes, the powdered material is held in a mold and then heated to a temperature...
to form very hard
ceramic
Ceramic
A ceramic is an inorganic, nonmetallic solid prepared by the action of heat and subsequent cooling. Ceramic materials may have a crystalline or partly crystalline structure, or may be amorphous...
s which are widely used in applications requiring high endurance, such as car brakes, car clutches and
ceramic plate
Ceramic plate
Ceramic plates are commonly used as inserts in soft ballistic vests. Most ceramic plates used in body armor provide National Institute of Justice Type III protection, allowing them to stop rifle bullets. Ceramic plates are a form of composite armor...
s in
bulletproof vest
Bulletproof vest
A ballistic vest, bulletproof vest or bullet-resistant vest is an item of personal armor that helps absorb the impact from firearm-fired projectiles and shrapnel from explosions, and is worn on the torso...
s.