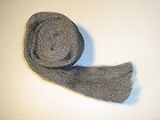 Steel wool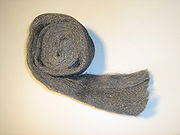 Steel wool
, also known as
wire wool
, is a bundle of strands of very fine soft
steel
Steel
Steel is an alloy that consists mostly of iron and has a carbon content between 0.2% and 2.1% by weight, depending on the grade. Carbon is the most common alloying material for iron, but various other alloying elements are used, such as manganese, chromium, vanadium, and tungsten...
filaments, used in finishing and repairing work to polish wood or metal objects, and for cleaning household cookware.
Steel wool is made from low-carbon steel (low enough to be close to plain
iron
Iron
Iron is a chemical element with the symbol Fe and atomic number 26. It is a metal in the first transition series. It is the most common element forming the planet Earth as a whole, forming much of Earth's outer and inner core. It is the fourth most common element in the Earth's crust...
). It is not made by
drawing
Drawing (manufacturing)
Drawing is a metalworking process which uses tensile forces to stretch metal. It is broken up into two types: sheet metal drawing and wire, bar, and tube drawing. The specific definition for sheet metal drawing is that it involves plastic deformation over a curved axis...
"steel wool wire" through a tapered die, but rather by a process more like broaching where a heavy steel wire is pulled through a toothed die that removes a thin wire shaving.
Uses
Steel wool is commonly used by woodworkers and craftsmen working with paint, lacquer and varnish.
Steel wool should not be used on
oak
Oak
An oak is a tree or shrub in the genus Quercus , of which about 600 species exist. "Oak" may also appear in the names of species in related genera, notably Lithocarpus...
, because remaining traces of iron may react with
tannin
Tannin
A tannin is an astringent, bitter plant polyphenolic compound that binds to and precipitates proteins and various other organic compounds including amino acids and alkaloids.The term tannin refers to the use of...
s in the wood to produce blue or black iron stain.
Bronze wool
Bronze wool
Bronze wool is a bundle of very fine bronze filaments, used in finishing and repair work to polish wood or metal objects. Bronze wool is similar to steel wool, but is used in its place to avoid some problems associated with broken filaments: steel rusts quickly, especially in a marine environment...
or stainless steel wool may be used to avoid this.
Often it is used for professional cleaning processes not only on wooden surfaces but also on glass, because it is softer than these materials. For household cleaning use in many countries steel wool is sold under various trade names as
soap
Soap
In chemistry, soap is a salt of a fatty acid.IUPAC. "" Compendium of Chemical Terminology, 2nd ed. . Compiled by A. D. McNaught and A. Wilkinson. Blackwell Scientific Publications, Oxford . XML on-line corrected version: created by M. Nic, J. Jirat, B. Kosata; updates compiled by A. Jenkins. ISBN...
-impregnated pads.
Steel wool is acceptable for Ne'itzah (scouring) according to Orthodox Jewish laws of
kashrut
Kashrut
Kashrut is the set of Jewish dietary laws. Food in accord with halakha is termed kosher in English, from the Ashkenazi pronunciation of the Hebrew term kashér , meaning "fit" Kashrut (also kashruth or kashrus) is the set of Jewish dietary laws. Food in accord with halakha (Jewish law) is termed...
.
Another use of steel wool is in
rodent
Rodent
Rodentia is an order of mammals also known as rodents, characterised by two continuously growing incisors in the upper and lower jaws which must be kept short by gnawing....
control. Small holes are plugged with coarse grade steel wool which if gnawed on by rodents causes sharp pain in the mouth and, if ingested, severe internal damage leading to death.
When steel wool is heated it increases in mass due to the burning iron combining with the oxygen.
Very fine steel wool is sometimes carried for use as
tinder
Tinder
Tinder is easily combustible material used to ignite fires by rudimentary methods. A small fire consisting of tinder is then used to ignite kindling. Anything that can be ignited by a match can be considered tinder; or by more rigorous definition, anything that begins to glow under a shower of...
in emergency situations; it burns even when wet and can be ignited by fire, a spark, or by connecting a battery to produce
joule heating
Joule heating
Joule heating, also known as ohmic heating and resistive heating, is the process by which the passage of an electric current through a conductor releases heat. It was first studied by James Prescott Joule in 1841. Joule immersed a length of wire in a fixed mass of water and measured the temperature...
.
Grades
In Europe steel wool products are supplied in a range of grades from the coarser grades 5 and 6 to the very fine grade 0000. Rust-free (stainless) steel wool is also available.
Steel Wool fiber width, mm

| Type | Lower specification limit | Upper specification limit |
| --- | --- | --- |
| 000# | 0.00635 | 0.00889 |
| 00# | 0.00889 | 0.0127 |
| 0# | 0.0127 | 0.0381 |
| 1# | 0.0381 | 0.0635 |
| 2# | 0.0635 | 0.0889 |
| 3# | 0.0889 | 0.1143 |
| 4# | 0.1143 | 0.1778 |
See also