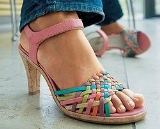 Sandal (footwear)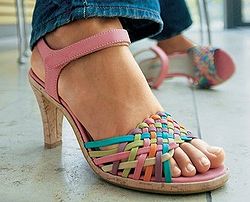 Sandals
are an open type of outdoor
footwear
Footwear
Footwear consists of garments worn on the feet, for fashion, protection against the environment, and adornment. Being barefoot is commonly associated with poverty, but some cultures chose not to wear footwear at least in some situations....
, consisting of a sole held to the wearer's foot by straps passing over the instep and, sometimes, around the
ankle
Ankle
The ankle joint is formed where the foot and the leg meet. The ankle, or talocrural joint, is a synovial hinge joint that connects the distal ends of the tibia and fibula in the lower limb with the proximal end of the talus bone in the foot...
. While the distinction between sandals and other types of footwear can sometimes be blurry (as in the case of
huaraches
Huarache (shoe)
Huaraches are a type of Mexican sandal.Huaraches are pre-Columbian in origin, and are made from woven leather. The leather is traditionally hand-woven. The name "Huarache" is derived from the P'urhépecha language term kwarachi...
—the woven leather footwear seen in Mexico—and peep-toe pumps), the common understanding is that a sandal leaves most of the upper part of the
foot
Foot
The foot is an anatomical structure found in many vertebrates. It is the terminal portion of a limb which bears weight and allows locomotion. In many animals with feet, the foot is a separate organ at the terminal part of the leg made up of one or more segments or bones, generally including claws...
exposed, particularly the
toe
Toe
Toes are the digits of the foot of a tetrapod. Animal species such as cats that walk on their toes are described as being digitigrade. Humans, and other animals that walk on the soles of their feet, are described as being plantigrade; unguligrade animals are those that walk on hooves at the tips of...
s. People may choose to wear sandals for several reasons, among them economy (sandals tend to require less material than shoes and are usually easier to construct), comfort in warm weather, and as a
fashion
Fashion
Fashion, a general term for a currently popular style or practice, especially in clothing, foot wear, or accessories. Fashion references to anything that is the current trend in look and dress up of a person...
choice.
Usually, people wear sandals in warmer climates or during warmer parts of the year in order to keep their feet cool and dry. The risk of developing
athlete's foot
Athlete's foot
Athlete's foot is a fungal infection of the skin that causes scaling, flaking, and itch of affected areas. It is caused by fungi in the genus Trichophyton and is typically transmitted in moist areas where people walk barefoot, such as showers or bathhouses...
is lower than with enclosed
shoe
Shoe
A shoe is an item of footwear intended to protect and comfort the human foot while doing various activities. Shoes are also used as an item of decoration. The design of shoes has varied enormously through time and from culture to culture, with appearance originally being tied to function...
s, and the wearing of sandals may be part of the
treatment
Therapy
This is a list of types of therapy .* Adventure therapy* Animal-assisted therapy* Aquatic therapy* Aromatherapy* Art and dementia* Art therapy* Authentic Movement* Behavioral therapy* Bibliotherapy* Buteyko Method* Chemotherapy...
regimen for such an infection.
History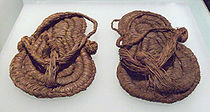 The oldest known sandals (and the oldest known footwear of any type) were discovered in
Fort Rock Cave
Fort Rock Cave
Fort Rock Cave was the site of the earliest evidence of human habitation in the U.S. state of Oregon prior to excavation of Paisley Caves. Fort Rock Cave featured numerous well-preserved sagebrush sandals, ranging from 9,000 to 13,000 years old....
in the
U.S.
United States
The United States of America is a federal constitutional republic comprising fifty states and a federal district...
state of
Oregon
Oregon
Oregon is a state in the Pacific Northwest region of the United States. It is located on the Pacific coast, with Washington to the north, California to the south, Nevada on the southeast and Idaho to the east. The Columbia and Snake rivers delineate much of Oregon's northern and eastern...
;
radiocarbon dating
Radiocarbon dating
Radiocarbon dating is a radiometric dating method that uses the naturally occurring radioisotope carbon-14 to estimate the age of carbon-bearing materials up to about 58,000 to 62,000 years. Raw, i.e. uncalibrated, radiocarbon ages are usually reported in radiocarbon years "Before Present" ,...
of the
sagebrush
Artemisia tridentata
Artemisia tridentata is a shrub or small tree from the family Asteraceae. Some botanists treat it in the segregate genus Seriphidium, as S. tridentatum W. A. Weber, but this is not widely followed...
bark from which they were woven indicates an age of at least 10,000 years.
The word sandal derives from the Greek word sandalon. The ancient Greeks distinguished between
baxeae
(sing.
baxea
), a sandal made of willow leaves, twigs, or fibres worn by comic actors and philosophers; and the
cothurnus
, a
boot
Boot
A boot is a type of footwear but they are not shoes. Most boots mainly cover the foot and the ankle and extend up the leg, sometimes as far as the knee or even the hip. Most boots have a heel that is clearly distinguishable from the rest of the sole, even if the two are made of one piece....
sandal that rose above the middle of the leg, worn principally by tragic actors, horsemen, hunters, and by men of rank and authority. The sole of the latter was sometimes made much thicker than usual by the insertion of slices of cork, so as to add to the stature of the wearer.
The ancient Egyptians wore sandals made of palm-leaves and papyrus. They are sometimes observable on the feet of Egyptian statues. According to
Herodotus
Herodotus
Herodotus was an ancient Greek historian who was born in Halicarnassus, Caria and lived in the 5th century BC . He has been called the "Father of History", and was the first historian known to collect his materials systematically, test their accuracy to a certain extent and arrange them in a...
, sandals of papyrus were a part of the required and characteristic dress of the Egyptian priests.
Construction
A sandal may have a sole made from
rubber
Rubber
Natural rubber, also called India rubber or caoutchouc, is an elastomer that was originally derived from latex, a milky colloid produced by some plants. The plants would be 'tapped', that is, an incision made into the bark of the tree and the sticky, milk colored latex sap collected and refined...
,
leather
Leather
Leather is a durable and flexible material created via the tanning of putrescible animal rawhide and skin, primarily cattlehide. It can be produced through different manufacturing processes, ranging from cottage industry to heavy industry.-Forms:...
,
wood
Wood
Wood is a hard, fibrous tissue found in many trees. It has been used for hundreds of thousands of years for both fuel and as a construction material. It is an organic material, a natural composite of cellulose fibers embedded in a matrix of lignin which resists compression...
,
tatami
Tatami
A is a type of mat used as a flooring material in traditional Japanese-style rooms. Traditionally made of rice straw to form the core , with a covering of woven soft rush straw, tatami are made in standard sizes, with the length exactly twice the width...
or
rope
Rope
A rope is a length of fibres, twisted or braided together to improve strength for pulling and connecting. It has tensile strength but is too flexible to provide compressive strength...
. It may be held to the foot by a narrow thong that generally passes between the first and second toe, or by a strap or lace, variously called a latchet, sabot strap or sandal, that passes over the arch of the foot or around the ankle. A sandal may or may not have a
heel
Heel (shoe)
A heel is the projection at the back of a shoe which rests below the heel bone. The shoe heel is used to improve the balance of the shoe or for decorative purposes. Sometimes raised, the high heel is common to a form of shoe often worn by women but sometimes by men too. See also stiletto heel.-...
(either low or high) and/or heel strap.
Variants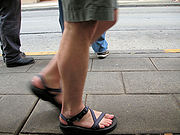 Among the many kinds of sandals are:
Barefoot sandals are something of a misnomer, referring to straps or jewelry such as anklet

Anklet

An anklet, also called ankle chain or ankle bracelet, is an ornament worn around the ankle. Barefoot anklets and toe rings historically have been worn for centuries by girls and women in India. In the United States both casual and more formal anklets became fashionable in the late twentieth century...


s and toe rings that have no sole; barefoot sandals originated in South Asia

South Asia

South Asia, also known as Southern Asia, is the southern region of the Asian continent, which comprises the sub-Himalayan countries and, for some authorities , also includes the adjoining countries to the west and the east...


and are popularly worn at religious festivities and events primarily for decoration rather than protection
Caligae

Caligae

Caligae are heavy-soled hob-nailed military boots worn by Roman legionary soldiers and auxiliaries throughout the Roman Republic and Empire. Worn by all ranks up to and including centurions, no other shoes in history stand as much symbol for the expansion of an empire than the famed caligae...


, a heavy-soled Roman military shoe or sandal worn by all ranks up to and including centurion

Centurion

A centurion was a professional officer of the Roman army .Centurion may also refer to:-Military:* Centurion tank, British battle tank* HMS Centurion, name of several ships and a shore base of the British Royal Navy...



Clog

Clog (shoe)

A clog is a type of footwear made in part or completely from wood.The Oxford English Dictionary defines a clog as a "thick piece of wood", and later as a "wooden soled overshoe" and a "shoe with a thick wooden sole"....


, a heavy sandal, having a thick, typically wooden sole
Fisherman Sandal is a type of T-bar sandal originally for men and boys. The toes are enclosed by a number of leather bands interwoven with the central length-wise strap. An adjustable cross strap or bar is fastened with a buckle. The heel may be fully enclosed or secured by a single strap joined to the cross strap. The style appears to have originated in France.
geta

Geta (footwear)

Geta are a form of traditional Japanese footwear that resemble both clogs and flip-flops. They are a kind of sandal with an elevated wooden base held onto the foot with a fabric thong to keep the foot well above the ground. They are worn with traditional Japanese clothing such as kimono or yukata,...


, a classical Japanese form of elevated thong, traditionally of cryptomeria

Cryptomeria

Cryptomeria is a monotypic genus of conifer in the cypress family Cupressaceae formerly belonging to the family Taxodiaceae; it includes only one species, Cryptomeria japonica . It is endemic to Japan, where it is known as Sugi...


wood; the crosspiece is referred to as a ha, which translates to tooth
Grecian sandal, a sole attached to the foot by interlaced straps crossing the toes and instep, and fastening around the ankle
Jelly sandals or Jelly shoes

Jelly shoes

Jelly shoes or jellies are shoes made of PVC plastic. Jelly shoes come in a large variety of brands and colors and the material is frequently infused with glitter. Its name refers to the semi-transparent materials with a jelly-like sheen. The shoes became a fad in the mid 1980s, when a pair could...


were originally a version of the classic fisherman sandal made in PVC plastic. They were invented in 1946 by Frenchman Jean Dauphant in response to a post-war leather shortage. Later designs featured translucent soft plastic in bright colours; hence the name of jelly sandals or jellies. Recently, a whole range of styles have been produced in this material, mainly for women and girls, but the classic unisex design remains popular.
Jipsin

Jipsin

Jipsin are Korean traditional sandals made of straw. Koreans have worn straw sandals since ancient times. They are categorized as yi , shoes with a short height, and the specific name can vary according to the ingredients, as with samsin, wanggolsin, cheongol jisin, and budeulsin. In the Joseon...


, a traditional Korea

Korea

Korea ) is an East Asian geographic region that is currently divided into two separate sovereign states — North Korea and South Korea. Located on the Korean Peninsula, Korea is bordered by the People's Republic of China to the northwest, Russia to the northeast, and is separated from Japan to the...


n sandal made of straw
Patten

Patten (shoe)

Pattens are protective overshoes worn in Europe from the Middle Ages until the early 20th century. Pattens were worn outdoors over a normal shoe, held in place by leather or cloth bands, with a wooden or later wood and metal sole...


, a type of oversized clog often with a wooden sole or metal device to elevate the foot and increase the wearer's height or aid in walking in mud
Paduka

Paduka

Paduka is the name of India's oldest, most quintessential footwear. It is little more than a sole with a post and knob, which is engaged between the big and second toe....


are the ancient (as old as the time of the Ramayana

Ramayana

The Ramayana is an ancient Sanskrit epic. It is ascribed to the Hindu sage Valmiki and forms an important part of the Hindu canon , considered to be itihāsa. The Ramayana is one of the two great epics of India and Nepal, the other being the Mahabharata...


) Indian toe-knob sandals. They are not really worn on a daily basis now except by monks or for ceremonial purposes.
Roman sandal, a sandal held to the foot by a vamp composed of a series of equally spaced, buckled straps
Saltwater sandals

Saltwater sandals

Saltwater sandals are a popular type of footwear sold mainly in western and southern markets of the United States. Saltwater sandals are made of specially treated natural leathers are distinguished by their interlink strap design with an adjustable buckle strap around the ankle.- History :Saltwater...


, a flat sandal developed in the 1940s as a way of coping with wartime leather shortages, primarily worn by children
Soft Foam Sandals, invented in 1973, made from closed cell soft foam and uses surgical tubing for the straps. Sold primarily along the Texas Gulf Coast in beach side gift shops.
T-Bar Sandals

T-Bar Sandals

T-Bar Sandals are a type of light shoe or sandal, used primarily by children, with an enclosed heel and toe. It is fastened by a cross-wise strap or bar secured by a buckle or more recently, by Velcro...


, primarily for children, with an enclosed heel and toe. It is fastened by a cross-wise strap or bar secured by a buckle or more recently, by Velcro. A length-wise strap extends from the vamp and joins the cross-strap over the arch of the foot to form a T shape. A common variant has two cross-straps. The toe is often pierced with a pattern of holes or slots. The sole is low-heeled and usually of crepe rubber, stitched-down to the upper. First seen in Europe and America in the early 1900s, by the 1950s they were very common for boys and girls up to their teens, but are now mainly worn by much younger children.
Wörishofer

Wörishofer

Wörishofer is a type of orthpaedic ladies' sandal made in Bad Wörishofen. They have a cork wedge in the sole which is light and acts as a shock absorber. They were first designed in the 1940s and have been considered practical but ugly. But in 2010, they became fashionable, being worn by...


, a ladies' sandal with a cork wedge heel
zōri

Zori

are flat and thonged Japanese sandals made of rice straw or other plant fibers, cloth, lacquered wood, leather, rubber, or—increasingly—synthetic materials...


, a flat and thonged Japan

Japan

Japan is an island nation in East Asia. Located in the Pacific Ocean, it lies to the east of the Sea of Japan, China, North Korea, South Korea and Russia, stretching from the Sea of Okhotsk in the north to the East China Sea and Taiwan in the south...


ese sandal, usually made of straw, cloth, leather, or rubber.
See also
Adidas Sandals

Adidas Sandals

Adidas currently manufactures several lines of sandals, including Adilette, Santiossage, Adissage, Lulouma, Commoda , Mungo, Woodilette, Harvella Thong and Raggmo Thong ....



Birkenstock

Birkenstock

Birkenstock Orthopädie GmbH & Co. KG is a shoe manufacturer headquartered in Vettelschoß, Germany. The company sells Birkenstock, a German brand of sandals and other shoes notable for their contoured cork and rubber footbeds, which conform somewhat to the shape of their wearers' feet...



Flip-flops
Mules

Mule (footwear)

Mule, a French word, is a style of shoe that is backless and often closed-toed. Mules can be any heel height - from flat to high. The style is predominantly worn by women....



Slipper

Slipper

A slipper or houseshoe is a semi-closed type of indoor/outdoor shoe, consisting of a sole held to the wearer's foot by a strap running over the toes or instep. Slippers are soft and lightweight compared to other types of footwear. They are mostly made of soft or comforting materials that allow a...



Teva sport sandals