 Snowboarding
Snowboarding
is a sport that involves descending a slope that is covered with snow on a
snowboard
Snowboard
Snowboards are boards, usually with a width the length of one's foot, with the ability to glide on snow. Snowboards are differentiated from monoskis by the stance of the user...
attached to a rider's feet using a special boot set onto mounted binding. The development of snowboarding was inspired by
skateboarding
Skateboarding
Skateboarding is an action sport which involves riding and performing tricks using a skateboard.Skateboarding can be a recreational activity, an art form, a job, or a method of transportation. Skateboarding has been shaped and influenced by many skateboarders throughout the years. A 2002 report...
,
sledding
Sledding
Sledding , sledging , sleding or tobogganing is a common activity in wintry areas, similar to sliding, but in a prone or seated position requiring a device or vehicle generically known in the US as a sled or in other countries as a sledge or toboggan...
,
surfing
Surfing
Surfing' is a surface water sport in which the surfer rides a surfboard on the crest and face of a wave which is carrying the surfer towards the shore...
and
skiing
Skiing
Skiing is a recreational activity using skis as equipment for traveling over snow. Skis are used in conjunction with boots that connect to the ski with use of a binding....
. It was developed in the U.S.A. in the 1960s and the 1970s and became a
Winter Olympic Sport
Winter Olympic Games
The Winter Olympic Games is a sporting event, which occurs every four years. The first celebration of the Winter Olympics was held in Chamonix, France, in 1924. The original sports were alpine and cross-country skiing, figure skating, ice hockey, Nordic combined, ski jumping and speed skating...
in 1998.
History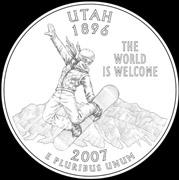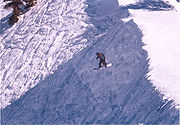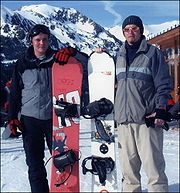 Modern snowboarding began in 1965 when Sherman Poppen, an engineer in
Muskegon, Michigan
Muskegon, Michigan
Muskegon is a city in the U.S. state of Michigan. As of the 2010 census, the city population was 38,401. The city is the county seat of Muskegon County...
, invented a toy for his daughter by fastening two skis together and attaching a rope to one end so she would have some control as she stood on the board and glided downhill. Dubbed the "
snurfer
Snurfer
The Snurfer was the first marketed snowboard. It uses a noboard type of snowboard binding alternative. The Snurfer was created in 1965 by in Muskegon, Michigan. Poppen was outside his house one day sledding with his daughters, when his 11 year old was going down the hill, standing on her old sled....
" (combining snow and surfer), the toy proved so popular among his daughter's friends that Poppen licensed the idea to a manufacturer that sold about a million snurfers over the next decade. And, in 1967 alone over half a million snurfers were sold.
In the early 1970s, Poppen organized snurfing competitions at a Michigan ski resort that attracted enthusiasts from all over the country. One of those early pioneers was
Tom Sims
Tom Sims
Tom Sims, Born 1950, is a former World Snowboarding Champion , World Champion Skateboarder and founder of Sims Snowboards and Sims Skateboards...
, a devotee of
skateboarding
Skateboarding
Skateboarding is an action sport which involves riding and performing tricks using a skateboard.Skateboarding can be a recreational activity, an art form, a job, or a method of transportation. Skateboarding has been shaped and influenced by many skateboarders throughout the years. A 2002 report...
(a sport born in the 1950s when kids attached roller skate wheels to small boards that they steered by shifting their weight). As an eighth grader in Haddonfield, New Jersey, in the 1960s, Sims crafted a snowboard in his school shop class by gluing carpet to the top of a piece of wood and attaching aluminum sheeting to the bottom. He produced commercial snowboards in the mid 70's. During this same time, Dimitrije Milovich—an American surfing enthusiast who had also enjoyed sliding down snowy hills on cafeteria trays during his college years in upstate New York—constructed a snowboard called "Winterstick," inspired by the design and feel of a surfboard. Articles about his invention in such mainstream magazines as
Newsweek
Newsweek
Newsweek is an American weekly news magazine published in New York City. It is distributed throughout the United States and internationally. It is the second-largest news weekly magazine in the U.S., having trailed Time in circulation and advertising revenue for most of its existence...
helped publicize the young sport.
Also during this same period, in 1977,
Jake Burton Carpenter
Jake Burton Carpenter
Jake Burton Carpenter , also known as Jake Burton, is an American snowboarder and founder of Burton Snowboards. He grew up in Cedarhurst, New York.- Biography :...
, a Vermont native who had enjoyed snowboarding since the age of 14, impressed the crowd at a Michigan snurfing competition with bindings he had designed to secure his feet to the board. That same year, he founded Burton Snowboards in Londonderry, Vermont. The "snowboards" were made of wooden planks that were flexible and had water ski foot traps. Very few people picked up snowboarding because the price of the board was considered too high at $38, but eventually Burton would become the biggest snowboarding company in the business. In the spring of 1976 Welsh skateboarders Jon Roberts and Pete Matthews developed a Plywood deck with foot bindings for use on the Dry Ski Slope at the school camp, Ogmore-by-Sea, Wales. UK. Further development of the board was limited as Matthews suffered serious injury while boarding at Ogmore and access for the boarders was declined following the incident. The 'deck' was much shorter than current snow boards. Bevelled edges and a convex, polyurethane varnished bottom to the board, allowed quick downhill movement, but limited turning ability.
In 1979 the first ever World Snurfing Championship was held at Pando Winter Sports Park near
Grand Rapids, Michigan
Grand Rapids, Michigan
Grand Rapids is a city in the U.S. state of Michigan. The city is located on the Grand River about 40 miles east of Lake Michigan. As of the 2010 census, the city population was 188,040. In 2010, the Grand Rapids metropolitan area had a population of 774,160 and a combined statistical area, Grand...
.
Jake Burton Carpenter
Jake Burton Carpenter
Jake Burton Carpenter , also known as Jake Burton, is an American snowboarder and founder of Burton Snowboards. He grew up in Cedarhurst, New York.- Biography :...
, came from Vermont to compete with a snowboard of his own design. There were many protests from the competitors about Jake entering with a non-snurfer board. Paul Graves, the top snurfer at the time, and others, advocated that Jake be allowed to race. A "modified" division was created and won by Jake as the sole entrant. That race was considered the first competition for snowboards and is the start of what has now become competitive snowboarding.
During the 1970s and 1980s as snowboarding became more popular, pioneers such as Dimitrije Milovich,
Jake Burton Carpenter
Jake Burton Carpenter
Jake Burton Carpenter , also known as Jake Burton, is an American snowboarder and founder of Burton Snowboards. He grew up in Cedarhurst, New York.- Biography :...
(founder of Burton Snowboards from
Londonderry, Vermont
Londonderry, Vermont
Londonderry is a town in Windham County, Vermont, United States. It is bounded on the north by Landgrove and Weston, on the east by Windham, on the south by Jamaica and on the west by Winhall and Landgrove. The population was 1,709 at the 2000 census. Londonderry also includes the village of South...
),
Tom Sims
Tom Sims
Tom Sims, Born 1950, is a former World Snowboarding Champion , World Champion Skateboarder and founder of Sims Snowboards and Sims Skateboards...
(founder of
Sims Snowboards
Sims Snowboards
Sims Snowboards is a manufacturer of snowboards. Founded by Tom Sims in the mid-1970s, the company specializes in a product line aimed at snowboarders with snowboards, bindings, boots, outerwear, and accessories....
), Chuck Barfoot (founder of Barfoot Snowboards) and Mike Olson (founder of
Gnu Snowboards
Mervin manufacturing
Mervin Manufacturing is an American snowboard manufacturer. Mervin is the parent company of Liberace Technologies Snowboards, Gnu Snowboards, , Lib Tech Skateboards, and Bent Metal bindings. In the mid 90's Mervin was also an OEM supplier for companies such as Canada's Luxury brand and for The...
) came up with new designs for boards and mechanisms that slowly developed into the snowboards and other related equipment that we know today.
In 1982 the first National Snowboard race was held near Woodstock, Vermont, at Suicide Six. The race was won by Burton's first team rider Doug Bouton.
In 1983 the first halfpipe competition was held at Soda Springs, California.
Tom Sims
Tom Sims
Tom Sims, Born 1950, is a former World Snowboarding Champion , World Champion Skateboarder and founder of Sims Snowboards and Sims Skateboards...
, founder of Sims Snowboards, organized the event with the help of Mike Chantry, a snowboard instructor at Soda Springs.
Snowboarding's growing popularity is reflected in its recognition as an official sport: in 1985, the first World Cup was held in Zürs, Austria. The International Snowboard Association (ISA) was founded in 1994 to provide universal contest regulations. In addition, the United States of America Snowboard Association (USASA) provides instructing guidelines and runs snowboard competitions in the U.S. Today, high-profile snowboarding events like the Olympic Games, Winter X-Games, US Open, and other events are broadcast worldwide. Many alpine resorts have terrain parks.
Initially, ski areas adopted the sport at a much slower pace than the winter sports public. Indeed, for many years, there was animosity between skiers and snowboarders, which led to an ongoing skier vs snowboarder feud. Early snowboards were banned from the slopes by park officials. For several years snowboarders would have to take a small skills assessment prior to being allowed to ride the chairlifts. It was thought that an unskilled snowboarder would wipe the snow off of the mountain. In 1985, only seven percent of U.S. ski areas allowed snowboarding, with a similar proportion in Europe. As equipment and skills improved, gradually snowboarding became more accepted. In 1990, most major ski areas had separate slopes for snowboarders. Now, approximately 97% of all ski areas in North America and Europe allow snowboarding, and more than half have jumps, rails and half pipes.
An excellent year for snowboarding was 2004 with 6.6 million participants.
An industry spokesman said that "twelve year-olds are out-riding adults." The same article said that most snowboarders are 18–24 years old and that females constitute 25% of participants. Now, entering the second decade of the 2000s, snowboarding continues to increase in popularity among all demographic regimes regardless of age, sex, or ability levels.
Styles
Since snowboarding's inception as an established winter sport, it has developed various styles, each with its own specialized equipment and technique. The most common styles today are: free-ride, freestyle, and free-carve/race. These styles are used for both recreational and professional snowboarding. While each style is unique, there is overlap between them.
See also List of snowboard tricks.
Jibbing
Directly influenced by grinding a skateboard, jibbing is a freestyle snowboarding technique of riding on any surface other than snow. Most common surfaces include metal rails (known as rail riding), boxes, benches, concrete ledges, walls, rocks and logs. Typically jibbing occurs in a snowboard resort park but can also be done in urban environments (known as urban jib).
Free-ride snowboarders also commonly find incidental jibs, such as a downed tree, that prove suitable to ride over in the course of their line or run.
Free-riding
The free-ride style is the most common and easily accessible style of snowboarding. It consists of riding down any terrain available, but most often consists of groomed runs. Free-riding may include aerial tricks and jib (any type of fixture which can be ridden with the board that is not snow) tricks borrowed from freestyle, or deep carve turns more common in alpine snowboarding, utilizing whatever natural terrain the rider may encounter. Free-ride aptitude is the first step to accessing other, more difficult forms of snowboarding terrain; such as freestyle (tricks), alpine, back country, and gladed terrain. Free-riding, which is more popularly known as "all-mountain snowboarding" is achieved by establishing a mastery of style in many areas of the sports including the abilities to ride, carve, and perform jumps on virtually any terrain.
Free-riding equipment is usually a stiffer boot with a directional snowboard: since the free-ride style may encounter many different
types of snow
Types of snow
Types of snow can be designated by the shape of its flakes, description of how it is falling, and by how it collects on the ground. A blizzard and snow storm indicate heavy snowfalls over a large area, snow squalls give heavy snowfalls over narrow bands, while flurries are used for the lightest...
conditions, such as ice and deep powder, a medium-stiffness setup is recommended to maintain stability in deeper snow or at higher speeds.
Freestyle
In freestyle, the rider uses man-made terrain features such as rails, jumps, boxes, and innumerable other innovative features to perform tricks on. The term "box" refers to an object with a slick top, usually of polyethylene(HDPE), that the rider can slide on with the base of their board. Like all freestyle features, boxes come in a variety of shapes, sizes, and difficulty levels. The intent of freestyle is to use these terrain features to perform a number of aerial or jib tricks. The term "jib" refers to the rider doing a slide or press on an object not made of snow. This most commonly refers to tricks done on boxes, rails, or even trees.
The equipment used in freestyle is usually a soft boot with a twin tipped board for better balance while riding regular or switch, though free-ride equipment is often used successfully. The most common binding stance used in freestyle is called "duck foot", in which the trailing foot has a negative degree of arc setup while the leading foot is in the positive range i.e. +12°/-9°. Freestyle riders who specialize in jibbing often use boards that are shorter than usual, with softer flex and filed down edges. Shorter length enables the board to be rotated faster, and a softer flex requires less energy for a rider to press a feature. Reverse camber boards, or better known as rocker boards, are most often used as freestyle boards due to their softer flex and inverted 'camber' design. Pressing refers to a type of jib where the rider leans heavily toward the nose or tail of their board- causing the opposite end of their board to lift off of the feature they are sliding on. This trick is typically done for added style.
Freestyle also includes halfpipe tricks. A halfpipe (or "pipe") is a trench-like half-tube made of snow. Tricks performed may be rotations such as a 360° (a full turn) in the air, or an off-axis spin like a "McTwist". Tricks can be modified while hitting different features.
Free-carve
Similar to skiing, this race and
slalom
Giant Slalom skiing
Giant slalom is an alpine skiing discipline. It involves skiing between sets of poles spaced at a greater distance to each other than in slalom but less than in super G....
focused style is still practiced, though infrequently. Sometimes called
alpine snowboarding
Alpine snowboarding
Alpine snowboarding is a small niche of the sport of snowboarding. It is typically practised with hard plastic shelled boots called "hardboots" and carving or race-oriented snowboards. Loosely, it is the pursuit of snowboarding mostly on the ground, in the forward direction, with the primary goal...
, or the 'euro-carve', free-carving takes place on hard packed snow or groomed runs and focuses on the ultimate carving turn, much like traditional skiing. Little or no jumping takes place in this discipline. Free-carve equipment is a ski-like hardshell boot and plate binding system with a true directional snowboard that is usually very stiff and narrow to facilitate fast and responsive turns. Shaped-skis can thank these "free-carve" snowboards for the cutting-edge technology leading to their creation.
Safety and precautions
Like some other winter sports, snowboarding comes with a certain level of risk.
The injury rate for snowboarding is around four to six per thousand persons per day, this is around double the injury rate for alpine skiing. Injuries are more likely amongst beginners, especially those who do not take lessons with professional instructors. A quarter of all injuries occur to first-time riders and half of all injuries occur to those with less than a year of experience. Experienced riders are less likely to suffer injury, but the injuries that do occur tend to be more severe.
Two thirds of injuries occur to the upper body and one third to the lower body. This contrasts with alpine skiing where two thirds of injuries are to the lower body. The most common point of injury is the wrists - 40% of all snowboard injuries are to the wrists and 24% of all snowboard injuries are wrist fractures. There are around 100,000 wrist fractures worldwide among snowboarders each year. For this reason the use of wrist guards, either separate or built into gloves, is very strongly recommended. They are often compulsory in beginner's classes and their use reduces the likelihood of wrist injury by half. In addition it is important for snow boarders to learn how to fall without stopping the fall with their hand by trying to "push" the slope away, as landing a wrist which is bent at a 90 degree angle increase the chance of it breaking. Rather, landing with the arms scratched out (like a wing) and slapping the slope with the entire arm is an effective way to break a fall. Coincidentally this is the method used by Judo practitioners to break a fall when they are thrown against the floor, by a training partner.
The risk of head injury is two to six times greater for snowboarders than for skiers and injuries follow the pattern of being rarer, but more severe, with experienced riders. Head injuries can occur both as a consequence of a collision and when failing to carry out a heel-side turn. The latter can result in the rider landing on his or her back and slamming the back of his or her head onto the ground, resulting in an occipital head injury. For this reason, helmets are widely recommended. Protective eye-wear is also recommended as eye injury can be caused by impact and
Snow blindness
Snow blindness
Photokeratitis or ultraviolet keratitis is a painful eye condition caused by exposure of insufficiently protected eyes to the ultraviolet rays from either natural or artificial sources. Photokeratitis is akin to a sunburn of the cornea and conjunctiva, and is not usually noticed until several...
can be a result of exposure to strong ultra-violet light in snow-covered areas. The wearing of ultra-violet-absorbing goggles is recommended even on hazy or cloudy days as ultra-violet light can penetrate clouds.
Unlike ski bindings, all snowboard bindings are not designed to release automatically in a fall. The mechanical support provided by the feet being locked to the board has the effect of reducing the likelihood of knee injury - 15% of snowboard injuries are to the knee, compared with 45% of all skiing injuries. Such injuries are typically to the knee ligaments, bone fractures are rare. Fractures to the lower leg are also rare but 20% of injuries are to the foot and ankle. Fractures of the
Talus bone
Talus bone
-External links:* *...
are rare in other sports but account for 2% of snowboard injuries - a lateral process talus fracture is sometimes called "
snowboarder's ankle
" by medical staff. This particular injury results in persistent lateral pain in the affected ankle yet is difficult to spot in a plain X-ray image. It may be misdiagnosed as just a sprain, with possibly serious consequences as not treating the fracture can result in serious long-term damage to the ankle. The use of portable ultrasound for mountainside diagnostics has been reviewed and appears to be a plausible tool for diagnosing some of the common injuries associated with the sport.
Four to eight percent of snowboarding injuries take place while the person is waiting in ski-lift lines or entering and exiting ski lifts. Snowboarders push themselves forward with a free foot while in the ski-lift line, leaving the other foot (usually that of the lead leg) locked on the board at a 9-27 degree angle, placing a large torque force on this leg and predisposing the person to knee injury if a fall occurs.
Snowboard binding rotating device
Snowboard binding rotating device
Snowboard binding rotating devices are designed to minimize the torque force that occures when a snowboarder has one foot out of the binding and one locked on the board. The rotating device allows the snowboarder to turn the locked foot straight into the direction of the tip of the snowboard...
s are designed to minimize the torque force, Quick Stance being the first developed in 1995 . They allow snowboarders to turn the locked foot straight into the direction of the tip of the snowboard without removing the boot from the boot binding.
Avalanches are a clear danger when on snowy mountain slopes.
It is best to learn the different kinds of avalanches, how to prevent causing one and how to react when one is going to happen. Also when going out onto the snow, all who practice an activity with increased chances of injury should have a basic First Aid knowledge and know how to deal with injuries that may occur.
Snowboarding boots should be well-fitted, with toes snug in the end of the boot to minimize movement. Padding or "armor" is recommended on other body parts such as hips, knees, spine, and shoulders. To further help avoid injury to body parts, especially knees, it is recommended to use the right technique. To acquire the right technique, one should be taught by a qualified instructor, this way you will hear about other people's mistakes and are less likely to have to learn from your own. Also, when snowboarding alone, precaution should be taken to avoid
tree well
Tree well
A tree well is a dangerous void or area of loose snow around the trunk of a tree which is surrounded by deep snow. A person, especially a skier or snowboarder, can easily fall into this well, possibly causing serious injury or death.-Formation:...
s, a particularly dangerous area of loose snow that may form at the base of trees.
Some care is also required when waxing a board as fluorocarbon waxes emit toxic fumes when overheated. Waxing is best performed in a ventilated area with care being taken to use the wax at the correct temperature - the wax should be melted but not smoking or smoldering.
Slopestyle
Competitors perform tricks while descending a course, moving around, over, across, up, or down terrain features. The course is full of obstacles including boxes, rails, jumps, jibs (includes anything the board or rider can slide across).
Slope-style contests consists of choosing your own line in a terrain park using a variety of boxes, jibs and jumps. To win a slope-style contest one must pick the best and most difficult line in the terrain park and have a smooth flowing line of tricks performed on the obstacles. Style is also a huge factor in winning a slope-style contest. The rider who lands the hardest tricks will not always win over the rider who lands easy tricks but makes them look good.
Big air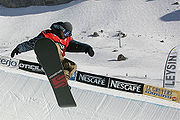 Big air competitions are contests where riders perform tricks after launching off a man made jump built specifically for the event. Competitors perform tricks in the air, aiming to attain sizable height and distance, all while securing a clean landing. Many competitions also require the rider to do a trick to win the prize. Not all competitions call for a trick to win the gold; some intermittent competitions are based solely on height and distance of the launch of the snowboarder. One of the first snowboard competitions where Travis Rice attempted and landed a "double back flip backside 180" took place at the 2006 Red Bull Gap Session.
Half-pipe
The half-pipe is a semi-circular ditch or purpose built ramp (that is usually on a downward slope), between 8 and 23 feet (7 m) deep. Competitors perform tricks while going from one side to the other and while in the air above the sides of the pipe.
Boarder-cross
In Boarder-cross, also known as "Boarder X" and "Snowboard X", several riders (usually 4, but sometimes 6) race down a course similar to a motorcycle motocross track (with jumps, berms and other obstacles constructed out of snow on a downhill course). Unlike traditional head-to-head races, competitors use the same terrain, sometimes resulting in accidental collisions.
Competitions involve a series of heats, traditionally with the first 2 riders in each heat advancing to the next round. The overall winner is the rider that finishes first
in the final round.
Big mountain/free-ride
A big mountain contest is one that takes place in open terrain, and challenges riders to find their way down the mountain with the most style and difficulty. Big mountain events usually take place in powder snow conditions in closed off areas of resorts or in the back-country. There are a number of big mountain events in Europe, the United States and in New Zealand and this aspect of snowboarding competition is quickly rising in popularity.Snowboarders consider Alaska the pinnacle of this style of riding, being featured in some of the most popular snowboarding videos and has given rise to one of the sport's most popular events, Tailgate Alaska, a yearly gathering of riders on Alaska's infamous Thompson Pass.
Rail jam
A rail jam is a jib contest. Riders perform tricks on rails, boxes, pipes, wall rides, and several other creative features. Rail jams are done in a small area, usually with two or three choices of features for the rider to hit on a run. They are sometimes done in an urban setting, due to the relatively small amount of snow required. Scoring is done in the "jam" format, where every rider can take as many runs as time allows, usually around an hour; prizes are typically awarded for best overall and best trick in the male and female category.
Slalom
Slalom snowboarding is akin to
slalom skiing
Slalom skiing
Slalom is an alpine skiing discipline, involving skiing between poles spaced much closer together than in Giant Slalom, Super-G or Downhill, thereby causing quicker and shorter turns.- Origins :...
, where riders must complete a downhill course constructed by laying out a series of gates; they must pass between the two poles forming the gates. As with skiing. there are several types of courses: slalom, giant slalom, and super G. In slalom, boarders race downhill through sets of gates that force extremely tight turns, requiring plenty of technical skill. Giant slalom uses a much longer course with gates set further apart, resulting in even higher speeds. Super G is the fastest of all, with speeds of up to 45 mi/h.
Well-known events
Some of the larger snowboarding contests include: the
Air & Style
Air & Style
The Air & Style is a European snowboard contest first held in Innsbruck, Austria in 1994 and now held annually.-History:Charly Weger and his snowboard photographer friend Andrew Hourmont first started the Air & Style Contest in Innsbruck. They only expected some hundred spectators but more than a...
, the
X-Trail Jam
X-Trail Jam
The X-Trail Jam is a Japanese snowboarding contest and one of the biggest of its kind worldwide. It was first launched in the Tokyo Dome, Japan in 2001 and is now held annually. President and main developer is Reto Lamm.- Winners :- External links :**...
, Burton Global Open Series,
Shakedown
Shakedown
Shakedown may refer to:* Shakedown , a type of plastic deformation* Shakedown or a shakedown cruise, a period of testing undergone by a ship, airplane or other craft...
, and the
X Games
X Games
The X Games is a commercial annual sports event, controlled and arranged by US sports broadcaster ESPN, which focuses on action sports. The inaugural X Games was held in the summer of 1995 in Rhode Island....
.
The
Ticket to Ride (World Snowboard Tour)
Ticket to Ride (World Snowboard Tour)
Founded by Terje Håkonsen and industry innovators in 2002, the Ticket To Ride World Snowboard Tour is a rider-driven organization that aims to represent the progression of snowboarding...
is the largest culmination of independent freestyle events acting under one common Tour Flag. Officially recognized as the TTR World Snowboard Tour or simply 'The
TTR
TTR
TTR can refer to one of the following:* Time in therapeutic range, a metric of how well patients are managed on warfarin therapy.* Tap Tap Revenge, a video game.* Twin/Tone Records* Touch-Tone Receiver* Tonopah Test Range...
', this culmination of Independent Freestyle Snowboard events has grown substantially over the last four years. Now in its seventh year, the TTR has a 10-month competition season including snowboarding events over four geographical zones. The Tour includes events like the TTR 6Star
Air & Style
Air & Style
The Air & Style is a European snowboard contest first held in Innsbruck, Austria in 1994 and now held annually.-History:Charly Weger and his snowboard photographer friend Andrew Hourmont first started the Air & Style Contest in Innsbruck. They only expected some hundred spectators but more than a...
,
The Arctic Challenge
The Arctic Challenge
The Arctic Challenge is a snowboarding contest arranged for and by the riders themselves. It was started by Norwegian professional snowboarders Daniel Franck and Terje Haakonsen. The contest was established as an alternative to the former competitions that had become streamlined and run by...
and the US Open of Snowboarding.
Snowboarder Magazine's Superpark event was created in 1996. Over 150 of the World's top pros are invited to advance freestyle snowboarding on the most progressive terrain parks.
Tailgate Alaska is one of the sports most recognized and popular events. It is a backcounty gathering in Valdez, Alaska where riders challenge themselves in the worlds best mountains and snow conditions. It is a two week festival held every March–April. The legendary King of the Hill was also brought back by Tailgate Alaska founder Mark Sullivan and is considered the top freeriding event in the world.
A wave of Anti Contests have taken over snowboarding including The Holy Oly Revival at
The Summit at Snoqualmie
The Summit at Snoqualmie
The Summit at Snoqualmie, located on Snoqualmie Pass, Washington, is a winter resort providing alpine skiing and snowboarding, Nordic skiing, and winter tubing owned by CNL Investment Properties, Inc. and managed by Boyne Resorts....
, The Nate Chute Hawaiian Classic at Whitefish, the original anti-contst, the World Quarterpipe Championships and the Grenade Games.
One of the more unique and legendary contests is the Mt. Baker Legendary Banked Slalom. Since 1985 it has been won by some of the biggest names in the history of the sport and continues to be an event that attracts the top riders from around the world. Terje Haakonsen and Karleen Jeffery are the riders that have won the most in the race with six wins each.
The North Face Masters of Snowboarding brought a return to competitive big mountain snowboarding in 2008. This contest has included such notable competitors as Travis Rice, and Rob Kingwill with three stops throughout the western United States. The North Face Masters also has such luminaries as Tom Burt, Temple Cummins, and Andy Hetzel acting as judges for the event.
USASA events
The United States of America Snowboarding Association (USASA) features three different divisions which include alpine, freestyle, and boardercross. Alpine consists of giant slalom and slalom which is a competition in which the agility and ability to make sharp turns of the snowboarders are tested. Freestyle consists of slopestyle and halfpipe. In boardercross, the idea is to be the first snowboarder down the mountain where everyone is racing each other through an obstacle course of harsh turns and wipeout potential is very likely. The USASA has 36 regional snowboard series in which anyone can compete.
Subculture
The snowboarding way of life came about as a natural response to the culture from which it emerged. Early on, there was a rebellion against skiing culture and the view that snowboarders were inferior. Skiers did not easily accept this new culture on their slopes. The two cultures contrasted each other in several ways including how they spoke, acted, and their entire style of clothing. Snowboarders first embraced the punk and later the hip-hop look into their style. Words such as "dude", "gnarly", and "Shred the Gnar" are some examples of words used in the snowboarding culture. Snowboarding subculture became a crossover between the urban and suburban styles on snow, which made an easy transition from surfing and skateboarding culture over to snowboarding culture.
The early stereotypes of snowboarding have been known to be "lazy", "grungy", "punk", "stoners", "troublemakers", and numerous others, many of which are associated with skateboarding and surfing as well. However, these stereotypes may be considered "out of style". Snowboarding has become a sport that encompasses a very diverse international based crowd and fanbase, so much so that it's hard to stereotype such a large community. Reasons for these dying stereotypes include how mainstream and popular the sport has become, with the shock factor of snowboarding's quick take off on the slopes wearing off. Skiers and snowboarders are becoming used to each other, showing more respect to each other on the mountain. "The typical stereotype of the sport is changing as the demographics change".
Local Scenes
Snowboarding culture thrives in the communities of
Alaska
Alaska
Alaska is the largest state in the United States by area. It is situated in the northwest extremity of the North American continent, with Canada to the east, the Arctic Ocean to the north, and the Pacific Ocean to the west and south, with Russia further west across the Bering Strait...
, the
Pacific Northwest
Pacific Northwest
The Pacific Northwest is a region in northwestern North America, bounded by the Pacific Ocean to the west and, loosely, by the Rocky Mountains on the east. Definitions of the region vary and there is no commonly agreed upon boundary, even among Pacific Northwesterners. A common concept of the...
, parts of
New England
New England
New England is a region in the northeastern corner of the United States consisting of the six states of Maine, New Hampshire, Vermont, Massachusetts, Rhode Island, and Connecticut...
,
Colorado
Colorado
Colorado is a U.S. state that encompasses much of the Rocky Mountains as well as the northeastern portion of the Colorado Plateau and the western edge of the Great Plains...
,
Utah
Utah
Utah is a state in the Western United States. It was the 45th state to join the Union, on January 4, 1896. Approximately 80% of Utah's 2,763,885 people live along the Wasatch Front, centering on Salt Lake City. This leaves vast expanses of the state nearly uninhabited, making the population the...
,
California
California
California is a state located on the West Coast of the United States. It is by far the most populous U.S. state, and the third-largest by land area...
and the Canadian provinces of
British Columbia
British Columbia
British Columbia is the westernmost of Canada's provinces and is known for its natural beauty, as reflected in its Latin motto, Splendor sine occasu . Its name was chosen by Queen Victoria in 1858...
,
Alberta
Alberta
Alberta is a province of Canada. It had an estimated population of 3.7 million in 2010 making it the most populous of Canada's three prairie provinces...
,
Quebec
Quebec
Quebec or is a province in east-central Canada. It is the only Canadian province with a predominantly French-speaking population and the only one whose sole official language is French at the provincial level....
,
Nova Scotia
Nova Scotia
Nova Scotia is one of Canada's three Maritime provinces and is the most populous province in Atlantic Canada. The name of the province is Latin for "New Scotland," but "Nova Scotia" is the recognized, English-language name of the province. The provincial capital is Halifax. Nova Scotia is the...
,
Ontario
Ontario
Ontario is a province of Canada, located in east-central Canada. It is Canada's most populous province and second largest in total area. It is home to the nation's most populous city, Toronto, and the nation's capital, Ottawa....
, and
New Brunswick
New Brunswick
New Brunswick is one of Canada's three Maritime provinces and is the only province in the federation that is constitutionally bilingual . The provincial capital is Fredericton and Saint John is the most populous city. Greater Moncton is the largest Census Metropolitan Area...
. Countries with strong snowboarding subcultures and many local riders include
Norway
Norway
Norway , officially the Kingdom of Norway, is a Nordic unitary constitutional monarchy whose territory comprises the western portion of the Scandinavian Peninsula, Jan Mayen, and the Arctic archipelago of Svalbard and Bouvet Island. Norway has a total area of and a population of about 4.9 million...
,
Finland
Finland
Finland , officially the Republic of Finland, is a Nordic country situated in the Fennoscandian region of Northern Europe. It is bordered by Sweden in the west, Norway in the north and Russia in the east, while Estonia lies to its south across the Gulf of Finland.Around 5.4 million people reside...
,
Germany
Germany
Germany , officially the Federal Republic of Germany , is a federal parliamentary republic in Europe. The country consists of 16 states while the capital and largest city is Berlin. Germany covers an area of 357,021 km2 and has a largely temperate seasonal climate...
,
Greece
Greece
Greece , officially the Hellenic Republic , and historically Hellas or the Republic of Greece in English, is a country in southeastern Europe....
,
Austria
Austria
Austria , officially the Republic of Austria , is a landlocked country of roughly 8.4 million people in Central Europe. It is bordered by the Czech Republic and Germany to the north, Slovakia and Hungary to the east, Slovenia and Italy to the south, and Switzerland and Liechtenstein to the...
,
Slovenia
Slovenia
Slovenia , officially the Republic of Slovenia , is a country in Central and Southeastern Europe touching the Alps and bordering the Mediterranean. Slovenia borders Italy to the west, Croatia to the south and east, Hungary to the northeast, and Austria to the north, and also has a small portion of...
,
Switzerland
Switzerland
Switzerland name of one of the Swiss cantons. ; ; ; or ), in its full name the Swiss Confederation , is a federal republic consisting of 26 cantons, with Bern as the seat of the federal authorities. The country is situated in Western Europe,Or Central Europe depending on the definition....
,
France
France
The French Republic , The French Republic , The French Republic , (commonly known as France , is a unitary semi-presidential republic in Western Europe with several overseas territories and islands located on other continents and in the Indian, Pacific, and Atlantic oceans. Metropolitan France...
,
Japan
Japan
Japan is an island nation in East Asia. Located in the Pacific Ocean, it lies to the east of the Sea of Japan, China, North Korea, South Korea and Russia, stretching from the Sea of Okhotsk in the north to the East China Sea and Taiwan in the south...
,
Russia
Russia
Russia or , officially known as both Russia and the Russian Federation , is a country in northern Eurasia. It is a federal semi-presidential republic, comprising 83 federal subjects...
,
Chile
Chile
Chile ,officially the Republic of Chile , is a country in South America occupying a long, narrow coastal strip between the Andes mountains to the east and the Pacific Ocean to the west. It borders Peru to the north, Bolivia to the northeast, Argentina to the east, and the Drake Passage in the far...
,
Australia
Australia
Australia , officially the Commonwealth of Australia, is a country in the Southern Hemisphere comprising the mainland of the Australian continent, the island of Tasmania, and numerous smaller islands in the Indian and Pacific Oceans. It is the world's sixth-largest country by total area...
and
New Zealand
New Zealand
New Zealand is an island country in the south-western Pacific Ocean comprising two main landmasses and numerous smaller islands. The country is situated some east of Australia across the Tasman Sea, and roughly south of the Pacific island nations of New Caledonia, Fiji, and Tonga...
.
Films
Snowboarding films have become a main part of progression in the sport. Each season, many films are released, usually in Autumn. These are made by many snowboard specific video production companies as well as manufacturing companies that use these films as a form of advertisement. Snowboarding videos usually contain video footage of professional riders sponsored by companies. An example of commercial use of snowboarding films would be
The White Album
The White Album (film)
The White Album is a documentary starring skateboarding and snowboarding phenomenon, Shaun White. It was released in November 2004.-External links:**, on White's versatility...
, a film by snowboarding legend and filmmaker Dave Seoane about
Shaun White
Shaun White
Shaun Roger White is an American professional snowboarder and skateboarder. He is a two-time Olympic gold medalist. He rides regular stance, twelve and negative three degrees on his board.-Early life:Shaun White is an Irish American...
, that includes cameos by
Tony Hawk
Tony Hawk
Anthony Frank "Tony" Hawk , nicknamed "The Birdman" is an American retired professional skateboarder and actor. Hawk gained significant fame for completing the first 900 as well as his licensed video game titles distributed by Activision...
and was sponsored by
PlayStation
PlayStation
The is a 32-bit fifth-generation video game console first released by Sony Computer Entertainment in Japan on December 3, .The PlayStation was the first of the PlayStation series of consoles and handheld game devices. The PlayStation 2 was the console's successor in 2000...
,
Mountain Dew
Mountain Dew
Mountain Dew is a citrus-flavored carbonated soft drink brand produced and owned by PepsiCo. The original formula was invented in the 1940s by Tennessee beverage bottlers Barney and Ally Hartman and was first marketed in Marion, VA, Knoxville and Johnson City, Tennessee. A revised formula was...
and
Burton Snowboards
Burton (Snowsports)
Burton Snowboards is a manufacturer of snowboards. Founded by Jake Burton Carpenter in 1977, the company specializes in a product line aimed at snowboarders: snowboards, bindings, boots, outerwear, and accessories....
. Snowboarding films are also used as documentation of snowboarding and showcasing of current trends and styles of the sport.
Magazines
Snowboard magazines are integral in promoting the sport, although less so with the advent of the internet age. Photo incentives are written into many professional riders' sponsorship contracts giving professionals not only a publicity but a financial incentive to have a photo published in a magazine. Snowboard magazine staff travel with professional riders throughout the winter season and cover travel, contests, lifestyle, rider and company profiles, and product reviews. Snowboard magazines have recently made a push to expand their brands to the online market, and there has also been a growth in online-only publications. Popular magazines include
Transworld Snowboarding
Transworld Snowboarding
TransWorld SNOWboarding is an American magazine focused on the snowboarding culture. It is published 10 times a year by Bonnier Corporation and features the sport, culture and lifestyle of modern snowboarding.-History:...
(USA), Snowboarder Magazine (USA),
Snowboard Magazine
Snowboard Magazine
Snowboard Magazine is an independent snowboarding publication. It was founded in April of 2004 by Mark and Liz Sullivan. Soon they were joined by Jeff Baker, Aaron Draplin, Gary Hansen and Jason "J2" Rasmus. Most of the crew were previous employees and/or contracted employees of Snowboarder Magazine...
(USA),
Whitelines
Whitelines
Whitelines is an English language magazine covering snowboarding culture published by Factory Media.-History:Founded in 1995, Whitelines began publishing under Jim Peskett, owner of Permanent Publishing, with former British professional snowboarder Tudor 'Chod' Thomas as editor...
(UK), Pleasure (Germany), Method (Europe), Onboard (Europe), Whiteroom Magazine (BG), Snowboard Canada (Canada), NZ Snowboarder, (New Zealand) and Snowboard Colorado, (USA).
Video Games
Snowboarding video games
Snowboarding video games
Snowboarding games are a genre of computer and video games that emulate the sports of snowboarding and sandboarding. Most snowboarding games are seasonal and come out sometime between October and March. The genre, for console game, peaked in the late 1990s and early 2000s. Many online casual games...
provide interactive entertainment on and off season. Most games for this genre have been made for consoles, such as the XBOX and PlayStation. A plethora of online casual snowboarding games also exist. More recently games in this genre have been made for mobile devices.
See also
Monoskiing

Monoskiing

Monoskiing is a snow sport that uses monoski. There are three types of monoskiing, one is used for waterskiing one for snow skiing and the final is a new experimental design that is equivalent to mountain boarding...



Mountainboarding

Mountainboarding

Mountainboarding, also known as Dirtboarding, Offroad Boarding, Grass Boarding, and All-Terrain Boarding , is a well established if little-known extreme sport, derived from snowboarding...



Sandboarding

Sandboarding

Sandboarding is a board sport similar to snowboarding.It is a recreational activity that takes place on sand dunes rather than snow-covered mountains....



U.S. intercollegiate snowboarding champions