 Giant Slalom skiing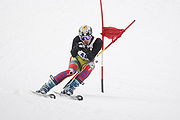 Giant slalom
is an
alpine skiing
Alpine skiing
Alpine skiing is the sport of sliding down snow-covered hills on skis with fixed-heel bindings. Alpine skiing can be contrasted with skiing using free-heel bindings: Ski mountaineering and nordic skiing – such as cross-country; ski jumping; and Telemark. In competitive alpine skiing races four...
discipline. It involves skiing between sets of poles (
gates
) spaced at a greater distance to each other than in
slalom
Slalom skiing
Slalom is an alpine skiing discipline, involving skiing between poles spaced much closer together than in Giant Slalom, Super-G or Downhill, thereby causing quicker and shorter turns.- Origins :...
but less than in
super G
Super Giant Slalom skiing
The Super Giant Slalom is an Alpine skiing discipline. It is usually referred to as Super G and is a "speed" event, along with the faster Downhill event; the Giant Slalom and Slalom events are known as the "technical" disciplines.-History:...
.
Giant slalom and slalom make up the
technical events
in alpine ski racing. This category separates them from the
speed events
of super G and
downhill
Downhill
Downhill is an alpine skiing discipline. The rules for the Downhill were originally developed by Sir Arnold Lunn for the 1921 British National Ski Championships....
. The technical events are normally composed of two runs, held on different courses on the same ski run.
Course
The vertical drop for a GS course must be 250–450 meters (820–1476 ft) for men, 250–400 m (820–1312 ft) for women. The number of gates in this event is 56–70 for men and 46–58 for women. The number of direction changes in a GS course equals 11–15% of the vertical drop of the course in meters, 13–15% for children. As an example, on a 300 m (984 ft) vertical course, there would be between 33 and 45 direction changes for an adult race.
Equipment
Giant slalom skis are shorter than super G and downhill skis, and longer than slalom skis.
In an attempt to increase safety for the 2003–04 season, the FIS increased the minimum sidecut radius for giant slalom skis to 21 m (69 ft) and for the first time imposed minimum ski lengths for GS: 185 cm (72.8 in.) for men and 180 cm (70.9 in.) for women. A maximum stand height (the distance from the snow to the sole of the boot) of 55 mm (2.165 in.) was also established for all disciplines.
In May 2006, the FIS announced further changes to the rules governing equipment. Beginning with the 2007–08 season, the minimum radius for GS skis was increased to 27 m (88.6 ft) for men and 23 m (75.4 ft) for women. Additionally, the minimum ski width at the waist was increased from 60 to 65 mm (2.56 in.), and the maximum stand height for all disciplines was reduced to 50 mm (1.97 in.).
History
The giant slalom was first run in the world championships in
1950
FIS Alpine World Ski Championships 1950
The FIS Alpine World Ski Championships 1950 were held February 13-18, 1950, on Ajax Mountain in Aspen, Colorado, U.S.A.These were the first World Championships held outside of Europe, and the first official world championships since 1939...
in
Aspen
Aspen Mountain (ski area)
Aspen Mountain is a ski area located in Pitkin County, Colorado, just outside and above the city of Aspen. It is situated on the north flank of Aspen Mountain and the higher Bell Mountain at an elevation of 11,212 ft just to the south of Aspen Mountain...
,
Colorado
Colorado
Colorado is a U.S. state that encompasses much of the Rocky Mountains as well as the northeastern portion of the Colorado Plateau and the western edge of the Great Plains...
, and debuted at the
Winter Olympics
Alpine skiing at the Winter Olympics
Alpine skiing has been contested at every Winter Olympics since 1936, when a combined event was held in Garmisch-Partenkirchen, Germany. From 1948–80, the Winter Olympics also served as the World Championships in Olympic years...
in
1952
Alpine skiing at the 1952 Winter Olympics
At the 1952 Winter Olympics in Oslo, Norway, the six alpine skiing events were held from Thursday, February 14 to Wednesday, February 20, 1952.The giant slalom made its Olympic debut, and the combined event was dropped as an Olympic medal event for four decades, until 1988...
in
Oslo
Oslo
Oslo is a municipality, as well as the capital and most populous city in Norway. As a municipality , it was established on 1 January 1838. Founded around 1048 by King Harald III of Norway, the city was largely destroyed by fire in 1624. The city was moved under the reign of Denmark–Norway's King...
,
Norway
Norway
Norway , officially the Kingdom of Norway, is a Nordic unitary constitutional monarchy whose territory comprises the western portion of the Scandinavian Peninsula, Jan Mayen, and the Arctic archipelago of Svalbard and Bouvet Island. Norway has a total area of and a population of about 4.9 million...
. The GS has been run in every world championships and Olympics since.
Upon its introduction, giant slalom briefly displaced the
combined
Alpine skiing combined
Combined is an alpine skiing event. Although not technically a discipline of its own, it is sometimes referred to as a fifth alpine discipline, along with downhill, super G, giant slalom, and slalom.-Traditional & Super-Combined:...
event at the world championships, until it returned in
1954
FIS Alpine World Ski Championships 1954
The FIS Alpine World Ski Championships 1954 were held in Åre, Sweden, from March 1–7, 1954.Olympic champion Stein Erickson of Norway won three gold medalsÅre would host the event again in 2007.-Medals table:...
in
Åre
Åre (ski area)
Åre is an alpine ski area in Sweden, founded in 1909. It is located in Åre Municipality, Jämtland, just outside and above the village of Åre, approximately 80 km from the city of Östersund. The ski lift system is on the Åreskutan mountain, at an elevation of 1420 meters ; its absolute summit...
,
Sweden
Sweden
Sweden , officially the Kingdom of Sweden , is a Nordic country on the Scandinavian Peninsula in Northern Europe. Sweden borders with Norway and Finland and is connected to Denmark by a bridge-tunnel across the Öresund....
. The combined did not return as an Olympic event until
1988
Alpine skiing at the 1988 Winter Olympics
Alpine skiing at the 1988 Winter Olympics consisted of ten events, held near Calgary, Alberta, Canada. The ten events were held at the Nakiska ski area in Kananaskis from February 15-27, 1988....
at
Nakiska
Nakiska
Nakiska is a ski resort in the Kananaskis Country region of the Canadian province of Alberta. It is located from Calgary, west on Highway 1 and south on Highway 40 ....
, the alpine skiing venue west of
Calgary
Calgary
Calgary is a city in the Province of Alberta, Canada. It is located in the south of the province, in an area of foothills and prairie, approximately east of the front ranges of the Canadian Rockies...
,
Alberta
Alberta
Alberta is a province of Canada. It had an estimated population of 3.7 million in 2010 making it the most populous of Canada's three prairie provinces...
.
See also
Parallel giant slalom, a snowboard discipline
List of Olympic medalists in men's giant slalom
List of Olympic medalists in women's giant slalom
List of Paralympic medalists in men's giant slalom
List of Paralympic medalists in women's giant slalom
Slalom

Slalom skiing

Slalom is an alpine skiing discipline, involving skiing between poles spaced much closer together than in Giant Slalom, Super-G or Downhill, thereby causing quicker and shorter turns.- Origins :...



Super giant slalom (super G)

Super Giant Slalom skiing

The Super Giant Slalom is an Alpine skiing discipline. It is usually referred to as Super G and is a "speed" event, along with the faster Downhill event; the Giant Slalom and Slalom events are known as the "technical" disciplines.-History:...



Downhill

Downhill

Downhill is an alpine skiing discipline. The rules for the Downhill were originally developed by Sir Arnold Lunn for the 1921 British National Ski Championships....



Combined

Alpine skiing combined

Combined is an alpine skiing event. Although not technically a discipline of its own, it is sometimes referred to as a fifth alpine discipline, along with downhill, super G, giant slalom, and slalom.-Traditional & Super-Combined:...



Skiing and skiing topics

Skiing

Skiing is a recreational activity using skis as equipment for traveling over snow. Skis are used in conjunction with boots that connect to the ski with use of a binding....



U.S. Ski and Snowboard Association