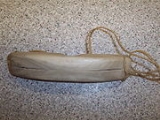 Snow blindness
Photokeratitis
or
ultraviolet keratitis
is a painful eye condition caused by exposure of insufficiently protected
eye
Human eye
The human eye is an organ which reacts to light for several purposes. As a conscious sense organ, the eye allows vision. Rod and cone cells in the retina allow conscious light perception and vision including color differentiation and the perception of depth...
s to the
ultraviolet
Ultraviolet
Ultraviolet light is electromagnetic radiation with a wavelength shorter than that of visible light, but longer than X-rays, in the range 10 nm to 400 nm, and energies from 3 eV to 124 eV...
(UV) rays from either natural or artificial sources. Photokeratitis is akin to a
sunburn
Sunburn
A sunburn is a burn to living tissue, such as skin, which is produced by overexposure to ultraviolet radiation, commonly from the sun's rays. Usual mild symptoms in humans and other animals include red or reddish skin that is hot to the touch, general fatigue, and mild dizziness. An excess of UV...
of the
cornea
Cornea
The cornea is the transparent front part of the eye that covers the iris, pupil, and anterior chamber. Together with the lens, the cornea refracts light, with the cornea accounting for approximately two-thirds of the eye's total optical power. In humans, the refractive power of the cornea is...
and
conjunctiva
Conjunctiva
The conjunctiva covers the sclera and lines the inside of the eyelids. It is composed of rare stratified columnar epithelium.-Function:...
, and is not usually noticed until several hours after exposure. Symptoms include increased tears and a feeling of pain, likened to having sand in the eyes.
The injury may be prevented by wearing eye protection that blocks most of the ultraviolet radiation, such as
welding goggles
Welding goggles
Welding goggles provide a degree of eye protection while some forms of welding and cutting are being done. They are intended to protect the eyes not only from the heat and optical radiation produced by the welding, such as the intense ultraviolet light produced by an electric arc, but from sparks...
with the proper filters, a welder's helmet, sunglasses rated for sufficient UV protection, or appropriate snow goggles. The condition is usually managed by removal from the source of ultraviolet, covering the corneas, and administration of pain relief. Photokeratitis is known by a number of different terms including:
snow blindness
,
arc eye
,
welder's flash
,
bake eyes
,
corneal flash burns
,
flash burns
,
niphablepsia
, or
keratoconjunctivitis photoelectrica
.
Signs and symptoms
Common symptoms include pain, intense tears,
eyelid twitching
Blepharospasm
A blepharospasm , is any abnormal contraction or twitch of the eyelid....
,
discomfort
Photophobia
Photophobia is a symptom of abnormal intolerance to visual perception of light. As a medical symptom photophobia is not a morbid fear or phobia, but an experience of discomfort or pain to the eyes due to light exposure or by presence of actual physical photosensitivity of the eyes, though the term...
from bright light, and constricted pupils.
Symptoms tend to occur a number of hours after exposure, and typically resolve spontaneously within 36 hours, although constriction of the pupils may last as long as 96 to 128 hours in some cases.
Cause
Any intense exposure to UV light can lead to photokeratitis. Common causes include
welder
Welder
A welder is a tradesman who specializes in welding materials together. The materials to be joined can be metals or varieties of plastic or polymer...
s who have failed to use adequate eye protection such as an appropriate welding helmet or welding goggles. This is termed
arc eye
, while photokeratitis caused by exposure to sunlight reflected from ice and snow, particularly at elevation, is commonly called
snow blindness
. It can also occur due to using tanning beds without proper eyewear. Natural sources include bright
sunlight
Sunlight
Sunlight, in the broad sense, is the total frequency spectrum of electromagnetic radiation given off by the Sun. On Earth, sunlight is filtered through the Earth's atmosphere, and solar radiation is obvious as daylight when the Sun is above the horizon.When the direct solar radiation is not blocked...
reflected
Reflection (physics)
Reflection is the change in direction of a wavefront at an interface between two differentmedia so that the wavefront returns into the medium from which it originated. Common examples include the reflection of light, sound and water waves...
from
snow
Snow
Snow is a form of precipitation within the Earth's atmosphere in the form of crystalline water ice, consisting of a multitude of snowflakes that fall from clouds. Since snow is composed of small ice particles, it is a granular material. It has an open and therefore soft structure, unless packed by...
or
ice
Ice
Ice is water frozen into the solid state. Usually ice is the phase known as ice Ih, which is the most abundant of the varying solid phases on the Earth's surface. It can appear transparent or opaque bluish-white color, depending on the presence of impurities or air inclusions...
or, less commonly, from sea or sand. Fresh snow reflects about 80% of the UV radiation compared to a dry, sandy
beach
Beach
A beach is a geological landform along the shoreline of an ocean, sea, lake or river. It usually consists of loose particles which are often composed of rock, such as sand, gravel, shingle, pebbles or cobblestones...
(15%) or
sea foam
Sea foam
Sea foam is a type of foam that appears in bodies of salt water. It can also refer to:*sponge toffee, a type of candy*A shade of the color green*A brand of fuel additive...
(25%). This is especially a problem in polar regions and at high altitudes, as with every thousand feet (approximately 305 meters) of elevation (above sea level), the intensity of UV rays increases by four percent.
Diagnosis
Fluorescein
Fluorescein
Fluorescein is a synthetic organic compound available as a dark orange/red powder soluble in water and alcohol. It is widely used as a fluorescent tracer for many applications....
dye staining will reveal punctate areas of uptake under blue light.
Prevention
Photokeratitis can be prevented by using
sunglasses
Sunglasses
Sunglasses or sun glasses are a form of protective eyewear designed primarily to prevent bright sunlight and high-energy visible light from damaging or discomforting the eyes. They can sometimes also function as a visual aid, as variously termed spectacles or glasses exist, featuring lenses that...
or eye protection that transmits 5–10 % of visible light and absorbs almost all UV rays. Additionally, these glasses should have large lenses and side shields to avoid incidental light exposure. Sunglasses should always be worn, even when the sky is overcast, as UV rays can pass through clouds.
In the event of lost or damaged sunglasses, emergency
goggles
Goggles
Goggles or safety glasses are forms of protective eyewear that usually enclose or protect the area surrounding the eye in order to prevent particulates, water or chemicals from striking the eyes. They are used in chemistry laboratories and in woodworking. They are often used in snow sports as well,...
can be made by cutting slits in dark fabric or tape folded back onto itself. The
SAS
Special Air Service
Special Air Service or SAS is a corps of the British Army constituted on 31 May 1950. They are part of the United Kingdom Special Forces and have served as a model for the special forces of many other countries all over the world...
Survival Guide and
Ancient Egyptians
Ancient Egypt
Ancient Egypt was an ancient civilization of Northeastern Africa, concentrated along the lower reaches of the Nile River in what is now the modern country of Egypt. Egyptian civilization coalesced around 3150 BC with the political unification of Upper and Lower Egypt under the first pharaoh...
recommend blackening the skin underneath the eyes with
charcoal
Charcoal
Charcoal is the dark grey residue consisting of carbon, and any remaining ash, obtained by removing water and other volatile constituents from animal and vegetation substances. Charcoal is usually produced by slow pyrolysis, the heating of wood or other substances in the absence of oxygen...
to avoid any further reflection.
Treatment
The pain may be temporarily alleviated with anaesthetic eye drops for the examination, however it is not used for continued treatment as anaesthesia of the eye interferes with corneal healing, and may lead to corneal ulceration and even loss of the eye. Cool, wet compresses over the eyes and artificial tears may help local symptoms when the feeling returns. Nonsteroidal anti-inflammatory drug (NSAID) eyedrops are widely used to lessen inflammation and eye pain, but have not been proven in rigorous trials. Systemic (oral) pain medication is given if discomfort is severe. Healing is usually rapid (24–72 hours) if the injury source is removed. Further injury should be avoided by isolation in a dark room, removing contact lenses, not rubbing the eyes, and wearing sunglasses until the symptoms improve.
Inuit response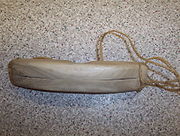 The
Inuit
Inuit
The Inuit are a group of culturally similar indigenous peoples inhabiting the Arctic regions of Canada , Denmark , Russia and the United States . Inuit means "the people" in the Inuktitut language...
carved
snow goggles
Inuit snow goggles
Snow goggles are a type of eyewear traditionally used by the Inuit people of the Arctic to prevent snow blindness...
from caribou
antler
Antler
Antlers are the usually large, branching bony appendages on the heads of most deer species.-Etymology:Antler originally meant the lowest tine, the "brow tine"...
s to help prevent snow blindness. The goggles were curved to fit the user's face, and had a large groove cut in the back to allow for the nose. A long thin slit was cut through the goggles to allow in a small amount of light, diminishing the amount of UV rays that get through. The goggles were held to the head by a cord made of caribou sinew.
External links