Service rifle
The
service rifle
of a given army or
armed force
Armed forces
The armed forces of a country are its government-sponsored defense, fighting forces, and organizations. They exist to further the foreign and domestic policies of their governing body, and to defend that body and the nation it represents from external aggressors. In some countries paramilitary...
is that which it issues as standard to its soldiers. In modern forces, this is typically a highly versatile and rugged
assault rifle
Assault rifle
An assault rifle is a selective fire rifle that uses an intermediate cartridge and a detachable magazine. Assault rifles are the standard infantry weapons in most modern armies...
suitable for use in nearly all
theatres
Theater (warfare)
In warfare, a theater, is defined as an area or place within which important military events occur or are progressing. The entirety of the air, land, and sea area that is or that may potentially become involved in war operations....
and environments. Service rifles are also often selected for their upgradability (e.g., the addition of underslung
grenade launcher
Grenade launcher
A grenade launcher or grenade discharger is a weapon that launches a grenade with more accuracy, higher velocity, and to greater distances than a soldier could throw it by hand....
s, sights,
flashlights
Tactical light
A tactical light is a flashlight used in conjunction with a firearm to aid low light target identification, allowing the marksman to simultaneously aim and illuminate the target. Tactical lights can be handheld or mounted to the weapon with the light beam parallel to the bore...
, laser sights, etc.)
Although certain weapons issued to
special forces
Special forces
Special forces, or special operations forces are terms used to describe elite military tactical teams trained to perform high-risk dangerous missions that conventional units cannot perform...
units are rarely considered "service weapons" in the truest sense, certain specialist
rifle
Rifle
A rifle is a firearm designed to be fired from the shoulder, with a barrel that has a helical groove or pattern of grooves cut into the barrel walls. The raised areas of the rifling are called "lands," which make contact with the projectile , imparting spin around an axis corresponding to the...
s and
submachine gun
Submachine gun
A submachine gun is an automatic carbine, designed to fire pistol cartridges. It combines the automatic fire of a machine gun with the cartridge of a pistol. The submachine gun was invented during World War I , but the apex of its use was during World War II when millions of the weapon type were...
s are categorized as such if issued as per
standing operating procedure
Standing operating procedure
The terms standard operating procedure or SOP, is used in a variety of different contexts, such as healthcare, education, industry or the military. The military uses the term Standing Operating Procedure- rather than Standard- because an SOP refers to an organization's unique procedures, which are...
s upon entering special environments or scenarios. These may include
urban warfare
Urban warfare
Urban warfare is combat conducted in urban areas such as towns and cities. Urban combat is very different from combat in the open at both the operational and tactical level...
(FIBUA/MOUT) and
jungle warfare
Jungle warfare
Jungle warfare is a term used to cover the special techniques needed for military units to survive and fight in jungle terrain.It has been the topic of extensive study by military strategists, and was an important part of the planning for both sides in many conflicts, including World War II and the...
environments.
Most armies also have
service pistol
Service pistol
A service pistol is any handgun issued to military personnel.Typically service pistols are revolvers or semi-automatic pistols issued to officers, non-commissioned officers and rear-echelon support personnel for self defense, though service pistols may also be issued to special forces as a backup...
s/
side arm
Side arm
A side arm is a weapon, usually a pistol but can be a dagger, as used in pre-modern times, which is worn on the body in a holster to permit immediate access and use. A side arm is typically required equipment for military personnel and sometimes carried by law enforcement personnel...
s.
History

Originally, rifles used in combat were not standard-issue weapons like the service rifles of today. Rifles were for specialist marksmen only, whilst the ordinary infantry were issued less accurate
smoothbore
Smoothbore
A smoothbore weapon is one which has a barrel without rifling. Smoothbores range from handheld firearms to powerful tank guns and large artillery mortars.-History of firearms and rifling:...
musket
Musket
A musket is a muzzle-loaded, smooth bore long gun, fired from the shoulder. Muskets were designed for use by infantry. A soldier armed with a musket had the designation musketman or musketeer....
s which had a higher rate of fire, with bore diameters as high as 19 mm, or 0.75 inch. By the middle of the 19th century, however, rifles were becoming more and more common on the battlefield, with muskets being phased out. Originally, these combat rifles were single-shot muzzle-loading weapons, but as technology advanced through the 18th and 19th centuries, so too did the technique of loading rounds. First, breech-loading firearms, like the Prussian
Needle gun
Needle gun
The Dreyse needle-gun was a military breechloading rifle, famous as the main infantry weapon of the Prussians, who adopted it for service in 1848 as the Dreyse Zündnadelgewehr, or Prussian Model 1848...
of the mid-19th century came to prominence, which then evolved into repeating weapons, such as the bolt-action
Mosin-Nagant
Mosin-Nagant
The Mosin–Nagant is a bolt-action, internal magazine-fed, military rifle invented under the government commission by Russian and Belgian inventors, and used by the armed forces of the Russian Empire, the Soviet Union and various other nations....
rifle used by
Imperial Russia
Russian Empire
The Russian Empire was a state that existed from 1721 until the Russian Revolution of 1917. It was the successor to the Tsardom of Russia and the predecessor of the Soviet Union...
in the late 19th and early 20th centuries and the
Soviet Union
Soviet Union
The Soviet Union , officially the Union of Soviet Socialist Republics , was a constitutionally socialist state that existed in Eurasia between 1922 and 1991....
in
World War II
World War II
World War II, or the Second World War , was a global conflict lasting from 1939 to 1945, involving most of the world's nations—including all of the great powers—eventually forming two opposing military alliances: the Allies and the Axis...
. By this time almost all prominent armies in the world had some sort of standard service rifle.
During the Second World War, there was yet another leap forward in rifle design which was to influence service rifles even today. That is, the use of a fired cartridge's gas emissions to automatically rechamber rounds into the breech once a bullet had been fired, as well as expelling the old cartridge. These weapons were known as
gas-operated firearms
Gas-operated reloading
Gas-operation is a system of operation used to provide energy to operate autoloading firearms. In gas-operation, a portion of high pressure gas from the cartridge being fired is used to power a mechanism to extract the spent case and chamber a new cartridge. Energy from the gas is harnessed...
. Some of the earliest examples of these were most prominent in the Second World War, and were usually semi automatic, such as the American-made M1 Garand, first brought into service with the United States in 1936. These "
battle rifle
Battle rifle
A battle rifle is a military service rifle that fires a full power rifle cartridge, such as 7.62x51mm NATO. While the designation of battle rifle is usually given to post-World War II select fire infantry rifles such as the H&K G3, the FN FAL or the M14, this term can also apply to older military...
s", as they were called, usually fired a "full-sized" (as opposed to an intermediate) rifle cartridge, such as the
.30-06 Springfield
.30-06 Springfield
The .30-06 Springfield cartridge or 7.62×63mm in metric notation, was introduced to the United States Army in 1906 and standardized, and was in use until the 1960s and early 1970s. It replaced the .30-03, 6 mm Lee Navy, and .30 US Army...
or
.303 British
.303 British
.303 British, or 7.7x56mmR, is a .311 inch calibre rifle and machine gun cartridge first developed in Britain as a blackpowder round put into service in December 1888 for the Lee-Metford rifle, later adapted to use smokeless powders...
. Another type of commonly issued rifle which was to become well known during this time was the
assault rifle
Assault rifle
An assault rifle is a selective fire rifle that uses an intermediate cartridge and a detachable magazine. Assault rifles are the standard infantry weapons in most modern armies...
, a (usually) fully automatic rifle firing a lighter "intermediate" cartridge, as opposed to the full-sized cartridges used by battle rifles. The first of these was the Sturmgewehr 44, used by Nazi Germany in the later stages of the Second World War. The StG44 was not issued in large numbers, and was never adopted as Germany's service rifle. However, this weapon was to serve as the precursor to other assault rifles such as the Soviet
AK-47
AK-47
The AK-47 is a selective-fire, gas-operated 7.62×39mm assault rifle, first developed in the Soviet Union by Mikhail Kalashnikov. It is officially known as Avtomat Kalashnikova . It is also known as a Kalashnikov, an "AK", or in Russian slang, Kalash.Design work on the AK-47 began in the last year...
, the American
M-16
M16 rifle
The M16 is the United States military designation for the AR-15 rifle adapted for both semi-automatic and full-automatic fire. Colt purchased the rights to the AR-15 from ArmaLite, and currently uses that designation only for semi-automatic versions of the rifle. The M16 fires the 5.56×45mm NATO...
, the Belgian
FN FAL
FN FAL
The Fusil Automatique Léger or FAL is a self-loading, selective fire battle rifle produced by the Belgian armaments manufacturer Fabrique Nationale de Herstal . During the Cold War it was adopted by many North Atlantic Treaty Organization countries, with the notable exception of the United States...
, the German
G3
Heckler & Koch G3
The G3 is a 7.62mm battle rifle developed in the 1950s by the German armament manufacturer Heckler & Koch GmbH in collaboration with the Spanish state-owned design and development agency CETME ....
and the Swiss Sturmgewehr 57, which today supersede battle rifles as the service rifle of choice for militaries the world over.
Angola
Firearm
Type
Calibre
Service
AK-47

AK-47

The AK-47 is a selective-fire, gas-operated 7.62×39mm assault rifle, first developed in the Soviet Union by Mikhail Kalashnikov. It is officially known as Avtomat Kalashnikova . It is also known as a Kalashnikov, an "AK", or in Russian slang, Kalash.Design work on the AK-47 began in the last year...



Selective-Fire

Selective fire

A selective fire firearm has at least one semi–automatic and one automatic mode, which is activated by means of a selector which varies depending on the weapon's design. Some selective fire weapons utilize burst fire mechanisms to limit the maximum or total number of shots fired automatically in...



7.62x39mm
1950s-
Argentina
Firearm
Type
Calibre
Service
Remington EN M1879
Rolling block

Rolling block

A rolling block is a form of firearm action where the sealing of the breech is done with a specially shaped breechblock able to rotate on a pin. The breechblock is shaped like a section of a circle....



.45-70

.45-70

The .45-70 rifle cartridge, also known as .45-70 Government, was developed at the U.S. Army's Springfield Armory for use in the Springfield Model 1873...



1879-1891
Mauser Modelo Argentino 1891
Bolt action
7.65x53mm Mauser
1891-1909
Mauser Modelo Argentino 1909
Bolt action
7.65x53mm Mauser
1909-1960s
FN Model 1949

FN Model 1949

The Fabrique Nationale Model 1949 is a semi-automatic rifle designed by Dieudonné Saive and manufactured by Fabrique Nationale...



Semi-automatic

Semi-automatic firearm

A semi-automatic, or self-loading firearm is a weapon which performs all steps necessary to prepare the weapon to fire again after firing—assuming cartridges remain in the weapon's feed device or magazine...



7.65x53mm Mauser, 7.62x51mm NATO
1953-1980s
FN FAL

FN FAL

The Fusil Automatique Léger or FAL is a self-loading, selective fire battle rifle produced by the Belgian armaments manufacturer Fabrique Nationale de Herstal . During the Cold War it was adopted by many North Atlantic Treaty Organization countries, with the notable exception of the United States...



Selective fire

Selective fire

A selective fire firearm has at least one semi–automatic and one automatic mode, which is activated by means of a selector which varies depending on the weapon's design. Some selective fire weapons utilize burst fire mechanisms to limit the maximum or total number of shots fired automatically in...



7.62x51mm NATO
1959-Present
FARA 83

FARA 83

The FARA 83 or FAA 81, "Argentine Automatic Rifle" was a rifle locally designed and developed for the Argentine Army in the 1980s.-Development:...



Selective fire

Selective fire

A selective fire firearm has at least one semi–automatic and one automatic mode, which is activated by means of a selector which varies depending on the weapon's design. Some selective fire weapons utilize burst fire mechanisms to limit the maximum or total number of shots fired automatically in...



5.56x45mm NATO

5.56x45mm NATO

5.56×45mm NATO is a rifle cartridge developed in the United States and originally chambered in the M16 rifle. Under STANAG 4172, it is a standard cartridge for NATO forces as well as many non-NATO countries. It is derived from, but not identical to, the .223 Remington cartridge...



1983-Present
Australia
Firearm
Type
Calibre
Service
Lee-Enfield

Lee-Enfield

The Lee-Enfield bolt-action, magazine-fed, repeating rifle was the main firearm used by the military forces of the British Empire and Commonwealth during the first half of the 20th century...



Bolt-Action

Bolt-action

Bolt action is a type of firearm action in which the weapon's bolt is operated manually by the opening and closing of the breech with a small handle, most commonly placed on the right-hand side of the weapon...



.303 SAA Ball

.303 British

.303 British, or 7.7x56mmR, is a .311 inch calibre rifle and machine gun cartridge first developed in Britain as a blackpowder round put into service in December 1888 for the Lee-Metford rifle, later adapted to use smokeless powders...



1901-1950s
L1A1 SLR

FN FAL

The Fusil Automatique Léger or FAL is a self-loading, selective fire battle rifle produced by the Belgian armaments manufacturer Fabrique Nationale de Herstal . During the Cold War it was adopted by many North Atlantic Treaty Organization countries, with the notable exception of the United States...



Semi-Automatic

Semi-automatic

Semi-automatic may refer to:* A semi-automatic firearm, a firearm which automatically reloads, but will only fire one round per trigger pull** Semi-automatic rifle** Semi-automatic pistol** Semi-automatic shotgun...



7.62x51mm NATO
1957-1980s
F88 Austeyr

Steyr AUG

The AUG is an Austrian bullpup 5.56mm assault rifle, designed in the early 1970s by Steyr Mannlicher GmbH & Co KG . The AUG was adopted by the Austrian Army as the StG 77 in 1977, where it replaced the 7.62mm StG 58 automatic rifle...



Selective-Fire

Selective fire

A selective fire firearm has at least one semi–automatic and one automatic mode, which is activated by means of a selector which varies depending on the weapon's design. Some selective fire weapons utilize burst fire mechanisms to limit the maximum or total number of shots fired automatically in...



5.56x45mm NATO

5.56x45mm NATO

5.56×45mm NATO is a rifle cartridge developed in the United States and originally chambered in the M16 rifle. Under STANAG 4172, it is a standard cartridge for NATO forces as well as many non-NATO countries. It is derived from, but not identical to, the .223 Remington cartridge...



1988-Present
Austria

Firearm
Type
Calibre
Service
Lorenz Rifle

Lorenz Rifle

The Lorenz rifle was an Austrian rifle used in the mid 19th century. It was used in several European wars, and also featured prominently in the U.S. Civil War.-History:...



Rifled musket

Rifled musket

The term rifled musket or rifle musket refers to a specific type of weapon made in the mid-19th century. Originally the term referred only to muskets that had been produced as a smoothbore weapon and later had their barrels rifled...



.54
1854-1867
Wanzl rifle

Wanzl

The Wanzl rifle was a breechloading conversion of the Lorenz musket used as the service rifle of the Austro-Hungarian Empire from 1854 until it was replaced by the M1867 Werndl-Holub....



Trapdoor breechloader
14mm Wanzl rimfire
1854-1867
M1867 Werndl-Holub‎
Rotary block
11x42mm
1867-1881
M1881 Kropatschek

Kropatschek

A Kropatschek is any variant of a rifle designed by Alfred von Kropatschek. Kropatschek's rifles used an tubular magazine of his design, of the same type used in the German Mauser Gewehr 1871/84 and the Japanese Type 22 Murata.-Variants:Austria-Hungary:...



Bolt action
11.15x42R
1881-?
M1886 Mannlicher

Steyr Mannlicher

Steyr Mannlicher is a firearms manufacturer based in the city of Steyr, Austria. Originally a part of the Steyr-Daimler-Puch manufacturing conglomerate, it became independent when the conglomerate was broken in 1990.-History:...



Bolt action
11x42mm, 8x52mmR
1886-1895
Steyr-Mannlicher M1895

Steyr-Mannlicher M1895

The Steyr-Mannlicher M1895 rifle is a bolt-action rifle, designed by Ferdinand Ritter von Mannlicher that used a refined version of his revolutionary straight-pull action. It was nicknamed the "Ruck-Zuck" by Landsers...



Straight-pull
8x50mmR Mannlicher / after 1930: 8x56mmR

8x56mmR

The 8x56mmR or 8 x 56 R M30S cartridge was adopted in the 1930s by both Austria and Hungary as a replacement for the 8×50mmR Mannlicher cartridge. It was originally created for the Steyr-Solothurn light machine gun as the M30. Later the cartridge was adopted for use in rifles in 1931 as the M31 to...


Steyr
1895-1945
KM1 (M1 Carbine

M1 Carbine

The M1 carbine is a lightweight, easy to use semi-automatic carbine that became a standard firearm for the U.S. military during World War II, the Korean War and the Vietnam War, and was produced in several variants. It was widely used by U.S...


)
Semi-Automatic

Semi-automatic

Semi-automatic may refer to:* A semi-automatic firearm, a firearm which automatically reloads, but will only fire one round per trigger pull** Semi-automatic rifle** Semi-automatic pistol** Semi-automatic shotgun...



.30 Carbine

.30 Carbine

The .30 Carbine is the cartridge used in the M1 Carbine introduced in the 1940s. It is an intermediate round designed to be fired from the M1 carbine's 18-inch barrel.-History:...



1950-1970 (Police: 1-JUL-1993)
GM1 (M1 Garand

M1 Garand

The M1 Garand , was the first semi-automatic rifle to be generally issued to the infantry of any nation. Called "the greatest battle implement ever devised" by General George S...


)
Semi-Automatic

Semi-automatic

Semi-automatic may refer to:* A semi-automatic firearm, a firearm which automatically reloads, but will only fire one round per trigger pull** Semi-automatic rifle** Semi-automatic pistol** Semi-automatic shotgun...



.30-06 Springfield

.30-06 Springfield

The .30-06 Springfield cartridge or 7.62×63mm in metric notation, was introduced to the United States Army in 1906 and standardized, and was in use until the 1960s and early 1970s. It replaced the .30-03, 6 mm Lee Navy, and .30 US Army...



1950-?
? (Mosin–Nagant)
bolt-action

Bolt-action

Bolt action is a type of firearm action in which the weapon's bolt is operated manually by the opening and closing of the breech with a small handle, most commonly placed on the right-hand side of the weapon...



7.62x54mmR Mosin-Nagant
1955-?
Stg 58 (FAL)
Selective fire

Selective fire

A selective fire firearm has at least one semi–automatic and one automatic mode, which is activated by means of a selector which varies depending on the weapon's design. Some selective fire weapons utilize burst fire mechanisms to limit the maximum or total number of shots fired automatically in...



7.62x51mm NATO
1958-1977
Stg 77

Steyr AUG

The AUG is an Austrian bullpup 5.56mm assault rifle, designed in the early 1970s by Steyr Mannlicher GmbH & Co KG . The AUG was adopted by the Austrian Army as the StG 77 in 1977, where it replaced the 7.62mm StG 58 automatic rifle...


(Steyr AUG)
Selective fire
5.56x45mm NATO

5.56x45mm NATO

5.56×45mm NATO is a rifle cartridge developed in the United States and originally chambered in the M16 rifle. Under STANAG 4172, it is a standard cartridge for NATO forces as well as many non-NATO countries. It is derived from, but not identical to, the .223 Remington cartridge...



1977-Present
Bangladesh
Firearm
Type
Calibre
Service
Type 56 (Chinese Type 56)
Selective fire
7.62x39mm
1971-Present
BD-08

Type 81 Assault Rifle

The Type 81 assault rifle was the principal automatic rifle used by the Chinese People's Liberation Army from the mid-1980s until 1995. It incorporates elements of the Dragunov Sniper Rifle, SKS, and AK series rifles in general looks...


(Chinese Type 81)
Selective fire
7.62x39mm
2008-Present
Belgium

Firearm
Type
Calibre
Service
Albini rifle

Albini rifle

The Albini rifle was a single-shot 11mm rifle adopted by Belgium in 1867. The action on the Albini rifle was designed by an Italian officer Augusto Albini and was perfected by an English gunsmith, Francis Braendlin...



Hinged breechblock
11mm
1867-?
FN Mauser M1889
Bolt action
7.65x53mm Argentine
1889-1940
FN Mauser M1936
Bolt-action
7.65x53mm Argentine
1936-1949
FN SAFN-49

FN Model 1949

The Fabrique Nationale Model 1949 is a semi-automatic rifle designed by Dieudonné Saive and manufactured by Fabrique Nationale...



Semi-automatic

Semi-automatic rifle

A semi-automatic rifle is a type of rifle that fires a single bullet each time the trigger is pulled, automatically ejects the spent cartridge, chambers a fresh cartridge from its magazine, and is immediately ready to fire another shot...



.30-06 Springfield

.30-06 Springfield

The .30-06 Springfield cartridge or 7.62×63mm in metric notation, was introduced to the United States Army in 1906 and standardized, and was in use until the 1960s and early 1970s. It replaced the .30-03, 6 mm Lee Navy, and .30 US Army...



1949-1956
FN FAL

FN FAL

The Fusil Automatique Léger or FAL is a self-loading, selective fire battle rifle produced by the Belgian armaments manufacturer Fabrique Nationale de Herstal . During the Cold War it was adopted by many North Atlantic Treaty Organization countries, with the notable exception of the United States...



Selective fire

Selective fire

A selective fire firearm has at least one semi–automatic and one automatic mode, which is activated by means of a selector which varies depending on the weapon's design. Some selective fire weapons utilize burst fire mechanisms to limit the maximum or total number of shots fired automatically in...



7.62x51mm NATO
1953-present
FN FNC

FN FNC

The FNC is a 5.56mm assault rifle developed by the Belgian arms manufacturer Fabrique Nationale of Herstal and introduced in the late 1970s.-Development:...



Selective fire
5.56x45mm NATO

5.56x45mm NATO

5.56×45mm NATO is a rifle cartridge developed in the United States and originally chambered in the M16 rifle. Under STANAG 4172, it is a standard cartridge for NATO forces as well as many non-NATO countries. It is derived from, but not identical to, the .223 Remington cartridge...



1979-present
Bolivia
Firearm
Type
Calibre
Service
Vz. 24

Vz. 24

The vz. 24 rifle is a rifle designed and produced in Czechoslovakia from 1924 to 1942. It was developed from the Mauser Gewehr 98 line, though is not a clone of any specific Mauser model. The fit and finish are of the highest quality....



Battle rifle

Battle rifle

A battle rifle is a military service rifle that fires a full power rifle cartridge, such as 7.62x51mm NATO. While the designation of battle rifle is usually given to post-World War II select fire infantry rifles such as the H&K G3, the FN FAL or the M14, this term can also apply to older military...



7.92x57mm
1932-1960s
SIG SG 510
Battle rifle

Battle rifle

A battle rifle is a military service rifle that fires a full power rifle cartridge, such as 7.62x51mm NATO. While the designation of battle rifle is usually given to post-World War II select fire infantry rifles such as the H&K G3, the FN FAL or the M14, this term can also apply to older military...



7.62x51mm NATO
1957-Present
Heckler & Koch G3

Heckler & Koch G3

The G3 is a 7.62mm battle rifle developed in the 1950s by the German armament manufacturer Heckler & Koch GmbH in collaboration with the Spanish state-owned design and development agency CETME ....



Battle rifle

Battle rifle

A battle rifle is a military service rifle that fires a full power rifle cartridge, such as 7.62x51mm NATO. While the designation of battle rifle is usually given to post-World War II select fire infantry rifles such as the H&K G3, the FN FAL or the M14, this term can also apply to older military...



7.62x51mm NATO
1960s-Present
Brazil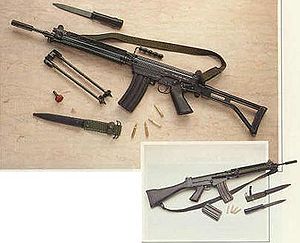 Firearm
Type
Calibre
Service
M1873 Brazilian Comblain

M1870 Belgian Comblain

The M1870 Belgian Comblain was a falling-block rifle invented by Hubert-Joseph Comblain of Liège, Belgium.-Users:: M1882 Belgian Comblain: M1873 Brazilian Comblain: M1874 Chilean Comblain: Brazilian Comblain Carbine Model 92-Sources:*...



Falling block
11x53mmR
1873-1892
M88 German Commission Rifle
Bolt action
7x57mm Mauser
1892-1894
Mauser M1894 Rifle
Bolt action
7x57mm Mauser
1894-1908
Mauser M1908 (M1908/34, M1935)
Bolt action
7x57mm Mauser
1908-1954
Itajuba M954 Mosquetão

Itajubá Model 954 Mosquetão

The Itajubá Model 954 Mosquetão is a battle rifle of Brazilian origin. The weapon is a derivative of the Gewehr 43 but chambered in the .30-06 round.-See also:*Beretta BM59*MAS-49 rifle*Vz. 52 rifle...



Bolt action
.30-06 Springfield

.30-06 Springfield

The .30-06 Springfield cartridge or 7.62×63mm in metric notation, was introduced to the United States Army in 1906 and standardized, and was in use until the 1960s and early 1970s. It replaced the .30-03, 6 mm Lee Navy, and .30 US Army...



1954-1968
FN Model 1949

FN Model 1949

The Fabrique Nationale Model 1949 is a semi-automatic rifle designed by Dieudonné Saive and manufactured by Fabrique Nationale...



Semi-auto

Semi-automatic firearm

A semi-automatic, or self-loading firearm is a weapon which performs all steps necessary to prepare the weapon to fire again after firing—assuming cartridges remain in the weapon's feed device or magazine...



.30-06 Springfield

.30-06 Springfield

The .30-06 Springfield cartridge or 7.62×63mm in metric notation, was introduced to the United States Army in 1906 and standardized, and was in use until the 1960s and early 1970s. It replaced the .30-03, 6 mm Lee Navy, and .30 US Army...



1950s-1968
FAL

FN FAL

The Fusil Automatique Léger or FAL is a self-loading, selective fire battle rifle produced by the Belgian armaments manufacturer Fabrique Nationale de Herstal . During the Cold War it was adopted by many North Atlantic Treaty Organization countries, with the notable exception of the United States...


IMBEL LAR
Selective fire

Selective fire

A selective fire firearm has at least one semi–automatic and one automatic mode, which is activated by means of a selector which varies depending on the weapon's design. Some selective fire weapons utilize burst fire mechanisms to limit the maximum or total number of shots fired automatically in...



7.62x51mm NATO
1964-1985
IMBEL MD2

IMBEL MD2

The IMBEL MD series of assault rifles are the standard-issue rifles of the Brazilian Army.-History:...



Selective fire
5.56x45mm NATO

5.56x45mm NATO

5.56×45mm NATO is a rifle cartridge developed in the United States and originally chambered in the M16 rifle. Under STANAG 4172, it is a standard cartridge for NATO forces as well as many non-NATO countries. It is derived from, but not identical to, the .223 Remington cartridge...



1985-Present
Burma
Firearm
Type
Calibre
Service
Lee Enfield
Bolt-Action

Bolt-action

Bolt action is a type of firearm action in which the weapon's bolt is operated manually by the opening and closing of the breech with a small handle, most commonly placed on the right-hand side of the weapon...



.303 British
1947-1961
Heckler & Koch G3

Heckler & Koch G3

The G3 is a 7.62mm battle rifle developed in the 1950s by the German armament manufacturer Heckler & Koch GmbH in collaboration with the Spanish state-owned design and development agency CETME ....


(BA72)
Semi-automatic

Semi-automatic firearm

A semi-automatic, or self-loading firearm is a weapon which performs all steps necessary to prepare the weapon to fire again after firing—assuming cartridges remain in the weapon's feed device or magazine...



7.62x51mm NATO
1961-Present
Burmese M1A1
Assault rifle

Assault rifle

An assault rifle is a selective fire rifle that uses an intermediate cartridge and a detachable magazine. Assault rifles are the standard infantry weapons in most modern armies...



5.56x45mm
1990s-Present
Cambodia
Firearm
Type
Calibre
Service
Mosin Nagant
Bolt Action
7.62x54mmR
1940s-1979
MAS-36

MAS-36

The MAS Modèle 36 is a bolt-action rifle. It was adopted in 1936 by France, and was intended to replace the Berthier and Lebel series of service rifles. It was manufactured by MAS The MAS Modèle 36 is a bolt-action rifle. It was adopted in 1936 by France, and was intended to replace the Berthier...



Bolt Action
7.5×54mm French
1940s-1975
Arisaka Type 38

Type 38 rifle

The is a bolt-action rifle. For a time it was the standard rifle of the Japanese infantry. It was known also as the Type 38 Year Meiji Carbine in Japan. An earlier, similar weapon was the Type 30 Year Meiji Rifle, which was also used alongside it. Both of these weapons were also known as the...



Bolt-action
6.5x50mm Arisaka
1941-1945
Arisaka Type 99

Type 99 Rifle

The was a bolt-action rifle of the Arisaka design used by the Imperial Japanese Army during World War II.-History:During the Second Sino-Japanese War in the 1930s, the Japanese soon found that the 8×57mm IS cartridge the Chinese used was superior to the 6.5×50mm cartridge of the Type 38 rifle,...



Bolt-action
7.7x58mm Arisaka
1941-1945
M1903 Springfield
Bolt Action
.30-06 Springfield

.30-06 Springfield

The .30-06 Springfield cartridge or 7.62×63mm in metric notation, was introduced to the United States Army in 1906 and standardized, and was in use until the 1960s and early 1970s. It replaced the .30-03, 6 mm Lee Navy, and .30 US Army...



1950s-1975
M1 Carbine

M1 Carbine

The M1 carbine is a lightweight, easy to use semi-automatic carbine that became a standard firearm for the U.S. military during World War II, the Korean War and the Vietnam War, and was produced in several variants. It was widely used by U.S...



Semi-automatic rifle

Semi-automatic rifle

A semi-automatic rifle is a type of rifle that fires a single bullet each time the trigger is pulled, automatically ejects the spent cartridge, chambers a fresh cartridge from its magazine, and is immediately ready to fire another shot...



.30 Carbine

.30 Carbine

The .30 Carbine is the cartridge used in the M1 Carbine introduced in the 1940s. It is an intermediate round designed to be fired from the M1 carbine's 18-inch barrel.-History:...



1950s-1975
M1 Garand

M1 Garand

The M1 Garand , was the first semi-automatic rifle to be generally issued to the infantry of any nation. Called "the greatest battle implement ever devised" by General George S...



Semi-automatic rifle
.30-06 Springfield

.30-06 Springfield

The .30-06 Springfield cartridge or 7.62×63mm in metric notation, was introduced to the United States Army in 1906 and standardized, and was in use until the 1960s and early 1970s. It replaced the .30-03, 6 mm Lee Navy, and .30 US Army...



1950s-1975
FN FAL

FN FAL

The Fusil Automatique Léger or FAL is a self-loading, selective fire battle rifle produced by the Belgian armaments manufacturer Fabrique Nationale de Herstal . During the Cold War it was adopted by many North Atlantic Treaty Organization countries, with the notable exception of the United States...



Selective fire

Selective fire

A selective fire firearm has at least one semi–automatic and one automatic mode, which is activated by means of a selector which varies depending on the weapon's design. Some selective fire weapons utilize burst fire mechanisms to limit the maximum or total number of shots fired automatically in...



7.62x51mm
1960s-1975
M16

M16 rifle

The M16 is the United States military designation for the AR-15 rifle adapted for both semi-automatic and full-automatic fire. Colt purchased the rights to the AR-15 from ArmaLite, and currently uses that designation only for semi-automatic versions of the rifle. The M16 fires the 5.56×45mm NATO...



Selective fire
5.56x45mm NATO

5.56x45mm NATO

5.56×45mm NATO is a rifle cartridge developed in the United States and originally chambered in the M16 rifle. Under STANAG 4172, it is a standard cartridge for NATO forces as well as many non-NATO countries. It is derived from, but not identical to, the .223 Remington cartridge...



1967-Present
SKS

SKS

The SKS is a Soviet semi-automatic rifle chambered for the 7.62x39mm round, designed in 1943 by Sergei Gavrilovich Simonov. SKS-45 is an acronym for Samozaryadnyj Karabin sistemy Simonova, 1945 Simonov system, 1945), or SKS 45. The Sks is a scaled down version of the PTRS-41 anti-tank rifle also...



Semi-automatic rifle

Semi-automatic rifle

A semi-automatic rifle is a type of rifle that fires a single bullet each time the trigger is pulled, automatically ejects the spent cartridge, chambers a fresh cartridge from its magazine, and is immediately ready to fire another shot...



7.62x39mm
1960s-Present (Mainly used today as a ceremonial arm, and reserve weapon.)
AK-47

AK-47

The AK-47 is a selective-fire, gas-operated 7.62×39mm assault rifle, first developed in the Soviet Union by Mikhail Kalashnikov. It is officially known as Avtomat Kalashnikova . It is also known as a Kalashnikov, an "AK", or in Russian slang, Kalash.Design work on the AK-47 began in the last year...



Selective fire

Selective fire

A selective fire firearm has at least one semi–automatic and one automatic mode, which is activated by means of a selector which varies depending on the weapon's design. Some selective fire weapons utilize burst fire mechanisms to limit the maximum or total number of shots fired automatically in...



7.62x39mm
1960s-Present (Replaced by AKM rifle.)
AKM

AKM

The AKM is a 7.62mm assault rifle designed by Mikhail Kalashnikov. It is an upgraded version of the AK-47 rifle and was developed in the 1950s....



Selective fire
7.62x39mm
1960s-Present
Type 56
Selective fire
7.62x39mm
1960s-Present
Pindad SS1
Selective fire
5.56x45mm NATO

5.56x45mm NATO

5.56×45mm NATO is a rifle cartridge developed in the United States and originally chambered in the M16 rifle. Under STANAG 4172, it is a standard cartridge for NATO forces as well as many non-NATO countries. It is derived from, but not identical to, the .223 Remington cartridge...



1991-Present
QBZ-97
Selective fire
5.56x45mm NATO

5.56x45mm NATO

5.56×45mm NATO is a rifle cartridge developed in the United States and originally chambered in the M16 rifle. Under STANAG 4172, it is a standard cartridge for NATO forces as well as many non-NATO countries. It is derived from, but not identical to, the .223 Remington cartridge...



2005-Present
Canada
Firearm
Type
Calibre
Service
Ross rifle

Ross rifle

The Ross rifle was a straight-pull bolt-action 0.303 inch calibre rifle produced in Canada from 1903 until the middle of the First World War....



Bolt Action
.303 British

.303 British

.303 British, or 7.7x56mmR, is a .311 inch calibre rifle and machine gun cartridge first developed in Britain as a blackpowder round put into service in December 1888 for the Lee-Metford rifle, later adapted to use smokeless powders...



1905-1940s
Lee-Enfield

Lee-Enfield

The Lee-Enfield bolt-action, magazine-fed, repeating rifle was the main firearm used by the military forces of the British Empire and Commonwealth during the first half of the 20th century...



Bolt Action
.303 British
1917-1954
C1A1
Selective fire

Selective fire

A selective fire firearm has at least one semi–automatic and one automatic mode, which is activated by means of a selector which varies depending on the weapon's design. Some selective fire weapons utilize burst fire mechanisms to limit the maximum or total number of shots fired automatically in...



7.62x51mm NATO
1955-1998
Colt C7
Selective fire
5.56x45mm NATO

5.56x45mm NATO

5.56×45mm NATO is a rifle cartridge developed in the United States and originally chambered in the M16 rifle. Under STANAG 4172, it is a standard cartridge for NATO forces as well as many non-NATO countries. It is derived from, but not identical to, the .223 Remington cartridge...



1984-Present
Chile
Firearm
Type
Calibre
Service
Mauser Model 1895

Mauser

Mauser was a German arms manufacturer of a line of bolt-action rifles and pistols from the 1870s to 1995. Mauser designs were built for the German armed forces...



Bolt action, Contract: Germany
7x57mm Mauser
1895-1950s
Mauser Model 1912

Mauser

Mauser was a German arms manufacturer of a line of bolt-action rifles and pistols from the 1870s to 1995. Mauser designs were built for the German armed forces...



Bolt action, Contract: Steyr, Austria
7x57mm Mauser
1912-1950s
SIG SG 510-4
Battle rifle

Battle rifle

A battle rifle is a military service rifle that fires a full power rifle cartridge, such as 7.62x51mm NATO. While the designation of battle rifle is usually given to post-World War II select fire infantry rifles such as the H&K G3, the FN FAL or the M14, this term can also apply to older military...



7.62x51mm NATO
1960s-Present
Heckler & Koch G3

Heckler & Koch G3

The G3 is a 7.62mm battle rifle developed in the 1950s by the German armament manufacturer Heckler & Koch GmbH in collaboration with the Spanish state-owned design and development agency CETME ....



Battle rifle

Battle rifle

A battle rifle is a military service rifle that fires a full power rifle cartridge, such as 7.62x51mm NATO. While the designation of battle rifle is usually given to post-World War II select fire infantry rifles such as the H&K G3, the FN FAL or the M14, this term can also apply to older military...



7.62x51mm NATO
1970s-Present
SIG SG 542-1
Battle rifle

Battle rifle

A battle rifle is a military service rifle that fires a full power rifle cartridge, such as 7.62x51mm NATO. While the designation of battle rifle is usually given to post-World War II select fire infantry rifles such as the H&K G3, the FN FAL or the M14, this term can also apply to older military...



7.62x51mm NATO
1980s-Present
SIG SG 540 and SG 543
Battle rifle

Battle rifle

A battle rifle is a military service rifle that fires a full power rifle cartridge, such as 7.62x51mm NATO. While the designation of battle rifle is usually given to post-World War II select fire infantry rifles such as the H&K G3, the FN FAL or the M14, this term can also apply to older military...



5,56x45mm NATO
2000s-Present
People's Republic of China

Firearm
Type
Calibre
Service
Hanyang Type 88

Hanyang 88

The Type 88, sometimes known as "Hanyang 88", was a Chinese rifle that was issued to the National Revolutionary Army during the Second Sino-Japanese War. The name derived from the Hanyang Arsenal factory that made this rifle. The rifle had a bayonet attachment to use in close combat after a charge...



Bolt Action
7.92x57mm Mauser

7.92x57mm Mauser

The 8×57mm IS is a rimless bottlenecked rifle cartridge. The 8×57mm IS was adopted by the German Empire in 1905, and was the German service cartridge in both World Wars...



1888-1980s
Gewehr 98

Gewehr 98

The Gewehr 98 is a German bolt action Mauser rifle firing the 8x57mm cartridge from a 5 round internal clip-loaded magazine that was the German service rifle from 1898 to 1935, when it was replaced by the Karabiner 98k. It was hence the main rifle of the German infantry during World War I...



Bolt-action

Bolt-action

Bolt action is a type of firearm action in which the weapon's bolt is operated manually by the opening and closing of the breech with a small handle, most commonly placed on the right-hand side of the weapon...



7.92x57mm Mauser

7.92x57mm Mauser

The 8×57mm IS is a rimless bottlenecked rifle cartridge. The 8×57mm IS was adopted by the German Empire in 1905, and was the German service cartridge in both World Wars...



1927-1949
vz. 24

Vz. 24

The vz. 24 rifle is a rifle designed and produced in Czechoslovakia from 1924 to 1942. It was developed from the Mauser Gewehr 98 line, though is not a clone of any specific Mauser model. The fit and finish are of the highest quality....



Bolt-action

Bolt-action

Bolt action is a type of firearm action in which the weapon's bolt is operated manually by the opening and closing of the breech with a small handle, most commonly placed on the right-hand side of the weapon...



7.92x57mm Mauser

7.92x57mm Mauser

The 8×57mm IS is a rimless bottlenecked rifle cartridge. The 8×57mm IS was adopted by the German Empire in 1905, and was the German service cartridge in both World Wars...



1927-1980s
Karabiner 98k

Karabiner 98k

The Karabiner 98 Kurz was a bolt action rifle chambered for the 8x57mm IS/7.92×57mm IS cartridge that was adopted as the standard service rifle in 1935 by the German Wehrmacht. It was one of the final developments in the long line of Mauser military rifles...



Bolt-action

Bolt-action

Bolt action is a type of firearm action in which the weapon's bolt is operated manually by the opening and closing of the breech with a small handle, most commonly placed on the right-hand side of the weapon...



7.92x57mm Mauser

7.92x57mm Mauser

The 8×57mm IS is a rimless bottlenecked rifle cartridge. The 8×57mm IS was adopted by the German Empire in 1905, and was the German service cartridge in both World Wars...



1935-Present
Type 24 rifle

Chiang Kai-shek rifle

The Type Zhongzheng rifle , also known as the Chiang Kai-shek/Jiang Jieshi Rifle and Type 24 after the Chinese Generalissimo Chiang Kai-Shek, was a Chinese-made copy of the German Mauser Gewehr 98, the forerunner of the Karabiner 98k. Pre-production of the Chiang Kai-Shek rifle started in August...



Bolt-action

Bolt-action

Bolt action is a type of firearm action in which the weapon's bolt is operated manually by the opening and closing of the breech with a small handle, most commonly placed on the right-hand side of the weapon...



7.92x57mm Mauser

7.92x57mm Mauser

The 8×57mm IS is a rimless bottlenecked rifle cartridge. The 8×57mm IS was adopted by the German Empire in 1905, and was the German service cartridge in both World Wars...



1935-1980s
Mosin-Nagant

Mosin-Nagant

The Mosin–Nagant is a bolt-action, internal magazine-fed, military rifle invented under the government commission by Russian and Belgian inventors, and used by the armed forces of the Russian Empire, the Soviet Union and various other nations....



Bolt-action
7.62x54mmR
1927-Present
SVT-40
Semi-automatic
7.62x54mmR
1938-Present
Type 53 Carbine

Mosin-Nagant

The Mosin–Nagant is a bolt-action, internal magazine-fed, military rifle invented under the government commission by Russian and Belgian inventors, and used by the armed forces of the Russian Empire, the Soviet Union and various other nations....



Bolt-action
7.62x54mmR
1953-Present
Type 56 Carbine

SKS

The SKS is a Soviet semi-automatic rifle chambered for the 7.62x39mm round, designed in 1943 by Sergei Gavrilovich Simonov. SKS-45 is an acronym for Samozaryadnyj Karabin sistemy Simonova, 1945 Simonov system, 1945), or SKS 45. The Sks is a scaled down version of the PTRS-41 anti-tank rifle also...



Semi-automatic

Semi-automatic rifle

A semi-automatic rifle is a type of rifle that fires a single bullet each time the trigger is pulled, automatically ejects the spent cartridge, chambers a fresh cartridge from its magazine, and is immediately ready to fire another shot...



7.62x39mm
1956-Present
Type 56 assault rifle

Type 56 Assault Rifle

The Type 56 assault rifle is a Chinese copy of the Kalashnikov AK-47 assault rifle, which has been manufactured since 1956. It was produced by State Factory 66 from 1956-73, then by Norinco from 1973 onwards.-Service history:...



Selective fire

Selective fire

A selective fire firearm has at least one semi–automatic and one automatic mode, which is activated by means of a selector which varies depending on the weapon's design. Some selective fire weapons utilize burst fire mechanisms to limit the maximum or total number of shots fired automatically in...



7.62x39mm
1956-Present
Type 81

Type 81 Assault Rifle

The Type 81 assault rifle was the principal automatic rifle used by the Chinese People's Liberation Army from the mid-1980s until 1995. It incorporates elements of the Dragunov Sniper Rifle, SKS, and AK series rifles in general looks...



Selective fire
7.62x39mm
1981-Present
QBZ-95

QBZ-95

The QBZ-95 is an assault rifle manufactured by Arsenal 266, part of Norinco and Arsenal 296, under Jianshe Corp, China South for the People's Liberation Army, the armed forces of the People's Republic of China, Chinese People's Armed Police , and Chinese law enforcement. This weapon uses a...



Selective fire
5.8x42mm
1995-Present
Republic of China

Firearm
Type
Calibre
Service
Hanyang Type 88

Hanyang 88

The Type 88, sometimes known as "Hanyang 88", was a Chinese rifle that was issued to the National Revolutionary Army during the Second Sino-Japanese War. The name derived from the Hanyang Arsenal factory that made this rifle. The rifle had a bayonet attachment to use in close combat after a charge...



Bolt action
7.92x57mm Mauser

7.92x57mm Mauser

The 8×57mm IS is a rimless bottlenecked rifle cartridge. The 8×57mm IS was adopted by the German Empire in 1905, and was the German service cartridge in both World Wars...



1888-1949
Gewehr 98

Gewehr 98

The Gewehr 98 is a German bolt action Mauser rifle firing the 8x57mm cartridge from a 5 round internal clip-loaded magazine that was the German service rifle from 1898 to 1935, when it was replaced by the Karabiner 98k. It was hence the main rifle of the German infantry during World War I...



Bolt-Action

Bolt-action

Bolt action is a type of firearm action in which the weapon's bolt is operated manually by the opening and closing of the breech with a small handle, most commonly placed on the right-hand side of the weapon...



7.92x57mm Mauser

7.92x57mm Mauser

The 8×57mm IS is a rimless bottlenecked rifle cartridge. The 8×57mm IS was adopted by the German Empire in 1905, and was the German service cartridge in both World Wars...



1911-1949
vz. 24

Vz. 24

The vz. 24 rifle is a rifle designed and produced in Czechoslovakia from 1924 to 1942. It was developed from the Mauser Gewehr 98 line, though is not a clone of any specific Mauser model. The fit and finish are of the highest quality....



Bolt-action
7.92x57mm Mauser

7.92x57mm Mauser

The 8×57mm IS is a rimless bottlenecked rifle cartridge. The 8×57mm IS was adopted by the German Empire in 1905, and was the German service cartridge in both World Wars...



1924-1950s
Karabiner 98k

Karabiner 98k

The Karabiner 98 Kurz was a bolt action rifle chambered for the 8x57mm IS/7.92×57mm IS cartridge that was adopted as the standard service rifle in 1935 by the German Wehrmacht. It was one of the final developments in the long line of Mauser military rifles...



Bolt-action
7.92x57mm Mauser

7.92x57mm Mauser

The 8×57mm IS is a rimless bottlenecked rifle cartridge. The 8×57mm IS was adopted by the German Empire in 1905, and was the German service cartridge in both World Wars...



1935-Present
Type Zhongzheng rifle

Chiang Kai-shek rifle

The Type Zhongzheng rifle , also known as the Chiang Kai-shek/Jiang Jieshi Rifle and Type 24 after the Chinese Generalissimo Chiang Kai-Shek, was a Chinese-made copy of the German Mauser Gewehr 98, the forerunner of the Karabiner 98k. Pre-production of the Chiang Kai-Shek rifle started in August...



Bolt-action
7.92x57mm Mauser

7.92x57mm Mauser

The 8×57mm IS is a rimless bottlenecked rifle cartridge. The 8×57mm IS was adopted by the German Empire in 1905, and was the German service cartridge in both World Wars...



1935-1950s
M1 Garand

M1 Garand

The M1 Garand , was the first semi-automatic rifle to be generally issued to the infantry of any nation. Called "the greatest battle implement ever devised" by General George S...



Semi-automatic

Semi-automatic firearm

A semi-automatic, or self-loading firearm is a weapon which performs all steps necessary to prepare the weapon to fire again after firing—assuming cartridges remain in the weapon's feed device or magazine...



.30-06 Springfield

.30-06 Springfield

The .30-06 Springfield cartridge or 7.62×63mm in metric notation, was introduced to the United States Army in 1906 and standardized, and was in use until the 1960s and early 1970s. It replaced the .30-03, 6 mm Lee Navy, and .30 US Army...



1936-1968
Johnson M1941 rifle

Johnson M1941 Rifle

The M1941 Johnson Rifle was an American short-recoil operated semi-automatic rifle designed by Melvin Johnson prior to World War II. The M1941 competed unsuccessfully with the U.S. M1 Rifle.-Design:...



Semi-automatic

Semi-automatic firearm

A semi-automatic, or self-loading firearm is a weapon which performs all steps necessary to prepare the weapon to fire again after firing—assuming cartridges remain in the weapon's feed device or magazine...



.30-06 Springfield

.30-06 Springfield

The .30-06 Springfield cartridge or 7.62×63mm in metric notation, was introduced to the United States Army in 1906 and standardized, and was in use until the 1960s and early 1970s. It replaced the .30-03, 6 mm Lee Navy, and .30 US Army...



1941-1968
M1 Carbine

M1 Carbine

The M1 carbine is a lightweight, easy to use semi-automatic carbine that became a standard firearm for the U.S. military during World War II, the Korean War and the Vietnam War, and was produced in several variants. It was widely used by U.S...



Semi-automatic

Semi-automatic firearm

A semi-automatic, or self-loading firearm is a weapon which performs all steps necessary to prepare the weapon to fire again after firing—assuming cartridges remain in the weapon's feed device or magazine...



.30 Carbine

.30 Carbine

The .30 Carbine is the cartridge used in the M1 Carbine introduced in the 1940s. It is an intermediate round designed to be fired from the M1 carbine's 18-inch barrel.-History:...



1942-1968
Type 57
Selective fire

Selective fire

A selective fire firearm has at least one semi–automatic and one automatic mode, which is activated by means of a selector which varies depending on the weapon's design. Some selective fire weapons utilize burst fire mechanisms to limit the maximum or total number of shots fired automatically in...



7.62x51mm NATO
1968-Present
Type 65
Selective fire
5.56x45mm NATO

5.56x45mm NATO

5.56×45mm NATO is a rifle cartridge developed in the United States and originally chambered in the M16 rifle. Under STANAG 4172, it is a standard cartridge for NATO forces as well as many non-NATO countries. It is derived from, but not identical to, the .223 Remington cartridge...



1976-Present
Type 91

T91 assault rifle

The T91 assault rifle is produced by the 205th Armory, Ministry of Defense, Republic of China . It is based on the proven T86 assault rifle incorporating features from the M16 and AR-18 rifles with more modern features...



Selective fire
5.56x45mm NATO
2003-Present
Cuba
Firearm
Type
Calibre
Service
Spanish Mauser
Bolt action
7x57mm Mauser
1902-1923
M1903 Springfield
Bolt action
.30-06 Springfield

.30-06 Springfield

The .30-06 Springfield cartridge or 7.62×63mm in metric notation, was introduced to the United States Army in 1906 and standardized, and was in use until the 1960s and early 1970s. It replaced the .30-03, 6 mm Lee Navy, and .30 US Army...



1923-1947
M1 Garand

M1 Garand

The M1 Garand , was the first semi-automatic rifle to be generally issued to the infantry of any nation. Called "the greatest battle implement ever devised" by General George S...



Semi-automatic

Semi-automatic firearm

A semi-automatic, or self-loading firearm is a weapon which performs all steps necessary to prepare the weapon to fire again after firing—assuming cartridges remain in the weapon's feed device or magazine...



.30-06 Springfield

.30-06 Springfield

The .30-06 Springfield cartridge or 7.62×63mm in metric notation, was introduced to the United States Army in 1906 and standardized, and was in use until the 1960s and early 1970s. It replaced the .30-03, 6 mm Lee Navy, and .30 US Army...



1947-1960
FN FAL

FN FAL

The Fusil Automatique Léger or FAL is a self-loading, selective fire battle rifle produced by the Belgian armaments manufacturer Fabrique Nationale de Herstal . During the Cold War it was adopted by many North Atlantic Treaty Organization countries, with the notable exception of the United States...



Selective fire

Selective fire

A selective fire firearm has at least one semi–automatic and one automatic mode, which is activated by means of a selector which varies depending on the weapon's design. Some selective fire weapons utilize burst fire mechanisms to limit the maximum or total number of shots fired automatically in...



7.62x51mm
1960-1968
SKS

SKS

The SKS is a Soviet semi-automatic rifle chambered for the 7.62x39mm round, designed in 1943 by Sergei Gavrilovich Simonov. SKS-45 is an acronym for Samozaryadnyj Karabin sistemy Simonova, 1945 Simonov system, 1945), or SKS 45. The Sks is a scaled down version of the PTRS-41 anti-tank rifle also...



Semi-automatic

Semi-automatic firearm

A semi-automatic, or self-loading firearm is a weapon which performs all steps necessary to prepare the weapon to fire again after firing—assuming cartridges remain in the weapon's feed device or magazine...



7.62x39mm
1961-present (Mainly used today as a ceremonial arm, and reserve weapon.)
AKM

AKM

The AKM is a 7.62mm assault rifle designed by Mikhail Kalashnikov. It is an upgraded version of the AK-47 rifle and was developed in the 1950s....



Selective fire

Selective fire

A selective fire firearm has at least one semi–automatic and one automatic mode, which is activated by means of a selector which varies depending on the weapon's design. Some selective fire weapons utilize burst fire mechanisms to limit the maximum or total number of shots fired automatically in...



7.62x39mm
1962-present
Czech Republic
Firearm
Type
Calibre
Service
Vz. 24

Vz. 24

The vz. 24 rifle is a rifle designed and produced in Czechoslovakia from 1924 to 1942. It was developed from the Mauser Gewehr 98 line, though is not a clone of any specific Mauser model. The fit and finish are of the highest quality....



Bolt-action

Bolt-action

Bolt action is a type of firearm action in which the weapon's bolt is operated manually by the opening and closing of the breech with a small handle, most commonly placed on the right-hand side of the weapon...



8mm Mauser
1924-1952
Vz. 33

Vz. 33

The puška vz. 33 was a Czechoslovak bolt action rifle that was based on a Mauser type action, designed and produced in Československá zbrojovka in Brno during the 1930s in order to replace the obsolete Mannlicher vz. 1895 carbines of the Czechoslovak četnictvo...



Bolt-action

Bolt-action

Bolt action is a type of firearm action in which the weapon's bolt is operated manually by the opening and closing of the breech with a small handle, most commonly placed on the right-hand side of the weapon...



8mm Mauser
1934-1945
Vz. 52
Semi-automatic

Semi-automatic firearm

A semi-automatic, or self-loading firearm is a weapon which performs all steps necessary to prepare the weapon to fire again after firing—assuming cartridges remain in the weapon's feed device or magazine...



7.62x45mm vz. 52, 7.62x39mm M43
1952-1959
Sa vz. 58
Selective fire

Selective fire

A selective fire firearm has at least one semi–automatic and one automatic mode, which is activated by means of a selector which varies depending on the weapon's design. Some selective fire weapons utilize burst fire mechanisms to limit the maximum or total number of shots fired automatically in...



7.62x39mm M43
1959-Present
CZ-805 BREN

CZ-805 BREN

The CZ-805 BREN is a Czech assault rifle created in 2009 to replace the Sa vz. 58 in the Armed Forces of Czech Republic, the CZ-805 layout is heavily based in the FN SCAR.-Description:...



5.56x45mm NATO

5.56x45mm NATO

5.56×45mm NATO is a rifle cartridge developed in the United States and originally chambered in the M16 rifle. Under STANAG 4172, it is a standard cartridge for NATO forces as well as many non-NATO countries. It is derived from, but not identical to, the .223 Remington cartridge...


, 7.62x39mm
2010-Present
Denmark
Firearm
Type
Calibre
Service
Pattern 1853 Enfield

Pattern 1853 Enfield

The Enfield Pattern 1853 Rifle-Musket was a .577 calibre Minié-type muzzle-loading rifle-musket, used by the British Empire from 1853 to 1867, after which many Enfield 1853 Rifle-Muskets were converted to the cartridge-loaded Snider-Enfield rifle.-History &...



Rifled Musket
.577 Ball
1853-1867
Remington Rolling Block

Remington Rolling Block

The Remington Rolling Block rifle was a breech-loading rifle produced in the late 19th century by E. Remington and Sons...



Rolling block
11mm Danish
1867-1889
1889 Geværet (Krag-Jorgensen)
Bolt-action

Bolt-action

Bolt action is a type of firearm action in which the weapon's bolt is operated manually by the opening and closing of the breech with a small handle, most commonly placed on the right-hand side of the weapon...



8x58mmR
1889-~1945
G M/50 (M1 Garand

M1 Garand

The M1 Garand , was the first semi-automatic rifle to be generally issued to the infantry of any nation. Called "the greatest battle implement ever devised" by General George S...


)
Semi-Automatic

Semi-automatic

Semi-automatic may refer to:* A semi-automatic firearm, a firearm which automatically reloads, but will only fire one round per trigger pull** Semi-automatic rifle** Semi-automatic pistol** Semi-automatic shotgun...



.30-06
1945-1975
HK G3
Selective fire

Selective fire

A selective fire firearm has at least one semi–automatic and one automatic mode, which is activated by means of a selector which varies depending on the weapon's design. Some selective fire weapons utilize burst fire mechanisms to limit the maximum or total number of shots fired automatically in...



7.62x51mm NATO
1960s-Present
G3A5 (HK G3)
Semi-Automatic

Semi-automatic

Semi-automatic may refer to:* A semi-automatic firearm, a firearm which automatically reloads, but will only fire one round per trigger pull** Semi-automatic rifle** Semi-automatic pistol** Semi-automatic shotgun...



7.62x51mm NATO
1975-Present
Gevaer M/95 (C7FT)
Automatic

Automatic firearm

An automatic firearm is a firearm that loads another round mechanically after the first round has been fired.The term can be used to refer to semi-automatic firearms, which fire one shot per single pull of the trigger , or fully automatic firearms, which will continue to load and fire ammunition...



5.56x45mm
1995-Present
Egypt
Firearm
Type
Calibre
Service
Lee Enfield
Bolt Action
.303 British

.303 British

.303 British, or 7.7x56mmR, is a .311 inch calibre rifle and machine gun cartridge first developed in Britain as a blackpowder round put into service in December 1888 for the Lee-Metford rifle, later adapted to use smokeless powders...



1922-1967
FN Model 1949

FN Model 1949

The Fabrique Nationale Model 1949 is a semi-automatic rifle designed by Dieudonné Saive and manufactured by Fabrique Nationale...



Semi-automatic

Semi-automatic firearm

A semi-automatic, or self-loading firearm is a weapon which performs all steps necessary to prepare the weapon to fire again after firing—assuming cartridges remain in the weapon's feed device or magazine...



7.92x57mm Mauser

7.92x57mm Mauser

The 8×57mm IS is a rimless bottlenecked rifle cartridge. The 8×57mm IS was adopted by the German Empire in 1905, and was the German service cartridge in both World Wars...



1949-1967
Ag m/42

Ag m/42

The Automatgevär m/42 is a Swedish semi-automatic rifle in limited use by the Swedish Army from 1942 until the 1960s.-History:...



Semi-automatic

Semi-automatic firearm

A semi-automatic, or self-loading firearm is a weapon which performs all steps necessary to prepare the weapon to fire again after firing—assuming cartridges remain in the weapon's feed device or magazine...



6.5x55mm
1950s-1967
Mosin Nagant
Semi-automatic

Semi-automatic firearm

A semi-automatic, or self-loading firearm is a weapon which performs all steps necessary to prepare the weapon to fire again after firing—assuming cartridges remain in the weapon's feed device or magazine...



7.62x54mmR
1956-1967
Hakim

Hakim Rifle

The Hakim Rifle is a gas operated semi-automatic rifle. It was originally designed by Sweden and produced as the AG-42 Ljungman for the Swedish Army. The tooling and design were later sold to Egypt, and the Hakim was produced there during the 1950s and 1960s. The gas operated system is adjustable...



Semi-automatic

Semi-automatic firearm

A semi-automatic, or self-loading firearm is a weapon which performs all steps necessary to prepare the weapon to fire again after firing—assuming cartridges remain in the weapon's feed device or magazine...



7.92x57mm Mauser

7.92x57mm Mauser

The 8×57mm IS is a rimless bottlenecked rifle cartridge. The 8×57mm IS was adopted by the German Empire in 1905, and was the German service cartridge in both World Wars...



1950s-1967
Rasheed

Rasheed Carbine

The Rasheed is a semi-automatic carbine, derived from the Hakim Rifle and used by the Egyptian military. Only about 8,000 Rasheeds were produced, making it a very rare rifle...



Semi-automatic

Semi-automatic firearm

A semi-automatic, or self-loading firearm is a weapon which performs all steps necessary to prepare the weapon to fire again after firing—assuming cartridges remain in the weapon's feed device or magazine...



7.62x39mm
1950s-1967
SKS Carbine
Semi-automatic

Semi-automatic firearm

A semi-automatic, or self-loading firearm is a weapon which performs all steps necessary to prepare the weapon to fire again after firing—assuming cartridges remain in the weapon's feed device or magazine...



7.62x39mm
1956-1967
AK-47

AK-47

The AK-47 is a selective-fire, gas-operated 7.62×39mm assault rifle, first developed in the Soviet Union by Mikhail Kalashnikov. It is officially known as Avtomat Kalashnikova . It is also known as a Kalashnikov, an "AK", or in Russian slang, Kalash.Design work on the AK-47 began in the last year...



Selective fire

Selective fire

A selective fire firearm has at least one semi–automatic and one automatic mode, which is activated by means of a selector which varies depending on the weapon's design. Some selective fire weapons utilize burst fire mechanisms to limit the maximum or total number of shots fired automatically in...



7.62x39mm
1960s-Present
Finland
Firearm
Type
Calibre
Service
Mosin Nagant
Bolt action
7.62x54R
1891–1962
SVT-40
Semi-automatic

Semi-automatic firearm

A semi-automatic, or self-loading firearm is a weapon which performs all steps necessary to prepare the weapon to fire again after firing—assuming cartridges remain in the weapon's feed device or magazine...



7.62x54R
1940–1962
RK 62

Rk 62

The Rk 62 is an assault rifle manufactured by Valmet and Sako. It is the standard issue infantry weapon of the Finnish Defence Forces....



Selective fire

Selective fire

A selective fire firearm has at least one semi–automatic and one automatic mode, which is activated by means of a selector which varies depending on the weapon's design. Some selective fire weapons utilize burst fire mechanisms to limit the maximum or total number of shots fired automatically in...



7.62x39mm
1962–Present
RK 95 TP

Rk 95 TP

The Rk 95 Tp is a 7.62 mm Finnish assault rifle adopted by the Finnish Defence Forces in the 1990s in relatively small numbers.-History:...



Selective fire

Selective fire

A selective fire firearm has at least one semi–automatic and one automatic mode, which is activated by means of a selector which varies depending on the weapon's design. Some selective fire weapons utilize burst fire mechanisms to limit the maximum or total number of shots fired automatically in...



7.62x39mm
1995–Present
France

Firearm
Type
Calibre
Service
Charleville musket

Charleville musket

The Charleville muskets were .69 caliber French muskets used in the 18th century.- History :Marin le Bourgeoys created the first true flintlock weapons for King Louis XIII shortly after his accession to the throne in 1610. Throughout the 17th century, flintlock muskets were produced in a wide...



Flintlock

Flintlock

Flintlock is the general term for any firearm based on the flintlock mechanism. The term may also apply to the mechanism itself. Introduced at the beginning of the 17th century, the flintlock rapidly replaced earlier firearm-ignition technologies, such as the doglock, matchlock and wheellock...



.69 musket ball
1717-1816
Musket Model 1777

Musket Model 1777

The musket Modèle 1777, and later Modèle 1777 corrigé en l'an IX was one of the most widespread weapons on the european continent....



Flintlock
Musket ball
1777-1826
Delvigne rifle
Flintlock
Musket ball
1826-1846
Thouvenin Carabine à tige

Carabine à tige

The Carabine à tige was invented by Louis-Etienne de Thouvenin. The method was an improvement of the invention of fellow Frenchman Henri-Gustave Delvigne...



Percussion cap

Percussion cap

The percussion cap, introduced around 1830, was the crucial invention that enabled muzzleloading firearms to fire reliably in any weather.Before this development, firearms used flintlock ignition systems which produced flint-on-steel sparks to ignite a pan of priming powder and thereby fire the...



Musket ball
1846-1851
Minié rifle

Minié rifle

The Minié rifle was an important rifle in the 19th century, developed in 1849 following the invention of the Minié ball in 1847 by the French Army captains Claude-Étienne Minié of the Chasseurs d'Orléans and Henri-Gustave Delvigne. The rifle was designed to allow rapid muzzle loading of rifles, an...



Percussion cap
Minié ball

Minié ball

The Minié ball is a type of muzzle-loading spin-stabilising rifle bullet named after its co-developer, Claude-Étienne Minié, inventor of the Minié rifle...



1848-1866
Tabatière rifle

Tabatière rifle

The Tabatière rifle was a breech-loading rifle of the French Army.The Tabatière system was developed from 1864 as a way to convert numerous muzzle-loading weapons into breech-loading ones, in a process similar to that of the Snider-Enfield in Great Britain...



Breech-loading
Minié ball

Minié ball

The Minié ball is a type of muzzle-loading spin-stabilising rifle bullet named after its co-developer, Claude-Étienne Minié, inventor of the Minié rifle...



1864-1870
Chassepot M1866

Chassepot

The Chassepot, officially known as Fusil modèle 1866, was a bolt action military breechloading rifle, famous as the arm of the French forces in the Franco-Prussian War of 1870 and 1871. It replaced an assortment of Minie muzzleloading rifles many of which were converted in 1867 to breech loading...



Bolt action
11mm
1867-1874
Gras M1874

Fusil Gras mle 1874

The Fusil Gras Modèle 1874 M80 was a French rifle of the 19th century. The Gras used by the French Army was an adaptation to metallic cartridge of the Chassepot breech-loading rifle by colonel Basile Gras. This rifle was an 11 mm caliber and used black powder centerfire cartridges that weighed...



Bolt-action
11mm
1874-1886
Lebel Model 1886 rifle

Lebel Model 1886 rifle

The Lebel Model 1886 rifle is also known as the "Fusil Mle 1886 M93", after a bolt modification was added in 1893. It is an 8mm bolt action infantry rifle which entered service in the French Army in April 1887...



Bolt-action
8mm Lebel
1886-1936
Berthier rifle

Berthier rifle

The Berthier rifles and carbines were a family of bolt-action small arms in 8mm Lebel, used in the French Army from the 1890s to the beginning of World War II...



Bolt-action
8mm Lebel
1902-?
MAS-36
Bolt-action
7.5x54mm French

7.5x54mm French

The 7.5×54mm French MAS or 7.5 French cartridge was developed by France as an update to the 7.5×57mm MAS mod. 1924 cartridge. It replaced the obsolete 8 mm Lebel round used during World War I. In terms of power it is somewhat comparable to the 7.62×51mm NATO/.308 Winchester round...



1936-1978
MAS-49 rifle
Semi-automatic

Semi-automatic rifle

A semi-automatic rifle is a type of rifle that fires a single bullet each time the trigger is pulled, automatically ejects the spent cartridge, chambers a fresh cartridge from its magazine, and is immediately ready to fire another shot...



7.5x54 French
1949-1979
Heckler & Koch G3

Heckler & Koch G3

The G3 is a 7.62mm battle rifle developed in the 1950s by the German armament manufacturer Heckler & Koch GmbH in collaboration with the Spanish state-owned design and development agency CETME ....



Selective fire

Selective fire

A selective fire firearm has at least one semi–automatic and one automatic mode, which is activated by means of a selector which varies depending on the weapon's design. Some selective fire weapons utilize burst fire mechanisms to limit the maximum or total number of shots fired automatically in...



7.62x51mm NATO
1964-1979
FAMAS

FAMAS

The FAMAS is a bullpup-styled assault rifle designed and manufactured in France by MAS located in Saint-Étienne, which is now a member of the French government-owned Nexter group...



Selective fire

Selective fire

A selective fire firearm has at least one semi–automatic and one automatic mode, which is activated by means of a selector which varies depending on the weapon's design. Some selective fire weapons utilize burst fire mechanisms to limit the maximum or total number of shots fired automatically in...



5.56x45mm NATO

5.56x45mm NATO

5.56×45mm NATO is a rifle cartridge developed in the United States and originally chambered in the M16 rifle. Under STANAG 4172, it is a standard cartridge for NATO forces as well as many non-NATO countries. It is derived from, but not identical to, the .223 Remington cartridge...



1978-Present
Germany


Firearm
Type
Calibre
Service
Needle gun

Needle gun

The Dreyse needle-gun was a military breechloading rifle, famous as the main infantry weapon of the Prussians, who adopted it for service in 1848 as the Dreyse Zündnadelgewehr, or Prussian Model 1848...



Breech loading
15.4mm
1848-1871
M1871 Mauser

Mauser Model 1871

The Mauser Model 1871 adopted as the Gewehr 71 or Infanterie-Gewehr 71 was the first of millions of rifles manufactured to the designs of Paul Mauser and Wilhelm Mauser of the Mauser company.During 1870-71 trials with many different rifles took place, with the "M1869 Bavarian Werder" being the...



Bolt action
11x60mm R
1871-1888
Gewehr 1888
Bolt-action
7.92x57mm Mauser

7.92x57mm Mauser

The 8×57mm IS is a rimless bottlenecked rifle cartridge. The 8×57mm IS was adopted by the German Empire in 1905, and was the German service cartridge in both World Wars...



1888-1915
Gewehr 98

Gewehr 98

The Gewehr 98 is a German bolt action Mauser rifle firing the 8x57mm cartridge from a 5 round internal clip-loaded magazine that was the German service rifle from 1898 to 1935, when it was replaced by the Karabiner 98k. It was hence the main rifle of the German infantry during World War I...



Bolt-action
7.92x57mm Mauser
1898-1935 (German Army)
Mauser Kar 98k

Karabiner 98k

The Karabiner 98 Kurz was a bolt action rifle chambered for the 8x57mm IS/7.92×57mm IS cartridge that was adopted as the standard service rifle in 1935 by the German Wehrmacht. It was one of the final developments in the long line of Mauser military rifles...



Bolt-action
7.92x57mm Mauser
1935-Present
Gewehr 41

Gewehr 41

The Gewehr 41 rifles, commonly known as the G41 or G41, were semi-automatic rifles used by Nazi Germany during World War II-Background:...



Semi-automatic

Semi-automatic rifle

A semi-automatic rifle is a type of rifle that fires a single bullet each time the trigger is pulled, automatically ejects the spent cartridge, chambers a fresh cartridge from its magazine, and is immediately ready to fire another shot...



7.92x57mm Mauser
1941-1945
Gewehr 43

Gewehr 43

The Gewehr 43 or Karabiner 43 is an 8x57mm IS caliber semi-automatic rifle developed by Nazi Germany during World War II...



Semi-automatic
7.92x57mm Mauser
1943-1945
Sturmgewehr 44
Selective fire

Selective fire

A selective fire firearm has at least one semi–automatic and one automatic mode, which is activated by means of a selector which varies depending on the weapon's design. Some selective fire weapons utilize burst fire mechanisms to limit the maximum or total number of shots fired automatically in...



7.92x33mm Kurz
1944-1960s
M1 Garand

M1 Garand

The M1 Garand , was the first semi-automatic rifle to be generally issued to the infantry of any nation. Called "the greatest battle implement ever devised" by General George S...



Semi-automatic
.30-06
1945-1953 (West Germany)
FN FAL

FN FAL

The Fusil Automatique Léger or FAL is a self-loading, selective fire battle rifle produced by the Belgian armaments manufacturer Fabrique Nationale de Herstal . During the Cold War it was adopted by many North Atlantic Treaty Organization countries, with the notable exception of the United States...



Selective fire
7.62x51mm NATO
1953-1965 (West Germany)
Karabiner-S

SKS

The SKS is a Soviet semi-automatic rifle chambered for the 7.62x39mm round, designed in 1943 by Sergei Gavrilovich Simonov. SKS-45 is an acronym for Samozaryadnyj Karabin sistemy Simonova, 1945 Simonov system, 1945), or SKS 45. The Sks is a scaled down version of the PTRS-41 anti-tank rifle also...



Semi-automatic
7.62x39mm
1945-1949 (East Germany)
MPi-K

AK-47

The AK-47 is a selective-fire, gas-operated 7.62×39mm assault rifle, first developed in the Soviet Union by Mikhail Kalashnikov. It is officially known as Avtomat Kalashnikova . It is also known as a Kalashnikov, an "AK", or in Russian slang, Kalash.Design work on the AK-47 began in the last year...



Selective fire
7.62x39mm
1949-1990 (East Germany)
Heckler & Koch G3

Heckler & Koch G3

The G3 is a 7.62mm battle rifle developed in the 1950s by the German armament manufacturer Heckler & Koch GmbH in collaboration with the Spanish state-owned design and development agency CETME ....



Selective fire
7.62x51mm NATO
1958-Present (West Germany)(now mostly for training/reserve)
Heckler & Koch G36

Heckler & Koch G36

The Heckler & Koch G36 is a 5.56×45mm assault rifle, designed in the early 1990s by Heckler & Koch in Germany as a replacement for the 7.62mm G3 battle rifle. It was accepted into service with the Bundeswehr in 1997, replacing the G3...



Selective fire
5.56x45mm NATO

5.56x45mm NATO

5.56×45mm NATO is a rifle cartridge developed in the United States and originally chambered in the M16 rifle. Under STANAG 4172, it is a standard cartridge for NATO forces as well as many non-NATO countries. It is derived from, but not identical to, the .223 Remington cartridge...



1997-Present
Greece
Firearm
Type
Calibre
Service
Fusil Gras mle 1874

Fusil Gras mle 1874

The Fusil Gras Modèle 1874 M80 was a French rifle of the 19th century. The Gras used by the French Army was an adaptation to metallic cartridge of the Chassepot breech-loading rifle by colonel Basile Gras. This rifle was an 11 mm caliber and used black powder centerfire cartridges that weighed...



Bolt action
11x59mm
1877-1903
Mannlicher-Schönauer

Mannlicher-Schönauer

The Mannlicher-Schönauer is a type of rotary magazine bolt action rifle produced by Steyr-Mannlicher for the Greek Army in 1903 and later was also used in small numbers by the Austro-Hungarian Armies.-Design Characteristics:In the late 19th century, the...



Bolt action
6.5x54mm

6.5x54mm Mannlicher-Schönauer

The 6.5x54 Mannlicher-Schönauer also known as 6.5x54 Mannlicher-Schönauer Greek is a 6.5 mm rifle cartridge used in the Mannlicher-Schönauer rifle...



1903-1941
FN Model 1930
Bolt action
7.92x57mm Mauser

7.92x57mm Mauser

The 8×57mm IS is a rimless bottlenecked rifle cartridge. The 8×57mm IS was adopted by the German Empire in 1905, and was the German service cartridge in both World Wars...



1930s-1945
Lee-Enfield

Lee-Enfield

The Lee-Enfield bolt-action, magazine-fed, repeating rifle was the main firearm used by the military forces of the British Empire and Commonwealth during the first half of the 20th century...



Bolt action
.303 British

.303 British

.303 British, or 7.7x56mmR, is a .311 inch calibre rifle and machine gun cartridge first developed in Britain as a blackpowder round put into service in December 1888 for the Lee-Metford rifle, later adapted to use smokeless powders...



1939-1945
M1 Garand

M1 Garand

The M1 Garand , was the first semi-automatic rifle to be generally issued to the infantry of any nation. Called "the greatest battle implement ever devised" by General George S...



Semi-automatic

Semi-automatic firearm

A semi-automatic, or self-loading firearm is a weapon which performs all steps necessary to prepare the weapon to fire again after firing—assuming cartridges remain in the weapon's feed device or magazine...



.30-06 Springfield

.30-06 Springfield

The .30-06 Springfield cartridge or 7.62×63mm in metric notation, was introduced to the United States Army in 1906 and standardized, and was in use until the 1960s and early 1970s. It replaced the .30-03, 6 mm Lee Navy, and .30 US Army...



1945-1977
Heckler & Koch G3

Heckler & Koch G3

The G3 is a 7.62mm battle rifle developed in the 1950s by the German armament manufacturer Heckler & Koch GmbH in collaboration with the Spanish state-owned design and development agency CETME ....



Selective fire

Selective fire

A selective fire firearm has at least one semi–automatic and one automatic mode, which is activated by means of a selector which varies depending on the weapon's design. Some selective fire weapons utilize burst fire mechanisms to limit the maximum or total number of shots fired automatically in...



7.62x51mm NATO
1960s-present
FN FAL

FN FAL

The Fusil Automatique Léger or FAL is a self-loading, selective fire battle rifle produced by the Belgian armaments manufacturer Fabrique Nationale de Herstal . During the Cold War it was adopted by many North Atlantic Treaty Organization countries, with the notable exception of the United States...



Selective fire

Selective fire

A selective fire firearm has at least one semi–automatic and one automatic mode, which is activated by means of a selector which varies depending on the weapon's design. Some selective fire weapons utilize burst fire mechanisms to limit the maximum or total number of shots fired automatically in...



7.62x51mm NATO
1973-1999
Hungary
Firearm
Type
Calibre
Service
35M rifle
Bolt-action

Bolt-action

Bolt action is a type of firearm action in which the weapon's bolt is operated manually by the opening and closing of the breech with a small handle, most commonly placed on the right-hand side of the weapon...



7.92x57mm
1935-1950s
AK-47

AK-47

The AK-47 is a selective-fire, gas-operated 7.62×39mm assault rifle, first developed in the Soviet Union by Mikhail Kalashnikov. It is officially known as Avtomat Kalashnikova . It is also known as a Kalashnikov, an "AK", or in Russian slang, Kalash.Design work on the AK-47 began in the last year...



Selective fire

Selective fire

A selective fire firearm has at least one semi–automatic and one automatic mode, which is activated by means of a selector which varies depending on the weapon's design. Some selective fire weapons utilize burst fire mechanisms to limit the maximum or total number of shots fired automatically in...



7.62x39mm
1956-1990
AMMSz
Selective fire
7.62x39mm
1960-1990
AMD-65
Selective fire
7.62x39mm
1966-1990
AMP-69
Selective fire
7.62x39mm, 40mm grenade
1979-present
AK-63D

AK-63

The AK-63 is a Hungarian variant of the AKM assault rifle manufactured by the Fegyver- és Gépgyár state arms plant in Hungary...



Selective fire
7.62x39mm
1989-Present
M4 carbine

M4 carbine

The M4 carbine is a family of firearms tracing its lineage back to earlier carbine versions of the M16, all based on the original AR-15 designed by Eugene Stoner and made by ArmaLite. It is a shorter and lighter variant of the M16A2 assault rifle, with 80% parts commonality.It is a gas-operated,...



Selective fire
5.56x45mm NATO

5.56x45mm NATO

5.56×45mm NATO is a rifle cartridge developed in the United States and originally chambered in the M16 rifle. Under STANAG 4172, it is a standard cartridge for NATO forces as well as many non-NATO countries. It is derived from, but not identical to, the .223 Remington cartridge...



2006-Present
Indonesia
Firearm
Type
Calibre
Service
Arisaka

Arisaka

Arisaka is a family of Japanese military bolt action rifles, in production from approximately 1898, when it replaced the Murata rifle, until the end of World War II in 1945...



Bolt-action

Bolt-action

Bolt action is a type of firearm action in which the weapon's bolt is operated manually by the opening and closing of the breech with a small handle, most commonly placed on the right-hand side of the weapon...



6.5x50mm and 7.7x58mm
1940s-1960s
M1 Garand

M1 Garand

The M1 Garand , was the first semi-automatic rifle to be generally issued to the infantry of any nation. Called "the greatest battle implement ever devised" by General George S...



Semi-automatic

Semi-automatic firearm

A semi-automatic, or self-loading firearm is a weapon which performs all steps necessary to prepare the weapon to fire again after firing—assuming cartridges remain in the weapon's feed device or magazine...



.30-06 Springfield

.30-06 Springfield

The .30-06 Springfield cartridge or 7.62×63mm in metric notation, was introduced to the United States Army in 1906 and standardized, and was in use until the 1960s and early 1970s. It replaced the .30-03, 6 mm Lee Navy, and .30 US Army...



1945-1975
Heckler & Koch G3

Heckler & Koch G3

The G3 is a 7.62mm battle rifle developed in the 1950s by the German armament manufacturer Heckler & Koch GmbH in collaboration with the Spanish state-owned design and development agency CETME ....



Selective fire

Selective fire

A selective fire firearm has at least one semi–automatic and one automatic mode, which is activated by means of a selector which varies depending on the weapon's design. Some selective fire weapons utilize burst fire mechanisms to limit the maximum or total number of shots fired automatically in...



7.62x51mm NATO
1961-Present
Pindad SS1
Selective fire

Selective fire

A selective fire firearm has at least one semi–automatic and one automatic mode, which is activated by means of a selector which varies depending on the weapon's design. Some selective fire weapons utilize burst fire mechanisms to limit the maximum or total number of shots fired automatically in...



5.56x45mm NATO

5.56x45mm NATO

5.56×45mm NATO is a rifle cartridge developed in the United States and originally chambered in the M16 rifle. Under STANAG 4172, it is a standard cartridge for NATO forces as well as many non-NATO countries. It is derived from, but not identical to, the .223 Remington cartridge...



1991-Present
Pindad SS2

Pindad SS2

The SS2 is an updated version of the Pindad SS1 created by PT Pindad, under license from Fabrique Nationale...



Selective fire
5.56x45mm NATO
2006-Present
Iran
Firearm
Type
Calibre
Service
Mauser 98

Gewehr 98

The Gewehr 98 is a German bolt action Mauser rifle firing the 8x57mm cartridge from a 5 round internal clip-loaded magazine that was the German service rifle from 1898 to 1935, when it was replaced by the Karabiner 98k. It was hence the main rifle of the German infantry during World War I...



Bolt-action

Bolt-action

Bolt action is a type of firearm action in which the weapon's bolt is operated manually by the opening and closing of the breech with a small handle, most commonly placed on the right-hand side of the weapon...



7.92x57mm
1900s-1950s
Vz. 24

Vz. 24

The vz. 24 rifle is a rifle designed and produced in Czechoslovakia from 1924 to 1942. It was developed from the Mauser Gewehr 98 line, though is not a clone of any specific Mauser model. The fit and finish are of the highest quality....



Bolt-action

Bolt-action

Bolt action is a type of firearm action in which the weapon's bolt is operated manually by the opening and closing of the breech with a small handle, most commonly placed on the right-hand side of the weapon...



7.92x57mm
1929-1960s
M1 Garand

M1 Garand

The M1 Garand , was the first semi-automatic rifle to be generally issued to the infantry of any nation. Called "the greatest battle implement ever devised" by General George S...



Semi-automatic

Semi-automatic firearm

A semi-automatic, or self-loading firearm is a weapon which performs all steps necessary to prepare the weapon to fire again after firing—assuming cartridges remain in the weapon's feed device or magazine...



30-06
1950s-1960s
Heckler & Koch G3

Heckler & Koch G3

The G3 is a 7.62mm battle rifle developed in the 1950s by the German armament manufacturer Heckler & Koch GmbH in collaboration with the Spanish state-owned design and development agency CETME ....



Selective fire

Selective fire

A selective fire firearm has at least one semi–automatic and one automatic mode, which is activated by means of a selector which varies depending on the weapon's design. Some selective fire weapons utilize burst fire mechanisms to limit the maximum or total number of shots fired automatically in...



7.62x51mm NATO
1960s-1979
G3A6

Heckler & Koch G3

The G3 is a 7.62mm battle rifle developed in the 1950s by the German armament manufacturer Heckler & Koch GmbH in collaboration with the Spanish state-owned design and development agency CETME ....



Selective fire

Selective fire

A selective fire firearm has at least one semi–automatic and one automatic mode, which is activated by means of a selector which varies depending on the weapon's design. Some selective fire weapons utilize burst fire mechanisms to limit the maximum or total number of shots fired automatically in...



7.62x51mm NATO
1980-Present
Iraq
Firearm
Type
Calibre
Service
Lee Enfield
Bolt action
.303 British

.303 British

.303 British, or 7.7x56mmR, is a .311 inch calibre rifle and machine gun cartridge first developed in Britain as a blackpowder round put into service in December 1888 for the Lee-Metford rifle, later adapted to use smokeless powders...



1930s-1950s
AK-47

AK-47

The AK-47 is a selective-fire, gas-operated 7.62×39mm assault rifle, first developed in the Soviet Union by Mikhail Kalashnikov. It is officially known as Avtomat Kalashnikova . It is also known as a Kalashnikov, an "AK", or in Russian slang, Kalash.Design work on the AK-47 began in the last year...



Assault Rifle

Assault rifle

An assault rifle is a selective fire rifle that uses an intermediate cartridge and a detachable magazine. Assault rifles are the standard infantry weapons in most modern armies...



7.62x39mm
1950s-Present
M16A2
Assault Rifle
5.56x45mm NATO

5.56x45mm NATO

5.56×45mm NATO is a rifle cartridge developed in the United States and originally chambered in the M16 rifle. Under STANAG 4172, it is a standard cartridge for NATO forces as well as many non-NATO countries. It is derived from, but not identical to, the .223 Remington cartridge...



2007-Present
Ireland
Firearm
Type
Calibre
Service
Lee-Enfield

Lee-Enfield

The Lee-Enfield bolt-action, magazine-fed, repeating rifle was the main firearm used by the military forces of the British Empire and Commonwealth during the first half of the 20th century...



Bolt-Action

Bolt-action

Bolt action is a type of firearm action in which the weapon's bolt is operated manually by the opening and closing of the breech with a small handle, most commonly placed on the right-hand side of the weapon...



.303 SAA Ball

.303 British

.303 British, or 7.7x56mmR, is a .311 inch calibre rifle and machine gun cartridge first developed in Britain as a blackpowder round put into service in December 1888 for the Lee-Metford rifle, later adapted to use smokeless powders...



1922-1960s
FN FAL

FN FAL

The Fusil Automatique Léger or FAL is a self-loading, selective fire battle rifle produced by the Belgian armaments manufacturer Fabrique Nationale de Herstal . During the Cold War it was adopted by many North Atlantic Treaty Organization countries, with the notable exception of the United States...



Selective fire

Selective fire

A selective fire firearm has at least one semi–automatic and one automatic mode, which is activated by means of a selector which varies depending on the weapon's design. Some selective fire weapons utilize burst fire mechanisms to limit the maximum or total number of shots fired automatically in...



7.62x51mm NATO
1960s-1988
Steyr AUG

Steyr AUG

The AUG is an Austrian bullpup 5.56mm assault rifle, designed in the early 1970s by Steyr Mannlicher GmbH & Co KG . The AUG was adopted by the Austrian Army as the StG 77 in 1977, where it replaced the 7.62mm StG 58 automatic rifle...



Selective fire

Selective fire

A selective fire firearm has at least one semi–automatic and one automatic mode, which is activated by means of a selector which varies depending on the weapon's design. Some selective fire weapons utilize burst fire mechanisms to limit the maximum or total number of shots fired automatically in...



5.56x45mm NATO

5.56x45mm NATO

5.56×45mm NATO is a rifle cartridge developed in the United States and originally chambered in the M16 rifle. Under STANAG 4172, it is a standard cartridge for NATO forces as well as many non-NATO countries. It is derived from, but not identical to, the .223 Remington cartridge...



1988-Present
Israel

Firearm
Type
Calibre
Service
Lee-Enfield No 4

Lee-Enfield

The Lee-Enfield bolt-action, magazine-fed, repeating rifle was the main firearm used by the military forces of the British Empire and Commonwealth during the first half of the 20th century...



Bolt action
.303 British

.303 British

.303 British, or 7.7x56mmR, is a .311 inch calibre rifle and machine gun cartridge first developed in Britain as a blackpowder round put into service in December 1888 for the Lee-Metford rifle, later adapted to use smokeless powders...



1948-1958
Mauser Kar98k

Karabiner 98k

The Karabiner 98 Kurz was a bolt action rifle chambered for the 8x57mm IS/7.92×57mm IS cartridge that was adopted as the standard service rifle in 1935 by the German Wehrmacht. It was one of the final developments in the long line of Mauser military rifles...



Bolt-action
7.62x51mm NATO
1948-1974
FN FAL

FN FAL

The Fusil Automatique Léger or FAL is a self-loading, selective fire battle rifle produced by the Belgian armaments manufacturer Fabrique Nationale de Herstal . During the Cold War it was adopted by many North Atlantic Treaty Organization countries, with the notable exception of the United States...



Selective fire

Selective fire

A selective fire firearm has at least one semi–automatic and one automatic mode, which is activated by means of a selector which varies depending on the weapon's design. Some selective fire weapons utilize burst fire mechanisms to limit the maximum or total number of shots fired automatically in...



7.62x51mm NATO
1955-1981
M16

M16 rifle

The M16 is the United States military designation for the AR-15 rifle adapted for both semi-automatic and full-automatic fire. Colt purchased the rights to the AR-15 from ArmaLite, and currently uses that designation only for semi-automatic versions of the rifle. The M16 fires the 5.56×45mm NATO...



Selective fire
5.56x45mm NATO

5.56x45mm NATO

5.56×45mm NATO is a rifle cartridge developed in the United States and originally chambered in the M16 rifle. Under STANAG 4172, it is a standard cartridge for NATO forces as well as many non-NATO countries. It is derived from, but not identical to, the .223 Remington cartridge...



1973-present
Galil AR

IMI Galil

The Galil is a family of Israeli small arms designed by Yisrael Galil and Yaacov Lior in the late 1960s and produced by Israel Military Industries Ltd of Ramat HaSharon...



Selective fire
5.56x45mm NATO
1974-present
IMI Tavor TAR-21

IMI Tavor TAR-21

The TAR-21 is an Israeli bullpup assault rifle chambered for 5.56×45mm NATO ammunition with a selective fire system, selecting between semi-automatic mode, burst mode, and full automatic fire mode. It is named after Mount Tavor, while "TAR-21" stands for "Tavor Assault Rifle - 21st Century". It is...



Selective fire
5.56x45mm NATO
2005-present
Italy
Firearm
Type
Calibre
Service
M1870 Italian Vetterli

M1870 Italian Vetterli

The M1870 Vetterli was the Italian service rifle from 1870-1878, when it was replaced with the M1870/87 Italian Vetterli-Vitali variant. The M1870 was a single-shot bolt action rifle chambered for the 10.4mm Vetterli centrefire cartridge, at first with black powder and later with smokeless powder...



Bolt-action

Bolt-action

Bolt action is a type of firearm action in which the weapon's bolt is operated manually by the opening and closing of the breech with a small handle, most commonly placed on the right-hand side of the weapon...



10.4mm Vetterli
1870-1887
M1870 Italian Vetterli

M1870 Italian Vetterli

The M1870 Vetterli was the Italian service rifle from 1870-1878, when it was replaced with the M1870/87 Italian Vetterli-Vitali variant. The M1870 was a single-shot bolt action rifle chambered for the 10.4mm Vetterli centrefire cartridge, at first with black powder and later with smokeless powder...



Bolt action
10.4mm Vetterli
1892-1950
Carcano

Carcano

Carcano is the frequently used name for a series of Italian bolt-action military rifles and carbines. Introduced in 1891, this rifle was chambered for the rimless 6.5x52mm Mannlicher-Carcano Cartuccia Modello 1895 cartridge. It was developed by the chief technician Salvatore Carcano at the Turin...



Bolt action
6.5x52mm Mannlicher-Carcano
1892-1950
M1 Garand

M1 Garand

The M1 Garand , was the first semi-automatic rifle to be generally issued to the infantry of any nation. Called "the greatest battle implement ever devised" by General George S...



Semi-automatic

Semi-automatic rifle

A semi-automatic rifle is a type of rifle that fires a single bullet each time the trigger is pulled, automatically ejects the spent cartridge, chambers a fresh cartridge from its magazine, and is immediately ready to fire another shot...



.30-06 Springfield

.30-06 Springfield

The .30-06 Springfield cartridge or 7.62×63mm in metric notation, was introduced to the United States Army in 1906 and standardized, and was in use until the 1960s and early 1970s. It replaced the .30-03, 6 mm Lee Navy, and .30 US Army...



1945-1959
Beretta BM-59
Selective fire

Selective fire

A selective fire firearm has at least one semi–automatic and one automatic mode, which is activated by means of a selector which varies depending on the weapon's design. Some selective fire weapons utilize burst fire mechanisms to limit the maximum or total number of shots fired automatically in...



7.62x51mm NATO
1959-1990
Beretta AR70/90

Beretta AR70/90

The Beretta AR70/90 is a gas operated self loading assault rifle chambered for the 5.56mm cartridge, and is the standard issue service rifle of the Italian Armed Forces. The weapon also features grenade sights, and is designed to be fitted with a rifle grenade...



Selective fire
5.56x45mm NATO

5.56x45mm NATO

5.56×45mm NATO is a rifle cartridge developed in the United States and originally chambered in the M16 rifle. Under STANAG 4172, it is a standard cartridge for NATO forces as well as many non-NATO countries. It is derived from, but not identical to, the .223 Remington cartridge...



1972-present
Jamaica
Firearm
Type
Calibre
Service
L1A1 SLR
Battle rifle

Battle rifle

A battle rifle is a military service rifle that fires a full power rifle cartridge, such as 7.62x51mm NATO. While the designation of battle rifle is usually given to post-World War II select fire infantry rifles such as the H&K G3, the FN FAL or the M14, this term can also apply to older military...



7.62x51mm NATO
1957-Present
M16A2
Assault Rifle

Assault rifle

An assault rifle is a selective fire rifle that uses an intermediate cartridge and a detachable magazine. Assault rifles are the standard infantry weapons in most modern armies...



5.56x45mm NATO

5.56x45mm NATO

5.56×45mm NATO is a rifle cartridge developed in the United States and originally chambered in the M16 rifle. Under STANAG 4172, it is a standard cartridge for NATO forces as well as many non-NATO countries. It is derived from, but not identical to, the .223 Remington cartridge...



1980s?-Present
SA80

SA80

The SA80 is a British family of 5.56mm small arms. It is a selective fire, gas-operated assault rifle. SA80 prototypes were trialled in 1976 and production was completed in 1994....



Selective fire

Selective fire

A selective fire firearm has at least one semi–automatic and one automatic mode, which is activated by means of a selector which varies depending on the weapon's design. Some selective fire weapons utilize burst fire mechanisms to limit the maximum or total number of shots fired automatically in...



5.56x45mm NATO

5.56x45mm NATO

5.56×45mm NATO is a rifle cartridge developed in the United States and originally chambered in the M16 rifle. Under STANAG 4172, it is a standard cartridge for NATO forces as well as many non-NATO countries. It is derived from, but not identical to, the .223 Remington cartridge...



1992-Present
Japan

Firearm
Type
Calibre
Service
Snider-Enfield

Snider-Enfield

The British .577 Snider-Enfield was a type of breech loading rifle. The firearm action was invented by the American Jacob Snider, and the Snider-Enfield was one of the most widely used of the Snider varieties. It was adopted by British Army as a conversion system for its ubiquitous Pattern 1853...



Breech-loading

Breech-loading weapon

A breech-loading weapon is a firearm in which the cartridge or shell is inserted or loaded into a chamber integral to the rear portion of a barrel....



.577 Snider

.577 Snider

The .577 Snider cartridge was a British black powder metallic cartridge, which fired a .577" 480gr lead projectile, primarily used in the Snider-Enfield rifle....



1868-1880
Murata rifle

Murata rifle

The Murata Rifle was the first indigenously produced Japanese service rifle adopted in 1880 as the Murata Type 13. The 13 referred to the adoption date, the year 13 in the Meiji period according to the Japanese calendar....



Bolt action
10x60R
1880-1905
Type 30 rifle

Type 30 Rifle

The Type 30 Rifle Arisaka was a bolt-action rifle that was the standard infantry rifle of the Japanese infantry from 1897 to 1905. It was the first rifle in the Arisaka family as well as the first to chamber the 6.5x50mm Arisaka round...



Bolt action
6.5x50mm Arisaka
1897-1905
Arisaka Type 38

Type 38 rifle

The is a bolt-action rifle. For a time it was the standard rifle of the Japanese infantry. It was known also as the Type 38 Year Meiji Carbine in Japan. An earlier, similar weapon was the Type 30 Year Meiji Rifle, which was also used alongside it. Both of these weapons were also known as the...



Bolt-action
6.5x50mm Arisaka
1905-1945
Arisaka Type 99

Type 99 Rifle

The was a bolt-action rifle of the Arisaka design used by the Imperial Japanese Army during World War II.-History:During the Second Sino-Japanese War in the 1930s, the Japanese soon found that the 8×57mm IS cartridge the Chinese used was superior to the 6.5×50mm cartridge of the Type 38 rifle,...



Bolt-action
7.7x58mm Arisaka
1939-1945
M1 Garand

M1 Garand

The M1 Garand , was the first semi-automatic rifle to be generally issued to the infantry of any nation. Called "the greatest battle implement ever devised" by General George S...



Semi-automatic

Semi-automatic rifle

A semi-automatic rifle is a type of rifle that fires a single bullet each time the trigger is pulled, automatically ejects the spent cartridge, chambers a fresh cartridge from its magazine, and is immediately ready to fire another shot...



.30-06 Springfield

.30-06 Springfield

The .30-06 Springfield cartridge or 7.62×63mm in metric notation, was introduced to the United States Army in 1906 and standardized, and was in use until the 1960s and early 1970s. It replaced the .30-03, 6 mm Lee Navy, and .30 US Army...



1945-1964
Howa Type 64

Howa Type 64

The , is a Japanese battle rifle used exclusively by the Japan Self-Defense Forces and the Japanese Coast Guard. It is a gas-operated, selective fire weapon which is chambered for the 7.62x51mm NATO round and uses a detachable 20-round box magazine. The Type 64 was never exported outside of Japan...



Selective fire

Selective fire

A selective fire firearm has at least one semi–automatic and one automatic mode, which is activated by means of a selector which varies depending on the weapon's design. Some selective fire weapons utilize burst fire mechanisms to limit the maximum or total number of shots fired automatically in...



7.62x51mm NATO
1964-Present
Howa Type 89

Howa Type 89

The , referred to as the , is a Japanese assault rifle used by the Japan Self-Defense Forces, the Japan Coast Guard's Special Security Team units, and the Special Assault Team. It was never exported outside of Japan due to its strict anti-hardware export laws...



Selective fire
5.56x45mm NATO

5.56x45mm NATO

5.56×45mm NATO is a rifle cartridge developed in the United States and originally chambered in the M16 rifle. Under STANAG 4172, it is a standard cartridge for NATO forces as well as many non-NATO countries. It is derived from, but not identical to, the .223 Remington cartridge...



1989-Present
Democratic People's Republic of Korea
Firearm
Type
Calibre
Service
Arisaka Type 38

Type 38 rifle

The is a bolt-action rifle. For a time it was the standard rifle of the Japanese infantry. It was known also as the Type 38 Year Meiji Carbine in Japan. An earlier, similar weapon was the Type 30 Year Meiji Rifle, which was also used alongside it. Both of these weapons were also known as the...



Bolt action
6.5x50mm Arisaka
1945-1953(limited use)
Arisaka Type 99

Type 99 Rifle

The was a bolt-action rifle of the Arisaka design used by the Imperial Japanese Army during World War II.-History:During the Second Sino-Japanese War in the 1930s, the Japanese soon found that the 8×57mm IS cartridge the Chinese used was superior to the 6.5×50mm cartridge of the Type 38 rifle,...



Bolt-action
7.7x58mm Arisaka
1945-1953(limited use)
Mosin-Nagant

Mosin-Nagant

The Mosin–Nagant is a bolt-action, internal magazine-fed, military rifle invented under the government commission by Russian and Belgian inventors, and used by the armed forces of the Russian Empire, the Soviet Union and various other nations....



Bolt Action
7.62x54mmR
1945-Present
SVT-40
Semi-automatic
7.62x54mmR
1945-Present
SKS

SKS

The SKS is a Soviet semi-automatic rifle chambered for the 7.62x39mm round, designed in 1943 by Sergei Gavrilovich Simonov. SKS-45 is an acronym for Samozaryadnyj Karabin sistemy Simonova, 1945 Simonov system, 1945), or SKS 45. The Sks is a scaled down version of the PTRS-41 anti-tank rifle also...



Semi-automatic

Semi-automatic rifle

A semi-automatic rifle is a type of rifle that fires a single bullet each time the trigger is pulled, automatically ejects the spent cartridge, chambers a fresh cartridge from its magazine, and is immediately ready to fire another shot...



7.62x39mm
1945-Present
Type 53 Carbine

Mosin-Nagant

The Mosin–Nagant is a bolt-action, internal magazine-fed, military rifle invented under the government commission by Russian and Belgian inventors, and used by the armed forces of the Russian Empire, the Soviet Union and various other nations....



Bolt-Action

Bolt-action

Bolt action is a type of firearm action in which the weapon's bolt is operated manually by the opening and closing of the breech with a small handle, most commonly placed on the right-hand side of the weapon...



7.62x54mmR
1953-Present
Type 56 Carbine

SKS

The SKS is a Soviet semi-automatic rifle chambered for the 7.62x39mm round, designed in 1943 by Sergei Gavrilovich Simonov. SKS-45 is an acronym for Samozaryadnyj Karabin sistemy Simonova, 1945 Simonov system, 1945), or SKS 45. The Sks is a scaled down version of the PTRS-41 anti-tank rifle also...



Semi-automatic

Semi-automatic rifle

A semi-automatic rifle is a type of rifle that fires a single bullet each time the trigger is pulled, automatically ejects the spent cartridge, chambers a fresh cartridge from its magazine, and is immediately ready to fire another shot...



7.62x39mm
1956-Present
Type 56 Assault Rifle

Type 56 Assault Rifle

The Type 56 assault rifle is a Chinese copy of the Kalashnikov AK-47 assault rifle, which has been manufactured since 1956. It was produced by State Factory 66 from 1956-73, then by Norinco from 1973 onwards.-Service history:...



Selective fire

Selective fire

A selective fire firearm has at least one semi–automatic and one automatic mode, which is activated by means of a selector which varies depending on the weapon's design. Some selective fire weapons utilize burst fire mechanisms to limit the maximum or total number of shots fired automatically in...



7.62x39mm
1956-Present
Type 63 Carbine

SKS

The SKS is a Soviet semi-automatic rifle chambered for the 7.62x39mm round, designed in 1943 by Sergei Gavrilovich Simonov. SKS-45 is an acronym for Samozaryadnyj Karabin sistemy Simonova, 1945 Simonov system, 1945), or SKS 45. The Sks is a scaled down version of the PTRS-41 anti-tank rifle also...



Semi-automatic

Semi-automatic firearm

A semi-automatic, or self-loading firearm is a weapon which performs all steps necessary to prepare the weapon to fire again after firing—assuming cartridges remain in the weapon's feed device or magazine...



7.62x39mm
1963-Present
Type 58

AK-47

The AK-47 is a selective-fire, gas-operated 7.62×39mm assault rifle, first developed in the Soviet Union by Mikhail Kalashnikov. It is officially known as Avtomat Kalashnikova . It is also known as a Kalashnikov, an "AK", or in Russian slang, Kalash.Design work on the AK-47 began in the last year...



Selective fire

Selective fire

A selective fire firearm has at least one semi–automatic and one automatic mode, which is activated by means of a selector which varies depending on the weapon's design. Some selective fire weapons utilize burst fire mechanisms to limit the maximum or total number of shots fired automatically in...



7.62x39mm
1958-Present
Type 68
Selective fire
7.62x39mm
1968-Present
Type 88

AK-74

The AK-74 is an assault rifle developed in the early 1970s in the Soviet Union as the replacement for the earlier AKM...



Selective fire
5.45x39mm

5.45x39mm

The Soviet 5.45×39mm cartridge is a rimless bottlenecked rifle cartridge. It was introduced into service in 1974 for use with the new AK-74 assault rifle. It gradually supplemented then largely replaced the 7.62x39mm round in service....



1988-Present
Republic of Korea
Firearm
Type
Calibre
Service
Notes
Arisaka Type 38

Type 38 rifle

The is a bolt-action rifle. For a time it was the standard rifle of the Japanese infantry. It was known also as the Type 38 Year Meiji Carbine in Japan. An earlier, similar weapon was the Type 30 Year Meiji Rifle, which was also used alongside it. Both of these weapons were also known as the...



Bolt action
6.5x50mm Arisaka
1945-1953
Limited use
Arisaka Type 99

Type 99 Rifle

The was a bolt-action rifle of the Arisaka design used by the Imperial Japanese Army during World War II.-History:During the Second Sino-Japanese War in the 1930s, the Japanese soon found that the 8×57mm IS cartridge the Chinese used was superior to the 6.5×50mm cartridge of the Type 38 rifle,...



Bolt action
7.7x58mm Arisaka
1945-1953
Limited Use
Springfield M1903
Bolt-action

Bolt-action

Bolt action is a type of firearm action in which the weapon's bolt is operated manually by the opening and closing of the breech with a small handle, most commonly placed on the right-hand side of the weapon...



.30-06 Springfield

.30-06 Springfield

The .30-06 Springfield cartridge or 7.62×63mm in metric notation, was introduced to the United States Army in 1906 and standardized, and was in use until the 1960s and early 1970s. It replaced the .30-03, 6 mm Lee Navy, and .30 US Army...



1945-1953
M1 Garand

M1 Garand

The M1 Garand , was the first semi-automatic rifle to be generally issued to the infantry of any nation. Called "the greatest battle implement ever devised" by General George S...



Semi-automatic

Semi-automatic rifle

A semi-automatic rifle is a type of rifle that fires a single bullet each time the trigger is pulled, automatically ejects the spent cartridge, chambers a fresh cartridge from its magazine, and is immediately ready to fire another shot...



.30-06 Springfield

.30-06 Springfield

The .30-06 Springfield cartridge or 7.62×63mm in metric notation, was introduced to the United States Army in 1906 and standardized, and was in use until the 1960s and early 1970s. It replaced the .30-03, 6 mm Lee Navy, and .30 US Army...



1945-1974
M1 Carbine

M1 Carbine

The M1 carbine is a lightweight, easy to use semi-automatic carbine that became a standard firearm for the U.S. military during World War II, the Korean War and the Vietnam War, and was produced in several variants. It was widely used by U.S...



Semi-automatic
.30 Carbine

.30 Carbine

The .30 Carbine is the cartridge used in the M1 Carbine introduced in the 1940s. It is an intermediate round designed to be fired from the M1 carbine's 18-inch barrel.-History:...



1945-1974
Currently used by ROK Reserve Forces
M16A1

M16 rifle

The M16 is the United States military designation for the AR-15 rifle adapted for both semi-automatic and full-automatic fire. Colt purchased the rights to the AR-15 from ArmaLite, and currently uses that designation only for semi-automatic versions of the rifle. The M16 fires the 5.56×45mm NATO...



Selective fire

Selective fire

A selective fire firearm has at least one semi–automatic and one automatic mode, which is activated by means of a selector which varies depending on the weapon's design. Some selective fire weapons utilize burst fire mechanisms to limit the maximum or total number of shots fired automatically in...



5.56x45mm NATO

5.56x45mm NATO

5.56×45mm NATO is a rifle cartridge developed in the United States and originally chambered in the M16 rifle. Under STANAG 4172, it is a standard cartridge for NATO forces as well as many non-NATO countries. It is derived from, but not identical to, the .223 Remington cartridge...



1968-Present
Mostly used by ROK Reserve Forces
Daewoo Precision Industries K1A
Selective fire
5.56x45mm NATO
1981-Present
Daewoo Precision Industries K2
Selective fire
5.56x45mm NATO
1984-Present
S&T Daewoo K11
Selective fire
5.56x45mm NATO
20x30mm
2010-Present
Luxembourg

Firearm
Type
Calibre
Service
Karabiner 98k

Karabiner 98k

The Karabiner 98 Kurz was a bolt action rifle chambered for the 8x57mm IS/7.92×57mm IS cartridge that was adopted as the standard service rifle in 1935 by the German Wehrmacht. It was one of the final developments in the long line of Mauser military rifles...



Bolt action
7.92x57mm IS
1945
Ross rifle

Ross rifle

The Ross rifle was a straight-pull bolt-action 0.303 inch calibre rifle produced in Canada from 1903 until the middle of the First World War....



Bolt action
.303 British

.303 British

.303 British, or 7.7x56mmR, is a .311 inch calibre rifle and machine gun cartridge first developed in Britain as a blackpowder round put into service in December 1888 for the Lee-Metford rifle, later adapted to use smokeless powders...



1945
Pattern 1914 Enfield
Bolt action
.303 British
1945
Lee-Enfield

Lee-Enfield

The Lee-Enfield bolt-action, magazine-fed, repeating rifle was the main firearm used by the military forces of the British Empire and Commonwealth during the first half of the 20th century...



Bolt action
.303 British
1945-1952
FN Model 1949

FN Model 1949

The Fabrique Nationale Model 1949 is a semi-automatic rifle designed by Dieudonné Saive and manufactured by Fabrique Nationale...



Semi-Automatic

Semi-automatic

Semi-automatic may refer to:* A semi-automatic firearm, a firearm which automatically reloads, but will only fire one round per trigger pull** Semi-automatic rifle** Semi-automatic pistol** Semi-automatic shotgun...



.30-06 Springfield

.30-06 Springfield

The .30-06 Springfield cartridge or 7.62×63mm in metric notation, was introduced to the United States Army in 1906 and standardized, and was in use until the 1960s and early 1970s. It replaced the .30-03, 6 mm Lee Navy, and .30 US Army...



1951-1963
FN FAL

FN FAL

The Fusil Automatique Léger or FAL is a self-loading, selective fire battle rifle produced by the Belgian armaments manufacturer Fabrique Nationale de Herstal . During the Cold War it was adopted by many North Atlantic Treaty Organization countries, with the notable exception of the United States...



Selective fire

Selective fire

A selective fire firearm has at least one semi–automatic and one automatic mode, which is activated by means of a selector which varies depending on the weapon's design. Some selective fire weapons utilize burst fire mechanisms to limit the maximum or total number of shots fired automatically in...



7.62x51mm NATO
1963-1996
Steyr AUG

Steyr AUG

The AUG is an Austrian bullpup 5.56mm assault rifle, designed in the early 1970s by Steyr Mannlicher GmbH & Co KG . The AUG was adopted by the Austrian Army as the StG 77 in 1977, where it replaced the 7.62mm StG 58 automatic rifle...



Selective fire
5.56x45mm NATO

5.56x45mm NATO

5.56×45mm NATO is a rifle cartridge developed in the United States and originally chambered in the M16 rifle. Under STANAG 4172, it is a standard cartridge for NATO forces as well as many non-NATO countries. It is derived from, but not identical to, the .223 Remington cartridge...



1996-Present
Mexico
Firearm
Type
Calibre
Service
Springfield Model 1873

Springfield Model 1873

The Model 1873 "Trapdoor" Springfield was the first standard-issued breech-loading rifle adopted by the United States Army...



Breech-loading
.45-70

.45-70

The .45-70 rifle cartridge, also known as .45-70 Government, was developed at the U.S. Army's Springfield Armory for use in the Springfield Model 1873...



1873-1890s
Winchester 1895
Lever Action
.30-06
1895-1920s
Mauser 1895 FMM 1895
Bolt action
7x57mm Mauser
1895-1902
Mauser 1898

Gewehr 98

The Gewehr 98 is a German bolt action Mauser rifle firing the 8x57mm cartridge from a 5 round internal clip-loaded magazine that was the German service rifle from 1898 to 1935, when it was replaced by the Karabiner 98k. It was hence the main rifle of the German infantry during World War I...


FMM 1902/07/10/12/24/36
Bolt action
7x57mm Mauser
1902-1954
Mauser 1898

Gewehr 98

The Gewehr 98 is a German bolt action Mauser rifle firing the 8x57mm cartridge from a 5 round internal clip-loaded magazine that was the German service rifle from 1898 to 1935, when it was replaced by the Karabiner 98k. It was hence the main rifle of the German infantry during World War I...


FMM 1954
Bolt action
.30-06 Springfield

.30-06 Springfield

The .30-06 Springfield cartridge or 7.62×63mm in metric notation, was introduced to the United States Army in 1906 and standardized, and was in use until the 1960s and early 1970s. It replaced the .30-03, 6 mm Lee Navy, and .30 US Army...



1954-?
FN FAL

FN FAL

The Fusil Automatique Léger or FAL is a self-loading, selective fire battle rifle produced by the Belgian armaments manufacturer Fabrique Nationale de Herstal . During the Cold War it was adopted by many North Atlantic Treaty Organization countries, with the notable exception of the United States...



Selective fire

Selective fire

A selective fire firearm has at least one semi–automatic and one automatic mode, which is activated by means of a selector which varies depending on the weapon's design. Some selective fire weapons utilize burst fire mechanisms to limit the maximum or total number of shots fired automatically in...



7.62x51mm NATO
1950s-1965
Heckler & Koch G3

Heckler & Koch G3

The G3 is a 7.62mm battle rifle developed in the 1950s by the German armament manufacturer Heckler & Koch GmbH in collaboration with the Spanish state-owned design and development agency CETME ....



Selective fire

Selective fire

A selective fire firearm has at least one semi–automatic and one automatic mode, which is activated by means of a selector which varies depending on the weapon's design. Some selective fire weapons utilize burst fire mechanisms to limit the maximum or total number of shots fired automatically in...



7.62x51mm NATO
1965-Present(Slowly Replaced by FX-05 Xiuhcoatl

FX-05 Xiuhcoatl

The FX-05 "Xiuhcoatl" is a Mexican assault rifle, designed and built by the Dirección General de Industria Militar del Ejército...


)
M-16

M16 rifle

The M16 is the United States military designation for the AR-15 rifle adapted for both semi-automatic and full-automatic fire. Colt purchased the rights to the AR-15 from ArmaLite, and currently uses that designation only for semi-automatic versions of the rifle. The M16 fires the 5.56×45mm NATO...



Selective fire
5.56x45mm NATO

5.56x45mm NATO

5.56×45mm NATO is a rifle cartridge developed in the United States and originally chambered in the M16 rifle. Under STANAG 4172, it is a standard cartridge for NATO forces as well as many non-NATO countries. It is derived from, but not identical to, the .223 Remington cartridge...



1971-Present
Heckler & Koch G36

Heckler & Koch G36

The Heckler & Koch G36 is a 5.56×45mm assault rifle, designed in the early 1990s by Heckler & Koch in Germany as a replacement for the 7.62mm G3 battle rifle. It was accepted into service with the Bundeswehr in 1997, replacing the G3...



Selective fire
5.56x45mm NATO
1999-Present
FX-05 Xiuhcoatl

FX-05 Xiuhcoatl

The FX-05 "Xiuhcoatl" is a Mexican assault rifle, designed and built by the Dirección General de Industria Militar del Ejército...



Selective fire
5.56x45mm NATO
2006-Present
Netherlands
Firearm
Type
Calibre
Service
Dutch Mannlicher

Dutch Mannlicher

The Dutch Mannlicher, also known as the M.95 , was the service rifle of the Armed forces of the Netherlands between 1895 and 1945. At first it was produced by Steyr for the Dutch, but after 1904 production took place under license at Hembrug Zaandam in the Netherlands...



Bolt-Action

Bolt-action

Bolt action is a type of firearm action in which the weapon's bolt is operated manually by the opening and closing of the breech with a small handle, most commonly placed on the right-hand side of the weapon...



6.5x53.5
1895-1945
New Zealand
Firearm
Type
Calibre
Service
Lee-Enfield

Lee-Enfield

The Lee-Enfield bolt-action, magazine-fed, repeating rifle was the main firearm used by the military forces of the British Empire and Commonwealth during the first half of the 20th century...



Bolt-Action

Bolt-action

Bolt action is a type of firearm action in which the weapon's bolt is operated manually by the opening and closing of the breech with a small handle, most commonly placed on the right-hand side of the weapon...



.303 SAA Ball

.303 British

.303 British, or 7.7x56mmR, is a .311 inch calibre rifle and machine gun cartridge first developed in Britain as a blackpowder round put into service in December 1888 for the Lee-Metford rifle, later adapted to use smokeless powders...



1900s-1950s
L1A1 SLR
Semi-Automatic

Semi-automatic

Semi-automatic may refer to:* A semi-automatic firearm, a firearm which automatically reloads, but will only fire one round per trigger pull** Semi-automatic rifle** Semi-automatic pistol** Semi-automatic shotgun...



7.62x51mm NATO
1950s-1980s
Steyr AUG

Steyr AUG

The AUG is an Austrian bullpup 5.56mm assault rifle, designed in the early 1970s by Steyr Mannlicher GmbH & Co KG . The AUG was adopted by the Austrian Army as the StG 77 in 1977, where it replaced the 7.62mm StG 58 automatic rifle...



Selective fire

Selective fire

A selective fire firearm has at least one semi–automatic and one automatic mode, which is activated by means of a selector which varies depending on the weapon's design. Some selective fire weapons utilize burst fire mechanisms to limit the maximum or total number of shots fired automatically in...



5.56x45mm NATO

5.56x45mm NATO

5.56×45mm NATO is a rifle cartridge developed in the United States and originally chambered in the M16 rifle. Under STANAG 4172, it is a standard cartridge for NATO forces as well as many non-NATO countries. It is derived from, but not identical to, the .223 Remington cartridge...



1980s-Present
Norway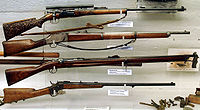 Firearm
Type
Calibre
Service
Kammerlader

Kammerlader

The Kammerlader, or "chamber loader", was the first Norwegian breech loading rifle, and among the very first breech loaders adopted for use by an armed force anywhere in the world. A single shot black powder rifle, the kammerlader was operated with a crank mounted on the side of the receiver. This...



Breech-loading

Breech-loading weapon

A breech-loading weapon is a firearm in which the cartridge or shell is inserted or loaded into a chamber integral to the rear portion of a barrel....



Minié ball

Minié ball

The Minié ball is a type of muzzle-loading spin-stabilising rifle bullet named after its co-developer, Claude-Étienne Minié, inventor of the Minié rifle...



1842-1870
Remington M1867

Remington M1867

The Remington rolling block M1867 was the first truly modern rifle to be adopted by the Norwegian Army. Nominally it had a caliber of 4 Norwegian decimal lines, the actual caliber was 3.88 Norwegian decimal lines , and it fired an 12.615 mm rimfire round.-Birth of the M1867:In the 1860s the...



Rolling block

Rolling block

A rolling block is a form of firearm action where the sealing of the breech is done with a specially shaped breechblock able to rotate on a pin. The breechblock is shaped like a section of a circle....



12.17x44mm
1867-1908
Jarmann M1884

Jarmann M1884

The Norwegian Jarmann M1884 was among the first bolt action repeating rifles to be adopted in the Western world. Its adoption, and subsequent modifications, turned the Norwegian Army from a fighting force armed with single-shot black powder weapons into a force armed with modern repeating weapons...



Bolt action
10.15x61mmR
1884-1900
Krag-Jørgensen M1894

Krag-Jørgensen

The Krag-Jørgensen is a repeating bolt action rifle designed by the Norwegians Ole Herman Johannes Krag and Erik Jørgensen in the late 19th century. It was adopted as a standard arm by Denmark, the United States of America and Norway...



Bolt-action
6.5x55mm
1894-1945
Lee-Enfield No 4

Lee-Enfield

The Lee-Enfield bolt-action, magazine-fed, repeating rifle was the main firearm used by the military forces of the British Empire and Commonwealth during the first half of the 20th century...



Bolt-action
.303 British

.303 British

.303 British, or 7.7x56mmR, is a .311 inch calibre rifle and machine gun cartridge first developed in Britain as a blackpowder round put into service in December 1888 for the Lee-Metford rifle, later adapted to use smokeless powders...



1940-1952
Mauser M98

Karabiner 98k

The Karabiner 98 Kurz was a bolt action rifle chambered for the 8x57mm IS/7.92×57mm IS cartridge that was adopted as the standard service rifle in 1935 by the German Wehrmacht. It was one of the final developments in the long line of Mauser military rifles...



Bolt-action
7.92x57mm Mauser

7.92x57mm Mauser

The 8×57mm IS is a rimless bottlenecked rifle cartridge. The 8×57mm IS was adopted by the German Empire in 1905, and was the German service cartridge in both World Wars...


(Navy)/.30-06 Springfield

.30-06 Springfield

The .30-06 Springfield cartridge or 7.62×63mm in metric notation, was introduced to the United States Army in 1906 and standardized, and was in use until the 1960s and early 1970s. It replaced the .30-03, 6 mm Lee Navy, and .30 US Army...


(Army, Air Force)
1945-1968
Selvladegevær M1

M1 Garand

The M1 Garand , was the first semi-automatic rifle to be generally issued to the infantry of any nation. Called "the greatest battle implement ever devised" by General George S...



Semi-Automatic

Semi-automatic rifle

A semi-automatic rifle is a type of rifle that fires a single bullet each time the trigger is pulled, automatically ejects the spent cartridge, chambers a fresh cartridge from its magazine, and is immediately ready to fire another shot...



.30-06 Springfield

.30-06 Springfield

The .30-06 Springfield cartridge or 7.62×63mm in metric notation, was introduced to the United States Army in 1906 and standardized, and was in use until the 1960s and early 1970s. It replaced the .30-03, 6 mm Lee Navy, and .30 US Army...



1951-Present (limited use for drill/display)
US-Karabin

M1 Carbine

The M1 carbine is a lightweight, easy to use semi-automatic carbine that became a standard firearm for the U.S. military during World War II, the Korean War and the Vietnam War, and was produced in several variants. It was widely used by U.S...



Semi-automatic
.30 Carbine

.30 Carbine

The .30 Carbine is the cartridge used in the M1 Carbine introduced in the 1940s. It is an intermediate round designed to be fired from the M1 carbine's 18-inch barrel.-History:...



1951-1970 (used by police until early 90s)
AG-3

Heckler & Koch G3

The G3 is a 7.62mm battle rifle developed in the 1950s by the German armament manufacturer Heckler & Koch GmbH in collaboration with the Spanish state-owned design and development agency CETME ....



Selective fire

Selective fire

A selective fire firearm has at least one semi–automatic and one automatic mode, which is activated by means of a selector which varies depending on the weapon's design. Some selective fire weapons utilize burst fire mechanisms to limit the maximum or total number of shots fired automatically in...



7.62x51mm NATO
1964-Present (now mostly for training/reserve)
Heckler & Koch HK416
Selective fire
5.56x45mm NATO

5.56x45mm NATO

5.56×45mm NATO is a rifle cartridge developed in the United States and originally chambered in the M16 rifle. Under STANAG 4172, it is a standard cartridge for NATO forces as well as many non-NATO countries. It is derived from, but not identical to, the .223 Remington cartridge...



2008-Present
Heckler & Koch HK417
Selective fire
7.62x51mm NATO
2008-Present
Peru
Firearm
Type
Calibre
Service
AKM

AKM

The AKM is a 7.62mm assault rifle designed by Mikhail Kalashnikov. It is an upgraded version of the AK-47 rifle and was developed in the 1950s....



Selective-Fire

Selective fire

A selective fire firearm has at least one semi–automatic and one automatic mode, which is activated by means of a selector which varies depending on the weapon's design. Some selective fire weapons utilize burst fire mechanisms to limit the maximum or total number of shots fired automatically in...



7.62x39mm
1960s-Present
Philippines

Firearm
Type
Calibre
Service
Arisaka Type 38

Type 38 rifle

The is a bolt-action rifle. For a time it was the standard rifle of the Japanese infantry. It was known also as the Type 38 Year Meiji Carbine in Japan. An earlier, similar weapon was the Type 30 Year Meiji Rifle, which was also used alongside it. Both of these weapons were also known as the...



Bolt action
6.5x50mm Arisaka
1912-1951
M1 Garand

M1 Garand

The M1 Garand , was the first semi-automatic rifle to be generally issued to the infantry of any nation. Called "the greatest battle implement ever devised" by General George S...



Semi-automatic

Semi-automatic rifle

A semi-automatic rifle is a type of rifle that fires a single bullet each time the trigger is pulled, automatically ejects the spent cartridge, chambers a fresh cartridge from its magazine, and is immediately ready to fire another shot...



.30-06 Springfield

.30-06 Springfield

The .30-06 Springfield cartridge or 7.62×63mm in metric notation, was introduced to the United States Army in 1906 and standardized, and was in use until the 1960s and early 1970s. It replaced the .30-03, 6 mm Lee Navy, and .30 US Army...



1951-1975
M14

M14 rifle

The M14 rifle, formally the United States Rifle, 7.62 mm, M14, is an American selective fire automatic rifle firing 7.62x51mm NATO ammunition. It was the standard issue U.S. rifle from 1959 to 1970. The M14 was used for U.S...



Selective fire

Selective fire

A selective fire firearm has at least one semi–automatic and one automatic mode, which is activated by means of a selector which varies depending on the weapon's design. Some selective fire weapons utilize burst fire mechanisms to limit the maximum or total number of shots fired automatically in...



7.62x51mm
1960s-Present
M16

M16 rifle

The M16 is the United States military designation for the AR-15 rifle adapted for both semi-automatic and full-automatic fire. Colt purchased the rights to the AR-15 from ArmaLite, and currently uses that designation only for semi-automatic versions of the rifle. The M16 fires the 5.56×45mm NATO...



Selective fire

Selective fire

A selective fire firearm has at least one semi–automatic and one automatic mode, which is activated by means of a selector which varies depending on the weapon's design. Some selective fire weapons utilize burst fire mechanisms to limit the maximum or total number of shots fired automatically in...



5.56x45mm
1960s-Present
CAR-15

CAR-15

The Colt Automatic Rifle-15 Military Weapons System or CAR-15 was a family of AR-15 and M16 rifle–based firearms marketed by Colt in the late 1960s and early 1970s. Due to their compact size, the short-barreled Colt Commando and XM177 versions of this family continued to be issued to the U.S...



Selective fire

Selective fire

A selective fire firearm has at least one semi–automatic and one automatic mode, which is activated by means of a selector which varies depending on the weapon's design. Some selective fire weapons utilize burst fire mechanisms to limit the maximum or total number of shots fired automatically in...



5.56x45mm
1960s-Present
Steyr AUG

Steyr AUG

The AUG is an Austrian bullpup 5.56mm assault rifle, designed in the early 1970s by Steyr Mannlicher GmbH & Co KG . The AUG was adopted by the Austrian Army as the StG 77 in 1977, where it replaced the 7.62mm StG 58 automatic rifle...



Selective fire

Selective fire

A selective fire firearm has at least one semi–automatic and one automatic mode, which is activated by means of a selector which varies depending on the weapon's design. Some selective fire weapons utilize burst fire mechanisms to limit the maximum or total number of shots fired automatically in...



5.56x45mm
1990s-Present
Poland

Firearm
Type
Calibre
Service
Notes
Mosin–Nagant
Bolt Action
7.62x54mmR
1898-1950s
Some chambered to 7.92x57mm and used during Invasion of Poland
Mauser 98k
Bolt Action
7.92x57mm
1918-1939
produced in Poland

Poland

Poland , officially the Republic of Poland , is a country in Central Europe bordered by Germany to the west; the Czech Republic and Slovakia to the south; Ukraine, Belarus and Lithuania to the east; and the Baltic Sea and Kaliningrad Oblast, a Russian exclave, to the north...


from 1929 as Mauser Carbine Kbk wz. 1929
Lee-Enfield

Lee-Enfield

The Lee-Enfield bolt-action, magazine-fed, repeating rifle was the main firearm used by the military forces of the British Empire and Commonwealth during the first half of the 20th century...



Bolt Action
.303 British

.303 British

.303 British, or 7.7x56mmR, is a .311 inch calibre rifle and machine gun cartridge first developed in Britain as a blackpowder round put into service in December 1888 for the Lee-Metford rifle, later adapted to use smokeless powders...



1940-1945
Used by Polish Armed Forces in the West

Polish Armed Forces in the West

Polish Armed Forces in the West refers to the Polish military formations formed to fight alongside the Western Allies against Nazi Germany and its allies...



AK-47

AK-47

The AK-47 is a selective-fire, gas-operated 7.62×39mm assault rifle, first developed in the Soviet Union by Mikhail Kalashnikov. It is officially known as Avtomat Kalashnikova . It is also known as a Kalashnikov, an "AK", or in Russian slang, Kalash.Design work on the AK-47 began in the last year...



Selective fire

Selective fire

A selective fire firearm has at least one semi–automatic and one automatic mode, which is activated by means of a selector which varies depending on the weapon's design. Some selective fire weapons utilize burst fire mechanisms to limit the maximum or total number of shots fired automatically in...



7.62x39mm
1950s-Present
AKM

AKM

The AKM is a 7.62mm assault rifle designed by Mikhail Kalashnikov. It is an upgraded version of the AK-47 rifle and was developed in the 1950s....



Selective fire

Selective fire

A selective fire firearm has at least one semi–automatic and one automatic mode, which is activated by means of a selector which varies depending on the weapon's design. Some selective fire weapons utilize burst fire mechanisms to limit the maximum or total number of shots fired automatically in...



7.62x39mm
1960s-Present
still used to train and reserve services
Kbk wz. 1988 Tantal
Selective fire

Selective fire

A selective fire firearm has at least one semi–automatic and one automatic mode, which is activated by means of a selector which varies depending on the weapon's design. Some selective fire weapons utilize burst fire mechanisms to limit the maximum or total number of shots fired automatically in...



5.45x39mm

5.45x39mm

The Soviet 5.45×39mm cartridge is a rimless bottlenecked rifle cartridge. It was introduced into service in 1974 for use with the new AK-74 assault rifle. It gradually supplemented then largely replaced the 7.62x39mm round in service....



1989-2005
1000 sold to Iraq

Iraq

Iraq ; officially the Republic of Iraq is a country in Western Asia spanning most of the northwestern end of the Zagros mountain range, the eastern part of the Syrian Desert and the northern part of the Arabian Desert....



M4 (Bushmaster)
Selective fire

Selective fire

A selective fire firearm has at least one semi–automatic and one automatic mode, which is activated by means of a selector which varies depending on the weapon's design. Some selective fire weapons utilize burst fire mechanisms to limit the maximum or total number of shots fired automatically in...



5.56x45mm NATO

5.56x45mm NATO

5.56×45mm NATO is a rifle cartridge developed in the United States and originally chambered in the M16 rifle. Under STANAG 4172, it is a standard cartridge for NATO forces as well as many non-NATO countries. It is derived from, but not identical to, the .223 Remington cartridge...



?-?
GROM

GROM

GROM is one of five special forces units of the Polish Armed Forces. It was officially activated on July 8, 1990...


, also with Bushmaster M203 grenade launcher
96 Beryl
Selective fire

Selective fire

A selective fire firearm has at least one semi–automatic and one automatic mode, which is activated by means of a selector which varies depending on the weapon's design. Some selective fire weapons utilize burst fire mechanisms to limit the maximum or total number of shots fired automatically in...



5.56x45mm NATO

5.56x45mm NATO

5.56×45mm NATO is a rifle cartridge developed in the United States and originally chambered in the M16 rifle. Under STANAG 4172, it is a standard cartridge for NATO forces as well as many non-NATO countries. It is derived from, but not identical to, the .223 Remington cartridge...



1997-present
along with Mini-Beryl sub-carbine and in different variants
Portugal

Firearm
Type
Calibre
Service
Enfield m/1859

Pattern 1853 Enfield

The Enfield Pattern 1853 Rifle-Musket was a .577 calibre Minié-type muzzle-loading rifle-musket, used by the British Empire from 1853 to 1867, after which many Enfield 1853 Rifle-Muskets were converted to the cartridge-loaded Snider-Enfield rifle.-History &...



Percussion cap

Percussion cap

The percussion cap, introduced around 1830, was the crucial invention that enabled muzzleloading firearms to fire reliably in any weather.Before this development, firearms used flintlock ignition systems which produced flint-on-steel sparks to ignite a pan of priming powder and thereby fire the...



14mm Minié

Minié ball

The Minié ball is a type of muzzle-loading spin-stabilising rifle bullet named after its co-developer, Claude-Étienne Minié, inventor of the Minié rifle...



1859-1872
Snider-Enfield m/1872

Snider-Enfield

The British .577 Snider-Enfield was a type of breech loading rifle. The firearm action was invented by the American Jacob Snider, and the Snider-Enfield was one of the most widely used of the Snider varieties. It was adopted by British Army as a conversion system for its ubiquitous Pattern 1853...



Breech-loading
14mm Snider

.577 Snider

The .577 Snider cartridge was a British black powder metallic cartridge, which fired a .577" 480gr lead projectile, primarily used in the Snider-Enfield rifle....



1872-1910 (after 1886 limited use with colonial troops)
Kropatschek m/1886

Kropatschek

A Kropatschek is any variant of a rifle designed by Alfred von Kropatschek. Kropatschek's rifles used an tubular magazine of his design, of the same type used in the German Mauser Gewehr 1871/84 and the Japanese Type 22 Murata.-Variants:Austria-Hungary:...



Bolt action
8x60mm Guedes
1886-1961 (after 1904 limited use with colonial troops)
Mauser-Vergueiro m/1904

Mauser-Vergueiro

Mauser-Vergueiro was a bolt action rifle, designed in 1904 by José A. Vergueiro, an infantry officer of the Portuguese Army. It was developed from the Mauser 98 rifle with the introduction of a new bolt system. Outside Portugal, the weapon was also known as the Portuguese Mauser...



Bolt-action
6.5x58mm Vergueiro
1904-1960s
Mauser m/937

Karabiner 98k

The Karabiner 98 Kurz was a bolt action rifle chambered for the 8x57mm IS/7.92×57mm IS cartridge that was adopted as the standard service rifle in 1935 by the German Wehrmacht. It was one of the final developments in the long line of Mauser military rifles...



Bolt-action
7.92x57mm Mauser

7.92x57mm Mauser

The 8×57mm IS is a rimless bottlenecked rifle cartridge. The 8×57mm IS was adopted by the German Empire in 1905, and was the German service cartridge in both World Wars...



1937-1960s-Present (limited use for drill/display in the GNR

Portuguese National Republican Guard

The Portuguese National Republican Guard is the gendarmerie of Portugal. Members of the GNR are soldiers, who, unlike the agents of the Public Security Police , are subject to military law and organisation...


)
AR10
Selective fire

Selective fire

A selective fire firearm has at least one semi–automatic and one automatic mode, which is activated by means of a selector which varies depending on the weapon's design. Some selective fire weapons utilize burst fire mechanisms to limit the maximum or total number of shots fired automatically in...



7.62x51mm NATO
1960-1970s
FN m/962

FN FAL

The Fusil Automatique Léger or FAL is a self-loading, selective fire battle rifle produced by the Belgian armaments manufacturer Fabrique Nationale de Herstal . During the Cold War it was adopted by many North Atlantic Treaty Organization countries, with the notable exception of the United States...



Selective fire

Selective fire

A selective fire firearm has at least one semi–automatic and one automatic mode, which is activated by means of a selector which varies depending on the weapon's design. Some selective fire weapons utilize burst fire mechanisms to limit the maximum or total number of shots fired automatically in...



7.62x51mm NATO
1962-1970s
G3 m/961

Heckler & Koch G3

The G3 is a 7.62mm battle rifle developed in the 1950s by the German armament manufacturer Heckler & Koch GmbH in collaboration with the Spanish state-owned design and development agency CETME ....



Selective fire

Selective fire

A selective fire firearm has at least one semi–automatic and one automatic mode, which is activated by means of a selector which varies depending on the weapon's design. Some selective fire weapons utilize burst fire mechanisms to limit the maximum or total number of shots fired automatically in...



7.62x51mm NATO
1961-Present
Romania
Firearm
Type
Calibre
Service
M1868 Romanian Peabody

Peabody action

The Peabody action was an early form of breechloading firearm action, where the heavy breechblock tilted downwards across a bolt mounted in the rear of the breechblock, operated by a lever under the rifle. The Peabody action most often used an external hammer to fire the cartridge.The Peabody...



Falling block
.45 Romanian
1868-18??
M1879 Romanian Martini-Henry

Martini-Henry

The Martini-Henry was a breech-loading single-shot lever-actuated rifle adopted by the British, combining an action worked on by Friedrich von Martini , with the rifled barrel designed by Scotsman Alexander Henry...



Falling block
.45 Romanian
1879-18??
Mannlicher

Steyr Mannlicher

Steyr Mannlicher is a firearms manufacturer based in the city of Steyr, Austria. Originally a part of the Steyr-Daimler-Puch manufacturing conglomerate, it became independent when the conglomerate was broken in 1990.-History:...


M1893
Bolt action
6.5x53mmR
1893-1938
Mosin-Nagant

Mosin-Nagant

The Mosin–Nagant is a bolt-action, internal magazine-fed, military rifle invented under the government commission by Russian and Belgian inventors, and used by the armed forces of the Russian Empire, the Soviet Union and various other nations....



Bolt action
7.62x54mmR
1917-1960s
vz. 24

Vz. 24

The vz. 24 rifle is a rifle designed and produced in Czechoslovakia from 1924 to 1942. It was developed from the Mauser Gewehr 98 line, though is not a clone of any specific Mauser model. The fit and finish are of the highest quality....



Bolt action
7.92x57mm
1938-1960s
AK-47

AK-47

The AK-47 is a selective-fire, gas-operated 7.62×39mm assault rifle, first developed in the Soviet Union by Mikhail Kalashnikov. It is officially known as Avtomat Kalashnikova . It is also known as a Kalashnikov, an "AK", or in Russian slang, Kalash.Design work on the AK-47 began in the last year...



Selective fire

Selective fire

A selective fire firearm has at least one semi–automatic and one automatic mode, which is activated by means of a selector which varies depending on the weapon's design. Some selective fire weapons utilize burst fire mechanisms to limit the maximum or total number of shots fired automatically in...



7.62x39mm
1950s-1963
PM md. 63/65
Selective fire

Selective fire

A selective fire firearm has at least one semi–automatic and one automatic mode, which is activated by means of a selector which varies depending on the weapon's design. Some selective fire weapons utilize burst fire mechanisms to limit the maximum or total number of shots fired automatically in...



7.62x39mm
1963-Present (reserve since 1990s)
PA md. 86

Pusca Automata model 1986

The Puşcă Automată model 1986 is the standard assault rifle used by the Romanian Military Forces and manufactured in Cugir, Romania by firm RomArm S.A. located in Bucharest, Romania...



Selective fire

Selective fire

A selective fire firearm has at least one semi–automatic and one automatic mode, which is activated by means of a selector which varies depending on the weapon's design. Some selective fire weapons utilize burst fire mechanisms to limit the maximum or total number of shots fired automatically in...



5.45x39mm

5.45x39mm

The Soviet 5.45×39mm cartridge is a rimless bottlenecked rifle cartridge. It was introduced into service in 1974 for use with the new AK-74 assault rifle. It gradually supplemented then largely replaced the 7.62x39mm round in service....



1986-Present
Russia/Soviet Union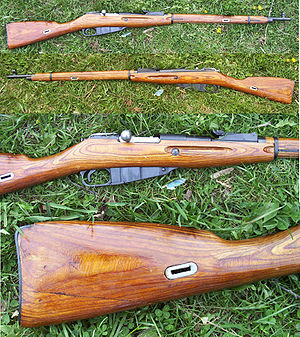 Firearm
Type
Calibre
Service
Model 1857 Six Line
Rifled musket

Rifled musket

The term rifled musket or rifle musket refers to a specific type of weapon made in the mid-19th century. Originally the term referred only to muskets that had been produced as a smoothbore weapon and later had their barrels rifled...



.60 calibre
1857-1867
M1867 Russian Krnka

M1867 Russian Krnka

The M1867 Russian Krnka was a breachloader conversion of the muzzle-loading Model 1857 Six Line rifle musket, similar to the contemporary Snider-Enfield and Tatabatiere conversions. Conversions were carried out at the Tula armoy . The weapon was chambered for a 15mm cartridge.Two main versions were...



Trapdoor breechloader
15mm
1867-1869
Berdan rifle

Berdan rifle

The Berdan rifle is a Russian rifle created by famous American firearms expert and inventor Hiram Berdan in 1868. Standard issue in the Russian army from 1869-1891, the Berdan was replaced by the Mosin-Nagant rifle...



Bolt action
10.75x58mm
1869-1891
Mosin-Nagant

Mosin-Nagant

The Mosin–Nagant is a bolt-action, internal magazine-fed, military rifle invented under the government commission by Russian and Belgian inventors, and used by the armed forces of the Russian Empire, the Soviet Union and various other nations....



Bolt-action
7.62x54mmR
1891-Present (as a reserve sniper rifle)
SVT-40
Semi-automatic (as a reserve sniper rifle)
7.62x54mmR
1940-Present
SKS

SKS

The SKS is a Soviet semi-automatic rifle chambered for the 7.62x39mm round, designed in 1943 by Sergei Gavrilovich Simonov. SKS-45 is an acronym for Samozaryadnyj Karabin sistemy Simonova, 1945 Simonov system, 1945), or SKS 45. The Sks is a scaled down version of the PTRS-41 anti-tank rifle also...



Semi-automatic

Semi-automatic rifle

A semi-automatic rifle is a type of rifle that fires a single bullet each time the trigger is pulled, automatically ejects the spent cartridge, chambers a fresh cartridge from its magazine, and is immediately ready to fire another shot...



7.62x39mm
1945-Present (as ceremonial arm and a reserve service rifle)
AK-47

AK-47

The AK-47 is a selective-fire, gas-operated 7.62×39mm assault rifle, first developed in the Soviet Union by Mikhail Kalashnikov. It is officially known as Avtomat Kalashnikova . It is also known as a Kalashnikov, an "AK", or in Russian slang, Kalash.Design work on the AK-47 began in the last year...



Selective fire

Selective fire

A selective fire firearm has at least one semi–automatic and one automatic mode, which is activated by means of a selector which varies depending on the weapon's design. Some selective fire weapons utilize burst fire mechanisms to limit the maximum or total number of shots fired automatically in...



7.62x39mm
1949-Present (as a reserve service rifle)
AKM

AKM

The AKM is a 7.62mm assault rifle designed by Mikhail Kalashnikov. It is an upgraded version of the AK-47 rifle and was developed in the 1950s....



Selective fire

Selective fire

A selective fire firearm has at least one semi–automatic and one automatic mode, which is activated by means of a selector which varies depending on the weapon's design. Some selective fire weapons utilize burst fire mechanisms to limit the maximum or total number of shots fired automatically in...



7.62x39mm
1959-Present (reserve and active rear-echelon forces)
AK-74

AK-74

The AK-74 is an assault rifle developed in the early 1970s in the Soviet Union as the replacement for the earlier AKM...



Selective fire
5.45x39mm

5.45x39mm

The Soviet 5.45×39mm cartridge is a rimless bottlenecked rifle cartridge. It was introduced into service in 1974 for use with the new AK-74 assault rifle. It gradually supplemented then largely replaced the 7.62x39mm round in service....



1974-Present
AK-74M
Selective fire
5.45x39mm

5.45x39mm

The Soviet 5.45×39mm cartridge is a rimless bottlenecked rifle cartridge. It was introduced into service in 1974 for use with the new AK-74 assault rifle. It gradually supplemented then largely replaced the 7.62x39mm round in service....



1991-Present
Serbia
Firearm
Type
Calibre
Service
M48 Mauser

M48 Mauser

The M48 Mauser is a post World War II Yugoslavian version of the Belgian Fabrique Nationale designed Mauser Model 1924 short rifle which was produced under contract by the "Kingdom of Yugoslavia" beginning in 1928 and ending with the Nazi occupation in 1941. After World War II, the Yugoslavs took...


and other Mauser Model 98 pattern rifles M24, M24/47
Bolt action
7.92x57mm
1924-1959
SKS

SKS

The SKS is a Soviet semi-automatic rifle chambered for the 7.62x39mm round, designed in 1943 by Sergei Gavrilovich Simonov. SKS-45 is an acronym for Samozaryadnyj Karabin sistemy Simonova, 1945 Simonov system, 1945), or SKS 45. The Sks is a scaled down version of the PTRS-41 anti-tank rifle also...



Semi-automatic

Semi-automatic firearm

A semi-automatic, or self-loading firearm is a weapon which performs all steps necessary to prepare the weapon to fire again after firing—assuming cartridges remain in the weapon's feed device or magazine...



7.62x39mm
1959-1970
AK-47

AK-47

The AK-47 is a selective-fire, gas-operated 7.62×39mm assault rifle, first developed in the Soviet Union by Mikhail Kalashnikov. It is officially known as Avtomat Kalashnikova . It is also known as a Kalashnikov, an "AK", or in Russian slang, Kalash.Design work on the AK-47 began in the last year...



Selective fire

Selective fire

A selective fire firearm has at least one semi–automatic and one automatic mode, which is activated by means of a selector which varies depending on the weapon's design. Some selective fire weapons utilize burst fire mechanisms to limit the maximum or total number of shots fired automatically in...



7.62x39mm
1950s-Present
Zastava M70

Zastava M70

The Zastava M70 is a 7.62mm assault rifle developed in Yugoslavia by Zastava Arms. The M70 was designed on the basis of the AKM and became the standard issue assault rifle in the Yugoslav People's Army in 1970. The M70 is air-cooled, magazine-fed, selective fire rifle...



Selective fire

Selective fire

A selective fire firearm has at least one semi–automatic and one automatic mode, which is activated by means of a selector which varies depending on the weapon's design. Some selective fire weapons utilize burst fire mechanisms to limit the maximum or total number of shots fired automatically in...



7.62x39mm
1970-Present
Zastava M21

Zastava M21

The Zastava M21 is a 5.56mm assault rifle developed and manufactured by the Zastava Arms company.-Overview:The M21 is based on the AK-47 Kalashnikov principle, chambered in the 5.56×45mm cartridge...



Selective fire
5.56x45mm NATO

5.56x45mm NATO

5.56×45mm NATO is a rifle cartridge developed in the United States and originally chambered in the M16 rifle. Under STANAG 4172, it is a standard cartridge for NATO forces as well as many non-NATO countries. It is derived from, but not identical to, the .223 Remington cartridge...



2004-Present
Singapore
Firearm
Type
Calibre
Service
AR-15

AR-15

The AR-15 is a lightweight, 5.56 mm, air-cooled, gas-operated, magazine-fed semi-automatic rifle, with a rotating-lock bolt, actuated by direct impingement gas operation. It is manufactured with the extensive use of aluminum alloys and synthetic materials....



Selective fire

Selective fire

A selective fire firearm has at least one semi–automatic and one automatic mode, which is activated by means of a selector which varies depending on the weapon's design. Some selective fire weapons utilize burst fire mechanisms to limit the maximum or total number of shots fired automatically in...



5.56x45mm NATO

5.56x45mm NATO

5.56×45mm NATO is a rifle cartridge developed in the United States and originally chambered in the M16 rifle. Under STANAG 4172, it is a standard cartridge for NATO forces as well as many non-NATO countries. It is derived from, but not identical to, the .223 Remington cartridge...



1968-1973
M16S1 rifle

M16 rifle

The M16 is the United States military designation for the AR-15 rifle adapted for both semi-automatic and full-automatic fire. Colt purchased the rights to the AR-15 from ArmaLite, and currently uses that designation only for semi-automatic versions of the rifle. The M16 fires the 5.56×45mm NATO...



Selective fire
5.56x45mm NATO

5.56x45mm NATO

5.56×45mm NATO is a rifle cartridge developed in the United States and originally chambered in the M16 rifle. Under STANAG 4172, it is a standard cartridge for NATO forces as well as many non-NATO countries. It is derived from, but not identical to, the .223 Remington cartridge...



1973-present
SAR-80

SAR-80

The Singapore Assault Rifle 80 is an indigenously built, conventional assault rifle from Singapore.-History and development:In the late 1960s, the Singapore Armed Forces adopted the AR-15 as their main service rifle...



Selective fire
5.56x45mm NATO

5.56x45mm NATO

5.56×45mm NATO is a rifle cartridge developed in the United States and originally chambered in the M16 rifle. Under STANAG 4172, it is a standard cartridge for NATO forces as well as many non-NATO countries. It is derived from, but not identical to, the .223 Remington cartridge...



1980s-unknown
SR-88

SR-88

The SR-88 is an assault rifle designed and manufactured in Singapore by Chartered Industries of Singapore .-Development:...



Selective fire
5.56x45mm NATO

5.56x45mm NATO

5.56×45mm NATO is a rifle cartridge developed in the United States and originally chambered in the M16 rifle. Under STANAG 4172, it is a standard cartridge for NATO forces as well as many non-NATO countries. It is derived from, but not identical to, the .223 Remington cartridge...



1988-unknown
SAR 21
Selective fire
5.56x45mm NATO

5.56x45mm NATO

5.56×45mm NATO is a rifle cartridge developed in the United States and originally chambered in the M16 rifle. Under STANAG 4172, it is a standard cartridge for NATO forces as well as many non-NATO countries. It is derived from, but not identical to, the .223 Remington cartridge...



1999-present
South Africa
Firearm
Type
Calibre
Service
Lee-Enfield

Lee-Enfield

The Lee-Enfield bolt-action, magazine-fed, repeating rifle was the main firearm used by the military forces of the British Empire and Commonwealth during the first half of the 20th century...



Bolt Action
.303 SAA Ball

.303 British

.303 British, or 7.7x56mmR, is a .311 inch calibre rifle and machine gun cartridge first developed in Britain as a blackpowder round put into service in December 1888 for the Lee-Metford rifle, later adapted to use smokeless powders...



1910-1960s
R1

FN FAL

The Fusil Automatique Léger or FAL is a self-loading, selective fire battle rifle produced by the Belgian armaments manufacturer Fabrique Nationale de Herstal . During the Cold War it was adopted by many North Atlantic Treaty Organization countries, with the notable exception of the United States...



Selective fire

Selective fire

A selective fire firearm has at least one semi–automatic and one automatic mode, which is activated by means of a selector which varies depending on the weapon's design. Some selective fire weapons utilize burst fire mechanisms to limit the maximum or total number of shots fired automatically in...



7.62x51mm NATO
1950s-Present
Vektor R4
Selective fire
5.56x45mm NATO

5.56x45mm NATO

5.56×45mm NATO is a rifle cartridge developed in the United States and originally chambered in the M16 rifle. Under STANAG 4172, it is a standard cartridge for NATO forces as well as many non-NATO countries. It is derived from, but not identical to, the .223 Remington cartridge...



1982-Present
Spain
Firearm
Type
Calibre
Service
Model 1857 rifle musket
Rifled musket

Rifled musket

The term rifled musket or rifle musket refers to a specific type of weapon made in the mid-19th century. Originally the term referred only to muskets that had been produced as a smoothbore weapon and later had their barrels rifled...



?
1857-1867
M1857/67 Berdan

Berdan rifle

The Berdan rifle is a Russian rifle created by famous American firearms expert and inventor Hiram Berdan in 1868. Standard issue in the Russian army from 1869-1891, the Berdan was replaced by the Mosin-Nagant rifle...



Trapdoor breechloader
15x41mmR
1867-1868
M1868 Spanish Peabody

Peabody action

The Peabody action was an early form of breechloading firearm action, where the heavy breechblock tilted downwards across a bolt mounted in the rear of the breechblock, operated by a lever under the rifle. The Peabody action most often used an external hammer to fire the cartridge.The Peabody...



Falling block

Falling block action

A falling-block action is a single-shot firearm action in which a solid metal breechblock slides vertically in grooves cut into the breech of the weapon and actuated by a lever....



.56-50R Spencer, 11.15x58mmR (.43 Spanish)
1868-1870
M1870 Remington
Rolling block

Rolling block

A rolling block is a form of firearm action where the sealing of the breech is done with a specially shaped breechblock able to rotate on a pin. The breechblock is shaped like a section of a circle....



11.15x58mmR
1870-1893
M1893 Mauser

Mauser

Mauser was a German arms manufacturer of a line of bolt-action rifles and pistols from the 1870s to 1995. Mauser designs were built for the German armed forces...



Bolt action
7x57mm Mauser
1893-1945
Coruña 42
Bolt-action
7.92x57mm Mauser

7.92x57mm Mauser

The 8×57mm IS is a rimless bottlenecked rifle cartridge. The 8×57mm IS was adopted by the German Empire in 1905, and was the German service cartridge in both World Wars...



1942-1958
CETME

CETME

CETME is an acronym for Centro de Estudios Técnicos de Materiales Especiales , a Spanish government design and development establishment. While being involved in many projects CETME was mostly known for its small arms research and development...



Selective fire

Selective fire

A selective fire firearm has at least one semi–automatic and one automatic mode, which is activated by means of a selector which varies depending on the weapon's design. Some selective fire weapons utilize burst fire mechanisms to limit the maximum or total number of shots fired automatically in...



7.62x51mm NATO
1958-1997
CETME Model L
Selective fire
5.56x45mm NATO

5.56x45mm NATO

5.56×45mm NATO is a rifle cartridge developed in the United States and originally chambered in the M16 rifle. Under STANAG 4172, it is a standard cartridge for NATO forces as well as many non-NATO countries. It is derived from, but not identical to, the .223 Remington cartridge...



1984-1999
Heckler & Koch G36

Heckler & Koch G36

The Heckler & Koch G36 is a 5.56×45mm assault rifle, designed in the early 1990s by Heckler & Koch in Germany as a replacement for the 7.62mm G3 battle rifle. It was accepted into service with the Bundeswehr in 1997, replacing the G3...



Selective fire
5.56x45mm NATO
2000-Present
Sweden
Firearm
Type
Calibre
Service
M1896 Swedish Mauser

Swedish Mauser

"Swedish Mausers" are a family of bolt-action rifles based on an improved variant of Mauser's earlier Model 1893, but using the 6.5x55mm cartridge, and incorporating unique design elements as requested by Sweden. These are the m/94 carbine, m/96 long rifle, m/38 short rifle and m/41 sniper...



Bolt-action

Bolt-action

Bolt action is a type of firearm action in which the weapon's bolt is operated manually by the opening and closing of the breech with a small handle, most commonly placed on the right-hand side of the weapon...



6.5x55mm
1896-1995
Ag m/42

Ag m/42

The Automatgevär m/42 is a Swedish semi-automatic rifle in limited use by the Swedish Army from 1942 until the 1960s.-History:...



Semi-automatic

Semi-automatic firearm

A semi-automatic, or self-loading firearm is a weapon which performs all steps necessary to prepare the weapon to fire again after firing—assuming cartridges remain in the weapon's feed device or magazine...



6.5x55mm
1942-1964
Ak 4

Heckler & Koch G3

The G3 is a 7.62mm battle rifle developed in the 1950s by the German armament manufacturer Heckler & Koch GmbH in collaboration with the Spanish state-owned design and development agency CETME ....



Selective fire

Selective fire

A selective fire firearm has at least one semi–automatic and one automatic mode, which is activated by means of a selector which varies depending on the weapon's design. Some selective fire weapons utilize burst fire mechanisms to limit the maximum or total number of shots fired automatically in...



7.62x51mm NATO
1964-Present
Ak 5

Ak 5

The Ak 5 is the Swedish version of the FN FNC assault rifle with certain modifications, mostly to adapt the weapon to the Swedish climate. The Ak 5 is the service rifle of the Swedish Armed Forces. Ak 5 is an abbreviation of automatkarbin 5...



Selective fire
5.56x45mm NATO

5.56x45mm NATO

5.56×45mm NATO is a rifle cartridge developed in the United States and originally chambered in the M16 rifle. Under STANAG 4172, it is a standard cartridge for NATO forces as well as many non-NATO countries. It is derived from, but not identical to, the .223 Remington cartridge...



1985-Present
Switzerland
Firearm
Type
Calibre
Service
Infanteriegewehr Modell 1842

Infanteriegewehr Modell 1842

The Infanteriegewehr Modell 1842 was one of the first standardised service rifles used by the Swiss armed forces. It was introduced in 1842 as a result of a decision by the authorities of the Old Swiss Confederacy to standardise the weapons of the then still separate armies of the Swiss...



Muzzle-loading percussion
18mm
1842-1867
Eidgenössischer Stutzer 1851

Eidgenössischer Stutzer 1851

The Eidgenössischer Stutzer 1851 , also called Feldstutzer 1851, was the first service rifle used by the Swiss armed forces to be procured by the federal government, which was responsible for the armament of the Cantonal armed forces under the 1848 federal constitution...



Muzzle-loading percussion
18mm
1851-1863
M1842/59/67 Swiss Milbank-Amsler
Breechloader
18x25mmR Rimfire
1869-1869
M1867 Swiss Peabody

Peabody action

The Peabody action was an early form of breechloading firearm action, where the heavy breechblock tilted downwards across a bolt mounted in the rear of the breechblock, operated by a lever under the rifle. The Peabody action most often used an external hammer to fire the cartridge.The Peabody...



Falling block
10.4x38mmR Rimfire (.41 Swiss rimfire)
1867-1869
Vetterli rifle

Vetterli rifle

The Vetterli rifles were a series of Swiss army service rifles in use from 1869 to circa 1890, when they were replaced with the Schmidt-Rubin rifles. Modified Vetterli rifles were also used by the Italian Army....



Bolt-action

Bolt-action

Bolt action is a type of firearm action in which the weapon's bolt is operated manually by the opening and closing of the breech with a small handle, most commonly placed on the right-hand side of the weapon...



10.4x38Rmm Rimfire
1869-1890
Schmidt-Rubin

Schmidt-Rubin

The Schmidt-Rubin rifles were a series of Swiss Army service rifles in use between 1889 and 1953. They are distinguished by the straight-pull bolt action invented by Rudolf Schmidt and use Eduard Rubin's 7.5x55mm rifle cartridge.-Schmidt-Rubin 1889:...



Bolt-action
7.5x55mm Swiss
1889-1957
Sturmgewehr 57
Selective fire

Selective fire

A selective fire firearm has at least one semi–automatic and one automatic mode, which is activated by means of a selector which varies depending on the weapon's design. Some selective fire weapons utilize burst fire mechanisms to limit the maximum or total number of shots fired automatically in...



7.5x55mm Swiss / 7,5mm GP 11
1957-Present
Sturmgewehr 90

SIG SG 550

The SG 550 is an assault rifle manufactured by Swiss Arms AG of Neuhausen, Switzerland...



Selective fire
5,6mm Gw Pat 90

5.56x45mm NATO

5.56×45mm NATO is a rifle cartridge developed in the United States and originally chambered in the M16 rifle. Under STANAG 4172, it is a standard cartridge for NATO forces as well as many non-NATO countries. It is derived from, but not identical to, the .223 Remington cartridge...



1990-Present
Thailand
Firearm
Type
Calibre
Service
Type 45 Siamese Mauser

Type 45 Siamese Mauser

The Type 45 Siamese Mauser was a service rifle adopted by the government of Siam in 1903. It was a bolt-action rifle based on the Mauser action, originally chambered for the 8x50mmR rimmed centrefire cartridge...



Bolt action
8x50mmR

8x50mmR

Note: Not to be confused with the more common 8×50R Lebel cartridge.The Austrian 8×50mmR Mannlicher or 8×50mmR M93 is an old cartridge dating back to the days of black powder.-M88:...



1903-1960s
Vz. 24

Vz. 24

The vz. 24 rifle is a rifle designed and produced in Czechoslovakia from 1924 to 1942. It was developed from the Mauser Gewehr 98 line, though is not a clone of any specific Mauser model. The fit and finish are of the highest quality....



Bolt Action
7.92x57mm
Early 1940s-1960s
M1903 Springfield
Bolt Action
.30-06 Springfield

.30-06 Springfield

The .30-06 Springfield cartridge or 7.62×63mm in metric notation, was introduced to the United States Army in 1906 and standardized, and was in use until the 1960s and early 1970s. It replaced the .30-03, 6 mm Lee Navy, and .30 US Army...



1944-1970 (Used for training by Government Agent

Government Agent

A function called Government Agent exist or existed in the past in several countries, such as* Sri Lanka - see Government Agent * Canada - see Government Agent...


of Ministry of Interior on the present.)
M1 Carbine

M1 Carbine

The M1 carbine is a lightweight, easy to use semi-automatic carbine that became a standard firearm for the U.S. military during World War II, the Korean War and the Vietnam War, and was produced in several variants. It was widely used by U.S...



Semi-automatic rifle

Semi-automatic rifle

A semi-automatic rifle is a type of rifle that fires a single bullet each time the trigger is pulled, automatically ejects the spent cartridge, chambers a fresh cartridge from its magazine, and is immediately ready to fire another shot...



.30 Carbine

.30 Carbine

The .30 Carbine is the cartridge used in the M1 Carbine introduced in the 1940s. It is an intermediate round designed to be fired from the M1 carbine's 18-inch barrel.-History:...



1944-1970 (Used for training by Army ROTC on the present.)
M1 Garand

M1 Garand

The M1 Garand , was the first semi-automatic rifle to be generally issued to the infantry of any nation. Called "the greatest battle implement ever devised" by General George S...



Semi-automatic rifle

Semi-automatic rifle

A semi-automatic rifle is a type of rifle that fires a single bullet each time the trigger is pulled, automatically ejects the spent cartridge, chambers a fresh cartridge from its magazine, and is immediately ready to fire another shot...



.30-06 Springfield

.30-06 Springfield

The .30-06 Springfield cartridge or 7.62×63mm in metric notation, was introduced to the United States Army in 1906 and standardized, and was in use until the 1960s and early 1970s. It replaced the .30-03, 6 mm Lee Navy, and .30 US Army...



1944-1970 (Used for training by Army ROTC on the present.)
Mosin-Nagant

Mosin-Nagant

The Mosin–Nagant is a bolt-action, internal magazine-fed, military rifle invented under the government commission by Russian and Belgian inventors, and used by the armed forces of the Russian Empire, the Soviet Union and various other nations....



Bolt Action
7.62x54mmR
During Vietnam War

Vietnam War

The Vietnam War was a Cold War-era military conflict that occurred in Vietnam, Laos, and Cambodia from 1 November 1955 to the fall of Saigon on 30 April 1975. This war followed the First Indochina War and was fought between North Vietnam, supported by its communist allies, and the government of...


(Limited and used by Ranger Sniper)
M16A1/A2/A4

M16 rifle

The M16 is the United States military designation for the AR-15 rifle adapted for both semi-automatic and full-automatic fire. Colt purchased the rights to the AR-15 from ArmaLite, and currently uses that designation only for semi-automatic versions of the rifle. The M16 fires the 5.56×45mm NATO...



Selective fire

Selective fire

A selective fire firearm has at least one semi–automatic and one automatic mode, which is activated by means of a selector which varies depending on the weapon's design. Some selective fire weapons utilize burst fire mechanisms to limit the maximum or total number of shots fired automatically in...



5.56x45mm NATO

5.56x45mm NATO

5.56×45mm NATO is a rifle cartridge developed in the United States and originally chambered in the M16 rifle. Under STANAG 4172, it is a standard cartridge for NATO forces as well as many non-NATO countries. It is derived from, but not identical to, the .223 Remington cartridge...



1980s-present
HK 33
Selective fire

Selective fire

A selective fire firearm has at least one semi–automatic and one automatic mode, which is activated by means of a selector which varies depending on the weapon's design. Some selective fire weapons utilize burst fire mechanisms to limit the maximum or total number of shots fired automatically in...



5.56x45mm NATO

5.56x45mm NATO

5.56×45mm NATO is a rifle cartridge developed in the United States and originally chambered in the M16 rifle. Under STANAG 4172, it is a standard cartridge for NATO forces as well as many non-NATO countries. It is derived from, but not identical to, the .223 Remington cartridge...



1968-present
IMI Tavor TAR-21

IMI Tavor TAR-21

The TAR-21 is an Israeli bullpup assault rifle chambered for 5.56×45mm NATO ammunition with a selective fire system, selecting between semi-automatic mode, burst mode, and full automatic fire mode. It is named after Mount Tavor, while "TAR-21" stands for "Tavor Assault Rifle - 21st Century". It is...



Selective fire

Selective fire

A selective fire firearm has at least one semi–automatic and one automatic mode, which is activated by means of a selector which varies depending on the weapon's design. Some selective fire weapons utilize burst fire mechanisms to limit the maximum or total number of shots fired automatically in...



5.56x45mm NATO

5.56x45mm NATO

5.56×45mm NATO is a rifle cartridge developed in the United States and originally chambered in the M16 rifle. Under STANAG 4172, it is a standard cartridge for NATO forces as well as many non-NATO countries. It is derived from, but not identical to, the .223 Remington cartridge...



2008-present
Turkey
Firearm
Type
Calibre
Service
Mauser 1898

Gewehr 98

The Gewehr 98 is a German bolt action Mauser rifle firing the 8x57mm cartridge from a 5 round internal clip-loaded magazine that was the German service rifle from 1898 to 1935, when it was replaced by the Karabiner 98k. It was hence the main rifle of the German infantry during World War I...



Bolt action
7x57mm Mauser
1900's-1954
M1 Garand

M1 Garand

The M1 Garand , was the first semi-automatic rifle to be generally issued to the infantry of any nation. Called "the greatest battle implement ever devised" by General George S...



Semi Automatic
.30-06 Springfield

.30-06 Springfield

The .30-06 Springfield cartridge or 7.62×63mm in metric notation, was introduced to the United States Army in 1906 and standardized, and was in use until the 1960s and early 1970s. It replaced the .30-03, 6 mm Lee Navy, and .30 US Army...



1953-1980's (Still using as Ceremony Rifle)
FN FAL

FN FAL

The Fusil Automatique Léger or FAL is a self-loading, selective fire battle rifle produced by the Belgian armaments manufacturer Fabrique Nationale de Herstal . During the Cold War it was adopted by many North Atlantic Treaty Organization countries, with the notable exception of the United States...



Selective fire

Selective fire

A selective fire firearm has at least one semi–automatic and one automatic mode, which is activated by means of a selector which varies depending on the weapon's design. Some selective fire weapons utilize burst fire mechanisms to limit the maximum or total number of shots fired automatically in...



7.62x51mm NATO
1950s-1970s
Heckler & Koch G3

Heckler & Koch G3

The G3 is a 7.62mm battle rifle developed in the 1950s by the German armament manufacturer Heckler & Koch GmbH in collaboration with the Spanish state-owned design and development agency CETME ....



Selective fire

Selective fire

A selective fire firearm has at least one semi–automatic and one automatic mode, which is activated by means of a selector which varies depending on the weapon's design. Some selective fire weapons utilize burst fire mechanisms to limit the maximum or total number of shots fired automatically in...



7.62x51mm NATO
1960's-Present
Heckler & Koch HK33
Selective fire
5.56x45mm NATO
1997-Present
Ukraine
Firearm
Type
Calibre
Service
Model 1857 Six Line
Rifled musket

Rifled musket

The term rifled musket or rifle musket refers to a specific type of weapon made in the mid-19th century. Originally the term referred only to muskets that had been produced as a smoothbore weapon and later had their barrels rifled...



.60 calibre
1857-1867
M1867 Russian Krnka

M1867 Russian Krnka

The M1867 Russian Krnka was a breachloader conversion of the muzzle-loading Model 1857 Six Line rifle musket, similar to the contemporary Snider-Enfield and Tatabatiere conversions. Conversions were carried out at the Tula armoy . The weapon was chambered for a 15mm cartridge.Two main versions were...



Trapdoor breechloader
15mm
1867-1869
Berdan rifle

Berdan rifle

The Berdan rifle is a Russian rifle created by famous American firearms expert and inventor Hiram Berdan in 1868. Standard issue in the Russian army from 1869-1891, the Berdan was replaced by the Mosin-Nagant rifle...



Bolt action
10.75x58mm
1869-1891
Mosin-Nagant

Mosin-Nagant

The Mosin–Nagant is a bolt-action, internal magazine-fed, military rifle invented under the government commission by Russian and Belgian inventors, and used by the armed forces of the Russian Empire, the Soviet Union and various other nations....



Bolt-action
7.62x54mmR
1891-1946
SVT-40
Semi-automatic
7.62x54mmR
1940-1945
SKS

SKS

The SKS is a Soviet semi-automatic rifle chambered for the 7.62x39mm round, designed in 1943 by Sergei Gavrilovich Simonov. SKS-45 is an acronym for Samozaryadnyj Karabin sistemy Simonova, 1945 Simonov system, 1945), or SKS 45. The Sks is a scaled down version of the PTRS-41 anti-tank rifle also...



Semi-automatic

Semi-automatic rifle

A semi-automatic rifle is a type of rifle that fires a single bullet each time the trigger is pulled, automatically ejects the spent cartridge, chambers a fresh cartridge from its magazine, and is immediately ready to fire another shot...



7.62x39mm
1945-Present (mainly used as ceremonial arm)
AK-47

AK-47

The AK-47 is a selective-fire, gas-operated 7.62×39mm assault rifle, first developed in the Soviet Union by Mikhail Kalashnikov. It is officially known as Avtomat Kalashnikova . It is also known as a Kalashnikov, an "AK", or in Russian slang, Kalash.Design work on the AK-47 began in the last year...



Selective fire

Selective fire

A selective fire firearm has at least one semi–automatic and one automatic mode, which is activated by means of a selector which varies depending on the weapon's design. Some selective fire weapons utilize burst fire mechanisms to limit the maximum or total number of shots fired automatically in...



7.62x39mm
1949-Present
AKM

AKM

The AKM is a 7.62mm assault rifle designed by Mikhail Kalashnikov. It is an upgraded version of the AK-47 rifle and was developed in the 1950s....



Selective fire
7.62x39mm
1959-Present
AK-74

AK-74

The AK-74 is an assault rifle developed in the early 1970s in the Soviet Union as the replacement for the earlier AKM...



Selective fire
5.45x39mm

5.45x39mm

The Soviet 5.45×39mm cartridge is a rimless bottlenecked rifle cartridge. It was introduced into service in 1974 for use with the new AK-74 assault rifle. It gradually supplemented then largely replaced the 7.62x39mm round in service....



1974-Present
IMI Tavor TAR-21

IMI Tavor TAR-21

The TAR-21 is an Israeli bullpup assault rifle chambered for 5.56×45mm NATO ammunition with a selective fire system, selecting between semi-automatic mode, burst mode, and full automatic fire mode. It is named after Mount Tavor, while "TAR-21" stands for "Tavor Assault Rifle - 21st Century". It is...



Selective fire

Selective fire

A selective fire firearm has at least one semi–automatic and one automatic mode, which is activated by means of a selector which varies depending on the weapon's design. Some selective fire weapons utilize burst fire mechanisms to limit the maximum or total number of shots fired automatically in...



5.56x45mm NATO

5.56x45mm NATO

5.56×45mm NATO is a rifle cartridge developed in the United States and originally chambered in the M16 rifle. Under STANAG 4172, it is a standard cartridge for NATO forces as well as many non-NATO countries. It is derived from, but not identical to, the .223 Remington cartridge...



2008-present
Vepr

Vepr

The Vepr was announced in 2003 as the first indigenous Ukrainian assault rifle, designed by the National Space Agency of Ukraine. Note that on the Ukrainian Government Portal website , the Vepr is classed as a sub-machinegun...



Selective fire
5.45x39mm

5.45x39mm

The Soviet 5.45×39mm cartridge is a rimless bottlenecked rifle cartridge. It was introduced into service in 1974 for use with the new AK-74 assault rifle. It gradually supplemented then largely replaced the 7.62x39mm round in service....



2010-Present
United Kingdom, British Empire & Commonwealth of Nations

Firearm
Type
Calibre
Service
Brown Bess

Brown Bess

Brown Bess is a nickname of uncertain origin for the British Army's Land Pattern Musket and its derivatives. This musket was used in the era of the expansion of the British Empire and acquired symbolic importance at least as significant as its physical importance. It was in use for over a hundred...



Flintlock

Flintlock

Flintlock is the general term for any firearm based on the flintlock mechanism. The term may also apply to the mechanism itself. Introduced at the beginning of the 17th century, the flintlock rapidly replaced earlier firearm-ignition technologies, such as the doglock, matchlock and wheellock...



.650 Ball
1722-1838
Ferguson rifle

Ferguson rifle

The Ferguson rifle was one of the first breech loading rifles to be widely tested by the British military. Other breech loaders were experimented with in various commands, including earlier versions of the Ordnance rifle by Patrick Ferguson when he was in the "Fever Islands" . It was often...



Breech-loading

Breech-loading weapon

A breech-loading weapon is a firearm in which the cartridge or shell is inserted or loaded into a chamber integral to the rear portion of a barrel....



.650 Ball
1776
Baker rifle

Baker rifle

The Baker rifle was a flintlock rifle used by the Rifle regiments of the British Army during the Napoleonic Wars. It was the first standard-issue, British-made rifle accepted by the British armed forces....



Flintlock
.615 Ball
1801-1837
Brunswick rifle

Brunswick rifle

The Brunswick rifle was a large caliber muzzle-loading percussion rifle manufactured for the British Army at the Royal Small Arms Factory at Enfield in the early 19th century.-History:...



Percussion cap

Percussion cap

The percussion cap, introduced around 1830, was the crucial invention that enabled muzzleloading firearms to fire reliably in any weather.Before this development, firearms used flintlock ignition systems which produced flint-on-steel sparks to ignite a pan of priming powder and thereby fire the...



.704 Ball
1837-1851
Pattern 1853 Enfield

Pattern 1853 Enfield

The Enfield Pattern 1853 Rifle-Musket was a .577 calibre Minié-type muzzle-loading rifle-musket, used by the British Empire from 1853 to 1867, after which many Enfield 1853 Rifle-Muskets were converted to the cartridge-loaded Snider-Enfield rifle.-History &...



Percussion cap
.577 Ball
1853-1867
Snider-Enfield

Snider-Enfield

The British .577 Snider-Enfield was a type of breech loading rifle. The firearm action was invented by the American Jacob Snider, and the Snider-Enfield was one of the most widely used of the Snider varieties. It was adopted by British Army as a conversion system for its ubiquitous Pattern 1853...



Breech-loading

Breech-loading weapon

A breech-loading weapon is a firearm in which the cartridge or shell is inserted or loaded into a chamber integral to the rear portion of a barrel....



.577 Snider

.577 Snider

The .577 Snider cartridge was a British black powder metallic cartridge, which fired a .577" 480gr lead projectile, primarily used in the Snider-Enfield rifle....



1866-1901
Martini-Henry

Martini-Henry

The Martini-Henry was a breech-loading single-shot lever-actuated rifle adopted by the British, combining an action worked on by Friedrich von Martini , with the rifled barrel designed by Scotsman Alexander Henry...



Breech-loading

Breech-loading weapon

A breech-loading weapon is a firearm in which the cartridge or shell is inserted or loaded into a chamber integral to the rear portion of a barrel....



.577/450 Martini-Henry

.577/450 Martini-Henry

The .577/450 Martini-Henry was a black powder, centerfire round used by the British and British Empire militaries prior to the adoption of the .303 calibre cartridge used in the Lee-Metford, Martini-Enfield, and Lee-Enfield series of rifles alongside the Nepalese Bira gun...



1871-1888
Lee-Metford

Lee-Metford

The Lee-Metford rifle was a bolt action British army service rifle, combining James Paris Lee's rear-locking bolt system and ten-round magazine with a seven groove rifled barrel designed by William Ellis Metford...



Bolt action
.303 British

.303 British

.303 British, or 7.7x56mmR, is a .311 inch calibre rifle and machine gun cartridge first developed in Britain as a blackpowder round put into service in December 1888 for the Lee-Metford rifle, later adapted to use smokeless powders...



1888-1926
Lee-Enfield

Lee-Enfield

The Lee-Enfield bolt-action, magazine-fed, repeating rifle was the main firearm used by the military forces of the British Empire and Commonwealth during the first half of the 20th century...



Bolt-action
.303 British

.303 British

.303 British, or 7.7x56mmR, is a .311 inch calibre rifle and machine gun cartridge first developed in Britain as a blackpowder round put into service in December 1888 for the Lee-Metford rifle, later adapted to use smokeless powders...



1895-Present
Ross rifle

Ross rifle

The Ross rifle was a straight-pull bolt-action 0.303 inch calibre rifle produced in Canada from 1903 until the middle of the First World War....


(Canada)
Straight Pull
.303 British
1905-1916
L1A1 SLR
Semi-automatic

Semi-automatic rifle

A semi-automatic rifle is a type of rifle that fires a single bullet each time the trigger is pulled, automatically ejects the spent cartridge, chambers a fresh cartridge from its magazine, and is immediately ready to fire another shot...



7.62x51mm NATO
1956-Present
Ishapore 2A/2A1 (India)
Bolt action
7.62x51mm NATO
1963-Present (limited use)
C7 rifle (Canada)
Selective fire

Selective fire

A selective fire firearm has at least one semi–automatic and one automatic mode, which is activated by means of a selector which varies depending on the weapon's design. Some selective fire weapons utilize burst fire mechanisms to limit the maximum or total number of shots fired automatically in...



5.56x45mm NATO

5.56x45mm NATO

5.56×45mm NATO is a rifle cartridge developed in the United States and originally chambered in the M16 rifle. Under STANAG 4172, it is a standard cartridge for NATO forces as well as many non-NATO countries. It is derived from, but not identical to, the .223 Remington cartridge...



1984-Present
SA80

SA80

The SA80 is a British family of 5.56mm small arms. It is a selective fire, gas-operated assault rifle. SA80 prototypes were trialled in 1976 and production was completed in 1994....


(UK)
Selective fire
5.56x45mm NATO
1985-Present
Steyr AUG

Steyr AUG

The AUG is an Austrian bullpup 5.56mm assault rifle, designed in the early 1970s by Steyr Mannlicher GmbH & Co KG . The AUG was adopted by the Austrian Army as the StG 77 in 1977, where it replaced the 7.62mm StG 58 automatic rifle...


(Australia)
Selective fire
5.56x45mm NATO
1987-Present
INSAS (India)
Selective fire
5.56x45mm NATO
1997-Present
United States


Firearm
Type
Calibre
Service
Notes
Brown Bess

Brown Bess

Brown Bess is a nickname of uncertain origin for the British Army's Land Pattern Musket and its derivatives. This musket was used in the era of the expansion of the British Empire and acquired symbolic importance at least as significant as its physical importance. It was in use for over a hundred...



Flintlock

Flintlock

Flintlock is the general term for any firearm based on the flintlock mechanism. The term may also apply to the mechanism itself. Introduced at the beginning of the 17th century, the flintlock rapidly replaced earlier firearm-ignition technologies, such as the doglock, matchlock and wheellock...



.75 Ball
1776-1795
Kentucky Long rifle

Long rifle

The American longrifle , better known as the Kentucky rifle was described best by Captain John G. W. Dillin in the dedication to his seminal 1924 book, The Kentucky Rifle:...



Flintlock

Flintlock

Flintlock is the general term for any firearm based on the flintlock mechanism. The term may also apply to the mechanism itself. Introduced at the beginning of the 17th century, the flintlock rapidly replaced earlier firearm-ignition technologies, such as the doglock, matchlock and wheellock...



.36 ball
1776-1816
Model 1795 Musket

Model 1795 Musket

thumbThe Model 1795 Musket was a .69 caliber flintlock musket produced in the late 18th and early 19th century at both the Springfield and Harper's Ferry US Armories.The Model 1795 was the first musket to be produced in the United States...



Flintlock

Flintlock

Flintlock is the general term for any firearm based on the flintlock mechanism. The term may also apply to the mechanism itself. Introduced at the beginning of the 17th century, the flintlock rapidly replaced earlier firearm-ignition technologies, such as the doglock, matchlock and wheellock...



.69 Ball
1795-1816
Model 1816 Musket

Model 1816 Musket

thumbThe US Model 1816 Musket was a .69 caliber flintlock musket used in the United States during the early 19th century.-History:The War of 1812 had revealed many weaknesses in American muskets. The Model 1812 Musket was created in an attempt to improve both the design and manufacture of the...



Flintlock

Flintlock

Flintlock is the general term for any firearm based on the flintlock mechanism. The term may also apply to the mechanism itself. Introduced at the beginning of the 17th century, the flintlock rapidly replaced earlier firearm-ignition technologies, such as the doglock, matchlock and wheellock...



.69 Ball
1816-1835
Springfield Model 1835

Springfield Model 1835

The US Model 1835 Musket was a .69 caliber flintlock musket used in the United States during the early 19th Century.The Model 1835 was produced by the Springfield Armory, and was also produced by the Harper's Ferry Armory and other contractors. It was a smooth bore musket and fired a .69 caliber...



Flintlock

Flintlock

Flintlock is the general term for any firearm based on the flintlock mechanism. The term may also apply to the mechanism itself. Introduced at the beginning of the 17th century, the flintlock rapidly replaced earlier firearm-ignition technologies, such as the doglock, matchlock and wheellock...



.69 Ball
1835-1842
Springfield Model 1842

Springfield Model 1842

The US Model 1842 Musket was a .69 caliber musket manufactured and used in the United States during the 19th Century. It is a continuation of the Model 1816 line of muskets but is generally referred to as its own model number rather than just a variant of the Model 1816.The Model 1842 was the last...



Percussion cap

Percussion cap

The percussion cap, introduced around 1830, was the crucial invention that enabled muzzleloading firearms to fire reliably in any weather.Before this development, firearms used flintlock ignition systems which produced flint-on-steel sparks to ignite a pan of priming powder and thereby fire the...



.69 Ball
1842-1855
Springfield Model 1855

Springfield Model 1855

The Model 1855 Springfield was a rifled musket used in the mid 19th century. It was produced by the Springfield Armory in Massachusetts.Earlier muskets had mostly been smooth bore flintlocks. In the 1840s, the unreliable flintlocks had been replaced by much more reliable and weather resistant...



Percussion cap

Percussion cap

The percussion cap, introduced around 1830, was the crucial invention that enabled muzzleloading firearms to fire reliably in any weather.Before this development, firearms used flintlock ignition systems which produced flint-on-steel sparks to ignite a pan of priming powder and thereby fire the...



.58 Minié

Minié ball

The Minié ball is a type of muzzle-loading spin-stabilising rifle bullet named after its co-developer, Claude-Étienne Minié, inventor of the Minié rifle...



1855-1861
Spencer Repeating Rifle

Spencer repeating rifle

The Spencer repeating rifle was a manually operated lever-action, repeating rifle fed from a tube magazine with cartridges. It was adopted by the Union Army, especially by the cavalry, during the American Civil War, but did not replace the standard issue muzzle-loading rifled muskets in use at the...



Lever Action
56-56 Spencer
1860-1873
Springfield Model 1861

Springfield Model 1861

The Springfield Model 1861 was a Minié-type rifled musket shoulder arm used by the United States Army and Marine Corps during the American Civil War. Commonly referred to as the "Springfield" , it was the most widely used U.S...



Percussion cap

Percussion cap

The percussion cap, introduced around 1830, was the crucial invention that enabled muzzleloading firearms to fire reliably in any weather.Before this development, firearms used flintlock ignition systems which produced flint-on-steel sparks to ignite a pan of priming powder and thereby fire the...



.58 Minié
1861-1867
Henry Repeating Rifle

Henry rifle

The Henry repeating rifle was a lever-action, breech-loading, tubular magazine rifle.-History:The original Henry rifle was a .44 caliber rimfire, lever-action, breech-loading rifle designed by Benjamin Tyler Henry in the late 1850s. The Henry rifle was an improved version of the earlier Volcanic...



Lever Action
.44 Henry

.44 Henry

The .44 Henry, also known as the .44 Rimfire, the .44 Long Rimfire, or the 11x23R cartridge was a rim-fire round that uses a .875 inch casing. The round has a total length of 1.345 inches. It uses a 200 or 216 grain bullet with a .446 diameter. The cartridge was loaded with 26 to 28...



1862-1873
Springfield Model 1863

Springfield Model 1863

The Springfield Model 1863 rifled musket is a .58 caliber rifled musket produced by the Springfield Armory between 1863 and 1865.The Model 1863 was only a minor improvement over the Springfield Model 1861. As such, it is sometimes classified as just a variant of the Model 1861. The Model 1861, with...



Percussion cap

Percussion cap

The percussion cap, introduced around 1830, was the crucial invention that enabled muzzleloading firearms to fire reliably in any weather.Before this development, firearms used flintlock ignition systems which produced flint-on-steel sparks to ignite a pan of priming powder and thereby fire the...



.58 Minié
1863-1867
Springfield Model 1865

Springfield Model 1865

The Springfield Model 1865 was an early breech-loading modification of the Springfield rifle musket design.During the U.S. Civil War, the advantage of breech loading rifles became obvious. The rifled muskets used during the war had a rate of fire of 3 or 4 rounds per minute...



Breech-loading

Breech-loading weapon

A breech-loading weapon is a firearm in which the cartridge or shell is inserted or loaded into a chamber integral to the rear portion of a barrel....



.58 Musket Rimfire
1865-1867
Springfield Model 1866

Springfield Model 1866

The Springfield Model 1866 was the second iteration of the Allin-designed trapdoor breech-loading mechanism. Originally developed as a means of converting rifled muskets to breechloaders, the Allin modification ultimately became the basis for the definitive Model 1873, the first breech-loading...



Breech-loading
.50-70 Government

.50-70 Government

The .50-70 Government cartridge was a black powder round adopted in 1866 for the Springfield Model 1866 Trapdoor Rifle. The cartridge was developed after the unsatisfactory results of the .58 rimfire cartridge for the Springfield Model 1865 Trapdoor Rifle....



1866-1873
Springfield Model 1868

Springfield Model 1868

The Springfield Model 1868 was one of several model "trapdoor Springfields", which used the trapdoor breechblock design developed by Erskine S. Allin. Originally, the trapdoor Springfields were created to convert Model 1863 Springfield rifled muskets to breech loading rifles at a relatively low cost...



Breech-loading
.50-70 Government
1869-1873
Springfield Model 1873

Springfield Model 1873

The Model 1873 "Trapdoor" Springfield was the first standard-issued breech-loading rifle adopted by the United States Army...



Breech-loading
.45-70

.45-70

The .45-70 rifle cartridge, also known as .45-70 Government, was developed at the U.S. Army's Springfield Armory for use in the Springfield Model 1873...



1873-?
Springfield Model 1884
Breech-loading
.45-70

.45-70

The .45-70 rifle cartridge, also known as .45-70 Government, was developed at the U.S. Army's Springfield Armory for use in the Springfield Model 1873...



1884-?
Springfield Model 1892-99

Springfield Model 1892-99

The Springfield Model 1892-99 Krag-Jørgensen rifle is a Norwegian-design bolt action rifle that was adopted in 1892 as the standard United States Army military longarm, chambered in U.S. caliber .30-40 Krag. All versions and variants were manufactured under license by the Springfield Armory between...



Bolt action
.30-40 Krag

.30-40 Krag

The .30-40 Krag was a cartridge developed in the early 1890s to provide the U.S. armed forces with a smokeless powder cartridge suited for use with modern small-bore repeating rifles to be selected in the 1892 small arm trials...



1894-early 1900's
M1895 Lee Navy

M1895 Lee Navy

The Lee Model 1895 was a straight-pull, cam-action magazine rifle adopted in limited numbers by the U.S. Navy and Marine Corps in 1895 as a first-line infantry rifle...


(Navy/Marines)
Straight-pull
6mm Lee Navy

6mm Lee Navy

The 6mm Lee Navy aka 6mm U.S.N. is an obsolete American rifle cartridge. It was the service cartridge of the United States Navy and Marine Corps from 1895, officially replacing the .45-70 Government round, and was the first small-bore high-velocity smokeless powder cartridge to be adopted by...



1895-early 1900's
M1903 Springfield
Bolt-action
.30-06 Springfield

.30-06 Springfield

The .30-06 Springfield cartridge or 7.62×63mm in metric notation, was introduced to the United States Army in 1906 and standardized, and was in use until the 1960s and early 1970s. It replaced the .30-03, 6 mm Lee Navy, and .30 US Army...



1903-1957
M1916 Mosin-Nagant

Mosin-Nagant

The Mosin–Nagant is a bolt-action, internal magazine-fed, military rifle invented under the government commission by Russian and Belgian inventors, and used by the armed forces of the Russian Empire, the Soviet Union and various other nations....



Bolt-action
7.62x54R
1918-c.1921
M1917 Enfield
Bolt-action
.30-06 Springfield
1917-1943
M1 Garand

M1 Garand

The M1 Garand , was the first semi-automatic rifle to be generally issued to the infantry of any nation. Called "the greatest battle implement ever devised" by General George S...



Semi-automatic

Semi-automatic rifle

A semi-automatic rifle is a type of rifle that fires a single bullet each time the trigger is pulled, automatically ejects the spent cartridge, chambers a fresh cartridge from its magazine, and is immediately ready to fire another shot...



.30-06 Springfield
1936-1963 (some used into 1970s)
M1 Carbine

M1 Carbine

The M1 carbine is a lightweight, easy to use semi-automatic carbine that became a standard firearm for the U.S. military during World War II, the Korean War and the Vietnam War, and was produced in several variants. It was widely used by U.S...



Semi-automatic
.30 Carbine

.30 Carbine

The .30 Carbine is the cartridge used in the M1 Carbine introduced in the 1940s. It is an intermediate round designed to be fired from the M1 carbine's 18-inch barrel.-History:...



1942-1960's
M2 Carbine
Selective fire

Selective fire

A selective fire firearm has at least one semi–automatic and one automatic mode, which is activated by means of a selector which varies depending on the weapon's design. Some selective fire weapons utilize burst fire mechanisms to limit the maximum or total number of shots fired automatically in...



.30 Carbine
1945-1960's
M14

M14 rifle

The M14 rifle, formally the United States Rifle, 7.62 mm, M14, is an American selective fire automatic rifle firing 7.62x51mm NATO ammunition. It was the standard issue U.S. rifle from 1959 to 1970. The M14 was used for U.S...



Selective fire
7.62x51mm NATO
1957-Present
Currently used as a marksman rifle
M16

M16 rifle

The M16 is the United States military designation for the AR-15 rifle adapted for both semi-automatic and full-automatic fire. Colt purchased the rights to the AR-15 from ArmaLite, and currently uses that designation only for semi-automatic versions of the rifle. The M16 fires the 5.56×45mm NATO...



Selective fire
5.56x45mm NATO

5.56x45mm NATO

5.56×45mm NATO is a rifle cartridge developed in the United States and originally chambered in the M16 rifle. Under STANAG 4172, it is a standard cartridge for NATO forces as well as many non-NATO countries. It is derived from, but not identical to, the .223 Remington cartridge...



1961-Present
Standard rifle of USMC
M4 carbine

M4 carbine

The M4 carbine is a family of firearms tracing its lineage back to earlier carbine versions of the M16, all based on the original AR-15 designed by Eugene Stoner and made by ArmaLite. It is a shorter and lighter variant of the M16A2 assault rifle, with 80% parts commonality.It is a gas-operated,...



Selective fire
5.56x45mm NATO
1994-Present
Standard rifle of US Army
HK 416
Selective fire
5.56x45mm NATO
2004-Present
The newest AR-15 derived design in U.S. service
SCAR-H
Selective fire
7.62x51mm NATO
2009-Present
Limited use by the 75th Ranger Regiment
Uruguay
Firearm
Type
Calibre
Service
Gewehr 98

Gewehr 98

The Gewehr 98 is a German bolt action Mauser rifle firing the 8x57mm cartridge from a 5 round internal clip-loaded magazine that was the German service rifle from 1898 to 1935, when it was replaced by the Karabiner 98k. It was hence the main rifle of the German infantry during World War I...



Bolt Action
7.92x57mm Mauser

7.92x57mm Mauser

The 8×57mm IS is a rimless bottlenecked rifle cartridge. The 8×57mm IS was adopted by the German Empire in 1905, and was the German service cartridge in both World Wars...



1898-1958
FN FAL

FN FAL

The Fusil Automatique Léger or FAL is a self-loading, selective fire battle rifle produced by the Belgian armaments manufacturer Fabrique Nationale de Herstal . During the Cold War it was adopted by many North Atlantic Treaty Organization countries, with the notable exception of the United States...



Selective fire

Selective fire

A selective fire firearm has at least one semi–automatic and one automatic mode, which is activated by means of a selector which varies depending on the weapon's design. Some selective fire weapons utilize burst fire mechanisms to limit the maximum or total number of shots fired automatically in...



7.62x51mm NATO
1950s-Present
AK-101

AK-101

The AK-101 is an assault rifle of the Kalashnikov series. The AK-101 is designed for the world export market, using 5.56×45mm NATO cartridges, which is the standard of all NATO armies. The AK-101 is marketed at those looking for a weapon that combines the logistical compatibility and familiarity of...



Selective fire
5.56x45mm NATO

5.56x45mm NATO

5.56×45mm NATO is a rifle cartridge developed in the United States and originally chambered in the M16 rifle. Under STANAG 4172, it is a standard cartridge for NATO forces as well as many non-NATO countries. It is derived from, but not identical to, the .223 Remington cartridge...



200?-Present
Steyr AUG

Steyr AUG

The AUG is an Austrian bullpup 5.56mm assault rifle, designed in the early 1970s by Steyr Mannlicher GmbH & Co KG . The AUG was adopted by the Austrian Army as the StG 77 in 1977, where it replaced the 7.62mm StG 58 automatic rifle...



Selective fire
5.56x45mm NATO

5.56x45mm NATO

5.56×45mm NATO is a rifle cartridge developed in the United States and originally chambered in the M16 rifle. Under STANAG 4172, it is a standard cartridge for NATO forces as well as many non-NATO countries. It is derived from, but not identical to, the .223 Remington cartridge...



2008-Present
Venezuela
Firearm
Type
Calibre
Service
Gewehr 98
Bolt-action

Bolt-action

Bolt action is a type of firearm action in which the weapon's bolt is operated manually by the opening and closing of the breech with a small handle, most commonly placed on the right-hand side of the weapon...



7x57mm
1898-1960s
FN Model 1949

FN Model 1949

The Fabrique Nationale Model 1949 is a semi-automatic rifle designed by Dieudonné Saive and manufactured by Fabrique Nationale...



Semi-automatic

Semi-automatic firearm

A semi-automatic, or self-loading firearm is a weapon which performs all steps necessary to prepare the weapon to fire again after firing—assuming cartridges remain in the weapon's feed device or magazine...



7x57mm
1949-1960s
FN FAL

FN FAL

The Fusil Automatique Léger or FAL is a self-loading, selective fire battle rifle produced by the Belgian armaments manufacturer Fabrique Nationale de Herstal . During the Cold War it was adopted by many North Atlantic Treaty Organization countries, with the notable exception of the United States...



Selective fire

Selective fire

A selective fire firearm has at least one semi–automatic and one automatic mode, which is activated by means of a selector which varies depending on the weapon's design. Some selective fire weapons utilize burst fire mechanisms to limit the maximum or total number of shots fired automatically in...



7.62x51mm
1950s-Present
AK-103

AK-103

The AK-103 is a modern, Russian-designed version of the famous AKM assault rifle, chambered for the 7.62×39mm M43 round. It combines the AKM design with developments from the AK-74 and AK-74M, with the use of plastics to replace metal or wooden components wherever possible to reduce overall weight...



Selective fire

Selective fire

A selective fire firearm has at least one semi–automatic and one automatic mode, which is activated by means of a selector which varies depending on the weapon's design. Some selective fire weapons utilize burst fire mechanisms to limit the maximum or total number of shots fired automatically in...



7.62x39mm
2006-Present
Vietnam
Firearm
Type
Calibre
Service
Mosin-Nagant

Mosin-Nagant

The Mosin–Nagant is a bolt-action, internal magazine-fed, military rifle invented under the government commission by Russian and Belgian inventors, and used by the armed forces of the Russian Empire, the Soviet Union and various other nations....



Bolt-action

Bolt-action

Bolt action is a type of firearm action in which the weapon's bolt is operated manually by the opening and closing of the breech with a small handle, most commonly placed on the right-hand side of the weapon...



7.62x54mmR
1920s-Present
Type 53 Carbine

Mosin-Nagant

The Mosin–Nagant is a bolt-action, internal magazine-fed, military rifle invented under the government commission by Russian and Belgian inventors, and used by the armed forces of the Russian Empire, the Soviet Union and various other nations....



Bolt-action

Bolt-action

Bolt action is a type of firearm action in which the weapon's bolt is operated manually by the opening and closing of the breech with a small handle, most commonly placed on the right-hand side of the weapon...



7.62x54mmR
1960s-Present
SKS

SKS

The SKS is a Soviet semi-automatic rifle chambered for the 7.62x39mm round, designed in 1943 by Sergei Gavrilovich Simonov. SKS-45 is an acronym for Samozaryadnyj Karabin sistemy Simonova, 1945 Simonov system, 1945), or SKS 45. The Sks is a scaled down version of the PTRS-41 anti-tank rifle also...



Semi-Automatic

Semi-automatic

Semi-automatic may refer to:* A semi-automatic firearm, a firearm which automatically reloads, but will only fire one round per trigger pull** Semi-automatic rifle** Semi-automatic pistol** Semi-automatic shotgun...



7.62x39mm
1960s-Present
Type 56 carbine

SKS

The SKS is a Soviet semi-automatic rifle chambered for the 7.62x39mm round, designed in 1943 by Sergei Gavrilovich Simonov. SKS-45 is an acronym for Samozaryadnyj Karabin sistemy Simonova, 1945 Simonov system, 1945), or SKS 45. The Sks is a scaled down version of the PTRS-41 anti-tank rifle also...



Semi-Automatic

Semi-automatic

Semi-automatic may refer to:* A semi-automatic firearm, a firearm which automatically reloads, but will only fire one round per trigger pull** Semi-automatic rifle** Semi-automatic pistol** Semi-automatic shotgun...



7.62x39mm
1960s-Present
AK-47

AK-47

The AK-47 is a selective-fire, gas-operated 7.62×39mm assault rifle, first developed in the Soviet Union by Mikhail Kalashnikov. It is officially known as Avtomat Kalashnikova . It is also known as a Kalashnikov, an "AK", or in Russian slang, Kalash.Design work on the AK-47 began in the last year...



Selective fire

Selective fire

A selective fire firearm has at least one semi–automatic and one automatic mode, which is activated by means of a selector which varies depending on the weapon's design. Some selective fire weapons utilize burst fire mechanisms to limit the maximum or total number of shots fired automatically in...



7.62x39mm
1960s-Present
Type 56 Assault Rifle

Type 56 Assault Rifle

The Type 56 assault rifle is a Chinese copy of the Kalashnikov AK-47 assault rifle, which has been manufactured since 1956. It was produced by State Factory 66 from 1956-73, then by Norinco from 1973 onwards.-Service history:...



Selective fire

Selective fire

A selective fire firearm has at least one semi–automatic and one automatic mode, which is activated by means of a selector which varies depending on the weapon's design. Some selective fire weapons utilize burst fire mechanisms to limit the maximum or total number of shots fired automatically in...



7.62x39mm
1960s-Present
See also