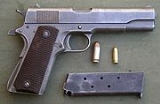 Side arm
A
side arm
is a
weapon
Weapon
A weapon, arm, or armament is a tool or instrument used with the aim of causing damage or harm to living beings or artificial structures or systems...
, usually a
pistol
Pistol
When distinguished as a subset of handguns, a pistol is a handgun with a chamber that is integral with the barrel, as opposed to a revolver, wherein the chamber is separate from the barrel as a revolving cylinder. Typically, pistols have an effective range of about 100 feet.-History:The pistol...
but can be a dagger, as used in pre-modern times, which is worn on the body in a
holster
Holster
A handgun holster is a device used to hold or restrict the undesired movement of a handgun, most commonly in a location where it can be easily withdrawn for immediate use.-Function:...
to permit immediate access and use. A side arm is typically required equipment for
military
Military
A military is an organization authorized by its greater society to use lethal force, usually including use of weapons, in defending its country by combating actual or perceived threats. The military may have additional functions of use to its greater society, such as advancing a political agenda e.g...
personnel and sometimes carried by
law enforcement
Police
The police is a personification of the state designated to put in practice the enforced law, protect property and reduce civil disorder in civilian matters. Their powers include the legitimized use of force...
personnel. Usually, uniformed personnel of these services wear their weapons openly, while plainclothes personnel have their side arms concealed under their clothes. A side arm may be carried alone, or as a back-up to a primary weapon such as a
rifle
Rifle
A rifle is a firearm designed to be fired from the shoulder, with a barrel that has a helical groove or pattern of grooves cut into the barrel walls. The raised areas of the rifling are called "lands," which make contact with the projectile , imparting spin around an axis corresponding to the...
or
carbine
Carbine
A carbine , from French carabine, is a longarm similar to but shorter than a rifle or musket. Many carbines are shortened versions of full rifles, firing the same ammunition at a lower velocity due to a shorter barrel length....
.
Uses
Government security service
bodyguard
Bodyguard
A bodyguard is a type of security operative or government agent who protects a person—usually a famous, wealthy, or politically important figure—from assault, kidnapping, assassination, stalking, loss of confidential information, terrorist attack or other threats.Most important public figures such...
s for
VIP
Very Important Person
A Very Important Person, or VIP is a person who is accorded special privileges due to his or her status or importance.Examples include celebrities, heads of state/heads of government, major employers, high rollers, politicians, high-level corporate officers, wealthy individuals, or any other...
s and heads of state who need a weapon that can be concealed under clothing may have a fully automatic
machine pistol
Machine pistol
A machine pistol is a handgun-style, often magazine-fed and self-loading firearm, capable of fully automatic or burst fire, and normally chambered for pistol cartridges. The term is a literal translation of Maschinenpistole, the German term for a hand-held automatic weapon...
as a side arm. In a military setting, machine pistols are issued as personal defense sidearms to paratroopers, artillery crews, helicopter crews or tank crews.
Historically in Eastern armies, and in many contemporary armies, the issue of a side arm in the form of a
service pistol
Service pistol
A service pistol is any handgun issued to military personnel.Typically service pistols are revolvers or semi-automatic pistols issued to officers, non-commissioned officers and rear-echelon support personnel for self defense, though service pistols may also be issued to special forces as a backup...
is a clear sign of authority and is the mark of a commissioned officer or senior NCO. In the protocol of
courtesy
Courtesy
Courtesy comes from old french 'courteis' is gentle politeness and courtly manners. In the Middle Ages in Europe, the behaviour expected of the gentry was compiled in courtesy books...
, the surrender of a commander's side arm is the final act in the general surrender of a unit. If no ill will is meant, and a strict interpretation of military courtesy is applied, a surrendering commander may be allowed to keep his side arm in order to exercise his right of command over his men. Similarly, many commanders on a local level have been anecdotally cited as having used the threat of their side arms to motivate troops, to varied effect.
Other eras
The term may also refer to
sword
Sword
A sword is a bladed weapon used primarily for cutting or thrusting. The precise definition of the term varies with the historical epoch or the geographical region under consideration...
s and other
mêlée
Mêlée
Melee , generally refers to disorganized close combat involving a group of fighters. A melee ensues when groups become locked together in combat with no regard to group tactics or fighting as an organized unit; each participant fights as an individual....
weapons (e.g. the
rapier
Rapier
A rapier is a slender, sharply pointed sword, ideally used for thrusting attacks, used mainly in Early Modern Europe during the 16th and 17th centuries.-Description:...
, the
tantō
Tanto
A is one of the traditional Japanese swords that were worn by the samurai class of feudal Japan. The tantō dates to the Heian period, when it was mainly used as a weapon but evolved in design over the years to become more ornate...
and
wakizashi
Wakizashi
The is one of the traditional Japanese swords worn by the samurai class in feudal Japan.-Description:...
, the
arming sword
Arming sword
The arming sword is the single handed cruciform sword of the High Middle Ages, in common use between ca. 1000 and 1500, possibly remaining in rare use into the 16th century...
and the
side-sword
Side-sword
The spada da lato or "side-sword" is the Italian term for the type of sword popular during the late 16th century, corresponding to the Spanish espada ropera....
are all considered sidearms for their respective eras of use); the modern use of it usually pertains to
pistol
Pistol
When distinguished as a subset of handguns, a pistol is a handgun with a chamber that is integral with the barrel, as opposed to a revolver, wherein the chamber is separate from the barrel as a revolving cylinder. Typically, pistols have an effective range of about 100 feet.-History:The pistol...
s and similar
firearm
Firearm
A firearm is a weapon that launches one, or many, projectile at high velocity through confined burning of a propellant. This subsonic burning process is technically known as deflagration, as opposed to supersonic combustion known as a detonation. In older firearms, the propellant was typically...
s.