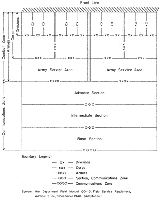 Theater (warfare)
In
war
War
War is a state of organized, armed, and often prolonged conflict carried on between states, nations, or other parties typified by extreme aggression, social disruption, and usually high mortality. War should be understood as an actual, intentional and widespread armed conflict between political...
fare, a
theater
, is defined as an area or place within which important military events occur or are progressing. The entirety of the air, land, and sea area that is or that may potentially become involved in war operations.
In a technical sense,a theater as described here, is defined as being a type of
locus
.
Theater of war
The term seems to have been coined by
Carl von Clausewitz
Carl von Clausewitz
Carl Philipp Gottfried von Clausewitz was a Prussian soldier and German military theorist who stressed the moral and political aspects of war...
in his book "
On War
On War
Vom Kriege is a book on war and military strategy by Prussian general Carl von Clausewitz , written mostly after the Napoleonic wars, between 1816 and 1830, and published posthumously by his wife in 1832. It has been translated into English several times as On War...
".
Clausewitz defines the term as one that:
"Denotes properly such a portion of the space over which war prevails as has its boundaries protected, and thus possesses a kind of independence. This protection may consist in fortresses, or important natural obstacles presented by the country, or even in its being separated by a considerable distance from the rest of the space embraced in the war. Such a portion is not a mere piece of the whole, but a small whole complete in itself; and consequently it is more or less in such a condition that changes which take place at other points in the seat of war have only an indirect and no direct influence upon itTo give an adequate idea of this, we may suppose that on this portion an advance is made, whilst in another quarter a retreat is taking place, or that upon the one an army is acting defensively, whilst an offensive is being carried on upon the other. Such a clearly defined idea as this is not capable of universal application; it is here used merely to indicate the line of distinction."
Theater of operations
Theater of operations
(TO) is instead a sub-area existing within a theater of war, the boundaries of this being defined by the commander who is orchestrating or providing support for specific combat operations within that location.
Soviet and Russian Armed Forces
For example a large geographic subdivision used by the
Soviet
Soviet Armed Forces
The Soviet Armed Forces, also called the Armed Forces of the Union of Soviet Socialist Republics and Armed Forces of the Soviet Union refers to the armed forces of the Russian SFSR , and Soviet Union from their beginnings in the...
and
Russian Armed Forces
Armed Forces of the Russian Federation
The Armed Forces of the Russian Federation are the military services of Russia, established after the break-up of the Soviet Union. On 7 May 1992 Boris Yeltsin signed a decree establishing the Russian Ministry of Defence and placing all Soviet Armed Forces troops on the territory of the RSFSR...
to classify the continental geographic territories with their bordering maritime areas, islands, adjacent coasts and airspace. The division of large continental and maritime areas assists in determining the limits within which the plans for operation of strategic military groups of forces are developed, allowing conduct of
military operation
Military operation
Military operation is the coordinated military actions of a state in response to a developing situation. These actions are designed as a military plan to resolve the situation in the state's favor. Operations may be of combat or non-combat types, and are referred to by a code name for the purpose...
s on specific significant strategic directions.
The Russian term is ,
teatr voennykh deistvii
, abbreviated ,
TVD
.
United States
The term "theater of operations" was defined in the [American] field manuals as the land and sea areas to be invaded or defended, including areas necessary for administrative activities incident to the military operations (chart 12). In accordance with the experience of
World War I
World War I
World War I , which was predominantly called the World War or the Great War from its occurrence until 1939, and the First World War or World War I thereafter, was a major war centred in Europe that began on 28 July 1914 and lasted until 11 November 1918...
, it was usually conceived of as a large land mass over which continuous operations would take place and was divided into two chief areas-the combat zone, or the area of active fighting, and the communications zone, or area required for administration of the theater. As the armies advanced, both these zones and the areas into which they were divided would shift forward to new geographic areas of control.
See also
Battlespace

Battlespace

Battlespace is a term used to signify a unified military strategy to integrate and combine armed forces for the military theatre of operations, including air, information, land, sea, and space to achieve military goals. It includes the environment, factors, and conditions that must be understood...



European Theatre of World War II

European Theatre of World War II

The European Theatre of World War II was a huge area of heavy fighting across Europe from Germany's invasion of Poland on September 1, 1939 until the end of the war with the German unconditional surrender on May 8, 1945...



European Theater of Operations

European Theater of Operations

The European Theater of Operations, United States Army was a United States Army formation which directed U.S. Army operations in parts of Europe from 1942 to 1945. It referred to Army Ground Forces, United States Army Air Forces, and Army Service Forces operations north of Italy and the...



China Burma India Theater
Western Theater of the American Civil War

Western Theater of the American Civil War

This article presents an overview of major military and naval operations in the Western Theater of the American Civil War.-Theater of operations:...



Locus of control

Locus of control

Locus of control is a theory in personality psychology referring to the extent to which individuals believe that they can control events that affect them. Understanding of the concept was developed by Julian B...



Images and diagrams
clicking onto image/diagram creates enlargement