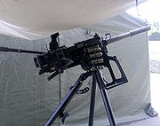 Grenade launcher
A
grenade launcher
or
grenade discharger
is a
weapon
Weapon
A weapon, arm, or armament is a tool or instrument used with the aim of causing damage or harm to living beings or artificial structures or systems...
that launches a
grenade
Grenade
A grenade is a small explosive device that is projected a safe distance away by its user. Soldiers called grenadiers specialize in the use of grenades. The term hand grenade refers any grenade designed to be hand thrown. Grenade Launchers are firearms designed to fire explosive projectile grenades...
with more accuracy, higher velocity, and to greater distances than a soldier could throw it by hand.
Grenade launchers can either come in the form of standalone weapons (either single-shot or repeating) or attachments mounted under the barrel of a
rifle
Rifle
A rifle is a firearm designed to be fired from the shoulder, with a barrel that has a helical groove or pattern of grooves cut into the barrel walls. The raised areas of the rifling are called "lands," which make contact with the projectile , imparting spin around an axis corresponding to the...
. Some rifles have been designed to fire
rifle grenade
Rifle grenade
A rifle grenade is a grenade that uses a rifle-based launcher to permit a longer effective range than would be possible if the grenade was thrown by hand...
s, either from their muzzle or from a detachable muzzle-mounted launcher.