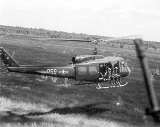 Vietnam War
The
Vietnam War
was a
Cold War
Cold War
The Cold War was the continuing state from roughly 1946 to 1991 of political conflict, military tension, proxy wars, and economic competition between the Communist World—primarily the Soviet Union and its satellite states and allies—and the powers of the Western world, primarily the United States...
-era
military conflict
Proxy war
A proxy war or proxy warfare is a war that results when opposing powers use third parties as substitutes for fighting each other directly. While powers have sometimes used governments as proxies, violent non-state actors, mercenaries, or other third parties are more often employed...
that occurred in
Vietnam
Vietnam
Vietnam – sometimes spelled Viet Nam , officially the Socialist Republic of Vietnam – is the easternmost country on the Indochina Peninsula in Southeast Asia. It is bordered by China to the north, Laos to the northwest, Cambodia to the southwest, and the South China Sea –...
,
Laos
Laos
Laos Lao: ສາທາລະນະລັດ ປະຊາທິປະໄຕ ປະຊາຊົນລາວ Sathalanalat Paxathipatai Paxaxon Lao, officially the Lao People's Democratic Republic, is a landlocked country in Southeast Asia, bordered by Burma and China to the northwest, Vietnam to the east, Cambodia to the south and Thailand to the west...
, and
Cambodia
Cambodia
Cambodia , officially known as the Kingdom of Cambodia, is a country located in the southern portion of the Indochina Peninsula in Southeast Asia...
from 1 November 1955 to the
fall of Saigon
Fall of Saigon
The Fall of Saigon was the capture of Saigon, the capital of South Vietnam, by the People's Army of Vietnam and the National Liberation Front on April 30, 1975...
on 30 April 1975. This war followed the
First Indochina War
First Indochina War
The First Indochina War was fought in French Indochina from December 19, 1946, until August 1, 1954, between the French Union's French Far East...
and was fought between
North Vietnam
North Vietnam
The Democratic Republic of Vietnam , was a communist state that ruled the northern half of Vietnam from 1954 until 1976 following the Geneva Conference and laid claim to all of Vietnam from 1945 to 1954 during the First Indochina War, during which they controlled pockets of territory throughout...
, supported by its
communist
Communism
Communism is a social, political and economic ideology that aims at the establishment of a classless, moneyless, revolutionary and stateless socialist society structured upon common ownership of the means of production...
allies, and the government of
South Vietnam
South Vietnam
South Vietnam was a state which governed southern Vietnam until 1975. It received international recognition in 1950 as the "State of Vietnam" and later as the "Republic of Vietnam" . Its capital was Saigon...
, supported by the
United States
United States
The United States of America is a federal constitutional republic comprising fifty states and a federal district...
and other
anti-communist
Anti-communism
Anti-communism is opposition to communism. Organized anti-communism developed in reaction to the rise of communism, especially after the 1917 October Revolution in Russia and the beginning of the Cold War in 1947.-Objections to communist theory:...
nations. The Viet Cong (also known as the National Liberation Front, or NLF), a lightly armed South Vietnamese communist-controlled
common front
Common front
In politics, a common front is an alliance between different groups, forces, or interests in pursuit of a common goal or in opposition to a common enemy...
, largely fought a
guerrilla war
Guerrilla warfare
Guerrilla warfare is a form of irregular warfare and refers to conflicts in which a small group of combatants including, but not limited to, armed civilians use military tactics, such as ambushes, sabotage, raids, the element of surprise, and extraordinary mobility to harass a larger and...
against anti-communist forces in the region.
1945 Vietnam War: Viet Minh led by Ho Chi Minh take power in Hanoi, Vietnam.
1957 Vietnam War: First United States casualties in Vietnam.
1962 Vietnam War: After a trip to Vietnam at the request of US President John F. Kennedy, US Senate Majority Leader Mike Mansfield becomes the first American official not to make an optimistic public comment on the war's progress.
1963 Vietnam War: Following the November 1 coup and execution of President Ngo Dinh Diem, coup leader General Duong Van Minh takes over leadership of South Vietnam.
1963 Vietnam War: Newly sworn-in US President Lyndon B. Johnson confirms that the United States intends to continue supporting South Vietnam both militarily and economically.
1964 Vietnam War: An explosion sinks the USS ''Card'' while docked at Saigon. Viet Cong forces are suspected of placing a bomb on the ship.
1964 Vietnam War: at a rally in Saigon, South Vietnamese Prime Minister Nguyen Khanh calls for expanding the war into North Vietnam.
1964 Vietnam War: Viet Cong forces attack the capital of Dinh Tuong Province, Cai Be, killing 11 South Vietnamese military personnel and 40 civilians (30 of which are children).
1964 Vietnam War: 5,000 more American military advisers are sent to South Vietnam bringing the total number of United States forces in Vietnam to 21,000.
1964 Vietnam War: Vietnam War: Vietnam War: [[Gulf of Tonkin Incident