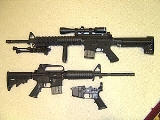 AR-15
The
AR-15
is a lightweight, 5.56 mm, air-cooled, gas-operated, magazine-fed semi-automatic rifle, with a rotating-lock bolt, actuated by direct impingement gas operation. It is manufactured with the extensive use of aluminum alloys and synthetic materials.
The AR-15 was first built by
ArmaLite
ArmaLite
ArmaLite is the name of a small arms engineering facility founded in the early 1950s, and once associated with the Fairchild Engine and Airplane Corporation. ArmaLite was formally incorporated as a subdivision of Fairchild on October 1, 1954...
as a
selective fire
Selective fire
A selective fire firearm has at least one semi–automatic and one automatic mode, which is activated by means of a selector which varies depending on the weapon's design. Some selective fire weapons utilize burst fire mechanisms to limit the maximum or total number of shots fired automatically in...
assault rifle
Assault rifle
An assault rifle is a selective fire rifle that uses an intermediate cartridge and a detachable magazine. Assault rifles are the standard infantry weapons in most modern armies...
for the
United States armed forces
United States armed forces
The United States Armed Forces are the military forces of the United States. They consist of the Army, Navy, Marine Corps, Air Force, and Coast Guard.The United States has a strong tradition of civilian control of the military...
. Because of financial problems, ArmaLite sold the AR-15 design to
Colt
Colt's Manufacturing Company
Colt's Manufacturing Company is a United States firearms manufacturer, whose first predecessor corporation was founded in 1836 by Sam Colt. Colt is best known for the engineering, production, and marketing of firearms over the later half of the 19th and the 20th century...
.