 Reservoir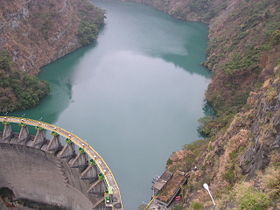 A
reservoir
artificial lake
or
dam
(Australian English) is used to store
water
Water
Water is a chemical substance with the chemical formula H2O. A water molecule contains one oxygen and two hydrogen atoms connected by covalent bonds. Water is a liquid at ambient conditions, but it often co-exists on Earth with its solid state, ice, and gaseous state . Water also exists in a...
.
Reservoirs may be created in river valleys by the construction of a
dam
Dam
A dam is a barrier that impounds water or underground streams. Dams generally serve the primary purpose of retaining water, while other structures such as floodgates or levees are used to manage or prevent water flow into specific land regions. Hydropower and pumped-storage hydroelectricity are...
or may be built by excavation in the ground or by conventional construction techniques such as brickwork or cast concrete.
The term reservoir may also be used to describe underground reservoirs such as an
oil
Oil well
An oil well is a general term for any boring through the earth's surface that is designed to find and acquire petroleum oil hydrocarbons. Usually some natural gas is produced along with the oil. A well that is designed to produce mainly or only gas may be termed a gas well.-History:The earliest...
or
water well
Water well
A water well is an excavation or structure created in the ground by digging, driving, boring or drilling to access groundwater in underground aquifers. The well water is drawn by an electric submersible pump, a trash pump, a vertical turbine pump, a handpump or a mechanical pump...
.
Valley dammed reservoir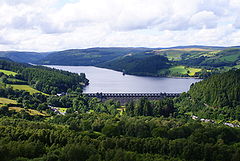 A dam constructed in a valley relies on the natural
topography
Topography
Topography is the study of Earth's surface shape and features or those ofplanets, moons, and asteroids...
to provide most of the basin of the reservoir. Dams are typically located at a narrow part of a valley downstream of a natural basin. The
valley
Valley
In geology, a valley or dale is a depression with predominant extent in one direction. A very deep river valley may be called a canyon or gorge.The terms U-shaped and V-shaped are descriptive terms of geography to characterize the form of valleys...
sides act as natural walls with the dam located at the narrowest practical point to provide strength and the lowest practical cost of construction. In many reservoir construction projects people have to be moved and re-housed, historical artifacts moved or rare environments relocated. Examples include the temples of
Abu Simbel
Abu Simbel
Abu Simbel temples refers to two massive rock temples in Abu Simbel in Nubia, southern Egypt on the western bank of Lake Nasser about 230 km southwest of Aswan...
( which were moved before the construction of the
Aswan Dam
Aswan Dam
The Aswan Dam is an embankment dam situated across the Nile River in Aswan, Egypt. Since the 1950s, the name commonly refers to the High Dam, which is larger and newer than the Aswan Low Dam, which was first completed in 1902...
to create
Lake Nasser
Lake Nasser
Lake Nasser is a vast reservoir in southern Egypt, and northern Sudan, and is one of the largest man-made lakes in the world. Strictly, "Lake Nasser" refers only to the much larger portion of the lake that is in Egyptian territory , with the Sudanese preferring to call their smaller body of water...
from the
Nile
Nile
The Nile is a major north-flowing river in North Africa, generally regarded as the longest river in the world. It is long. It runs through the ten countries of Sudan, South Sudan, Burundi, Rwanda, Democratic Republic of the Congo, Tanzania, Kenya, Ethiopia, Uganda and Egypt.The Nile has two major...
in
Egypt
Egypt
Egypt , officially the Arab Republic of Egypt, Arabic: , is a country mainly in North Africa, with the Sinai Peninsula forming a land bridge in Southwest Asia. Egypt is thus a transcontinental country, and a major power in Africa, the Mediterranean Basin, the Middle East and the Muslim world...
) and the re-location of the village of
Capel Celyn
Capel Celyn
Capel Celyn was a rural community to the north west of Bala in Gwynedd, north Wales, in the Afon Tryweryn valley. The village and other parts of the valley were flooded to create a reservoir, Llyn Celyn, in order to supply Liverpool and The Wirral with water for industry...
during the construction of
Llyn Celyn
Llyn Celyn
Llyn Celyn is a large reservoir constructed between 1960 and 1965 in the valley of the River Tryweryn in Gwynedd, North Wales. It measures roughly 2½ miles long by a mile wide, and has a maximum depth of...
.
Construction of a reservoir in a valley will usually necessitate the diversion of the river during part of the build often through a temporary
tunnel
Tunnel
A tunnel is an underground passageway, completely enclosed except for openings for egress, commonly at each end.A tunnel may be for foot or vehicular road traffic, for rail traffic, or for a canal. Some tunnels are aqueducts to supply water for consumption or for hydroelectric stations or are sewers...
or by-pass channel.
In hilly regions reservoirs are often constructed by enlarging existing lakes. Sometimes in such reservoirs the new top water level exceeds the watershed height on one or more of the feeder streams such as at Llyn Clywedog in
Mid Wales
Mid Wales
Mid Wales is the name given to the central region of Wales. The Mid Wales Regional Committee of the National Assembly for Wales covered the counties of Ceredigion and Powys and the area of Gwynedd that had previously been the district of Meirionydd. A similar definition is used by the BBC...
. In such cases additional side dams are required to contain the reservoir.
Where the topography is poorly suited to a single large reservoir, a number of smaller reservoirs may be constructed in a chain such as in the
River Taff
River Taff
The River Taff is a large river in Wales. It rises as two rivers in the Brecon Beacons — the Taf Fechan and the Taf Fawr — before joining to form the Taff north of Merthyr Tydfil...
valley where the three reservoirs
Llwyn-on Reservoir
Llwyn-On Reservoir
Llwyn-on Reservoir is the largest and southernmost of the three reservoirs in the Taff Fawr valley in South Wales. It is owned by Welsh Water. It is located in the Brecon Beacons National Park. The eastern half is in the Merthyr Tydfil unitary authority area and the western half is in the Rhondda...
,
Cantref Reservoir
Cantref Reservoir
Cantref Reservoir is the middle of the three reservoirs in the Taff Fawr valley in South Wales. It is owned by Welsh Water. It is located in the Brecon Beacons National Park, mostly in the Powys unitary authority area and within the historic county boundaries of Breconshire...
and
Beacons Reservoir
Beacons Reservoir
Beacons Reservoir is the northernmost of the three reservoirs in the Taff Fawr valley in South Wales. It is owned by Welsh Water. As its name suggests, it is located in the Brecon Beacons National Park in the Powys unitary authority area and within the historic county boundaries of...
form a chain up the valley.
Bank-side reservoir
Where water is taken from a river of variable quality or quantity, bank-side reservoirs may be constructed to store the water pumped or
siphon
Siphon
The word siphon is sometimes used to refer to a wide variety of devices that involve the flow of liquids through tubes. But in the English language today, the word siphon usually refers to a tube in an inverted U shape which causes a liquid to flow uphill, above the surface of the reservoir,...
ed from the river. Such reservoirs are usually built partly by excavation and partly by the construction of a complete encircling bund or
embankment
Bank (geography)
A geographic bank has four definitions and applications:# Limnology: The shoreline of a pond, swamp, estuary, reservoir, or lake. The grade can vary from vertical to a shallow slope....
which may exceed 6 km in circumference. Both the floor of the reservoir and the bund must have an impermeable lining or core, often made of puddled clay. The water stored in such reservoirs may have a residence time of several months during which time normal biological processes are able to substantially reduce many contaminants and almost eliminate any turbidity. The use of bank-side reservoirs also allows a water abstraction to be closed down for extended period at times when the river is unacceptably polluted or when flow conditions are very low due to drought. The London water supply system is one example of the use of bank-side storage for all the water taken from the
River Thames
River Thames
The River Thames flows through southern England. It is the longest river entirely in England and the second longest in the United Kingdom. While it is best known because its lower reaches flow through central London, the river flows alongside several other towns and cities, including Oxford,...
and
River Lee
River Lee (England)
The River Lea in England originates in Marsh Farm , Leagrave, Luton in the Chiltern Hills and flows generally southeast, east, and then south to London where it meets the River Thames , the last section being known as Bow Creek.-Etymology:...
with many large reservoirs such as
Queen Mary Reservoir
Queen Mary Reservoir
The Queen Mary Reservoir is one of the largest of London's reservoirs located in the Staines/Sunbury area of West London within the borough of Spelthorne in Surrey. It lies south of the A308 and west of the M3 motorway...
visible along the approach to
London Heathrow Airport
London Heathrow Airport
London Heathrow Airport or Heathrow , in the London Borough of Hillingdon, is the busiest airport in the United Kingdom and the third busiest airport in the world in terms of total passenger traffic, handling more international passengers than any other airport around the globe...
.
Service reservoir
Service reservoirs store fully treated potable water close to the point of distribution. Many service reservoirs are constructed as
water tower
Water tower
A water tower or elevated water tower is a large elevated drinking water storage container constructed to hold a water supply at a height sufficient to pressurize a water distribution system....
s, often as elevated structures on concrete pillars where the landscape is relatively flat. Other service reservoirs are entirely underground, especially in more hilly or mountainous country. In the
United Kingdom
United Kingdom
The United Kingdom of Great Britain and Northern IrelandIn the United Kingdom and Dependencies, other languages have been officially recognised as legitimate autochthonous languages under the European Charter for Regional or Minority Languages...
,
Thames Water
Thames Water
Thames Water Utilities Ltd, known as Thames Water, is the private utility company responsible for the public water supply and waste water treatment in large parts of Greater London, the Thames Valley, Surrey, Gloucestershire, Wiltshire, Kent, and some other areas of in the United Kingdom...
has many underground reservoirs built in the 1800s by the Victorians, most of which are lined with brick. A good example is the
Honor Oak Reservoir
Honor Oak
Honor Oak is an inner suburban area principally of the London Borough of Lewisham, with part in The London Borough of Southwark. The name originates from Oak of Honor Hill, or One Tree Hill. The legend is that on 1 May 1602, Elizabeth I picnicked with Sir Richard Bulkeley of Beaumaris in the...
, constructed between 1901 and 1909. When it was completed it was the largest brick built underground reservoir in the world and is still one of the largest in
Europe
Europe
Europe is, by convention, one of the world's seven continents. Comprising the westernmost peninsula of Eurasia, Europe is generally 'divided' from Asia to its east by the watershed divides of the Ural and Caucasus Mountains, the Ural River, the Caspian and Black Seas, and the waterways connecting...
. The reservoir now forms part of the Southern extension of the
Thames Water Ring Main
Thames Water Ring Main
The Thames Water Ring Main is a major part of London's water supply infrastructure that consists of an approximately 80 km system of mostly concrete pipelines used to transfer potable water from water treatment works in the Thames and River Lee catchments to distribution within London.The...
. The top of the reservoir has been grassed over and is now the Aquarias Golf Club.
Service reservoirs perform several functions including ensuring sufficient head of water in the
water distribution system
Water supply
Water supply is the provision of water by public utilities, commercial organisations, community endeavours or by individuals, usually via a system of pumps and pipes...
and providing hydraulic capacitance in the system to even out peak demand from consumers enabling the treatment plant to run at optimum efficiency. Large service reservoirs can also be managed to so that energy costs in pumping are reduced by concentrating refilling activity at times of day when power costs are low.
History
Five thousand years ago, the craters of extinct
volcano
Volcano
2. Bedrock3. Conduit 4. Base5. Sill6. Dike7. Layers of ash emitted by the volcano8. Flank| 9. Layers of lava emitted by the volcano10. Throat11. Parasitic cone12. Lava flow13. Vent14. Crater15...
es in Arabia were used as reservoirs by farmers for their
irrigation
Irrigation
Irrigation may be defined as the science of artificial application of water to the land or soil. It is used to assist in the growing of agricultural crops, maintenance of landscapes, and revegetation of disturbed soils in dry areas and during periods of inadequate rainfall...
water.
Dry climate and water scarcity in
India
India
India , officially the Republic of India , is a country in South Asia. It is the seventh-largest country by geographical area, the second-most populous country with over 1.2 billion people, and the most populous democracy in the world...
led to early development of water management techniques, including the building of a reservoir at
Girnar
Girnar
Girnar is a collection of mountains in the Junagadh District of Gujarat, India, situated near Junagadh at a distance of 327 km from Ahmedabad. It is a holy place and an important pilgrimage for both Hindus and Jains. There are a number of temples located here. Amidst the lush green Gir...
in 3000 BC. Artificial lakes dating to the 5th century BC have been found in ancient
Greece
Greece
Greece , officially the Hellenic Republic , and historically Hellas or the Republic of Greece in English, is a country in southeastern Europe....
. An artificial lake in present-day
Madhya Pradesh
Madhya Pradesh
Madhya Pradesh , often called the Heart of India, is a state in central India. Its capital is Bhopal and Indore is the largest city....
province of India, constructed in the 11th century, covered 650 square metres (6,996.5 sq ft).
In
Sri Lanka
Sri Lanka
Sri Lanka, officially the Democratic Socialist Republic of Sri Lanka is a country off the southern coast of the Indian subcontinent. Known until 1972 as Ceylon , Sri Lanka is an island surrounded by the Indian Ocean, the Gulf of Mannar and the Palk Strait, and lies in the vicinity of India and the...
large reservoirs have been created by ancient
Sinhalese
Sinhala Kingdom
Sinhala was a kingdom in the island Lanka, modern day Sri Lanka, mentioned in the epic Mahabharata. From 'Sinhala Diva' are derived the Tamil 'Eelam', Persian/Arabic Serendipor Sarandib, and the European 'Ceilao', 'Zeylan' and 'Ceylon'....
kings in order to save the water for irrigation. The famous Sri Lankan king Parākramabāhu I of Sri Lanka stated " do not let a drop of water seep into the ocean without benefiting mankind ". He created the reservoir named
Parakrama Samudra
Parakrama Samudra
Parakrama Samudra is a shallow reservoir, consisting of three separate reservoirs connected by narrow channels in Polonnaruwa, Sri Lanka....
(sea of King Parakrama), which has astonished archaeologists.
Direct water supply
Many dammed river reservoirs and most bank-side reservoirs are used to provide the
raw water
Raw water
Raw water is water taken from the environment, and is subsequently treated or purified to produce potable water in a water purification works. Raw water should not be considered safe for drinking or washing without further treatment....
feed to a
water treatment
Water treatment
Water treatment describes those processes used to make water more acceptable for a desired end-use. These can include use as drinking water, industrial processes, medical and many other uses. The goal of all water treatment process is to remove existing contaminants in the water, or reduce the...
plant which delivers
drinking water
Drinking water
Drinking water or potable water is water pure enough to be consumed or used with low risk of immediate or long term harm. In most developed countries, the water supplied to households, commerce and industry is all of drinking water standard, even though only a very small proportion is actually...
through water mains. The reservoir does not simply hold water until it is needed; it can also be the first part of the
water treatment
Water treatment
Water treatment describes those processes used to make water more acceptable for a desired end-use. These can include use as drinking water, industrial processes, medical and many other uses. The goal of all water treatment process is to remove existing contaminants in the water, or reduce the...
process. The time the water is held for before it is released is known as the
retention time
. This is a design feature that allows particles and
silt
Silt
Silt is granular material of a size somewhere between sand and clay whose mineral origin is quartz and feldspar. Silt may occur as a soil or as suspended sediment in a surface water body...
s to settle out, as well as time for natural biological treatment using
algae
Algae
Algae are a large and diverse group of simple, typically autotrophic organisms, ranging from unicellular to multicellular forms, such as the giant kelps that grow to 65 meters in length. They are photosynthetic like plants, and "simple" because their tissues are not organized into the many...
,
bacteria
Bacteria
Bacteria are a large domain of prokaryotic microorganisms. Typically a few micrometres in length, bacteria have a wide range of shapes, ranging from spheres to rods and spirals...
and
zooplankton
Zooplankton
Zooplankton are heterotrophic plankton. Plankton are organisms drifting in oceans, seas, and bodies of fresh water. The word "zooplankton" is derived from the Greek zoon , meaning "animal", and , meaning "wanderer" or "drifter"...
that naturally live within the water. However natural limnological processes in temperate climate lakes produces temperature
stratification
Lake stratification
Lake stratification is the separation of lakes into three layers:# Epilimnion - top of the lake.# Metalimnion - middle layer that may change depth throughout the day.# Hypolimnion - the bottom layer....
in the water body which tends to partition some elements such as
manganese
Manganese
Manganese is a chemical element, designated by the symbol Mn. It has the atomic number 25. It is found as a free element in nature , and in many minerals...
and
phosphorus
Phosphorus
Phosphorus is the chemical element that has the symbol P and atomic number 15. A multivalent nonmetal of the nitrogen group, phosphorus as a mineral is almost always present in its maximally oxidized state, as inorganic phosphate rocks...
into deep, cold anoxic water during the summer months. In the autumn and winter the lake becomes fully mixed again. During drought conditions, it is sometimes necessary to draw down the cold bottom water and the elevated levels of manganese in particular can cause problems in water treatment plants.
Hydroelectricity
A reservoir generating
hydroelectricity
Hydroelectricity
Hydroelectricity is the term referring to electricity generated by hydropower; the production of electrical power through the use of the gravitational force of falling or flowing water. It is the most widely used form of renewable energy...
includes
turbines
Water turbine
A water turbine is a rotary engine that takes energy from moving water.Water turbines were developed in the 19th century and were widely used for industrial power prior to electrical grids. Now they are mostly used for electric power generation. They harness a clean and renewable energy...
connected to the retained water body by large-diameter pipes. These generating sets may be at the base of the dam or some distance away. Some reservoirs generating hydroelectricity use pumped re-charge in which a high-level reservoir is filled with water using high-performance electric pumps at times when electricity demand is low and then uses this stored water to generate electricity by releasing the stored water into a low-level reservoir when electricity demand is high. Such systems are called
pump-storage
Pumped-storage hydroelectricity
Pumped-storage hydroelectricity is a type of hydroelectric power generation used by some power plants for load balancing. The method stores energy in the form of water, pumped from a lower elevation reservoir to a higher elevation. Low-cost off-peak electric power is used to run the pumps...
schemes.
Controlling watercourses
Reservoirs can be used in a number of ways to control how water flows through downstream waterways.
Downstream water supply – water may be released from an upland reservoir so that it can be abstracted for drinking water lower down the system, sometimes hundred of miles further down downstream
Irrigation – water in an irrigation

Irrigation

Irrigation may be defined as the science of artificial application of water to the land or soil. It is used to assist in the growing of agricultural crops, maintenance of landscapes, and revegetation of disturbed soils in dry areas and during periods of inadequate rainfall...


reservoir may be released into networks of canal

Canal

Canals are man-made channels for water. There are two types of canal:#Waterways: navigable transportation canals used for carrying ships and boats shipping goods and conveying people, further subdivided into two kinds:...


s for use in farm

Farm

A farm is an area of land, or, for aquaculture, lake, river or sea, including various structures, devoted primarily to the practice of producing and managing food , fibres and, increasingly, fuel. It is the basic production facility in food production. Farms may be owned and operated by a single...


lands or secondary water systems. Irrigation may also be supported by reservoirs which maintain river flows allowing water to be abstracted for irrigation lower down the river.
Flood control – also known as an "attenuation" or "balancing" reservoir, flood

Flood

A flood is an overflow of an expanse of water that submerges land. The EU Floods directive defines a flood as a temporary covering by water of land not normally covered by water...


control reservoirs collect water at times of very high rainfall, then release it slowly over the course of the following weeks or months. Some of these reservoirs are constructed across the river line with the onward flow controlled by an orifice plate

Orifice plate

An orifice plate is a device used for measuring the volumetric flow rate. It uses the same principle as a Venturi nozzle, namely Bernoulli's principle which states that there is a relationship between the pressure of the fluid and the velocity of the fluid...


. When river flow exceeds the capacity of the orifice plate water builds behind the dam but as soon as the flow rate reduces the water behind the dam slowly releases until the reservoir is empty again. In some cases such reservoirs only function a few times in a decade and the land behind the reservoir may be developed as community or recreational land. A new generation of balancing dams are being developed to combat the climatic consequences of climate change. They are called "Flood Detention Reservoirs". Because these reservoirs will remain dry for long periods, there may be a risk of the clay core drying out reducing its structural stability. Recent developments include the use of composite core fill made from recycled materials as an alternative to clay.
Canals – Where a natural watercourse's water is not available to be diverted into a canal

Canal

Canals are man-made channels for water. There are two types of canal:#Waterways: navigable transportation canals used for carrying ships and boats shipping goods and conveying people, further subdivided into two kinds:...


, a reservoir may be built to guarantee the water level in the canal; for example, where a canal climbs to cross a range of hills through lock

Lock (water transport)

A lock is a device for raising and lowering boats between stretches of water of different levels on river and canal waterways. The distinguishing feature of a lock is a fixed chamber in which the water level can be varied; whereas in a caisson lock, a boat lift, or on a canal inclined plane, it is...


s.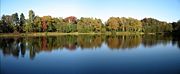 Recreation – water may be released from a reservoir to artificially create or supplement white-water conditions for kayak

Kayak

A kayak is a small, relatively narrow, human-powered boat primarily designed to be manually propelled by means of a double blade paddle.The traditional kayak has a covered deck and one or more cockpits, each seating one paddler...


ing and other white-water sports. On salmon

Salmon

Salmon is the common name for several species of fish in the family Salmonidae. Several other fish in the same family are called trout; the difference is often said to be that salmon migrate and trout are resident, but this distinction does not strictly hold true...


id rivers special releases (in Britain called freshet

Freshet

A freshet can refer to one of two things:* A flood resulting from heavy rain or a spring thaw. Whereas heavy rain often causes a flash flood, a spring thaw event is generally a more incremental process, depending upon local climate and topography...


s) are made to encourage natural migration behaviours in fish and to provide a variety of fishing conditions for anglers.
Flow balancing
Reservoirs can be used to balance the flow in highly managed systems, taking in water during high flows and releasing it again during low flows. In order for this to work without pumping requires careful control of water levels using adjustable sluices. Accurate weather forecasts are essential so that dam operators can plan drawdowns prior to a high rainfall or snowmelt event. Dam operators blamed a faulty weather forecast on the
2010–2011 Queensland floods
2010–2011 Queensland floods
A series of floods hit Australia, beginning in December 2010, primarily in the state of Queensland including its capital city, Brisbane. The floods forced the evacuation of thousands of people from towns and cities. At least seventy towns and over 200,000 people were affected. Damage initially was...
.
Examples of highly managed Reservoirs are
Burrendong Dam
Burrendong Dam
Burrendong Dam is a Rock-fill dam with a clay core across the Macquarie River upstream of Wellington in New South Wales, Australia.The dam impounds Lake Burrendong and is filled by the waters from the Macquarie and Cudgegong rivers....
in Australia and Llyn Tegid in
North Wales
North Wales
North Wales is the northernmost unofficial region of Wales. It is bordered to the south by the counties of Ceredigion and Powys in Mid Wales and to the east by the counties of Shropshire in the West Midlands and Cheshire in North West England...
. Llyn Tegid is a natural lake whose level was raised by a low dam and into which the
River Dee
River Dee, Wales
The River Dee is a long river in the United Kingdom. It travels through Wales and England and also forms part of the border between the two countries....
flows or discharges depending upon flow conditions at the time as part of the
River Dee regulation system
River Dee regulation system
The River Dee regulation scheme is a system of flow balancing and quality management along the River Dee managed by a consortium of the three largest water companies licensed to take water from the river, United Utilities, Welsh Water and Dee Valley Water; together with the regulator, the...
. This mode of operation is a form of hydraulic
capacitance
Capacitance
In electromagnetism and electronics, capacitance is the ability of a capacitor to store energy in an electric field. Capacitance is also a measure of the amount of electric potential energy stored for a given electric potential. A common form of energy storage device is a parallel-plate capacitor...
in the river system.
Recreation
The water bodies provided by many reservoirs often allow some
recreation
Recreation
Recreation is an activity of leisure, leisure being discretionary time. The "need to do something for recreation" is an essential element of human biology and psychology. Recreational activities are often done for enjoyment, amusement, or pleasure and are considered to be "fun"...
al uses such as
fishing
Fishing
Fishing is the activity of trying to catch wild fish. Fish are normally caught in the wild. Techniques for catching fish include hand gathering, spearing, netting, angling and trapping....
,
boating
Boating
Boating is the leisurely activity of travelling by boat, or the recreational use of a boat whether powerboats, sailboats, or man-powered vessels , focused on the travel itself, as well as sports activities, such as fishing or water skiing...
, and other activities. Special rules may apply for the safety of the public and to protect the quality of the water and the ecology of the surrounding area. Many reservoirs now support and encourage less informal and less structured recreation such as
natural history
Natural history
Natural history is the scientific research of plants or animals, leaning more towards observational rather than experimental methods of study, and encompasses more research published in magazines than in academic journals. Grouped among the natural sciences, natural history is the systematic study...
, bird watching, landscape painting, walking and
hiking
Hiking
Hiking is an outdoor activity which consists of walking in natural environments, often in mountainous or other scenic terrain. People often hike on hiking trails. It is such a popular activity that there are numerous hiking organizations worldwide. The health benefits of different types of hiking...
and often provide information boards and interpretation material to encourage responsible use.
Operation
Water falling as
rain
Rain
Rain is liquid precipitation, as opposed to non-liquid kinds of precipitation such as snow, hail and sleet. Rain requires the presence of a thick layer of the atmosphere to have temperatures above the melting point of water near and above the Earth's surface...
upstream of the reservoir together with any
groundwater
Groundwater
Groundwater is water located beneath the ground surface in soil pore spaces and in the fractures of rock formations. A unit of rock or an unconsolidated deposit is called an aquifer when it can yield a usable quantity of water. The depth at which soil pore spaces or fractures and voids in rock...
emerging as springs is stored in the reservoir. Any excess water can be spilled via a specifically designed spillway. Stored water may be piped by gravity for use as
drinking water
Drinking water
Drinking water or potable water is water pure enough to be consumed or used with low risk of immediate or long term harm. In most developed countries, the water supplied to households, commerce and industry is all of drinking water standard, even though only a very small proportion is actually...
, to generate hydro-electricity or to maintain river flows to support downstream uses. Occasionally reservoirs can be managed to retain high rain-fall events to prevent or reduce downstream flooding. Some reservoirs support several uses and the operating rules may be complex.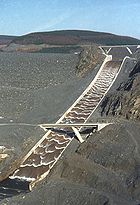 Most modern reservoirs have a specially designed draw-off tower that can discharge water from the reservoir at different levels both to access water as the reservoir draws down but also to allow water of a specific quality to be discharged into the downstream river as compensation water.
The operators of many upland or in-river reservoirs have obligations to release water into the downstream river to maintain river quality, support fisheries, maintain downstream industrial uses. maintain recreational use or for a range of other requirements. Such releases are known as
compensation water
.
Terminology
The terminology for reservoirs varies from country to country. In most of the world reservoir areas are expressed in km
2
whilst in the USA acres are commonly used. For volume either m
3
or km
3
are widely used with acre feet used in the USA.
The capacity, volume or storage of a reservoir is usually divided into distinguishable areas.
Dead
or
inactive
storage refers to water in a reservoir that cannot be drained by gravity through a dam's
outlet works
Outlet works
A set of outlet works is a device used to release and regulate water flow from a dam. Such devices usually consist of one or more pipes or tunnels through the embankment of the dam, directing water usually under high pressure to the river downstream...
, spillway or power plant intake and can only be pumped out. Dead storage allows sediments to settle which improves water quality and also creates hydraulic head along with an area for fish during low levels.
Active
or
live
storage is the portion of the reservoir that can be utilized for flood control, power production,
navigation
Navigability
A body of water, such as a river, canal or lake, is navigable if it is deep, wide and slow enough for a vessel to pass. Preferably there are few obstructions such as rocks or trees to avoid. Bridges must have sufficient clearance. High water speed may make a channel unnavigable. Waters may be...
and downstream releases. In addition, a reservoir's
flood control capacity
is the amount of water it can regulate during flooding. The
surcharge capacity
is the capacity of the reservoir above the spillway crest that cannot be regulated.
In the
United States
United States
The United States of America is a federal constitutional republic comprising fifty states and a federal district...
the water below the normal maximum level of a reservoir is called the
conservation pool
.
In the UK
top water level
describes the reservoir full state whist
fully drawn down
describes the minimum retained volume.
Modelling reservoir management
There is a wide variety of software for modelling reservoirs, from the specialist Dam Safety Program Management Tools (DSPMT) to the relatively simple
WAFLEX
WAFLEX
WAFLEX is a spreadsheet-based model. It can be used to analyse upstream-downstream interactions, dam management options and water allocation and development options.-Structure of the Model:...
, to integrated models like the
Water Evaluation And Planning system (WEAP)
WEAP
WEAP: the Water Evaluation And Planning system is a Windows-based decision support system for integrated water resources management and policy analysis...
that place reservoir operations in the context of system-wide demands and supplies.
Safety
In many countries large reservoirs are closely regulated to try to prevent or minimise failures of containment.
Whilst much of the effort is directed at the dam and its associated structures as the weakest part of the overall structure, the aim of such controls is to prevent an uncontrolled release of water from the reservoir. Reservoir failures can generate huge increases in flow down a river valley with the potential to wash away towns and villages and cause considerable loss of life such as the devastation following the failure of containment at
Llyn Eigiau
Llyn Eigiau
Llyn Eigiau is a lake on the edge of the Carneddau range of mountains in Snowdonia, North Wales.The name Eigiau is thought to refer to the shoals of fish which once lived here. Early maps refer to it as Llynyga...
which killed 17 people.(see also
List of dam failures
)
A notable case of reservoirs being used as an instrument of
War
War
War is a state of organized, armed, and often prolonged conflict carried on between states, nations, or other parties typified by extreme aggression, social disruption, and usually high mortality. War should be understood as an actual, intentional and widespread armed conflict between political...
involved the British Royal Air Force
Dambusters
No. 617 Squadron RAF
No. 617 Squadron is a Royal Air Force aircraft squadron based at RAF Lossiemouth in Scotland. It currently operates the Tornado GR4 in the ground attack and reconnaissance role...
raid on
Germany
Germany
Germany , officially the Federal Republic of Germany , is a federal parliamentary republic in Europe. The country consists of 16 states while the capital and largest city is Berlin. Germany covers an area of 357,021 km2 and has a largely temperate seasonal climate...
in
World War II
World War II
World War II, or the Second World War , was a global conflict lasting from 1939 to 1945, involving most of the world's nations—including all of the great powers—eventually forming two opposing military alliances: the Allies and the Axis...
(codenamed "
Operation Chastise
Operation Chastise
Operation Chastise was an attack on German dams carried out on 16–17 May 1943 by Royal Air Force No. 617 Squadron, subsequently known as the "Dambusters", using a specially developed "bouncing bomb" invented and developed by Barnes Wallis...
" ), in which three German reservoir dams were selected to be breached in order to impact on German infrastructure and manufacturing and power capabilities deriving from the
Ruhr
Ruhr
The Ruhr is a medium-size river in western Germany , a right tributary of the Rhine.-Description:The source of the Ruhr is near the town of Winterberg in the mountainous Sauerland region, at an elevation of approximately 2,200 feet...
and
Eder
Eder
The Eder is a 177 km long river in Germany, and a tributary of the Fulda River. It was first mentioned by the Roman historian Tacitus as the Adrana in the territory of the Chatti....
rivers. The economic and social impact was derived from the enormous volumes of previously stored water that swept down the valleys wreaking destruction. This raid later became the basis for several films.
Whole life environmental impact
All reservoirs will have a monetary cost/benefit assessment made before construction to see if the project is worth proceeding with. However, such analysis can often omit the environmental impacts of dams and the reservoirs that they contain. Some impacts such as the greenhouse gas production associated with concrete manufacture are relatively easy to estimate. Other impact on the natural environment and social and cultural effects can be more difficult to assess and to weigh in the balance but identification and quantification of these issues are now commonly required in major construction projects in the developed world
Climate change
Depending upon the circumstances, a reservoir built for hydro-electricity generation can either reduce or increase the net production of
greenhouse gas
Greenhouse gas
A greenhouse gas is a gas in an atmosphere that absorbs and emits radiation within the thermal infrared range. This process is the fundamental cause of the greenhouse effect. The primary greenhouse gases in the Earth's atmosphere are water vapor, carbon dioxide, methane, nitrous oxide, and ozone...
es. An
increase
can occur if plant material in the flooded areas decays in an
anaerobic
Hypoxia (environmental)
Hypoxia, or oxygen depletion, is a phenomenon that occurs in aquatic environments as dissolved oxygen becomes reduced in concentration to a point where it becomes detrimental to aquatic organisms living in the system...
environment releasing (
methane
Methane
Methane is a chemical compound with the chemical formula . It is the simplest alkane, the principal component of natural gas, and probably the most abundant organic compound on earth. The relative abundance of methane makes it an attractive fuel...
and
carbon dioxide
Carbon dioxide
Carbon dioxide is a naturally occurring chemical compound composed of two oxygen atoms covalently bonded to a single carbon atom...
). This apparently counterintuitive position arises because much carbon is released as methane which is approximately 8 time more potent as a greenhouse gas than carbon dioxide
A study for the National Institute for Research in the Amazon found that Hydroelectric reservoirs release a large pulse of carbon dioxide from above-water decay of trees left standing in the reservoirs, especially during the first decade after closing. This elevates the global warming impact of the dams to levels much higher than would occur by generating the same power from fossil fuels. According to the
World Commission on Dams
World Commission on Dams
The World Commission on Dams was formed in April 1997, to research the environmental, social and economic impacts of the development of large dams globally...
report (Dams And Development), when the reservoir is relatively large and no prior clearing of forest in the flooded area was undertaken, greenhouse gas emissions from the reservoir could be higher than those of a conventional oil-fired thermal generation plant. For instance, In 1990, the impoundment behind the
Balbina Dam
Balbina Dam
The Balbina Dam is a hydroelectric dam and power station on the Uatumã River in the Amazon Rainforest, Brazil. The location is under the municipality of Presidente Figueiredo jurisdiction, in the state of Amazonas....
in Brazil (inaugurated in 1987) had over 20 times the impact on global warming than would generating the same power from fossil fuels, due to the large area flooded per unit of electricity generated.
A
decrease
can occur if the dam is used in place of traditional power generation, since electricity produced from hydroelectric generation does not give rise to any
flue gas emissions from fossil fuel combustion
Flue gas emissions from fossil fuel combustion
Flue-gas emissions from fossil-fuel combustion refers to the combustion product gas resulting from the much as 10 to 25 volume percent or more of the flue gas. This is closely followed in volume by water vapor created by the combustion of the hydrogen in the fuel with atmospheric oxygen...
(including
sulfur dioxide
Sulfur dioxide
Sulfur dioxide is the chemical compound with the formula . It is released by volcanoes and in various industrial processes. Since coal and petroleum often contain sulfur compounds, their combustion generates sulfur dioxide unless the sulfur compounds are removed before burning the fuel...
,
nitric oxide
Nitric oxide
Nitric oxide, also known as nitrogen monoxide, is a diatomic molecule with chemical formula NO. It is a free radical and is an important intermediate in the chemical industry...
and
carbon monoxide
Carbon monoxide
Carbon monoxide , also called carbonous oxide, is a colorless, odorless, and tasteless gas that is slightly lighter than air. It is highly toxic to humans and animals in higher quantities, although it is also produced in normal animal metabolism in low quantities, and is thought to have some normal...
from
coal
Coal
Coal is a combustible black or brownish-black sedimentary rock usually occurring in rock strata in layers or veins called coal beds or coal seams. The harder forms, such as anthracite coal, can be regarded as metamorphic rock because of later exposure to elevated temperature and pressure...
). The
Tucurui dam
Tucurui dam
The Tucuruí Dam is a concrete gravity dam on the Tocantins River located on the Tucuruí County in the State of Pará, Brazil. The main purpose of the dam is hydroelectric power production and navigation. It is the first large-scale hydroelectric project in the Brazilian Amazon rainforest. The...
in Brazil (closed in 1984) had only 0.4 times the impact on global warming than would generating the same power from fossil fuels.
Biology
Dams can produce a block for migrating fish, trapping them in one area, producing food and a habitat for various water-birds. They can also flood various ecosystems on land and may cause extinctions.
Human Impact
Dams can severely reduce the amount of water reaching countries downstream of them, causing water stress between the countries, e.g. the
Sudan
Sudan
Sudan , officially the Republic of the Sudan , is a country in North Africa, sometimes considered part of the Middle East politically. It is bordered by Egypt to the north, the Red Sea to the northeast, Eritrea and Ethiopia to the east, South Sudan to the south, the Central African Republic to the...
and
Egypt
Egypt
Egypt , officially the Arab Republic of Egypt, Arabic: , is a country mainly in North Africa, with the Sinai Peninsula forming a land bridge in Southwest Asia. Egypt is thus a transcontinental country, and a major power in Africa, the Mediterranean Basin, the Middle East and the Muslim world...
, which damages farming businesses in the downstream countries, and reduces drinking water.
Farms and villages, e.g.
Ashopton
Ashopton
Ashopton was a village in Derbyshire, England, that was lost along with neighbouring Derwent when the Ladybower Reservoir was constructed in the late 1930s and early 1940s....
can be flooded by the creation of reservoirs, ruining many livelihoods. For this very reason, worldwide 80 million people (figure is as of 2009) have had to be forcibly relocated due to dam construction.
Limnology
The
limnology
Limnology
Limnology , also called freshwater science, is the study of inland waters. It is often regarded as a division of ecology or environmental science. It covers the biological, chemical, physical, geological, and other attributes of all inland waters...
of reservoirs has many similarities to that of lakes of equivalent size. There are however significant differences. Many reservoirs experience considerable variations in level producing significant areas that are intermittently underwater or dried out. This greatly limits the productivity or the water margins and limits the number of species able to survive in these conditions.
Upland reservoirs tend to have a much shorter residence time than natural lakes and this can lead to more rapid cycling of
nutrient
Nutrient
A nutrient is a chemical that an organism needs to live and grow or a substance used in an organism's metabolism which must be taken in from its environment. They are used to build and repair tissues, regulate body processes and are converted to and used as energy...
s through the water body so that they are more quickly lost to the system. This may be seen as a mismatch between water chemistry and water biology with a tendency for the biological component to be more
oligotroph
Oligotroph
An oligotroph is an organism that can live in an environment that offers very low levels of nutrients. They may be contrasted with copiotrophs, which prefer nutritionally rich environments...
ic than the chemistry would suggest.
Conversely, lowland reservoirs drawing water from nutrient rich rivers, may show exaggerated eutrophic characteristics because the residence time in the reservoir is much greater than in the river and the biological systems have a much greater opportunity to utilise the available nutrients.
Deep reservoirs with multiple level draw off towers can discharge deep cold water into the downstream river greatly reducing the size of any
hypolimnion
Hypolimnion
The hypolimnion is the dense, bottom layer of water in a thermally-stratified lake. It is the layer that lies below the thermocline.Typically the hypolimnion is the coldest layer of a lake in summer, and the warmest layer during winter...
. This in turn can reduce the concentrations of phosphorus released during any annual mixing event and may therefore reduce
productivity
Productivity
Productivity is a measure of the efficiency of production. Productivity is a ratio of what is produced to what is required to produce it. Usually this ratio is in the form of an average, expressing the total output divided by the total input...
.
The Dams in front of reservoirs act as
knickpoint
Knickpoint
A knickpoint is a term in geomorphology to describe a location in a river or channel where there is a sharp change in channel slope, such as a waterfall or lake, resulting from differential rates of erosion above and below the knickpoint. Differential rates of erosion can result from a change in...
s-the energy of the water falling from them reduces and deposition is a result below the Dams.
Seismicity
The filling (impounding) of reservoirs has often been attributed to reservoir-triggered seismicity (RTS) as seismic events have occurred near large dams or within their reservoirs in the past. These events may have been triggered by the filling or operation of the reservoir and are on a small scale when compared to the amount of reservoirs worldwide. Of over 100 recorded events, early examples include the 60 m (197 ft) tall
Marathon Dam
Marathon Dam
The Marathon Dam is a gravity dam on the Charadros River, near its junction with the Varnavas Stream, west of Marathon and northeast of Athens in Greece. The dam created Lake Marathon for the primary purpose of municipal water supply. Constructed between 1926 and 1929, it was the sole supplier of...
in
Greece
Greece
Greece , officially the Hellenic Republic , and historically Hellas or the Republic of Greece in English, is a country in southeastern Europe....
(1929), the 221 m (725 ft) tall
Hoover Dam
Hoover Dam
Hoover Dam, once known as Boulder Dam, is a concrete arch-gravity dam in the Black Canyon of the Colorado River, on the border between the US states of Arizona and Nevada. It was constructed between 1931 and 1936 during the Great Depression and was dedicated on September 30, 1935, by President...
in the U.S. (1935). Most events involve large dams and small amounts of seismicity. The only four recorded events above a 6.0-
magnitude (Mw)
Moment magnitude scale
The moment magnitude scale is used by seismologists to measure the size of earthquakes in terms of the energy released. The magnitude is based on the seismic moment of the earthquake, which is equal to the rigidity of the Earth multiplied by the average amount of slip on the fault and the size of...
are the 103 m (338 ft) tall
Koyna Dam
Koyna Dam
The Koyna Dam is one of the largest dams in Maharashtra, India. It is a rubble-concrete dam constructed on Koyna River which rises in Mahabaleshwar, a hillstation in Sahyadri ranges...
in India which registered a M
w
of 6.3 along with the 120 m (394 ft) Kremasta Dam in Greece which registered a 6.3-M
w
as well. Following those two, the next largest were the 122 m (400 ft) high
Kariba Dam
Kariba Dam
The Kariba Dam is a hydroelectric dam in the Kariba Gorge of the Zambezi river basin between Zambia and Zimbabwe. It is one of the largest dams in the world, standing tall and long.- Construction :...
in
Zambia
Zambia
Zambia , officially the Republic of Zambia, is a landlocked country in Southern Africa. The neighbouring countries are the Democratic Republic of the Congo to the north, Tanzania to the north-east, Malawi to the east, Mozambique, Zimbabwe, Botswana and Namibia to the south, and Angola to the west....
at 6.25-M
w
and the 105 m (344 ft)
Xinfengjiang Dam
Xinfengjiang Dam
The Xinfengjiang Dam is a gravity dam on the Xinfeng River, upstream of its confluence with the Dong River, and just west of Heyuan City in Guangdong Province, China. The dam's power station has a 292.5 MW installed capacity and its reservoir supplies water for farming along with drinking water...
in China at 6.1-M
w
. Disputes occur over when RTS has occurred due to a lack of hydrogeological knowledge at the time of the event. It is accepted though that the infiltration of water into pores and the weight of the reservoir do contribute to RTS patterns. For RTS to occur, there must be a seismic structure near the dam or its reservoir and the seismic structure must be close to failure. Additionally, water must be able to infiltrate the deep rock
stratum
Stratum
In geology and related fields, a stratum is a layer of sedimentary rock or soil with internally consistent characteristics that distinguish it from other layers...
as the weight of a 100 m (328 ft) deep reservoir will have little impact when compared the deadweight of rock on a crustal stress field which may be located at a depth of 10 km (6 mi) or more.
Micro climate
Reservoirs may change the local micro-climate increasing humidity and reducing extremes of temperature. Such effects are claimed by some
South Australia
South Australia
South Australia is a state of Australia in the southern central part of the country. It covers some of the most arid parts of the continent; with a total land area of , it is the fourth largest of Australia's six states and two territories.South Australia shares borders with all of the mainland...
n
winery
Winery
A winery is a building or property that produces wine, or a business involved in the production of wine, such as a wine company. Some wine companies own many wineries. Besides wine making equipment, larger wineries may also feature warehouses, bottling lines, laboratories, and large expanses of...
s as increasing the quality of the wine production.
List of reservoirs by area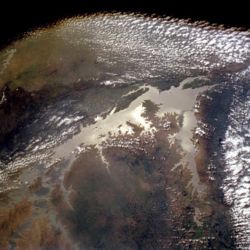 The following are the world's ten largest reservoirs by surface area:
List of reservoirs by volume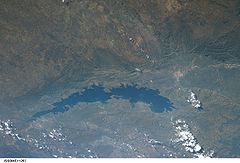 See also
Ab Anbar

Ab Anbar

An āb anbār is a traditional reservoir or cistern of drinking water in Persian antiquity. The Persian phrase literally translates as "water reservoir".-The structure:...



Colourful lakelets

Colourful lakelets

Colourful lakelets is the name of three artificial ponds formed in place of former mines at the slope of Wielka Kopa mountain in Rudawy Janowickie, range in Sudetes Mountains, Poland. The biggest one and the eldest was named Hoffnung and now became the Purple lakelet...


(in Poland)
Drainage basin

Drainage basin

A drainage basin is an extent or an area of land where surface water from rain and melting snow or ice converges to a single point, usually the exit of the basin, where the waters join another waterbody, such as a river, lake, reservoir, estuary, wetland, sea, or ocean...



Drought

Drought

A drought is an extended period of months or years when a region notes a deficiency in its water supply. Generally, this occurs when a region receives consistently below average precipitation. It can have a substantial impact on the ecosystem and agriculture of the affected region...



Hydroelectricity

Hydroelectricity

Hydroelectricity is the term referring to electricity generated by hydropower; the production of electrical power through the use of the gravitational force of falling or flowing water. It is the most widely used form of renewable energy...



Dam failure
Mill pond

Mill pond

A mill pond is any body of water used as a reservoir for a water-powered mill. Mill ponds were often created through the construction of a mill dam across a waterway. In many places, the common proper name Mill Pond name has remained even though the mill has long since gone...



Multipurpose reservoir

Multipurpose reservoir

- General :Multipurpose reservoirs may be managed to balance some or all of the following activities:*Water supply*Flood control*Soil erosion*Environmental management*Hydroelectric power generation*Navigation*Recreation*Irrigation...



Spillway

Spillway

A spillway is a structure used to provide the controlled release of flows from a dam or levee into a downstream area, typically being the river that was dammed. In the UK they may be known as overflow channels. Spillways release floods so that the water does not overtop and damage or even destroy...



Coastal sediment supply

Coastal sediment supply

Coastal sediment supply is the transport of sediment to the beach environment by both fluvial and aeolian transport. While aeolian transport plays a role in the overall sedimentary budget for the coastal environment, it is paled in comparison to the fluvial supply which makes up 95% of sediment...