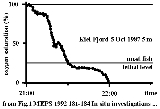 Hypoxia (environmental)
Hypoxia
, or
oxygen depletion
, is a phenomenon that occurs in aquatic environments as
dissolved oxygen
Oxygen
Oxygen is the element with atomic number 8 and represented by the symbol O. Its name derives from the Greek roots ὀξύς and -γενής , because at the time of naming, it was mistakenly thought that all acids required oxygen in their composition...
(
DO
; molecular oxygen dissolved in the water) becomes reduced in concentration to a point where it becomes detrimental to aquatic organisms living in the system. Dissolved oxygen is typically expressed as a percentage of the oxygen that would dissolve in the water at the prevailing temperature and salinity (both of which affect the solubility of oxygen in water; see
oxygen saturation
Oxygen saturation
Oxygen saturation or dissolved oxygen is a relative measure of the amount of oxygen that is dissolved or carried in a given medium. It can be measured with a dissolved oxygen probe such as an oxygen sensor or an optode in liquid media, usually water.It has particular significance in medicine and...
and
underwater
Underwater
Underwater is a term describing the realm below the surface of water where the water exists in a natural feature such as an ocean, sea, lake, pond, or river. Three quarters of the planet Earth is covered by water...
).