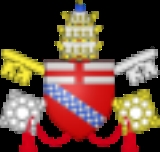 Pope Innocent VIII
Pope Innocent VIII
born
Giovanni Battista Cybo
(or
Cibo
), was
Pope
Pope
The Pope is the Bishop of Rome, a position that makes him the leader of the worldwide Catholic Church . In the Catholic Church, the Pope is regarded as the successor of Saint Peter, the Apostle...
from 1484 until his death.
Early years
Giovanni Battista Cybo (or Cibo) was born at
Genoa
Genoa
Genoa |Ligurian]] Zena ; Latin and, archaically, English Genua) is a city and an important seaport in northern Italy, the capital of the Province of Genoa and of the region of Liguria....
of Greek extraction
the son of Arano Cybo or Cibo (c. 1375-c. 1455) who under
Pope Callixtus III
Pope Callixtus III
Pope Callixtus III , né Alfons de Borja, was Pope from April 8, 1455 to his death in 1458.-Biography:...
(1455–58) had been a senator at Rome, and wife Teodorina de Mari (c. 1380-), and paternal grandson of Maurizio Cybo or Cibo and wife Saeacina Marocelli. His early years were spent at the
Neapolitan
Naples
Naples is a city in Southern Italy, situated on the country's west coast by the Gulf of Naples. Lying between two notable volcanic regions, Mount Vesuvius and the Phlegraean Fields, it is the capital of the region of Campania and of the province of Naples...
court, and subsequently he went to
Padua
Padua
Padua is a city and comune in the Veneto, northern Italy. It is the capital of the province of Padua and the economic and communications hub of the area. Padua's population is 212,500 . The city is sometimes included, with Venice and Treviso, in the Padua-Treviso-Venice Metropolitan Area, having...
and
Rome
Rome
Rome is the capital of Italy and the country's largest and most populated city and comune, with over 2.7 million residents in . The city is located in the central-western portion of the Italian Peninsula, on the Tiber River within the Lazio region of Italy.Rome's history spans two and a half...
for his education.
Career
In Rome he became a priest in the retinue of cardinal Calandnini, half-brother to
Pope Nicholas V
Pope Nicholas V
Pope Nicholas V , born Tommaso Parentucelli, was Pope from March 6, 1447 to his death in 1455.-Biography:He was born at Sarzana, Liguria, where his father was a physician...
(1447–55); the influence of his friends procured for him, from
Pope Paul II
Pope Paul II
Pope Paul II , born Pietro Barbo, was pope from 1464 until his death in 1471.- Early life :He was born in Venice, and was a nephew of Pope Eugene IV , through his mother. His adoption of the spiritual career, after having been trained as a merchant, was prompted by his uncle's election as pope...
(1464–71) the bishopric of Savona, and in 1473, with the support of
Giuliano Della Rovere
Pope Julius II
Pope Julius II , nicknamed "The Fearsome Pope" and "The Warrior Pope" , born Giuliano della Rovere, was Pope from 1503 to 1513...
, later
Pope Julius II
Pope Julius II
Pope Julius II , nicknamed "The Fearsome Pope" and "The Warrior Pope" , born Giuliano della Rovere, was Pope from 1503 to 1513...
, he was made
cardinal
Cardinal (Catholicism)
A cardinal is a senior ecclesiastical official, usually an ordained bishop, and ecclesiastical prince of the Catholic Church. They are collectively known as the College of Cardinals, which as a body elects a new pope. The duties of the cardinals include attending the meetings of the College and...
by
Pope Sixtus IV
Pope Sixtus IV
Pope Sixtus IV , born Francesco della Rovere, was Pope from 1471 to 1484. His accomplishments as Pope included the establishment of the Sistine Chapel; the group of artists that he brought together introduced the Early Renaissance into Rome with the first masterpiece of the city's new artistic age,...
(1471–84), whom he succeeded on August 29, 1484 as Pope Innocent VIII.
The
conclave
Papal conclave
A papal conclave is a meeting of the College of Cardinals convened to elect a Bishop of Rome, who then becomes the Pope during a period of vacancy in the papal office. The Pope is considered by Roman Catholics to be the apostolic successor of Saint Peter and earthly head of the Roman Catholic Church...
was riven with faction, while gangs rioted in the streets. Cardinal Giuliano did not have sufficient votes at the conclave to be elected, so he turned his energies towards the election of Cybo, whom he was confident that he could control.
Shortly after his coronation Innocent VIII addressed a fruitless summons to
Christendom
Christendom
Christendom, or the Christian world, has several meanings. In a cultural sense it refers to the worldwide community of Christians, adherents of Christianity...
to unite in a crusade against the
infidel
Infidel
An infidel is one who has no religious beliefs, or who doubts or rejects the central tenets of a particular religion – especially in reference to Christianity or Islam....
s; the amount of his own zeal may in some degree be estimated from the fact that in 1489, in consideration of a yearly stipend of 40,000
ducat
Ducat
The ducat is a gold coin that was used as a trade coin throughout Europe before World War I. Its weight is 3.4909 grams of .986 gold, which is 0.1107 troy ounce, actual gold weight...
s and a gift of the
Holy Lance
Holy Lance
The Holy Lance is the name given to the lance that pierced Jesus' side as he hung on the cross in John's account of the Crucifixion.-Biblical references:The lance is mentioned only in the Gospel of John and not in any of the...
, he consented to favor Bayazid II (1481–1512) by detaining the
Sultan
Sultan
Sultan is a title with several historical meanings. Originally, it was an Arabic language abstract noun meaning "strength", "authority", "rulership", and "dictatorship", derived from the masdar سلطة , meaning "authority" or "power". Later, it came to be used as the title of certain rulers who...
's fugitive brother
Cem
Cem
Prince Cem , December 22, 1459 – February 25, 1495) was a pretender to the Ottoman throne in the 15th century. He was a son of Mehmed II the Conqueror and younger brother of Sultan Bayezid II. He was banished to Europe, first under the protection of the Knights Hospitaller of St...
in close confinement in the
Vatican
Vatican City
Vatican City , or Vatican City State, in Italian officially Stato della Città del Vaticano , which translates literally as State of the City of the Vatican, is a landlocked sovereign city-state whose territory consists of a walled enclave within the city of Rome, Italy. It has an area of...
.
Against witchcraft
During what is known as the
Little Ice Age
Little Ice Age
The Little Ice Age was a period of cooling that occurred after the Medieval Warm Period . While not a true ice age, the term was introduced into the scientific literature by François E. Matthes in 1939...
, Innocent VIII, in his
papal bull
Papal bull
A Papal bull is a particular type of letters patent or charter issued by a Pope of the Catholic Church. It is named after the bulla that was appended to the end in order to authenticate it....
Summis desiderantes
Summis desiderantes
Summis desiderantes affectibus was a papal bull issued by Pope Innocent VIII on December 5, 1484.The bull was written in response to the request of Dominican Inquisitor Heinrich Kramer for explicit authority to prosecute witchcraft in Germany, after he was refused assistance by the local...
(5 December 1484) instigated severe measures against
magician
Ceremonial magic
Ceremonial magic, also referred to as high magic and as learned magic, is a broad term used in the context of Hermeticism or Western esotericism to encompass a wide variety of long, elaborate, and complex rituals of magic. It is named as such because the works included are characterized by...
s and witches in
Germany
Germany
Germany , officially the Federal Republic of Germany , is a federal parliamentary republic in Europe. The country consists of 16 states while the capital and largest city is Berlin. Germany covers an area of 357,021 km2 and has a largely temperate seasonal climate...
. The grip of freezing weather, failing of crops, rising crime, and mass starvation was blamed on witches. He issued the bull to
inquisitor
Inquisitor
An inquisitor was an official in an Inquisition, an organisation or program intended to eliminate heresy and other things frowned on by the Roman Catholic Church...
s
Heinrich Kramer
Heinrich Kramer
Heinrich Kramer also known under the Latinized name Henricus Institoris, was a German churchman and inquisitor....
and
Jacobus Sprenger
James Sprenger
James Sprenger was a German priest. He was born in Rheinfelden, Further Austria.-With the Dominicans:...
, to systemize the persecution of witches.
"It has recently come to our ears, not without great pain to us, that in some parts of upper Germany, [...] Mainz, Koin, Trier, Salzburg, and Bremen, many persons of both sexes, heedless of their own salvation and forsaking the catholic faith, give themselves over to devils male and female, and by their incantations, charms, and conjurings, and by other abominable superstitions and sortileges, offences, crimes, and misdeeds, ruin and cause to perish the offspring of women, the foal of animals, the products of the earth, the grapes of vines, and the fruits of trees, as well as men and women, cattle and flocks and herds and animals of every kind, vineyards also and orchards, meadows, pastures, harvests, grains and other fruits of the earth; that they afflict and torture with dire pains and anguish, both internal and external, these men, women, cattle, flocks, herds, and animals, and hinder men from begetting [...]"
Kramer and Sprenger would later write
Malleus Maleficarum
Malleus Maleficarum
The Malleus Maleficarum is an infamous treatise on witches, written in 1486 by Heinrich Kramer, an Inquisitor of the Catholic Church, and was first published in Germany in 1487...
in 1486 which stated that witchcraft was to blame for bad weather. In Part 2, Chapter XV titled: How they Raise and Stir up Hailstorms and Tempests, and Cause Lightning to Blast both Men and Beasts. Here it states:
"Therefore it is reasonable to conclude that, just as easily as they raise hailstorms, so can they cause lightning and storms at sea; and so no doubt at all remains on these points."
Also see: Witch trials in Early Modern Europe

Witch trials in Early Modern Europe

The Witch trials in the Early Modern period were a period of witch hunts between the fifteenth and eighteenth centuries, when across Early Modern Europe, and to some extent in the European colonies in North America, there was a widespread hysteria that malevolent Satanic witches were operating as...



Other events
In 1487, he confirmed
Tomas de Torquemada
Tomás de Torquemada
Tomás de Torquemada, O.P. was a fifteenth century Spanish Dominican friar, first Inquisitor General of Spain, and confessor to Isabella I of Castile. He was described by the Spanish chronicler Sebastián de Olmedo as "The hammer of heretics, the light of Spain, the saviour of his country, the...
as grand inquisitor of
Spain
Spain
Spain , officially the Kingdom of Spain languages]] under the European Charter for Regional or Minority Languages. In each of these, Spain's official name is as follows:;;;;;;), is a country and member state of the European Union located in southwestern Europe on the Iberian Peninsula...
. He also urged a crusade against the
Waldensians
Waldensians
Waldensians, Waldenses or Vaudois are names for a Christian movement of the later Middle Ages, descendants of which still exist in various regions, primarily in North-Western Italy. There is considerable uncertainty about the earlier history of the Waldenses because of a lack of extant source...
, offering plenary
indulgence
Indulgence
In Catholic theology, an indulgence is the full or partial remission of temporal punishment due for sins which have already been forgiven. The indulgence is granted by the Catholic Church after the sinner has confessed and received absolution...
to all who should engage in it. In 1486, he became convinced that 13 of the 900 theses of Pico Mirandola were heretical and the book was interdicted.
In Rome he built for summer use the
Belvedere of the Vatican
Belvedere (structure)
Belvedere is an architectural term adopted from Italian , which refers to any architectural structure sited to take advantage of such a view. A belvedere may be built in the upper part of a building so as to command a fine view...
, on an unarticulated slope above the Vatican Palace, which his successor would turn into the
Cortile del Belvedere
Cortile del Belvedere
The Cortile del Belvedere, the Belvedere courtyard, designed by Donato Bramante from 1506 onwards, was a major architectural work of the High Renaissance at the Vatican Palace in Rome; its concept and details reverberating in courtyard design, formalized piazzas and garden plans throughout Western...
. In season he hunted at Castello della Magliana, which he enlarged. Invariably short of money, he institutionalized
simony
Simony
Simony is the act of paying for sacraments and consequently for holy offices or for positions in the hierarchy of a church, named after Simon Magus , who appears in the Acts of the Apostles 8:9-24...
at the papal court, creating new titles of offices that were discreetly auctioned.
In 1489,
Ferdinand I of Naples
Ferdinand I of Naples
Ferdinand I , also called Don Ferrante, was the King of Naples from 1458 to 1494. He was the natural son of Alfonso V of Aragon by Giraldona Carlino.-Biography:...
having repeatedly refused to pay the tariff for his investiture, and a shaky peace of 1486 having failed, Innocent VIII found reason to excommunicate Ferdinand and invite
Charles VIII of France
Charles VIII of France
Charles VIII, called the Affable, , was King of France from 1483 to his death in 1498. Charles was a member of the House of Valois...
to come to Italy with an army and take possession of the
Kingdom of Naples
Kingdom of Naples
The Kingdom of Naples, comprising the southern part of the Italian peninsula, was the remainder of the old Kingdom of Sicily after secession of the island of Sicily as a result of the Sicilian Vespers rebellion of 1282. Known to contemporaries as the Kingdom of Sicily, it is dubbed Kingdom of...
. The conflict was not ended until 1494, after Innocent VIII's death.
An important event that coincided with his pontificate was the fall of
Granada
Granada
Granada is a city and the capital of the province of Granada, in the autonomous community of Andalusia, Spain. Granada is located at the foot of the Sierra Nevada mountains, at the confluence of three rivers, the Beiro, the Darro and the Genil. It sits at an elevation of 738 metres above sea...
in January 1492, which was celebrated in the Vatican with great rejoicings. Innocent granted
Ferdinand II of Aragon
Ferdinand II of Aragon
Ferdinand the Catholic was King of Aragon , Sicily , Naples , Valencia, Sardinia, and Navarre, Count of Barcelona, jure uxoris King of Castile and then regent of that country also from 1508 to his death, in the name of...
the epithet "Catholic Majesty."
Slavery
Minnich (2005) notes that the position of Renaissance popes towards slavery, a common institution in contemporary cultures, varied. Minnich states that those who allowed the slave trade did so in the hope of gaining converts to Christianity. In the case of Innocent he permitted trade with Barbary merchants in which foodstuffs would be given in exchange for slaves who could then be converted to Christianity.
King Ferdinand of Aragon gave Innocent one-hundred Moorish slaves who shared them out with favoured Cardinals. The slaves of Innocent were called "moro", meaning "dark skinned man", in contrast to negro slaves who were called "moro nero".
Family
Innocent VIII died on July 25, 1492, leaving behind him two illegitimate children, born before he entered clergy. Another source says "sixteen", the remaining fourteen of which were presented as nephews. The title
Padre della patria
(= Father of the Fatherland) was suggested for him, precisely with reference to these sixteen children of his. In 1487 he married his elder son
Franceschetto Cybo
Franceschetto Cybo
Franceschetto Cybo was an Italian nobleman, the illegitimate son of Pope Innocent VIII ....
(d. 1519) to
Maddalena de' Medici
Maddalena di Lorenzo de' Medici
Maria Maddalena Romola de' Medici was the daughter of Lorenzo de' Medici and Clarice Orsini.Born in Florence, she was educated with her siblings to the humanistic cultures by figures such as Agnolo Poliziano. On February 25, 1487 she married Franceschetto Cybo, son of Pope Innocent VIII...
(1473–1528), the natural daughter of
Lorenzo de' Medici
Lorenzo de' Medici
Lorenzo de' Medici was an Italian statesman and de facto ruler of the Florentine Republic during the Italian Renaissance. Known as Lorenzo the Magnificent by contemporary Florentines, he was a diplomat, politician and patron of scholars, artists and poets...
, who in return obtained the cardinal's hat for his thirteen-year-old son Giovanni, later
Pope Leo X
Pope Leo X
Pope Leo X , born Giovanni di Lorenzo de' Medici, was the Pope from 1513 to his death in 1521. He was the last non-priest to be elected Pope. He is known for granting indulgences for those who donated to reconstruct St. Peter's Basilica and his challenging of Martin Luther's 95 Theses...
. His daughter Teodorina Cibo married Gerardo Usodimare and had a daughter. Savonarola chastised him for his worldly ambitions. The unsympathetic Roman chronicler
Stefano Infessura
Stefano Infessura
Stefano Infessura was an Italian humanist historian and lawyer. He is remembered through his municipalist Diary of the City of Rome, a partisan chronicle of events at Rome by the Colonna family's point of view. He was in a position to hear everything that circulated in informed Roman circles, for...
provides many lively details, among them the apparent attempt to revive Innocent VIII on his deathbed by
blood transfusion
Blood transfusion
Blood transfusion is the process of receiving blood products into one's circulation intravenously. Transfusions are used in a variety of medical conditions to replace lost components of the blood...
s from three young male children (who died as well in the process).