 Ducat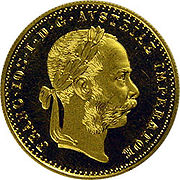 The
ducat
is a
gold coin
Gold coin
A gold coin is a coin made mostly or entirely of gold. Gold has been used for coins practically since the invention of coinage, originally because of gold's intrinsic value...
that was used as a
trade coin
Trade coin
Trade coins are coins minted by a government, but not necessarily current within the territory of the issuing country. These quasi bullion coins were thus actually export goods - that is, bullion in the form of coins, used to bulk buy important goods from other countries, where they could be...
throughout Europe before
World War I
World War I
World War I , which was predominantly called the World War or the Great War from its occurrence until 1939, and the First World War or World War I thereafter, was a major war centred in Europe that began on 28 July 1914 and lasted until 11 November 1918...
. Its weight is 3.4909 grams of .986 gold, which is 0.1107
troy ounce
Troy ounce
The troy ounce is a unit of imperial measure. In the present day it is most commonly used to gauge the weight of precious metals. One troy ounce is nowadays defined as exactly 0.0311034768 kg = 31.1034768 g. There are approximately 32.1507466 troy oz in 1 kg...
,
actual gold weight
Actual gold weight
The actual gold weight of a bullion coin or bar is the amount of fine, pure, or intrinsic gold content in troy ounces. It is typically used to describe gold or silver coins....
.
History
The first issue of this coin is thought to have been under
Roger II of Sicily
Roger II of Sicily
Roger II was King of Sicily, son of Roger I of Sicily and successor to his brother Simon. He began his rule as Count of Sicily in 1105, later became Duke of Apulia and Calabria , then King of Sicily...
, who, in 1140, coined ducats bearing the figure of Christ, and the inscription,
Sit tibi, Christe, datus, quem tu regis iste ducatus
(or roughly, "O Christ, let this duchy which you rule be dedicated to you." This seems to be a reference to ).
The ducat was introduced by the
Republic of Venice
Republic of Venice
The Republic of Venice or Venetian Republic was a state originating from the city of Venice in Northeastern Italy. It existed for over a millennium, from the late 7th century until 1797. It was formally known as the Most Serene Republic of Venice and is often referred to as La Serenissima, in...
in 1284 under the
Doge
Doge of Venice
The Doge of Venice , often mistranslated Duke was the chief magistrate and leader of the Most Serene Republic of Venice for over a thousand years. Doges of Venice were elected for life by the city-state's aristocracy. Commonly the person selected as Doge was the shrewdest elder in the city...
Giovanni Dandolo
Giovanni Dandolo
Giovanni Dandolo was the 48th Doge of Venice, elected on 31 March 1280, died on 2 November 1289. During his reign the first Venetian gold ducat was introduced into circulation.-Family:...
(1280–1289). The Venetian ducat,
ducato
, then called
zecchino
Sequin (coin)
The sequin is a gold coin weighing of .986 gold, minted by the Republic of Venice from the 13th century onwards.The design of the Venetian gold ducat, or zecchino, remained unchanged for over 500 years, from its introduction in 1284 to the takeover of Venice by Napoleon in 1797...
since 1554–1559, featured the Doge kneeling before St. Mark on the obverse and
Jesus
Jesus
Jesus of Nazareth , commonly referred to as Jesus Christ or simply as Jesus or Christ, is the central figure of Christianity...
on the reverse. During the
Middle Ages
Middle Ages
The Middle Ages is a periodization of European history from the 5th century to the 15th century. The Middle Ages follows the fall of the Western Roman Empire in 476 and precedes the Early Modern Era. It is the middle period of a three-period division of Western history: Classic, Medieval and Modern...
the ducat gained much popularity, as it was easy to mint, and packed quite a value in one relatively small coin. Several cities and small states in Europe – mostly Eastern Europe in the Middle Ages – issued multiple, single and fractional ducats. The standard of coin was adopted in
Hungary
Kingdom of Hungary
The Kingdom of Hungary comprised present-day Hungary, Slovakia and Croatia , Transylvania , Carpatho Ruthenia , Vojvodina , Burgenland , and other smaller territories surrounding present-day Hungary's borders...
; and for a long time all foreign coins bore the name
Ongri
,
Venetian
Venetian language
Venetian or Venetan is a Romance language spoken as a native language by over two million people, mostly in the Veneto region of Italy, where of five million inhabitants almost all can understand it. It is sometimes spoken and often well understood outside Veneto, in Trentino, Friuli, Venezia...
for "
Hungarian
", where the trade of the world at this period was concentrated. They did not become popular in Germany until a later date.
The
Golden Bull
Golden Bull of 1356
The Golden Bull of 1356 was a decree issued by the Reichstag assembly in Nuremberg headed by the Luxembourg Emperor Charles IV that fixed, for a period of more than four hundred years, important aspects of the constitutional structure of the Holy Roman Empire...
of
Charles IV
Charles IV, Holy Roman Emperor
Charles IV , born Wenceslaus , was the second king of Bohemia from the House of Luxembourg, and the first king of Bohemia to also become Holy Roman Emperor....
gave to all members of the empire the privilege of issuing gold coins, with any stamp they chose; but these were only gold guilders, equivalent to the florin.
Ducats became a standard gold coin throughout Europe, especially after it was officially imperially sanctioned in 1566. The ducat remained sanctioned until 1857. To make it more confusing there was also a silver ducat minted in many European nations. The
Royal Dutch Mint
Royal Dutch Mint
The Koninklijke Nederlandse Munt , seated in Utrecht, the Netherlands, is a company owned entirely by the Dutch State, and since 1807 the only Dutch entity allowed to strike and give out coins.-History:...
still issues silver ducats with a weight of 28.25 grams.
The most common type of ducat were the old Dutch ducats, bearing the impression of an armed figure, which gave way, for a short time only, to the figure of
Louis II of Flanders
Louis II of Flanders
Louis II of Flanders , also Louis III of Artois and Louis I of Palatine Burgundy, known as Louis of Male, was the son of Louis I of Flanders and Margaret I of Burgundy, and Count of Flanders.On his father's death at the Battle of Crécy in 1346, he inherited the counties of Flanders, Nevers, and...
. They circulated almost as merchandise, but had been frequently counterfeited in the Grisons. The counterfeits were very good in appearance, both in weight and sound.
According to 1913 Webster the ducat was worth the equivalent of "nine shillings and four pence sterling, or somewhat more than two dollars [around $44 in 2010 dollars]. The silver ducat is of about half this value." The ducat itself was worth an amount of money, but it was not written down in other denominations, such as its exact worth in German marks, dollars or any other currency of that time. Even now some national mints produce batches of ducats made after old patterns as bullion gold and banks sell these coins to private investors or collectors.
Ducat mints
External links