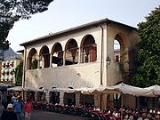 Belvedere (structure)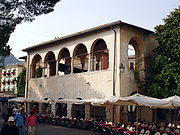 Belvedere
is an architectural term adopted from
Italian
Italian language
Italian is a Romance language spoken mainly in Europe: Italy, Switzerland, San Marino, Vatican City, by minorities in Malta, Monaco, Croatia, Slovenia, France, Libya, Eritrea, and Somalia, and by immigrant communities in the Americas and Australia...
(literally "fair view"), which refers to any architectural structure sited to take advantage of such a view. A belvedere may be built in the upper part of a building so as to command a fine
view
View
A view is what can be seen in a range of vision. View may also be used as a synonym of point of view in the first sense. View may also be used figuratively or with special significance—for example, to imply a scenic outlook or significant vantage point:...
. The actual structure can be of any form, whether a
turret
Turret
In architecture, a turret is a small tower that projects vertically from the wall of a building such as a medieval castle. Turrets were used to provide a projecting defensive position allowing covering fire to the adjacent wall in the days of military fortification...
, a
cupola
Cupola
In architecture, a cupola is a small, most-often dome-like, structure on top of a building. Often used to provide a lookout or to admit light and air, it usually crowns a larger roof or dome....
or an open gallery (in Italian an
altana
).
On the hillside above the Vatican Palace,
Antonio Pollaiuolo
Antonio Pollaiuolo
Antonio del Pollaiolo , also known as Antonio di Jacopo Pollaiuolo or Antonio Pollaiolo, was an Italian painter, sculptor, engraver and goldsmith during the Renaissance.-Biography:...
built a small
casino
Pavilion (structure)
In architecture a pavilion has two main meanings.-Free-standing structure:Pavilion may refer to a free-standing structure sited a short distance from a main residence, whose architecture makes it an object of pleasure. Large or small, there is usually a connection with relaxation and pleasure in...
named the
palazzetto
or the Belvedere for
Pope Innocent VIII
Pope Innocent VIII
Pope Innocent VIII , born Giovanni Battista Cybo , was Pope from 1484 until his death.-Early years:Giovanni Battista Cybo was born at Genoa of Greek extraction...
. Some years later
Donato Bramante
Donato Bramante
Donato Bramante was an Italian architect, who introduced the Early Renaissance style to Milan and the High Renaissance style to Rome, where his most famous design was St...
linked the Vatican with the Belvedere, under a commission from
Pope Julius II
Pope Julius II
Pope Julius II , nicknamed "The Fearsome Pope" and "The Warrior Pope" , born Giuliano della Rovere, was Pope from 1503 to 1513...
by creating the
Cortile del Belvedere
Cortile del Belvedere
The Cortile del Belvedere, the Belvedere courtyard, designed by Donato Bramante from 1506 onwards, was a major architectural work of the High Renaissance at the Vatican Palace in Rome; its concept and details reverberating in courtyard design, formalized piazzas and garden plans throughout Western...
("Courtyard of the Belvedere"), in which stood the
Apollo Belvedere

Apollo Belvedere

The Apollo Belvedere or Apollo of the Belvedere—also called the Pythian Apollo— is a celebrated marble sculpture from Classical Antiquity. It was rediscovered in central Italy in the late 15th century, during the Renaissance...


,
among the most famous of antique sculptures. This began the fashion in the 16th century for the "belvedere."
See also
Belvedere (M. C. Escher)

Belvedere (M. C. Escher)

Belvedere is a lithograph print by the Dutch artist M. C. Escher, first printed in May 1958. It shows a plausible-looking building which turns out to be impossible....


, a picture by M. C. Escher which shows an impossible belvedere