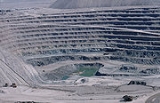 Mining
Mining
is the extraction of
valuable
Value (economics)
An economic value is the worth of a good or service as determined by the market.The economic value of a good or service has puzzled economists since the beginning of the discipline. First, economists tried to estimate the value of a good to an individual alone, and extend that definition to goods...
mineral
Mineral
A mineral is a naturally occurring solid chemical substance formed through biogeochemical processes, having characteristic chemical composition, highly ordered atomic structure, and specific physical properties. By comparison, a rock is an aggregate of minerals and/or mineraloids and does not...
s or other
geological
Geology
Geology is the science comprising the study of solid Earth, the rocks of which it is composed, and the processes by which it evolves. Geology gives insight into the history of the Earth, as it provides the primary evidence for plate tectonics, the evolutionary history of life, and past climates...
materials from the earth, from an
ore
Ore
An ore is a type of rock that contains minerals with important elements including metals. The ores are extracted through mining; these are then refined to extract the valuable element....
body,
vein
Vein (geology)
In geology, a vein is a distinct sheetlike body of crystallized minerals within a rock. Veins form when mineral constituents carried by an aqueous solution within the rock mass are deposited through precipitation...
or (
coal
Coal mining
The goal of coal mining is to obtain coal from the ground. Coal is valued for its energy content, and since the 1880s has been widely used to generate electricity. Steel and cement industries use coal as a fuel for extraction of iron from iron ore and for cement production. In the United States,...
) seam. The term also includes the removal of soil. Materials recovered by mining include base metals, precious metals,
iron
Iron
Iron is a chemical element with the symbol Fe and atomic number 26. It is a metal in the first transition series. It is the most common element forming the planet Earth as a whole, forming much of Earth's outer and inner core. It is the fourth most common element in the Earth's crust...
,
uranium
Uranium
Uranium is a silvery-white metallic chemical element in the actinide series of the periodic table, with atomic number 92. It is assigned the chemical symbol U. A uranium atom has 92 protons and 92 electrons, of which 6 are valence electrons...
,
coal
Coal
Coal is a combustible black or brownish-black sedimentary rock usually occurring in rock strata in layers or veins called coal beds or coal seams. The harder forms, such as anthracite coal, can be regarded as metamorphic rock because of later exposure to elevated temperature and pressure...
,
diamond
Diamond
In mineralogy, diamond is an allotrope of carbon, where the carbon atoms are arranged in a variation of the face-centered cubic crystal structure called a diamond lattice. Diamond is less stable than graphite, but the conversion rate from diamond to graphite is negligible at ambient conditions...
s,
limestone
Limestone
Limestone is a sedimentary rock composed largely of the minerals calcite and aragonite, which are different crystal forms of calcium carbonate . Many limestones are composed from skeletal fragments of marine organisms such as coral or foraminifera....
,
oil shale
Oil shale
Oil shale, an organic-rich fine-grained sedimentary rock, contains significant amounts of kerogen from which liquid hydrocarbons called shale oil can be produced...
,
rock salt
Sodium chloride
Sodium chloride, also known as salt, common salt, table salt or halite, is an inorganic compound with the formula NaCl. Sodium chloride is the salt most responsible for the salinity of the ocean and of the extracellular fluid of many multicellular organisms...
and
potash
Potash
Potash is the common name for various mined and manufactured salts that contain potassium in water-soluble form. In some rare cases, potash can be formed with traces of organic materials such as plant remains, and this was the major historical source for it before the industrial era...
. Any material that cannot be grown through
agricultural
Agriculture
Agriculture is the cultivation of animals, plants, fungi and other life forms for food, fiber, and other products used to sustain life. Agriculture was the key implement in the rise of sedentary human civilization, whereby farming of domesticated species created food surpluses that nurtured the...
processes, or created
artificially
Chemical synthesis
In chemistry, chemical synthesis is purposeful execution of chemical reactions to get a product, or several products. This happens by physical and chemical manipulations usually involving one or more reactions...
in a
laboratory
Laboratory
A laboratory is a facility that provides controlled conditions in which scientific research, experiments, and measurement may be performed. The title of laboratory is also used for certain other facilities where the processes or equipment used are similar to those in scientific laboratories...
or
factory
Factory
A factory or manufacturing plant is an industrial building where laborers manufacture goods or supervise machines processing one product into another. Most modern factories have large warehouses or warehouse-like facilities that contain heavy equipment used for assembly line production...
, is usually mined. Mining in a wider sense comprises extraction of any
non-renewable resource
Non-renewable resource
A non-renewable resource is a natural resource which cannot be produced, grown, generated, or used on a scale which can sustain its consumption rate, once depleted there is no more available for future needs. Also considered non-renewable are resources that are consumed much faster than nature...
(e.g.,
petroleum
Petroleum
Petroleum or crude oil is a naturally occurring, flammable liquid consisting of a complex mixture of hydrocarbons of various molecular weights and other liquid organic compounds, that are found in geologic formations beneath the Earth's surface. Petroleum is recovered mostly through oil drilling...
,
natural gas
Natural gas
Natural gas is a naturally occurring gas mixture consisting primarily of methane, typically with 0–20% higher hydrocarbons . It is found associated with other hydrocarbon fuel, in coal beds, as methane clathrates, and is an important fuel source and a major feedstock for fertilizers.Most natural...
, or even
water
Fossil water
Fossil water or paleowater is groundwater that has remained sealed in an aquifer for a long period of time. Water can rest underground in "fossil aquifers" for thousands or even millions of years...
).
Mining of stone and metal has been done since
pre-historic
Prehistory
Prehistory is the span of time before recorded history. Prehistory can refer to the period of human existence before the availability of those written records with which recorded history begins. More broadly, it refers to all the time preceding human existence and the invention of writing...
times.