 Conglomerate (geology)
A
conglomerate
is a
rock
Rock (geology)
In geology, rock or stone is a naturally occurring solid aggregate of minerals and/or mineraloids.The Earth's outer solid layer, the lithosphere, is made of rock. In general rocks are of three types, namely, igneous, sedimentary, and metamorphic...
consisting of individual clasts within a finer-grained
matrix
Matrix (geology)
The matrix or groundmass of rock is the finer grained mass of material in which larger grains, crystals or clasts are embedded.The matrix of an igneous rock consists of finer grained, often microscopic, crystals in which larger crystals are embedded. This porphyritic texture is indicative of...
that have become cemented together. Conglomerates are
sedimentary rock
Sedimentary rock
Sedimentary rock are types of rock that are formed by the deposition of material at the Earth's surface and within bodies of water. Sedimentation is the collective name for processes that cause mineral and/or organic particles to settle and accumulate or minerals to precipitate from a solution....
s consisting of rounded fragments and are thus differentiated from
breccia
Breccia
Breccia is a rock composed of broken fragments of minerals or rock cemented together by a fine-grained matrix, that can be either similar to or different from the composition of the fragments....
s, which consist of angular clasts. Both conglomerates and breccias are characterized by clasts larger than sand (>2 mm).
Classification
In addition to the factors described in this section, conglomerates are classified in terms of both their rounding and
sorting
Sorting (sediment)
Sorting indicates the distribution of grain size of sediments, either in unconsolidated deposits or in sedimentary rocks. Poorly sorted indicates that the sediment sizes are mixed ; whereas well sorted indicates that the sediment sizes are similar .The degree of sorting may also indicate the energy...
.
Texture
Paraconglomerates consist of a matrix-supported rock that contains at least 15% sand-sized or smaller grains (<2 mm), the rest being larger grains of varying sizes.
Orthoconglomerates consist of a clast-supported rock with less than 15% matrix of
sand
Sand
Sand is a naturally occurring granular material composed of finely divided rock and mineral particles.The composition of sand is highly variable, depending on the local rock sources and conditions, but the most common constituent of sand in inland continental settings and non-tropical coastal...
and finer particles.
Metamorphic
Metamorphism
Metamorphism is the solid-state recrystallization of pre-existing rocks due to changes in physical and chemical conditions, primarily heat, pressure, and the introduction of chemically active fluids. Mineralogical, chemical and crystallographic changes can occur during this process...
alteration transforms conglomerate into
metaconglomerate
Metaconglomerate
Metaconglomerate is a rock type which originated from conglomerate after undergoing metamorphism. Conglomerate is easily identifiable by the pebbles or larger clasts in a matrix of sand, silt, or clay. Metaconglomerate looks similar to conglomerate, although sometimes the clasts are deformed...
.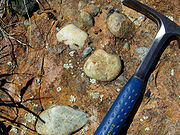 Clast composition
Conglomerates are classified for the
lithologies
Lithology
The lithology of a rock unit is a description of its physical characteristics visible at outcrop, in hand or core samples or with low magnification microscopy, such as colour, texture, grain size, or composition. It may be either a detailed description of these characteristics or be a summary of...
of the clasts
Monomict - clasts with only a single lithology
Oligomict - clasts of only a few different lithologies
Polymict - clasts of many different lithologies
Intraformational - clasts derived from the same formation in which they are found
Extraformational - clasts derived from older rocks than the formation in which they are found
Clast size
Conglomerates are also classified by the dominant
clast size
Particle size (grain size)
Particle size, also called grain size, refers to the diameter of individual grains of sediment, or the lithified particles in clastic rocks. The term may also be applied to other granular materials. This is different from the crystallite size, which is the size of a single crystal inside the...
.
Sedimentary environments
Conglomerates are deposited in a variety of
sedimentary environments
Sedimentary depositional environment
In geology, sedimentary depositional environment describes the combination of physical, chemical and biological processes associated with the deposition of a particular type of sediment and, therefore, the rock types that will be formed after lithification, if the sediment is preserved in the rock...
.
Deepwater marine
In
turbidite
Turbidite
Turbidite geological formations have their origins in turbidity current deposits, which are deposits from a form of underwater avalanche that are responsible for distributing vast amounts of clastic sediment into the deep ocean.-The ideal turbidite sequence:...
s, the basal part of a bed is typically coarse-grained and sometimes conglomeratic. In this setting, conglomerates are normally very well sorted, well-rounded and often with a strong A-axis type
imbrication
Imbrication (sedimentology)
In sedimentology imbrication refers to a primary depositional fabric consisting of a preferred orientation of clasts such that they overlap one another in a consistent fashion, rather like a run of toppled dominoes...
of the clasts.
Shallow marine
Conglomerates are normally present at the base of sequences laid down during
marine trangression
Transgression (geology)
A marine transgression is a geologic event during which sea level rises relative to the land and the shoreline moves toward higher ground, resulting in flooding. Transgressions can be caused either by the land sinking or the ocean basins filling with water...
s above an
unconformity
Unconformity
An unconformity is a buried erosion surface separating two rock masses or strata of different ages, indicating that sediment deposition was not continuous. In general, the older layer was exposed to erosion for an interval of time before deposition of the younger, but the term is used to describe...
, and are known as
basal conglomerates
. They represent the position of the shoreline at a particular time and will be
diachronous
Diachronous
A diachronous deposit in Geology is a sedimentary rock formation in which apparently similar material varies in age from place to place....
.
Fluvial
Conglomerates deposited in fluvial environments are typically well-rounded and well-sorted. Clasts of this size are carried as bedload and only at times of high flow-rate. The maximum clast size decreases as the clasts are transported further due to
attrition
Attrition (weathering)
Attrition is a form of coastal or river erosion, when the bed load is eroded by itself and the bed. As rocks are transported downstream along a riverbed, the regular impacts between the grains themselves and between the grains and the bed cause them to be broken up into smaller fragments. This...
, so conglomerates are more characteristic of immature river systems. In the sediments deposited by mature rivers, conglomerates are generally confined to the basal part of a channel fill where they are known as
pebble lags
. Conglomerates deposited in a fluvial environment often have an AB-plane type imbrication.
Alluvial
Alluvial deposits are formed in areas of high relief and are typically coarse-grained. At mountain fronts individual
alluvial fan
Alluvial fan
An alluvial fan is a fan-shaped deposit formed where a fast flowing stream flattens, slows, and spreads typically at the exit of a canyon onto a flatter plain. A convergence of neighboring alluvial fans into a single apron of deposits against a slope is called a bajada, or compound alluvial...
s merge together to form braidplains and these two environments are associated with the thickest deposits of conglomerates. The bulk of conglomerates deposited in this setting are clast-supported with a strong AB-plane imbrication. Some matrix-supported conglomerates are present, a result of debris-flow deposition on some alluvial fans.
Glacial
Glacier
Glacier
A glacier is a large persistent body of ice that forms where the accumulation of snow exceeds its ablation over many years, often centuries. At least 0.1 km² in area and 50 m thick, but often much larger, a glacier slowly deforms and flows due to stresses induced by its weight...
s carry a lot of coarse-grained material and many glacial deposits are conglomeratic. Tillites, the sediments deposited directly by a glacier, are typically poorly-sorted, matrix-supported conglomerates. The matrix is generally fine-grained, consisting of finely milled rock fragments. Waterlain deposits associated with glaciers are often conglomeratic, forming structures such as
esker
Esker
An esker is a long winding ridge of stratified sand and gravel, examples of which occur in glaciated and formerly glaciated regions of Europe and North America...
s.
Examples
A spectacular example of conglomerate can be seen at
Montserrat
Montserrat (mountain)
Montserrat is a multi-peaked mountain located near the city of Barcelona, in Catalonia, Spain. It is part of the Catalan Pre-Coastal Range. The main peaks are Sant Jeroni , Montgrós and Miranda de les Agulles...
, near
Barcelona
Barcelona
Barcelona is the second largest city in Spain after Madrid, and the capital of Catalonia, with a population of 1,621,537 within its administrative limits on a land area of...
. Here erosion has created vertical channels giving the characteristic jagged shapes for which the mountain is named (Montserrat literally means "jagged mountain"). The rock is strong enough to be used as a building material - see
Montserrat abbey front
at full resolution for detail of the rock structure.
Another spectacular example of conglomerate, the Crestone Conglomerate may be viewed in and near the town of
Crestone
Crestone, Colorado
Crestone is a statutory town in Saguache County in Southwestern Colorado, United States. The population was 73 at the 2000 census. It is a small village at the foot of the western slope of the Sangre de Cristo Range, in the northern part of the San Luis Valley. Crestone was a small mining town, but...
, at the foot of the
Sangre de Cristo Range
Sangre de Cristo Range
The Sangre de Cristo Range, called the East Range locally in the San Luis Valley, is a narrow mountain range of the Rocky Mountains running north and south along the east side of the Rio Grande Rift in southern Colorado in the United States...
in
Colorado
Colorado
Colorado is a U.S. state that encompasses much of the Rocky Mountains as well as the northeastern portion of the Colorado Plateau and the western edge of the Great Plains...
's
San Luis Valley
San Luis Valley
The San Luis Valley is an extensive alpine valley in the U.S. states of Colorado and New Mexico covering approximately and sitting at an average elevation of above sea level. The valley sits atop the Rio Grande Rift and is drained to the south by the Rio Grande River, which rises in the San Juan...
. The Crestone Conglomerate is a
metamorphic rock
Metamorphic rock
Metamorphic rock is the transformation of an existing rock type, the protolith, in a process called metamorphism, which means "change in form". The protolith is subjected to heat and pressure causing profound physical and/or chemical change...
stratum
Stratum
In geology and related fields, a stratum is a layer of sedimentary rock or soil with internally consistent characteristics that distinguish it from other layers...
and consists of tiny to quite large rocks that appear to have been tumbled in an ancient river. Some of the rocks have hues of red and green.
Impressive conglomerate cliffs are to be seen on the east coast of
Scotland
Scotland
Scotland is a country that is part of the United Kingdom. Occupying the northern third of the island of Great Britain, it shares a border with England to the south and is bounded by the North Sea to the east, the Atlantic Ocean to the north and west, and the North Channel and Irish Sea to the...
from
Arbroath
Arbroath
Arbroath or Aberbrothock is a former royal burgh and the largest town in the council area of Angus in Scotland, and has a population of 22,785...
northwards along the coastlines of the former counties of
Angus
Angus
Angus is one of the 32 local government council areas of Scotland, a registration county and a lieutenancy area. The council area borders Aberdeenshire, Perth and Kinross and Dundee City...
and
Kincardineshire
Kincardineshire
The County of Kincardine, also known as Kincardineshire or The Mearns was a local government county on the coast of northeast Scotland...
. Famously picturesque Dunottar Castle sits on a rugged promontory of conglomerate jutting into the
North Sea
North Sea
In the southwest, beyond the Straits of Dover, the North Sea becomes the English Channel connecting to the Atlantic Ocean. In the east, it connects to the Baltic Sea via the Skagerrak and Kattegat, narrow straits that separate Denmark from Norway and Sweden respectively...
just south of the town of
Stonehaven
Stonehaven
Stonehaven is a town in Aberdeenshire, Scotland. It lies on Scotland's northeast coast and had a population of 9,577 in 2001 census.Stonehaven, county town of Kincardineshire, grew around an Iron Age fishing village, now the "Auld Toon" , and expanded inland from the seaside...
.
Conglomerate may also be seen in the domed hills of
Kata Tjuta
Kata Tjuta
Kata Tjuta, sometimes written Tjuṯa , and also known as Mount Olga , are a group of large domed rock formations or bornhardts located about southwest of Alice Springs, in the southern part of the Northern Territory, central Australia...
, in Australia's
Northern Territory
Northern Territory
The Northern Territory is a federal territory of Australia, occupying much of the centre of the mainland continent, as well as the central northern regions...
.
In the nineteenth century a thick layer of
Pottsville
Pottsville Formation
The Pennsylvanian Pottsville Formation is a mapped bedrock unit in Pennsylvania, western Maryland, West Virginia, and Ohio. The formation is also recognized in Alabama. It is a major ridge-former In the Ridge-and-Valley Appalachians of the eastern United States...
conglomerate was recognized to underlie
anthracite coal
Anthracite coal
Anthracite is a hard, compact variety of mineral coal that has a high luster...
measures in Pennsylvania.
Fanglomerate
When a series of conglomerates accumulates into an
alluvial fan
Alluvial fan
An alluvial fan is a fan-shaped deposit formed where a fast flowing stream flattens, slows, and spreads typically at the exit of a canyon onto a flatter plain. A convergence of neighboring alluvial fans into a single apron of deposits against a slope is called a bajada, or compound alluvial...
, in rapidly eroding (e.g.
desert
Desert
A desert is a landscape or region that receives an extremely low amount of precipitation, less than enough to support growth of most plants. Most deserts have an average annual precipitation of less than...
) environments, the resulting rock unit is often called a
fanglomerate
. These form the basis of a number of large
oil field
Oil field
An oil field is a region with an abundance of oil wells extracting petroleum from below ground. Because the oil reservoirs typically extend over a large area, possibly several hundred kilometres across, full exploitation entails multiple wells scattered across the area...
s, e.g. the Tiffany and Brae fields in the
North Sea
North Sea
In the southwest, beyond the Straits of Dover, the North Sea becomes the English Channel connecting to the Atlantic Ocean. In the east, it connects to the Baltic Sea via the Skagerrak and Kattegat, narrow straits that separate Denmark from Norway and Sweden respectively...
. These fanglomerates were actually deposited into a deep marine environment but against a rapidly moving fault line, which supplied an intermittent stream of debris into the conglomerate pile. The sediment fans are several kilometers deep at the fault line and the sedimentation moved focus repeatedly, as different sectors of the fault moved.
External links