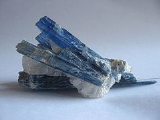 Silicate minerals
The
silicate minerals
make up the largest and most important class of rock-forming
mineral
Mineral
A mineral is a naturally occurring solid chemical substance formed through biogeochemical processes, having characteristic chemical composition, highly ordered atomic structure, and specific physical properties. By comparison, a rock is an aggregate of minerals and/or mineraloids and does not...
s, constituting approximately 90 percent of the crust of the Earth. They are classified based on the structure of their
silicate
Silicate
A silicate is a compound containing a silicon bearing anion. The great majority of silicates are oxides, but hexafluorosilicate and other anions are also included. This article focuses mainly on the Si-O anions. Silicates comprise the majority of the earth's crust, as well as the other...
group. Silicate minerals all contain
silicon
Silicon
Silicon is a chemical element with the symbol Si and atomic number 14. A tetravalent metalloid, it is less reactive than its chemical analog carbon, the nonmetal directly above it in the periodic table, but more reactive than germanium, the metalloid directly below it in the table...
and
oxygen
Oxygen
Oxygen is the element with atomic number 8 and represented by the symbol O. Its name derives from the Greek roots ὀξύς and -γενής , because at the time of naming, it was mistakenly thought that all acids required oxygen in their composition...
.
Nesosilicates (from
Greek
Greek language
Greek is an independent branch of the Indo-European family of languages. Native to the southern Balkans, it has the longest documented history of any Indo-European language, spanning 34 centuries of written records. Its writing system has been the Greek alphabet for the majority of its history;...
νησος nēsos, island), or orthosilicates, have isolated (insular) [SiO
4
]
4−
tetrahedra
Tetrahedron
In geometry, a tetrahedron is a polyhedron composed of four triangular faces, three of which meet at each vertex. A regular tetrahedron is one in which the four triangles are regular, or "equilateral", and is one of the Platonic solids...
that are connected only by interstitial cations.