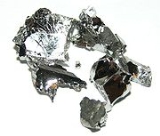 Tungsten
Tungsten
ˈ, also known as
wolfram
ˈ , is a
chemical element
Chemical element
A chemical element is a pure chemical substance consisting of one type of atom distinguished by its atomic number, which is the number of protons in its nucleus. Familiar examples of elements include carbon, oxygen, aluminum, iron, copper, gold, mercury, and lead.As of November 2011, 118 elements...
with the chemical symbol
W
and
atomic number
Atomic number
In chemistry and physics, the atomic number is the number of protons found in the nucleus of an atom and therefore identical to the charge number of the nucleus. It is conventionally represented by the symbol Z. The atomic number uniquely identifies a chemical element...
74.
A hard, rare
metal
Metal
A metal , is an element, compound, or alloy that is a good conductor of both electricity and heat. Metals are usually malleable and shiny, that is they reflect most of incident light...
under standard conditions when uncombined, tungsten is found naturally on Earth only in chemical compounds. It was identified as a new element in 1781, and first isolated as a metal in 1783. Its important
ore
Ore
An ore is a type of rock that contains minerals with important elements including metals. The ores are extracted through mining; these are then refined to extract the valuable element....
s include
wolframite
Wolframite
Wolframite WO4, is an iron manganese tungstate mineral that is the intermediate between ferberite and huebernite . Along with scheelite, the wolframite series are the most important tungsten ore minerals. Wolframite is found in quartz veins and pegmatites associated with granitic intrusives...
and
scheelite
Scheelite
Scheelite is a calcium tungstate mineral with the chemical formula CaWO4. It is an important ore of tungsten. Well-formed crystals are sought by collectors and are occasionally fashioned into gemstones when suitably free of flaws...
. The
free element
Free element
In chemistry, a free element is a chemical element that is uncombined with other elements....
is remarkable for its robustness, especially the fact that it has the highest
melting point
Melting point
The melting point of a solid is the temperature at which it changes state from solid to liquid. At the melting point the solid and liquid phase exist in equilibrium. The melting point of a substance depends on pressure and is usually specified at standard atmospheric pressure...
of all the non-
alloy
Alloy
An alloy is a mixture or metallic solid solution composed of two or more elements. Complete solid solution alloys give single solid phase microstructure, while partial solutions give two or more phases that may or may not be homogeneous in distribution, depending on thermal history...
ed metals and the second highest of all the elements after
carbon
Carbon
Carbon is the chemical element with symbol C and atomic number 6. As a member of group 14 on the periodic table, it is nonmetallic and tetravalent—making four electrons available to form covalent chemical bonds...
.