 Lode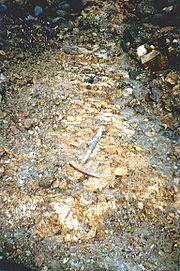 In
geology
Geology
Geology is the science comprising the study of solid Earth, the rocks of which it is composed, and the processes by which it evolves. Geology gives insight into the history of the Earth, as it provides the primary evidence for plate tectonics, the evolutionary history of life, and past climates...
, a
lode
is a deposit of metalliferous
ore
Ore
An ore is a type of rock that contains minerals with important elements including metals. The ores are extracted through mining; these are then refined to extract the valuable element....
that fills or is embedded in a fissure (or crack) in a
rock
Rock (geology)
In geology, rock or stone is a naturally occurring solid aggregate of minerals and/or mineraloids.The Earth's outer solid layer, the lithosphere, is made of rock. In general rocks are of three types, namely, igneous, sedimentary, and metamorphic...
formation or a
vein
Vein (geology)
In geology, a vein is a distinct sheetlike body of crystallized minerals within a rock. Veins form when mineral constituents carried by an aqueous solution within the rock mass are deposited through precipitation...
of ore that is deposited or embedded between layers of rock.