 Michelin Guide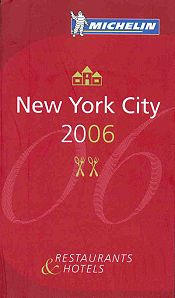 The
Michelin Guide
is a series of annual guide books published by
Michelin
Michelin
Michelin is a tyre manufacturer based in Clermont-Ferrand in the Auvergne région of France. It is one of the two largest tyre manufacturers in the world along with Bridgestone. In addition to the Michelin brand, it also owns the BFGoodrich, Kleber, Riken, Kormoran and Uniroyal tyre brands...
for over a dozen countries. The term normally refers to the Michelin
Red Guide
, the oldest and best-known European hotel and restaurant guide, which awards the
Michelin stars
. Michelin also publishes
Green Guides
for travel and tourism, as well as several newer publications such as the
Guide Voyageur Pratique
(independent travel),
Guide Gourmand
(good-value eating-places),
Guide Escapade
(quick breaks) and
Guide Coup de Cœur
(favourite hotels).
André Michelin
André Michelin
André Jules Michelin was aFrench industrialist who, with his brother Édouard , founded the Michelin Tyre Company in 1888 in the French city of Clermont-Ferrand.In 1900, André Michelin published the first Michelin Guide, the purpose of which was to promote tourism by car,...
published the first edition of the guide in 1900 to help drivers maintain their cars, find decent lodging, and eat well while touring France. It included addresses of filling stations, mechanics, and tire dealers, along with local prices for fuel, tires, and auto repairs.
The guide was distributed free from 1900 until 1920. The Michelin brothers began charging for the guides to establish more credibility after a pile of them were found propping up a garage workbench. The guide began recognizing outstanding restaurants in 1926 by marking their listings with a star; two and three stars were added in the early 1930s.
Gradually, additional guides were introduced for other European countries. By 2010, eight Red Guides were published for the countries of France,
Germany
Germany
Germany , officially the Federal Republic of Germany , is a federal parliamentary republic in Europe. The country consists of 16 states while the capital and largest city is Berlin. Germany covers an area of 357,021 km2 and has a largely temperate seasonal climate...
, the
Netherlands
Netherlands
The Netherlands is a constituent country of the Kingdom of the Netherlands, located mainly in North-West Europe and with several islands in the Caribbean. Mainland Netherlands borders the North Sea to the north and west, Belgium to the south, and Germany to the east, and shares maritime borders...
,
Belgium
Belgium
Belgium , officially the Kingdom of Belgium, is a federal state in Western Europe. It is a founding member of the European Union and hosts the EU's headquarters, and those of several other major international organisations such as NATO.Belgium is also a member of, or affiliated to, many...
/
Luxembourg
Luxembourg
Luxembourg , officially the Grand Duchy of Luxembourg , is a landlocked country in western Europe, bordered by Belgium, France, and Germany. It has two principal regions: the Oesling in the North as part of the Ardennes massif, and the Gutland in the south...
,
Italy
Italy
Italy , officially the Italian Republic languages]] under the European Charter for Regional or Minority Languages. In each of these, Italy's official name is as follows:;;;;;;;;), is a unitary parliamentary republic in South-Central Europe. To the north it borders France, Switzerland, Austria and...
,
Spain
Spain
Spain , officially the Kingdom of Spain languages]] under the European Charter for Regional or Minority Languages. In each of these, Spain's official name is as follows:;;;;;;), is a country and member state of the European Union located in southwestern Europe on the Iberian Peninsula...
&
Portugal
Portugal
Portugal , officially the Portuguese Republic is a country situated in southwestern Europe on the Iberian Peninsula. Portugal is the westernmost country of Europe, and is bordered by the Atlantic Ocean to the West and South and by Spain to the North and East. The Atlantic archipelagos of the...
,
Switzerland
Switzerland
Switzerland name of one of the Swiss cantons. ; ; ; or ), in its full name the Swiss Confederation , is a federal republic consisting of 26 cantons, with Bern as the seat of the federal authorities. The country is situated in Western Europe,Or Central Europe depending on the definition....
, and
Great Britain
Great Britain
Great Britain or Britain is an island situated to the northwest of Continental Europe. It is the ninth largest island in the world, and the largest European island, as well as the largest of the British Isles...
&
Ireland
Ireland
Ireland is an island to the northwest of continental Europe. It is the third-largest island in Europe and the twentieth-largest island on Earth...
.
Red Guides have historically listed many more restaurants than rivals, relying on an extensive system of symbols to describe each establishment in as little as two lines. Reviews of starred restaurants also include two to three culinary specialities. Recently, however, short summaries (2–3 lines) have been added to enhance descriptions of many establishments. These summaries are written in the language of the country for which the guide is published, but the symbols are the same throughout all editions.
Red Guides are also published for selected major cities:
Paris
Paris
Paris is the capital and largest city in France, situated on the river Seine, in northern France, at the heart of the Île-de-France region...
,
London
London
London is the capital city of :England and the :United Kingdom, the largest metropolitan area in the United Kingdom, and the largest urban zone in the European Union by most measures. Located on the River Thames, London has been a major settlement for two millennia, its history going back to its...
,
Tokyo
Tokyo
, ; officially , is one of the 47 prefectures of Japan. Tokyo is the capital of Japan, the center of the Greater Tokyo Area, and the largest metropolitan area of Japan. It is the seat of the Japanese government and the Imperial Palace, and the home of the Japanese Imperial Family...
,
Kyoto
Kyoto
is a city in the central part of the island of Honshū, Japan. It has a population close to 1.5 million. Formerly the imperial capital of Japan, it is now the capital of Kyoto Prefecture, as well as a major part of the Osaka-Kobe-Kyoto metropolitan area.-History:...
/
Osaka
Osaka
is a city in the Kansai region of Japan's main island of Honshu, a designated city under the Local Autonomy Law, the capital city of Osaka Prefecture and also the biggest part of Keihanshin area, which is represented by three major cities of Japan, Kyoto, Osaka and Kobe...
,
Hong Kong
Hong Kong
Hong Kong is one of two Special Administrative Regions of the People's Republic of China , the other being Macau. A city-state situated on China's south coast and enclosed by the Pearl River Delta and South China Sea, it is renowned for its expansive skyline and deep natural harbour...
&
Macau
Macau
Macau , also spelled Macao , is, along with Hong Kong, one of the two special administrative regions of the People's Republic of China...
,
New York City
New York City
New York is the most populous city in the United States and the center of the New York Metropolitan Area, one of the most populous metropolitan areas in the world. New York exerts a significant impact upon global commerce, finance, media, art, fashion, research, technology, education, and...
, the San Francisco Bay Area & Wine Country,
Los Angeles
Los Ángeles
Los Ángeles is the capital of the province of Biobío, in the commune of the same name, in Region VIII , in the center-south of Chile. It is located between the Laja and Biobío rivers. The population is 123,445 inhabitants...
,
Chicago
Chicago
Chicago is the largest city in the US state of Illinois. With nearly 2.7 million residents, it is the most populous city in the Midwestern United States and the third most populous in the US, after New York City and Los Angeles...
, and
Las Vegas
Las Vegas metropolitan area
The Las Vegas Valley is the heart of the Las Vegas-Paradise, NV MSA also known as the Las Vegas–Paradise–Henderson MSA which includes all of Clark County, Nevada, and is a metropolitan area in the southern part of the U.S. state of Nevada. The Valley is defined by the Las Vegas Valley landform, a ...
. There is also a Red Guide encompassing the "Main Cities of Europe."
In 2008, German restaurateur Juliane Caspar was appointed Editor-in-Chief of the French edition of the Red Guide. She is the first woman and first non-French national to edit the French edition.
Stars
The guide awards one to three stars to a small number of restaurants of outstanding quality. One star indicates a "very good cuisine in its category", a two-star ranking represents "excellent cuisine, worth a detour," and three stars are awarded to restaurants offering "exceptional cuisine, worth a special journey". A three-star Michelin ranking is rare. As of late 2009, there were 26 three-star restaurants in France, and only 81 in the world.
Rising stars
The Michelin Guide also awards Rising Stars, an indication that a given restaurant has the potential to qualify for a star, or an additional star.
Bib Gourmand
Since 1955, the guide has also highlighted restaurants offering "good food at moderate prices", a feature now called "Bib Gourmand". They must offer menu items priced below a maximum determined by local economic standards. Bib (Bibendum) is the company's nickname for the Michelin Man, its corporate logo for over a century.
Other ratings
All listed restaurants, regardless of their star- or Bib Gourmand-status, also receive a "fork and spoon" designation, as a subjective reflection of the overall comfort and quality of the restaurant. Rankings range from one to five: One fork and spoon represents a "comfortable restaurant" and five signifies a "luxurious restaurant". Forks and spoons colored red designate a restaurant that is considered "pleasant" as well.
Restaurants, independently of their other ratings in the guide, can also receive a number of other symbols next to their listing.
Coins indicate restaurants that serve a menu for a certain price or less, depending on the local monetary standard. In 2010 France, 2011 US and Japan Red Guides, the maximum permitted "coin" prices are €19, $25, and ¥

¥

¥ is a currency sign used by the Japanese yen and the Chinese yuan currencies. The symbol resembles a Latin letter Y with a double stroke. The base unit of both currencies shared the same Chinese character pronounced yuán in Mandarin Chinese and en in Standard Japanese...


5000, respectively.
Interesting view or Magnificent view, designated by a black or red symbol, are given to restaurants offering those features.
Grapes, a sake set

Sake set

A sake set is a generic term for the flask and cups used to serve sake, the traditional Japanese alcoholic beverage made from rice. Sake sets are commonly ceramic, but may be glass or lacquered plastic...


, or a cocktail glass

Cocktail glass

A cocktail glass is a stemmed glass which has a cone-shaped bowl placed upon a stem above a flat base. It is mainly used to serve cocktails. Its form derives from the fact that all cocktails are traditionally served chilled and contain an aromatic element...


indicate restaurants that offer, at minimum, a "somewhat interesting" selection of wine

Wine

Wine is an alcoholic beverage, made of fermented fruit juice, usually from grapes. The natural chemical balance of grapes lets them ferment without the addition of sugars, acids, enzymes, or other nutrients. Grape wine is produced by fermenting crushed grapes using various types of yeast. Yeast...


s, sake, or cocktail

Cocktail

A cocktail is an alcoholic mixed drink that contains two or more ingredients—at least one of the ingredients must be a spirit.Cocktails were originally a mixture of spirits, sugar, water, and bitters. The word has come to mean almost any mixed drink that contains alcohol...


s, respectively.
Country
Release date
Bib Gourmand
Establishments
Great Britain & Ireland
1 February 2010
4
14
122
131 (£28 or €40)
>1,900 hotel

Hotel

A hotel is an establishment that provides paid lodging on a short-term basis. The provision of basic accommodation, in times past, consisting only of a room with a bed, a cupboard, a small table and a washstand has largely been replaced by rooms with modern facilities, including en-suite bathrooms...


s, guest house

Guest house

A guest house is a kind of lodging. In some parts of the world a guest house is similar to a hostel, bed and breakfast, or inn whereas in other parts of the world , guest houses are a type of inexpensive hotel-like lodging...


s, >2,000 restaurant

Restaurant

A restaurant is an establishment which prepares and serves food and drink to customers in return for money. Meals are generally served and eaten on premises, but many restaurants also offer take-out and food delivery services...


s, pubs
Italy
14 December 2010
6
37
233
4,163 hotels, etc., 2,313 restaurants
Netherlands
25 November 2010
2
13
83
97 (€35)
643 restaurants, 566 hotels
Switzerland
18 November 2010
2
16
75
79 (€35)
666 restaurants, 871 hotels
Spain & Portugal
14 December 2010
7
15
128
232 (€35)
2,806 hotels, etc., 1,975 restaurants and bars

Bar (establishment)

A bar is a business establishment that serves alcoholic drinks — beer, wine, liquor, and cocktails — for consumption on the premises.Bars provide stools or chairs that are placed at tables or counters for their patrons. Some bars have entertainment on a stage, such as a live band, comedians, go-go...



Germany
12 November 2010
9
23
205
386 (€35)
1,598 restaurants, 4,287 hotels
France
4 March 2010
26
77
455
555 (€29, €35 in Paris area)
4,104 hotels, 515 guest houses, 3,453 restaurants
Belgium & Luxembourg
25 November 2010
2
15
98
131 (€35)
985 restaurants, 673 hotels
City
Release date
Bib Gourmand
Establishments
Paris
4 March 2010
10
13
41
65 (€29, €35 in Paris area)
60 hotels, 424 restaurants
San Francisco
26 October 2011
2
6
39
77 ($40)
541 restaurants
New York City
4 October 2011
7
9
46
114 ($40)
805 restaurants
Chicago
18 November 2010
2
3
18
46 ($40)
342 restaurants, 39 hotels
Las Vegas (suspended)
21 October 2008
1
3
13
127 restaurants, 30 hotels (2007)
Los Angeles (suspended)
21 October 2008
0
4
16
263 restaurants, 27 hotels (2007)
London
1 February 2010
2
7
40
30 (£28)
450 restaurants, 50 hotels
Kyoto, Osaka, & Kobe
22 October 2010
12
46
185
40 (coins, ¥5000)
239 restaurants, 42 hotels, 31 ryokans
Tokyo, Yokohama, & Kamakura
27 November 2010
14
54
198
95 (coins, ¥5000)
266 restaurants, 46 hotels
Hong Kong & Macau
2 December 2010
4
12
53
50 (300 HKD/MOP

Macanese pataca

The pataca is the currency of Macau. It is subdivided into 100 avos , with 10 avos called ho in Cantonese. The abbreviation MOP$ is commonly used....


)
253 restaurants, 56 hotels
Main Cities of Europe
17 March 2010
15
55
271
231
1,715 restaurants, 1,542 hotels
A list in 2007 is also available from Michelin.
Green Guides
The Green Guides review and rate attractions other than restaurants. There is a Green Guide for France as a whole, and a more detailed one for each of ten regions within France. Other Green Guides cover many countries, regions, and cities outside France. Many Green Guides are published in several languages. They include background information and an alphabetical section describing points of interest. Like the Red Guides, they use a three-star system for recommending sights ranging from "worth a trip" to "worth a detour", and "interesting".
Controversy
In 2003
Bernard Loiseau
Bernard Loiseau
Bernard Loiseau was a French chef. He committed suicide by firearm in 2003 when newspaper reports hinted that his restaurant might lose its 3-star status.-Early life:...
, a prominent chef with a history of
bipolar disorder
Bipolar disorder
Bipolar disorder or bipolar affective disorder, historically known as manic–depressive disorder, is a psychiatric diagnosis that describes a category of mood disorders defined by the presence of one or more episodes of abnormally elevated energy levels, cognition, and mood with or without one or...
, committed suicide. Rumors had circulated that his widely-admired restaurant
Côte d'Or
in
Saulieu
Saulieu
Saulieu is a commune in the Côte-d'Or department in the Burgundy region in eastern France.Capital of the Morvan, and found in the Morvan Regional Park, Saulieu is located to the southeast of Paris on the RN6 road.-History:...
,
Burgundy
Bourgogne
Burgundy is one of the 27 regions of France.The name comes from the Burgundians, an ancient Germanic people who settled in the area in early Middle-age. The region of Burgundy is both larger than the old Duchy of Burgundy and smaller than the area ruled by the Dukes of Burgundy, from the modern...
, was in danger of a downgrade by Michelin from three to two stars. It was later shown that Loiseau knew he was keeping his third star, but was despondent over decreasing patronage at his restaurant. Michelin still received blame in some accounts, however.
Allegations of lax inspection standards
Pascal Rémy, a veteran France-based Michelin inspector, and also a former
Gault Millau
Gault Millau
Gault et Millau is one of the most influential French restaurant guides founded by two restaurant critics, Henri Gault and Christian Millau in 1965. Gault Millau is most famous for its rating system, on a scale of 1 to 20. Restaurants below 10 points are almost never listed...
employee, wrote a tell-all book in 2004 entitled
L'Inspecteur se Met à Table
(literally, "The Inspector Sits Down at the Table"; idiomatically, "The Inspector Spills the Beans", or "The Inspector Puts It All on the Table").
Rémy described the French Michelin inspector's life as lonely, underpaid drudgery, driving around France for weeks on end, dining alone, under intense pressure to file detailed reports on strict deadlines. He claimed the Guide had become lax in its standards. Though Michelin states that its inspectors visited all 4,000 reviewed restaurants in France every 18 months, and all starred restaurants several times a year, Rémy said only about one visit every 3.5 years was possible because there were only 11 inspectors in France when he was hired, rather than the 50 or more hinted by Michelin. That number, he said, had shrunk to five by the time he was fired in 2003.
Furthermore, Rémy charged, the Guide played favourites. He specifically named
Paul Bocuse
Paul Bocuse
Paul Bocuse is a French chef based in Lyon who is famous for the high quality of his restaurants and his innovative approaches to cuisine...
, the pioneer of
nouvelle cuisine
Nouvelle Cuisine
Nouvelle cuisine is an approach to cooking and food presentation used in French cuisine. By contrast with cuisine classique, an older form of French haute cuisine, nouvelle cuisine is characterized by lighter, more delicate dishes and an increased emphasis on presentation.-History:The term...
, whose restaurant, l'Auberge du Pont de Collonges, near
Lyon
Lyon
Lyon , is a city in east-central France in the Rhône-Alpes region, situated between Paris and Marseille. Lyon is located at from Paris, from Marseille, from Geneva, from Turin, and from Barcelona. The residents of the city are called Lyonnais....
, was known, according to Rémy, to have declined considerably in quality, yet continued to hold 3 stars. Michelin denied Rémy's charges, but refused to say how many inspectors it actually employed in France. In response to Rémy's claim that certain 3-star chefs were untouchable, Michelin said only, "...if [our ratings] weren't true...customers would write and tell us." Rémy's employment was terminated when he informed Michelin of his plans to publish his book. He brought a court case for unfair dismissal, which was unsuccessful.
Accusations of bias
As the Michelin Guide is published by a French company, some American food critics have claimed that the rating system is biased in favor of French cuisine or French dining standards. When Michelin published its first New York City Red Guide, for example, Steven Kurutz of
The New York Times
The New York Times
The New York Times is an American daily newspaper founded and continuously published in New York City since 1851. The New York Times has won 106 Pulitzer Prizes, the most of any news organization...
noted that
Danny Meyer
Danny Meyer
Daniel "Danny" Meyer is a New York City restaurateur and the CEO of Union Square Hospitality Group .-Personal life:...
's
Union Square Cafe
Union Square Cafe
Union Square Café is an award-winning restaurant in New York City, owned by Danny Meyer, with chef Michael Romano. Opened in October 1985 by Danny Meyer and chef Ali Barker, it features American cuisine with Italian influences...
, a restaurant rated highly by
The New York Times
, Zagat Survey, and other prominent guides, received a no star-rating from Michelin. (He did acknowledge that the restaurant received positive mention for its ambiance, and that two other restaurants owned by Meyer received stars.) Kurutz also claimed the guide appeared to favor restaurants that "emphasized formality and presentation" rather than a "casual approach to fine dining". He also claimed that over half of the restaurants that received one or two stars "could be considered French".
Further reading
Trois étoiles au Michelin: Une histoire de la haute gastronomie française et européenne, by Jean-François Mesplède and Alain Ducasse, ISBN 2-7000-2468-0. Follows the 60-odd chefs who have been awarded three stars.
The Perfectionist: Life and Death in Haute Cuisine, by Rudolph Chelminski, ISBN 9780141021935. The story of Bernard Loiseau

Bernard Loiseau

Bernard Loiseau was a French chef. He committed suicide by firearm in 2003 when newspaper reports hinted that his restaurant might lose its 3-star status.-Early life:...


.
From behind the wall: Danish Newspaper 'Berlingske' Employee 'Awards'
External links