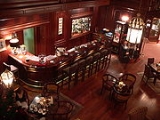 Bar (establishment)
A
bar
is a
business establishment
Business
A business is an organization engaged in the trade of goods, services, or both to consumers. Businesses are predominant in capitalist economies, where most of them are privately owned and administered to earn profit to increase the wealth of their owners. Businesses may also be not-for-profit...
that serves
alcoholic drinks
Alcoholic beverage
An alcoholic beverage is a drink containing ethanol, commonly known as alcohol. Alcoholic beverages are divided into three general classes: beers, wines, and spirits. They are legally consumed in most countries, and over 100 countries have laws regulating their production, sale, and consumption...
—
beer
Beer
Beer is the world's most widely consumed andprobably oldest alcoholic beverage; it is the third most popular drink overall, after water and tea. It is produced by the brewing and fermentation of sugars, mainly derived from malted cereal grains, most commonly malted barley and malted wheat...
,
wine
Wine
Wine is an alcoholic beverage, made of fermented fruit juice, usually from grapes. The natural chemical balance of grapes lets them ferment without the addition of sugars, acids, enzymes, or other nutrients. Grape wine is produced by fermenting crushed grapes using various types of yeast. Yeast...
,
liquor
Distilled beverage
A distilled beverage, liquor, or spirit is an alcoholic beverage containing ethanol that is produced by distilling ethanol produced by means of fermenting grain, fruit, or vegetables...
, and
cocktail
Cocktail
A cocktail is an alcoholic mixed drink that contains two or more ingredients—at least one of the ingredients must be a spirit.Cocktails were originally a mixture of spirits, sugar, water, and bitters. The word has come to mean almost any mixed drink that contains alcohol...
s — for consumption on the premises.
Bars provide
stools
Bar stool
Bar stools are a type of tall stool, often with a foot rest, which because of their height and narrowness are designed for seating in a public house or bar...
or chairs that are placed at tables or counters for their patrons. Some bars have entertainment on a stage, such as a live band, comedians,
go-go dancers
Go-Go dancing
Go-go dancers are dancers who are employed to entertain crowds at a discotheque. Go-go dancing originated in the early 1960s when women at the Peppermint Lounge in New York City began to get up on tables and dance the twist...
, or
strippers
Striptease
A striptease is an erotic or exotic dance in which the performer gradually undresses, either partly or completely, in a seductive and sexually suggestive manner...
. Bars specializing in live music are often referred to as music bars.
Types of bars range from
dive bar
Dive bar
A dive bar is a type of bar or pub. Dive bars generally have a relaxed and informal atmosphere—they are often referred to by local residents as "neighborhood bars," where people in the neighborhood gather to drink and socialize...
s to elegant places of entertainment for the
elite
Elite
Elite refers to an exceptional or privileged group that wields considerable power within its sphere of influence...
.
Many bars have a
happy hour
Happy hour
Happy hour is a marketing term for a period of time in which a restaurant or bar offers discounts on alcoholic drinks, such as beer, wine, and cocktails.-Basic information:...
to encourage off-peak patronage.