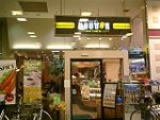 List of coffeehouse chains
This is a
list of coffeehouse

Coffeehouse

A coffeehouse or coffee shop is an establishment which primarily serves prepared coffee or other hot beverages. It shares some of the characteristics of a bar, and some of the characteristics of a restaurant, but it is different from a cafeteria. As the name suggests, coffeehouses focus on...


chains
around the world. This list excludes the many companies which operate coffeeshops within
retail
Retail
Retail consists of the sale of physical goods or merchandise from a fixed location, such as a department store, boutique or kiosk, or by mail, in small or individual lots for direct consumption by the purchaser. Retailing may include subordinated services, such as delivery. Purchasers may be...
establishments, notably bookstores and
department store
Department store
A department store is a retail establishment which satisfies a wide range of the consumer's personal and residential durable goods product needs; and at the same time offering the consumer a choice of multiple merchandise lines, at variable price points, in all product categories...
s, or restaurants or convenience stores which also serve
coffee
Coffee
Coffee is a brewed beverage with a dark,init brooo acidic flavor prepared from the roasted seeds of the coffee plant, colloquially called coffee beans. The beans are found in coffee cherries, which grow on trees cultivated in over 70 countries, primarily in equatorial Latin America, Southeast Asia,...
.
A
B
C
D
F
Far Coast

Far Coast

Far Coast is The Coca-Cola Company's entry into the specialty coffee, tea and premium roast & ground coffee category.Coca-Cola officially launched the Far Coast brand in 2006 with the opening of four "concept stores" in Toronto, Oslo, Singapore, and Atlanta...


- The Coca-Cola Company

The Coca-Cola Company

The Coca-Cola Company is an American multinational beverage corporation and manufacturer, retailer and marketer of non-alcoholic beverage concentrates and syrups. The company is best known for its flagship product Coca-Cola, invented in 1886 by pharmacist John Stith Pemberton in Columbus, Georgia...


's entry, with four concept stores that have now closed
Flocafé

Flocafé

Flocafé is a Greek franchise coffee house chain and belongs to Vivartia, a nutrition conglomerate brand that owns several similar franchises. It opened its first outlet in Athens in 1994 and now operates over 70 coffee houses in Greece, Cyprus and on several cruise ships.In 2006 it held a 10.2% of...


- based in Greece

Greece

Greece , officially the Hellenic Republic , and historically Hellas or the Republic of Greece in English, is a country in southeastern Europe....


; over 70 locations in Greece, Cyprus

Cyprus

Cyprus , officially the Republic of Cyprus , is a Eurasian island country, member of the European Union, in the Eastern Mediterranean, east of Greece, south of Turkey, west of Syria and north of Egypt. It is the third largest island in the Mediterranean Sea.The earliest known human activity on the...


, and on several cruise ship

Cruise ship

A cruise ship or cruise liner is a passenger ship used for pleasure voyages, where the voyage itself and the ship's amenities are part of the experience, as well as the different destinations along the way...


s
I
J
M-N
P-Q
R
Robin's Donuts

Robin's Donuts

Robin's Donuts is a large Canadian chain of over 130 doughnut shops that operate in provinces across Canada.-History:The first store opened in 1975 in Thunder Bay, Ontario...


(Canada

Canada

Canada is a North American country consisting of ten provinces and three territories. Located in the northern part of the continent, it extends from the Atlantic Ocean in the east to the Pacific Ocean in the west, and northward into the Arctic Ocean...


)
Robert Harris Coffee Roasters - owned by Gregg's

Gregg's (New Zealand)

Gregg's is a New Zealand food and beverage company, best known for their coffee, desserts, and condiments. Operating since 1861, it is one of New Zealand's oldest food companies. The company is now run as part of Cerebos Greggs Ltd and was New Zealand's second largest coffee seller in 2007, after...


, New Zealand
S
T
W-X
Wayne's Coffee

Wayne's Coffee

Wayne's Coffee is a Swedish-based coffee-house chain founded in Stockholm at Kungsgatan in 1994. The chain grew with locations in several Scandinavian countries as well as further out into the Baltic region....


(Originated in Sweden

Sweden

Sweden , officially the Kingdom of Sweden , is a Nordic country on the Scandinavian Peninsula in Northern Europe. Sweden borders with Norway and Finland and is connected to Denmark by a bridge-tunnel across the Öresund....


, locations throughout Scandinavia)
Williams Fresh Cafe (Canada)