 Moto Hospitality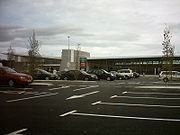 Moto Hospitality
is a company which operates 58 motorway service stations across the
UK
United Kingdom
The United Kingdom of Great Britain and Northern IrelandIn the United Kingdom and Dependencies, other languages have been officially recognised as legitimate autochthonous languages under the European Charter for Regional or Minority Languages...
.
Moto is owned by a consortium of shareholders including Australian Pension Funds and European and New Zealand Infrastructure Funds and is asset managed by Macquarie Investment Bank. Macquarie Bank has managed Moto since Compass Group sold off SSP in April 2006 for £1,822m.
History
Granada, who owned the chain of Granada motorway service stations, merged with
Compass
Compass Group
Compass Group plc is a global contract foodservice and support services company headquartered near London, United Kingdom. It is the largest contract foodservice company in the world and has operations in over 50 countries...
in July 2000, to form Granada Compass plc. The plan was to combine the hospitality interests of the two businesses and hive off the media division, which was done by demerging the new group into Compass plc and Granada Media in 2001. Granada had previously acquired
Forte plc
Forte Group
Forte Group plc was a British hotel and restaurant company. It was listed on the London Stock Exchange and was a constituent of the FTSE 100 Index until it was acquired by Granada PLC.-History:...
in a £3.3bn hostile takeover on 24 January 1996. It sold its French
Cote France
service stations to Italy's
Autogrill
Autogrill
Autogrill is an Italian-based, multinational catering and retail company, the world's largest in the travel dining sector, which is controlled with a 59% stake by the Edizione Holding investment vehicle of the Benetton family. Autogrill runs operations in 40 different countries, primarily in Europe...
in December 1997. The food and hospitality division of Granada was retained by Compass, which became its Select Service Partner UK division, but ownership of the Granada brand and trademark passed to the new media company. The Granada name was retained on the service stations until 23 May 2001, when the 47 sites were rebranded as Moto. In 2006, Moto separated from Compass Group and SSP following successful acquisition by a consortium of investors and underwent a period of intensive expansion through investment in new brands and offers.
Facilities
The facilities available at Moto service areas varies from each site, with most sites open 24 hours a day, 7 days a week. Typically, each service area comprises a cafe or restaurant, a retail outlet, a hotel and a petrol station. All sites have WHSmith,
Burger King
Burger King
Burger King, often abbreviated as BK, is a global chain of hamburger fast food restaurants headquartered in unincorporated Miami-Dade County, Florida, United States. The company began in 1953 as Insta-Burger King, a Jacksonville, Florida-based restaurant chain...
, Eat and Drink Co. restaurant,
Costa Coffee
Costa Coffee
Costa Coffee is a British coffeehouse company founded in 1971 by Italian brothers Sergio and Bruno Costa, as a wholesale operation supplying roasted coffee to caterers and specialist Italian coffee shops. Since 1995 it has been a subsidiary of Whitbread, since when the company has grown to over...
and a Petrol station which is either
Esso
Esso
Esso is an international trade name for ExxonMobil and its related companies. Pronounced , it is derived from the initials of the pre-1911 Standard Oil, and as such became the focus of much litigation and regulatory restriction in the United States. In 1972, it was largely replaced in the U.S. by...
or
BP
BP
BP p.l.c. is a global oil and gas company headquartered in London, United Kingdom. It is the third-largest energy company and fourth-largest company in the world measured by revenues and one of the six oil and gas "supermajors"...
.
Travelodge
The majority of hotels at Moto service areas are
Travelodge
Travelodge
Travelodge refers to several hotel chains around the world. Current operations include: the United States, Canada, the United Kingdom, Spain, the Republic of Ireland, New Zealand and Australia...
Hotels, at 56 sites.
Days Inn
Moto have recently experimented with
Days Inn
Days Inn
Days Inn is a motel chain headquartered in the United States. Founded in 1970, it is now a part of the Wyndham Hotel Group, based in Parsippany, New Jersey, which was formerly a part of Cendant...
, with 2 sites at
Winchester services
and
Wetherby Services
Wetherby services
Wetherby Services is a major service station north of Wetherby on the A1. The service station fully opened in September 2008. The service station lies on the border between North and West Yorkshire in the north of England...
. Although the
Days Inn
Days Inn
Days Inn is a motel chain headquartered in the United States. Founded in 1970, it is now a part of the Wyndham Hotel Group, based in Parsippany, New Jersey, which was formerly a part of Cendant...
motel at
Winchester services
was opened by Moto, but operated by
Welcome Break
Welcome Break
Welcome Break is a company which operates thirty-five motorway service stations in the UK. It is the second largest motorway service area operator behind Moto.-History:...
.
Fone Bitz
Fone Bitz operate at quite a few selected Moto sites, Fone Bitz sell a range of
Mobile Phone
Mobile phone
A mobile phone is a device which can make and receive telephone calls over a radio link whilst moving around a wide geographic area. It does so by connecting to a cellular network provided by a mobile network operator...
,
iPad
IPad
The iPad is a line of tablet computers designed, developed and marketed by Apple Inc., primarily as a platform for audio-visual media including books, periodicals, movies, music, games, and web content. The iPad was introduced on January 27, 2010 by Apple's then-CEO Steve Jobs. Its size and...
,
iPod
IPod
iPod is a line of portable media players created and marketed by Apple Inc. The product line-up currently consists of the hard drive-based iPod Classic, the touchscreen iPod Touch, the compact iPod Nano, and the ultra-compact iPod Shuffle...
,
Laptop
Laptop
A laptop, also called a notebook, is a personal computer for mobile use. A laptop integrates most of the typical components of a desktop computer, including a display, a keyboard, a pointing device and speakers into a single unit...
, electronic and car accessories in general.
Ladbrokes
Ladbrokes was introduced long before Moto's reign, and was introduced by Granada in 1995, Granada thought betting arcades would be a useful facility at Motorway Services.
Moto Meetings
Moto Meetings is a business centre which is soon to be rolled out to most Moto service areas. It offers facilities other than business, such as the free
Wi-Fi
Wi-Fi
Wi-Fi or Wifi, is a mechanism for wirelessly connecting electronic devices. A device enabled with Wi-Fi, such as a personal computer, video game console, smartphone, or digital audio player, can connect to the Internet via a wireless network access point. An access point has a range of about 20...
, Food & Drink, Telephones,
eMail
Email
Electronic mail, commonly known as email or e-mail, is a method of exchanging digital messages from an author to one or more recipients. Modern email operates across the Internet or other computer networks. Some early email systems required that the author and the recipient both be online at the...
, and
Fax
Fax
Fax , sometimes called telecopying, is the telephonic transmission of scanned printed material , normally to a telephone number connected to a printer or other output device...
at most Moto service areas and a seating area. Meeting Rooms are booked on-site.
Lucky Coin
Lucky Coin are Moto's own branded betting arcades, they were founded and introduced in 2006. They are a common sight at Moto services and even appear at services that provide a Ladbrokes too.
Barber Shop
The branch at Toddington Services has since closed. Leaving just 2 shops, one at Lymm and the other at Leigh Delamere. The branch at Leigh Delamere is branded as 'Mr.Bee's Barbershop'.
Full Hou$e
Full House is another one of Moto's self branded arcades. Unlike Lucky Coin, Full House is relatively new and isn't at many sites for the time being.
WHSmith
It was recently announced that WHSmith will open outlets in all Moto service stations.
M&S Simply Food
Marks & Spencer
Marks & Spencer
Marks and Spencer plc is a British retailer headquartered in the City of Westminster, London, with over 700 stores in the United Kingdom and over 300 stores spread across more than 40 countries. It specialises in the selling of clothing and luxury food products...
operate Simply Food outlets across many services the first one opened at Toddington in 2003 and has been rolled out at many of Moto's sites
Costa Coffee
In 2008
Costa Coffee
Costa Coffee
Costa Coffee is a British coffeehouse company founded in 1971 by Italian brothers Sergio and Bruno Costa, as a wholesale operation supplying roasted coffee to caterers and specialist Italian coffee shops. Since 1995 it has been a subsidiary of Whitbread, since when the company has grown to over...
agreed a new deal with Moto and started to open branches at all sites and it also replaced
Caffè Ritazza
Caffè Ritazza
Caffè Ritazza is a chain of retail outlets owned by Select Service Partner . It provides a range of coffees, pastries, ciabattas, panini and alcoholic drinks at many sites internationally.- Locations :...
outlets or opened in new space that was available, by 2009 all the remaining Ritazza outlets were eventually removed and replaced.
Eat & Drink Co
Moto's self branded restaurant introduced in 2008. Replacing the old Fresh Express Restaurants.
Domino's Pizza
Domino's Pizza
Domino's Pizza
Domino's Pizza, Inc. is an international pizza delivery corporation headquartered in Ann Arbor, Michigan, United States of America. Founded in 1960, Domino's is the second-largest pizza chain in the United States and has over 9,000 corporate and franchised stores in 60 countries and all 50 U.S....
is set to open at 43 sites across Moto's portfolio, with the first at Leigh Delamare on the M4 and Cherwell Valley on the M40 and will run the full Domino's menu.
Greggs
Greggs
Greggs
Greggs plc is the largest specialist retail bakery chain in the United Kingdom. It was established in the 1930s as a single shop but has approximately 1,500 outlets....
are currently be trialled at Lymm services on the M56, and if successful to the public they will be opened at 30 Moto sites.
West Cornwall Pasty Company
The West Cornwall Pasty Company was introduced to Reading West Services on the M4 in early 2011 as part of a trial to replace
Upper Crust
Upper Crust
Upper Crust is an international chain of baguette restaurants concentrated along commuter routes, their outlets are commonplace in stations and terminals. Branches are also present in some Universities in the UK, including City University, London. There are also branches at the central railway...
.
Upper Crust
Upper Crust used to be at many sites but were all closed down expect for a couple of sites at Reading & Wetherby Services. A branch surprisingly re-opened at
Cherwell Valley Services
, replacing the
Ladbrokes
Ladbrokes
Ladbrokes plc is a British based gambling company. It is based in Rayners Lane in Harrow, London owned by Bhavin Kakaiya. From 14 May 1999 to 23 February 2006, when it owned the Hilton hotel brand outside the United States, it was known as Hilton Group plc...
that should have opened instead.
Krispy Kreme
Krispy Kreme
Krispy Kreme
Krispy Kreme is the name of an international chain of doughnut stores that was founded by Vernon Rudolph in 1937 in Winston-Salem, North Carolina. The parent company of Krispy Kreme is Krispy Kreme Doughnuts, Inc...
Kiosks were recently introduced to Moto, selling doughnuts and coffee at some of their busiest services.
Harry Ramsdens
Harry Ramsdens fish and chip shops used to be at 30 of Moto sites, but as the company has slowly shrunk all the service station units closed. It still has a branch at Exeter Services.
Awards
Moto have won awards for the high standards of cleanliness in their public toilets, winning the '
Loo of the Year Award
Loo of the Year Award
The Loo of the Year Award is an award given by an independent association to public facilities in the United Kingdom that meet a number of requirements.The Award's objective is to promote the highest possible standards in public toilets....
' in 2006 (for the fourth year running). Moto's Operations Director Brian Larkin was quoted as saying: "To be declared as having the best loos in Britain is quite an achievement in an industry like ours where around 100 million people a year use our toilets. They are open around the clock, every single day of the year so keeping them clean is a mammoth task. But hygienically spotless, fresh smelling toilets are a vital part of our customer care package and the people who look after them do a first-rate job. This accolade – and all the individual awards we've been given – is a glowing tribute to the hard work put in by our cleaning teams. We are delighted with the results."
The competition judges visited more than 1,000 public toilets all over Britain, scrutinising cleanliness, overall management, signage, accessibility, décor and the standard of fixtures and fittings.
Parking policy
Moto are the only major UK motorway service station operator to strictly enforce the two-hour free parking rule, and regularly issue £50 invoices for parking charges (often confused with a fine (penalty), that can only be issued by a court of law) to customers, even if they have stayed with their vehicles for the duration of their stay. (This information has no citation however is confirmed by a Moto-Way Employee).
Innovations
Moto have recently opened Britain's first carbon neutral service station on the A1(M) at
Kirk Deighton
Kirk Deighton
Kirk Deighton is a village and civil parish in the Harrogate district of North Yorkshire, England. It is situated to the immediate north west of Wetherby and near the A1. The village has a population of less than 500 people. Kirk Deighton is set along the county border line between West Yorkshire...
near
Wetherby
Wetherby
Wetherby is a market town and civil parish within the metropolitan borough of the City of Leeds, in West Yorkshire, England. It stands on the River Wharfe, and has been for centuries a crossing place and staging post on the Great North Road, being mid-way between London and Edinburgh...
, lying across the border line between
West Yorkshire
West Yorkshire
West Yorkshire is a metropolitan county within the Yorkshire and the Humber region of England with a population of 2.2 million. West Yorkshire came into existence as a metropolitan county in 1974 after the passage of the Local Government Act 1972....
and
North Yorkshire
North Yorkshire
North Yorkshire is a non-metropolitan or shire county located in the Yorkshire and the Humber region of England, and a ceremonial county primarily in that region but partly in North East England. Created in 1974 by the Local Government Act 1972 it covers an area of , making it the largest...
, they have also purchased Winchester Services from Roadchef for conversion to carbon neutral operation. The upgrade will include recharging points for hybrid cars, a wind turbine, energy saving measures within the station itself and several innovative solutions that will be employed on a trial basis. These include a methane capturing system in the septic tank that will be allow gas to be recycled into the food production areas, and a commitment towards the reuse of energy currently wasted in the disposal systems of the station.
Other Moto stations shall soon feature play areas designed in collaboration with Tate Prize nominie Kolya Alyar who is famous for his work in bringing attention to the plight of the
Mountain Jews
Mountain Jews
Highland Jews, Mountain Jews or Kavkazi Jews also known as Juvuro or Juhuro, are Jews of the eastern Caucasus, mainly of Azerbaijan and Dagestan. They are also known as Caucasus Jews, Caucasian Jews, or less commonly East Caucasian Jews, because the majority of these Jews settled the eastern part...
of
Dagestan
Dagestan
The Republic of Dagestan is a federal subject of Russia, located in the North Caucasus region. Its capital and the largest city is Makhachkala, located at the center of Dagestan on the Caspian Sea...
, themed around various biblical chapters, including but not limited to Exodus and
Leviticus
Leviticus
The Book of Leviticus is the third book of the Hebrew Bible, and the third of five books of the Torah ....
.
External links