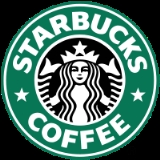 Starbucks
Starbucks Corporation is an international coffee and
coffeehouse chain
based in Seattle, Washington. Starbucks is the largest
coffeehouse
Coffeehouse
A coffeehouse or coffee shop is an establishment which primarily serves prepared coffee or other hot beverages. It shares some of the characteristics of a bar, and some of the characteristics of a restaurant, but it is different from a cafeteria. As the name suggests, coffeehouses focus on...
company in the world, with 17,009 stores in 55 countries, including over 11,000 in the United States, over 1,000 in Canada, over 700 in the United Kingdom, and over 150 in
Turkey
Turkey
Turkey , known officially as the Republic of Turkey , is a Eurasian country located in Western Asia and in East Thrace in Southeastern Europe...
.
Starbucks sells
drip brewed coffee
Drip brew
Drip brewing, or filtered coffee, is a method for brewing coffee which involves pouring water over roasted, ground coffee beans contained in a filter. Water seeps through the coffee, absorbing its oils and essences, solely under gravity, then passes through the bottom of the filter...
,
espresso
Espresso
Espresso is a concentrated beverage brewed by forcing a small amount of nearly boiling water under pressure through finely ground coffee. Espresso is widely known throughout the world....
-based hot drinks, other hot and cold drinks, coffee beans, salads, hot and cold sandwiches and panini, pastries, snacks, and items such as mugs and tumblers.