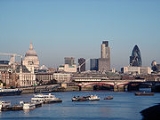 Largest cities of the European Union by population within city limits
This is a list of the
largest cities in the European Union

European Union

The European Union is an economic and political union of 27 independent member states which are located primarily in Europe. The EU traces its origins from the European Coal and Steel Community and the European Economic Community , formed by six countries in 1958...


by population within city limits
which have more than 300,000 inhabitants. It deals exclusively with the areas within city administrative boundaries as opposed to
urban areas
Largest urban areas of the European Union
This is a list of all the urban areas of the European Union which have greater than 750,000 inhabitants each in 2011.This list is an attempt to present a consistent list of population figures for urban areas in the European Union. All the figures here have been compiled by Demographia.-Important...
or metropolitan areas, which are generally larger in terms of population than the main city.
As some cities have very narrow city limits and others very wide, the list may not give an accurate view of the comparative magnitude of different places, and the figures in the list should be treated with caution. For example, the populations of Greater London and Greater Paris constitute the largest urban areas in the EU, but the strict definition of the limits of the respective cities results in a far lower population shown in the table below.
Cities over 300,000 inhabitants
Note:
Cities in bold are capital cities of their respective countries. The cities should be sorted by the column labelled Official population.
Rank
City
Country
Eurostat population (2004)
Official population
Date of census/estimate
References
Image
1
London

London

London is the capital city of :England and the :United Kingdom, the largest metropolitan area in the United Kingdom, and the largest urban zone in the European Union by most measures. Located on the River Thames, London has been a major settlement for two millennia, its history going back to its...




 United Kingdom
7,429,200
7,825,300
2
Berlin

Berlin

Berlin is the capital city of Germany and is one of the 16 states of Germany. With a population of 3.45 million people, Berlin is Germany's largest city. It is the second most populous city proper and the seventh most populous urban area in the European Union...



 Germany
3,387,828
3,440,441
3
Madrid

Madrid

Madrid is the capital and largest city of Spain. The population of the city is roughly 3.3 million and the entire population of the Madrid metropolitan area is calculated to be 6.271 million. It is the third largest city in the European Union, after London and Berlin, and its metropolitan...



 Spain
3,228,319
3,284,110
4
Rome

Rome

Rome is the capital of Italy and the country's largest and most populated city and comune, with over 2.7 million residents in . The city is located in the central-western portion of the Italian Peninsula, on the Tiber River within the Lazio region of Italy.Rome's history spans two and a half...



 Italy
2,553,873
2,772,752
5
Paris

Paris

Paris is the capital and largest city in France, situated on the river Seine, in northern France, at the heart of the Île-de-France region...



 France
2,181,374
2,203,817
6
Bucharest

Bucharest

Bucharest is the capital municipality, cultural, industrial, and financial centre of Romania. It is the largest city in Romania, located in the southeast of the country, at , and lies on the banks of the Dâmbovița River....



 Kingdom of Romania
1,927,448
1,944,367
7
Hamburg

Hamburg

-History:The first historic name for the city was, according to Claudius Ptolemy's reports, Treva.But the city takes its modern name, Hamburg, from the first permanent building on the site, a castle whose construction was ordered by the Emperor Charlemagne in AD 808...



 Germany
1,734,830
1,773,218
8
Budapest

Budapest

Budapest is the capital of Hungary. As the largest city of Hungary, it is the country's principal political, cultural, commercial, industrial, and transportation centre. In 2011, Budapest had 1,733,685 inhabitants, down from its 1989 peak of 2,113,645 due to suburbanization. The Budapest Commuter...



 Hungary
1,695,814
1,733,685
9
Vienna

Vienna

Vienna is the capital and largest city of the Republic of Austria and one of the nine states of Austria. Vienna is Austria's primary city, with a population of about 1.723 million , and is by far the largest city in Austria, as well as its cultural, economic, and political centre...



 Austria
1,598,626
1,723,945
10
Warsaw

Warsaw

Warsaw is the capital and largest city of Poland. It is located on the Vistula River, roughly from the Baltic Sea and from the Carpathian Mountains. Its population in 2010 was estimated at 1,716,855 residents with a greater metropolitan area of 2,631,902 residents, making Warsaw the 10th most...



 Poland
1,692,854
1,711,466
11
Barcelona

Barcelona

Barcelona is the second largest city in Spain after Madrid, and the capital of Catalonia, with a population of 1,621,537 within its administrative limits on a land area of...



 Spain
1,621,537
1,621,537
12
Sofia

Sofia

Sofia is the capital and largest city of Bulgaria and the 12th largest city in the European Union with a population of 1.27 million people. It is located in western Bulgaria, at the foot of Mount Vitosha and approximately at the centre of the Balkan Peninsula.Prehistoric settlements were excavated...



 Kingdom of Bulgaria
1,313,806
1,270,284
13
Milan

Milan

Milan is the second-largest city in Italy and the capital city of the region of Lombardy and of the province of Milan. The city proper has a population of about 1.3 million, while its urban area, roughly coinciding with its administrative province and the bordering Province of Monza and Brianza ,...



 Italy
1,299,439
1,336,157
14
Munich

Munich

Munich The city's motto is "" . Before 2006, it was "Weltstadt mit Herz" . Its native name, , is derived from the Old High German Munichen, meaning "by the monks' place". The city's name derives from the monks of the Benedictine order who founded the city; hence the monk depicted on the city's coat...



 Germany
1,249,176
1,356,594
15
Lyon

Lyon

Lyon , is a city in east-central France in the Rhône-Alpes region, situated between Paris and Marseille. Lyon is located at from Paris, from Marseille, from Geneva, from Turin, and from Barcelona. The residents of the city are called Lyonnais....



 France
1,226,249
472,304
16
Valencia
 Spain
1,175,732
814,208
17
Prague

Prague

Prague is the capital and largest city of the Czech Republic. Situated in the north-west of the country on the Vltava river, the city is home to about 1.3 million people, while its metropolitan area is estimated to have a population of over 2.3 million...



 Czech Republic
1,290,846
1,290,846
18
Marseille

Marseille

Marseille , known in antiquity as Massalia , is the second largest city in France, after Paris, with a population of 852,395 within its administrative limits on a land area of . The urban area of Marseille extends beyond the city limits with a population of over 1,420,000 on an area of...



 France
1,023,973
839,043
19
Brussels

Brussels

Brussels , officially the Brussels Region or Brussels-Capital Region , is the capital of Belgium and the de facto capital of the European Union...



 Belgium
999,899
1,048,491
20
Naples

Naples

Naples is a city in Southern Italy, situated on the country's west coast by the Gulf of Naples. Lying between two notable volcanic regions, Mount Vesuvius and the Phlegraean Fields, it is the capital of the region of Campania and of the province of Naples...



 Italy
995,171
957,220
21
Birmingham

Birmingham

Birmingham is a city and metropolitan borough in the West Midlands of England. It is the most populous British city outside the capital London, with a population of 1,036,900 , and lies at the heart of the West Midlands conurbation, the second most populous urban area in the United Kingdom with a...



 United Kingdom
992,400
1,016,800
22
Cologne

Cologne

Cologne is Germany's fourth-largest city , and is the largest city both in the Germany Federal State of North Rhine-Westphalia and within the Rhine-Ruhr Metropolitan Area, one of the major European metropolitan areas with more than ten million inhabitants.Cologne is located on both sides of the...



 Germany
969,709
1,000,298
23
Turin

Turin

Turin is a city and major business and cultural centre in northern Italy, capital of the Piedmont region, located mainly on the left bank of the Po River and surrounded by the Alpine arch. The population of the city proper is 909,193 while the population of the urban area is estimated by Eurostat...



 Italy
902,255
908,653
24
Athens

Athens

Athens , is the capital and largest city of Greece. Athens dominates the Attica region and is one of the world's oldest cities, as its recorded history spans around 3,400 years. Classical Athens was a powerful city-state...



 Greece
796,442
745,514
25
Amsterdam

Amsterdam

Amsterdam is the largest city and the capital of the Netherlands. The current position of Amsterdam as capital city of the Kingdom of the Netherlands is governed by the constitution of August 24, 1815 and its successors. Amsterdam has a population of 783,364 within city limits, an urban population...



 Netherlands
752,911
26
Stockholm

Stockholm

Stockholm is the capital and the largest city of Sweden and constitutes the most populated urban area in Scandinavia. Stockholm is the most populous city in Sweden, with a population of 851,155 in the municipality , 1.37 million in the urban area , and around 2.1 million in the metropolitan area...



 Sweden
761,721
829,417
27
Kraków

Kraków

Kraków also Krakow, or Cracow , is the second largest and one of the oldest cities in Poland. Situated on the Vistula River in the Lesser Poland region, the city dates back to the 7th century. Kraków has traditionally been one of the leading centres of Polish academic, cultural, and artistic life...



 Poland
757,430
756,666
28
Łódź
 Poland
744,541
750,125
29
Riga

Riga

Riga is the capital and largest city of Latvia. With 702,891 inhabitants Riga is the largest city of the Baltic states, one of the largest cities in Northern Europe and home to more than one third of Latvia's population. The city is an important seaport and a major industrial, commercial,...



 Latvia
735,241
713,000
30
Leeds

Leeds

Leeds is a city and metropolitan borough in West Yorkshire, England. In 2001 Leeds' main urban subdivision had a population of 443,247, while the entire city has a population of 798,800 , making it the 30th-most populous city in the European Union.Leeds is the cultural, financial and commercial...



 United Kingdom
443,247
770,800
31
Sevilla
 Spain
704,203
703,206
32
Palermo

Palermo

Palermo is a city in Southern Italy, the capital of both the autonomous region of Sicily and the Province of Palermo. The city is noted for its history, culture, architecture and gastronomy, playing an important role throughout much of its existence; it is over 2,700 years old...



 Italy
675,277
655,273
33
Toulouse

Toulouse

Toulouse is a city in the Haute-Garonne department in southwestern FranceIt lies on the banks of the River Garonne, 590 km away from Paris and half-way between the Atlantic Ocean and the Mediterranean Sea...



 France
651,586
437,715
34
Frankfurt

Frankfurt

Frankfurt am Main , commonly known simply as Frankfurt, is the largest city in the German state of Hesse and the fifth-largest city in Germany, with a 2010 population of 688,249. The urban area had an estimated population of 2,300,000 in 2010...



 Germany
646,889
667,598
35
Zaragoza

Zaragoza

Zaragoza , also called Saragossa in English, is the capital city of the Zaragoza Province and of the autonomous community of Aragon, Spain...



 Spain
638,799
674,317
36
Wrocław
 Poland
636,268
633,950
37
Glasgow

Glasgow

Glasgow is the largest city in Scotland and third most populous in the United Kingdom. The city is situated on the River Clyde in the country's west central lowlands...



 United Kingdom
629,501
581,900
38
Genoa

Genoa

Genoa |Ligurian]] Zena ; Latin and, archaically, English Genua) is a city and an important seaport in northern Italy, the capital of the Province of Genoa and of the region of Liguria....



 Italy
605,084
608,468
39
Rotterdam

Rotterdam

Rotterdam is the second-largest city in the Netherlands and one of the largest ports in the world. Starting as a dam on the Rotte river, Rotterdam has grown into a major international commercial centre...



 Netherlands
598,923
584,058
40
Stuttgart

Stuttgart

Stuttgart is the capital of the state of Baden-Württemberg in southern Germany. The sixth-largest city in Germany, Stuttgart has a population of 600,038 while the metropolitan area has a population of 5.3 million ....



 Germany
590,657
595,452
41
Dortmund

Dortmund

Dortmund is a city in Germany. It is located in the Bundesland of North Rhine-Westphalia, in the Ruhr area. Its population of 585,045 makes it the 7th largest city in Germany and the 34th largest in the European Union....



 Germany
588,680
580,444
42
Essen

Essen

- Origin of the name :In German-speaking countries, the name of the city Essen often causes confusion as to its origins, because it is commonly known as the German infinitive of the verb for the act of eating, and/or the German noun for food. Although scholars still dispute the interpretation of...



 Germany
588,084
574,635
43
Düsseldorf

Düsseldorf

Düsseldorf is the capital city of the German state of North Rhine-Westphalia and centre of the Rhine-Ruhr metropolitan region.Düsseldorf is an important international business and financial centre and renowned for its fashion and trade fairs. Located centrally within the European Megalopolis, the...



 Germany
572,663
588,735
44
Poznań

Poznan

Poznań is a city on the Warta river in west-central Poland, with a population of 556,022 in June 2009. It is among the oldest cities in Poland, and was one of the most important centres in the early Polish state, whose first rulers were buried at Poznań's cathedral. It is sometimes claimed to be...



 Poland
570,778
564,035
45
Helsinki

Helsinki

Helsinki is the capital and largest city in Finland. It is in the region of Uusimaa, located in southern Finland, on the shore of the Gulf of Finland, an arm of the Baltic Sea. The population of the city of Helsinki is , making it by far the most populous municipality in Finland. Helsinki is...



 Finland
559,716
590,551
46
Vilnius

Vilnius

Vilnius is the capital of Lithuania, and its largest city, with a population of 560,190 as of 2010. It is the seat of the Vilnius city municipality and of the Vilnius district municipality. It is also the capital of Vilnius County...



 Lithuania
552,800
553,553
47
Málaga

Málaga

Málaga is a city and a municipality in the Autonomous Community of Andalusia, Spain. With a population of 568,507 in 2010, it is the second most populous city of Andalusia and the sixth largest in Spain. This is the southernmost large city in Europe...



 Spain
547,731
568,305
48
Bremen
 Germany
545,932
548,477
49
Lisbon

Lisbon

Lisbon is the capital city and largest city of Portugal with a population of 545,245 within its administrative limits on a land area of . The urban area of Lisbon extends beyond the administrative city limits with a population of 3 million on an area of , making it the 9th most populous urban...



 Portugal
529,485
499,700
50
Sheffield

Sheffield

Sheffield is a city and metropolitan borough of South Yorkshire, England. Its name derives from the River Sheaf, which runs through the city. Historically a part of the West Riding of Yorkshire, and with some of its southern suburbs annexed from Derbyshire, the city has grown from its largely...



 United Kingdom
516,100
534,500
51
Hannover
 Germany
515,841
517,251
52
Copenhagen

Copenhagen

Copenhagen is the capital and largest city of Denmark, with an urban population of 1,199,224 and a metropolitan population of 1,930,260 . With the completion of the transnational Øresund Bridge in 2000, Copenhagen has become the centre of the increasingly integrating Øresund Region...



 Denmark
501,664
520,659
53
Leipzig

Leipzig

Leipzig Leipzig has always been a trade city, situated during the time of the Holy Roman Empire at the intersection of the Via Regia and Via Imperii, two important trade routes. At one time, Leipzig was one of the major European centres of learning and culture in fields such as music and publishing...



 Germany
498,491
510,512
54
Duisburg

Duisburg

- History :A legend recorded by Johannes Aventinus holds that Duisburg, was built by the eponymous Tuisto, mythical progenitor of Germans, ca. 2395 BC...



 Germany
N/A
496,665
55
Nuremberg

Nuremberg

Nuremberg[p] is a city in the German state of Bavaria, in the administrative region of Middle Franconia. Situated on the Pegnitz river and the Rhine–Main–Danube Canal, it is located about north of Munich and is Franconia's largest city. The population is 505,664...



 Germany
495,302
500,967
56
Dresden

Dresden

Dresden is the capital city of the Free State of Saxony in Germany. It is situated in a valley on the River Elbe, near the Czech border. The Dresden conurbation is part of the Saxon Triangle metropolitan area....



 Germany
487,421
517,052
57
Bradford

Bradford

Bradford lies at the heart of the City of Bradford, a metropolitan borough of West Yorkshire, in Northern England. It is situated in the foothills of the Pennines, west of Leeds, and northwest of Wakefield. Bradford became a municipal borough in 1847, and received its charter as a city in 1897...



 United Kingdom
481,100
501,700
58
Nice

Nice

Nice is the fifth most populous city in France, after Paris, Marseille, Lyon and Toulouse, with a population of 348,721 within its administrative limits on a land area of . The urban area of Nice extends beyond the administrative city limits with a population of more than 955,000 on an area of...



 France
478,850
347,060
59
Dublin
 Republic of Ireland
471,841
525,383
60
The Hague

The Hague

The Hague is the capital city of the province of South Holland in the Netherlands. With a population of 500,000 inhabitants , it is the third largest city of the Netherlands, after Amsterdam and Rotterdam...



 Netherlands
469,059
473,941
61
Gothenburg

Gothenburg

Gothenburg is the second-largest city in Sweden and the fifth-largest in the Nordic countries. Situated on the west coast of Sweden, the city proper has a population of 519,399, with 549,839 in the urban area and total of 937,015 inhabitants in the metropolitan area...



 Sweden
466,990
507,330
62
Gdańsk

Gdansk

Gdańsk is a Polish city on the Baltic coast, at the centre of the country's fourth-largest metropolitan area.The city lies on the southern edge of Gdańsk Bay , in a conurbation with the city of Gdynia, spa town of Sopot, and suburban communities, which together form a metropolitan area called the...



 Poland
459,072
456,103
63
Antwerp
 Belgium
455,148
472,071
64
Edinburgh

Edinburgh

Edinburgh is the capital city of Scotland, the second largest city in Scotland, and the eighth most populous in the United Kingdom. The City of Edinburgh Council governs one of Scotland's 32 local government council areas. The council area includes urban Edinburgh and a rural area...



 United Kingdom
453,700
477,660
65
Liverpool

Liverpool

Liverpool is a city and metropolitan borough of Merseyside, England, along the eastern side of the Mersey Estuary. It was founded as a borough in 1207 and was granted city status in 1880...



 United Kingdom
444,500
434,900
66
Manchester

Manchester

Manchester is a city and metropolitan borough in Greater Manchester, England. According to the Office for National Statistics, the 2010 mid-year population estimate for Manchester was 498,800. Manchester lies within one of the UK's largest metropolitan areas, the metropolitan county of Greater...



 United Kingdom
437,000
464,200
67
Bratislava

Bratislava

Bratislava is the capital of Slovakia and, with a population of about 431,000, also the country's largest city. Bratislava is in southwestern Slovakia on both banks of the Danube River. Bordering Austria and Hungary, it is the only national capital that borders two independent countries.Bratislava...



 Slovakia
425,155
431,061
68
Szczecin

Szczecin

Szczecin , is the capital city of the West Pomeranian Voivodeship in Poland. It is the country's seventh-largest city and the largest seaport in Poland on the Baltic Sea. As of June 2009 the population was 406,427....



 Poland
411,900
408,583
69
Murcia

Murcia

-History:It is widely believed that Murcia's name is derived from the Latin words of Myrtea or Murtea, meaning land of Myrtle , although it may also be a derivation of the word Murtia, which would mean Murtius Village...



 Spain
398,815
436,870
70
Bristol

Bristol

Bristol is a city, unitary authority area and ceremonial county in South West England, with an estimated population of 433,100 for the unitary authority in 2009, and a surrounding Larger Urban Zone with an estimated 1,070,000 residents in 2007...



 United Kingdom
393,900
421,300
71
Tallinn

Tallinn

Tallinn is the capital and largest city of Estonia. It occupies an area of with a population of 414,940. It is situated on the northern coast of the country, on the banks of the Gulf of Finland, south of Helsinki, east of Stockholm and west of Saint Petersburg. Tallinn's Old Town is in the list...



 Estonia
392,306
396,193
72
Bochum

Bochum

Bochum is a city in North Rhine-Westphalia, western Germany. It is located in the Ruhr area and is surrounded by the cities of Essen, Gelsenkirchen, Herne, Castrop-Rauxel, Dortmund, Witten and Hattingen.-History:...



 Germany
388,179
382,195
73
Thessaloniki

Thessaloniki

Thessaloniki , historically also known as Thessalonica, Salonika or Salonica, is the second-largest city in Greece and the capital of the region of Central Macedonia as well as the capital of the Decentralized Administration of Macedonia and Thrace...



 Greece
386,627
363,987
74
Las Palmas

Las Palmas de Gran Canaria

Las Palmas de Gran Canaria commonly known as Las Palmas is the political capital, jointly with Santa Cruz, the most populous city in the Autonomous Community of the Canary Islands and the ninth largest city in Spain, with a population of 383,308 in 2010. Nearly half of the people of the island...



 Spain
376,953
381,847
75
Bologna

Bologna

Bologna is the capital city of Emilia-Romagna, in the Po Valley of Northern Italy. The city lies between the Po River and the Apennine Mountains, more specifically, between the Reno River and the Savena River. Bologna is a lively and cosmopolitan Italian college city, with spectacular history,...



 Italy
374,425
382,989
76
Palma

Palma de Mallorca

Palma is the major city and port on the island of Majorca and capital city of the autonomous community of the Balearic Islands in Spain. The names Ciutat de Mallorca and Ciutat were used before the War of the Spanish Succession and are still used by people in Majorca. However, the official name...



 Spain
368,974
401,270
77
Kaunas

Kaunas

Kaunas is the second-largest city in Lithuania and has historically been a leading centre of Lithuanian economic, academic, and cultural life. Kaunas was the biggest city and the center of a powiat in Trakai Voivodeship of the Grand Duchy of Lithuania since 1413. During Russian Empire occupation...



 Lithuania
368,913
360,630
78
Bydgoszcz
 Poland
368,235
362,397
79
Florence

Florence

Florence is the capital city of the Italian region of Tuscany and of the province of Florence. It is the most populous city in Tuscany, with approximately 370,000 inhabitants, expanding to over 1.5 million in the metropolitan area....



 Italy
368,059
373,492
80
Brno

Brno

Brno by population and area is the second largest city in the Czech Republic, the largest Moravian city, and the historical capital city of the Margraviate of Moravia. Brno is the administrative centre of the South Moravian Region where it forms a separate district Brno-City District...



 Czech Republic
367,729
403,407
81
Wuppertal

Wuppertal

Wuppertal is a city in North Rhine-Westphalia, Germany. It is located in and around the Wupper river valley, and is situated east of the city of Düsseldorf and south of the Ruhr area. With a population of approximately 350,000, it is the largest city in the Bergisches Land...



 Germany
361,077
358,746
82
Lublin

Lublin

Lublin is the ninth largest city in Poland. It is the capital of Lublin Voivodeship with a population of 350,392 . Lublin is also the largest Polish city east of the Vistula river...



 Poland
355,998
352,786
83
Bilbao

Bilbao

Bilbao ) is a Spanish municipality, capital of the province of Biscay, in the autonomous community of the Basque Country. With a population of 353,187 , it is the largest city of its autonomous community and the tenth largest in Spain...



 Spain
352,317
354,860
84
Cardiff

Cardiff

Cardiff is the capital, largest city and most populous county of Wales and the 10th largest city in the United Kingdom. The city is Wales' chief commercial centre, the base for most national cultural and sporting institutions, the Welsh national media, and the seat of the National Assembly for...



 United Kingdom
341,054
321,000
85
Plovdiv

Plovdiv

Plovdiv is the second-largest city in Bulgaria after Sofia with a population of 338,153 inhabitants according to Census 2011. Plovdiv's history spans some 6,000 years, with traces of a Neolithic settlement dating to roughly 4000 BC; it is one of the oldest cities in Europe...



 Kingdom of Bulgaria
N/A
331,796
86
Varna

Varna

Varna is the largest city and seaside resort on the Bulgarian Black Sea Coast and third-largest in Bulgaria after Sofia and Plovdiv, with a population of 334,870 inhabitants according to Census 2011...



 Kingdom of Bulgaria
N/A
330,486
87
Bari

Bari

Bari is the capital city of the province of Bari and of the Apulia region, on the Adriatic Sea, in Italy. It is the second most important economic centre of mainland Southern Italy after Naples, and is well known as a port and university city, as well as the city of Saint Nicholas...



 Italy
328,458
319,992
88
Bielefeld

Bielefeld

Bielefeld is an independent city in the Ostwestfalen-Lippe Region in the north-east of North Rhine-Westphalia, Germany. With a population of 323,000, it is also the most populous city in the Regierungsbezirk Detmold...



 Germany
328,012
326,268
89
Wakefield

City of Wakefield

The City of Wakefield is a local government district of West Yorkshire, England, with the status of a city and metropolitan borough. Wakefield is the district's administrative centre. The district includes the "Five Towns" of Normanton, Pontefract, Featherstone, Castleford and Knottingley. Other...



 United Kingdom
N/A
322,300
90
Valladolid

Valladolid

Valladolid is a historic city and municipality in north-central Spain, situated at the confluence of the Pisuerga and Esgueva rivers, and located within three wine-making regions: Ribera del Duero, Rueda and Cigales...



 Spain
321,713
318,461
91
Katowice

Katowice

Katowice is a city in Silesia in southern Poland, on the Kłodnica and Rawa rivers . Katowice is located in the Silesian Highlands, about north of the Silesian Beskids and about southeast of the Sudetes Mountains.It is the central district of the Upper Silesian Metropolis, with a population of 2...



 Poland
319,904
317,864
92
Iaşi

Iasi

Iași is the second most populous city and a municipality in Romania. Located in the historical Moldavia region, Iași has traditionally been one of the leading centres of Romanian social, cultural, academic and artistic life...



 Kingdom of Romania
N/A
315,649
93
Córdoba

Córdoba, Spain

-History:The first trace of human presence in the area are remains of a Neanderthal Man, dating to c. 32,000 BC. In the 8th century BC, during the ancient Tartessos period, a pre-urban settlement existed. The population gradually learned copper and silver metallurgy...



 Spain
314,178
328,428
94
Wirral

Metropolitan Borough of Wirral

The Metropolitan Borough of Wirral is a metropolitan borough of Merseyside, in North West England. It has a population of 311,200, and encompasses of the northern part of the Wirral Peninsula. Major settlements include Birkenhead, Wallasey, Bebington, Heswall, Hoylake and West Kirby. The city of...



 United Kingdom
313,100
309,500
95
Cluj-Napoca

Cluj-Napoca

Cluj-Napoca , commonly known as Cluj, is the fourth most populous city in Romania and the seat of Cluj County in the northwestern part of the country. Geographically, it is roughly equidistant from Bucharest , Budapest and Belgrade...



 Kingdom of Romania
311,528
306,009
96
Ostrava

Ostrava

Ostrava is the third largest city in the Czech Republic and the second largest urban agglomeration after Prague. Located close to the Polish border, it is also the administrative center of the Moravian-Silesian Region and of the Municipality with Extended Competence. Ostrava was candidate for the...



 Czech Republic
311,402
310,397
97
Alicante

Alicante

Alicante or Alacant is a city in Spain, the capital of the province of Alicante and of the comarca of Alacantí, in the south of the Valencian Community. It is also a historic Mediterranean port. The population of the city of Alicante proper was 334,418, estimated , ranking as the second-largest...



 Spain
310,330
334,757
98
Aarhus

Aarhus

Aarhus or Århus is the second-largest city in Denmark. The principal port of Denmark, Aarhus is on the east side of the peninsula of Jutland in the geographical center of Denmark...



 Denmark
N/A
310,653
.
99
Catania

Catania

Catania is an Italian city on the east coast of Sicily facing the Ionian Sea, between Messina and Syracuse. It is the capital of the homonymous province, and with 298,957 inhabitants it is the second-largest city in Sicily and the tenth in Italy.Catania is known to have a seismic history and...



 Italy
305,773
292,693
100
Coventry

Coventry

Coventry is a city and metropolitan borough in the county of West Midlands in England. Coventry is the 9th largest city in England and the 11th largest in the United Kingdom. It is also the second largest city in the English Midlands, after Birmingham, with a population of 300,848, although...



 United Kingdom
304,200
309,800
101
Timişoara

Timisoara

Timișoara is the capital city of Timiș County, in western Romania. One of the largest Romanian cities, with an estimated population of 311,586 inhabitants , and considered the informal capital city of the historical region of Banat, Timișoara is the main social, economic and cultural center in the...



 Kingdom of Romania
303,908
312,113
102
Constanţa

Constanta

Constanța is the oldest extant city in Romania, founded around 600 BC. The city is located in the Dobruja region of Romania, on the Black Sea coast. It is the capital of Constanța County and the largest city in the region....



 Kingdom of Romania
N/A
302,140
103
Mannheim

Mannheim

Mannheim is a city in southwestern Germany. With about 315,000 inhabitants, Mannheim is the second-largest city in the Bundesland of Baden-Württemberg, following the capital city of Stuttgart....



 Germany
N/A
300,793
104
Utrecht

Utrecht (city)

Utrecht city and municipality is the capital and most populous city of the Dutch province of Utrecht. It is located in the eastern corner of the Randstad conurbation, and is the fourth largest city of the Netherlands with a population of 312,634 on 1 Jan 2011.Utrecht's ancient city centre features...



 Netherlands
270,244
300,030