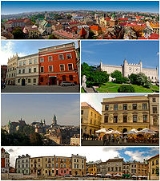 Lublin
Lublin AUD is the ninth largest city in
Poland
Poland
Poland , officially the Republic of Poland , is a country in Central Europe bordered by Germany to the west; the Czech Republic and Slovakia to the south; Ukraine, Belarus and Lithuania to the east; and the Baltic Sea and Kaliningrad Oblast, a Russian exclave, to the north...
. It is the capital of
Lublin Voivodeship
Lublin Voivodeship
- Administrative division :Lublin Voivodeship is divided into 24 counties : 4 city counties and 20 land counties. These are further divided into 213 gminas....
(
province
) with a population of 350,392 (June 2009). Lublin is also the largest Polish city east of the
Vistula
Vistula
The Vistula is the longest and the most important river in Poland, at 1,047 km in length. The watershed area of the Vistula is , of which lies within Poland ....
river. Lublin was a candidate for the title of
European Capital of Culture
European Capital of Culture
The European Capital of Culture is a city designated by theEuropean Union for a period of one calendar year during which it organises a series of cultural events with a strong European dimension....
in 2016.
The first permanent settlements on the Lublin site were established in the early
Middle Ages
Middle Ages
The Middle Ages is a periodization of European history from the 5th century to the 15th century. The Middle Ages follows the fall of the Western Roman Empire in 476 and precedes the Early Modern Era. It is the middle period of a three-period division of Western history: Classic, Medieval and Modern...
, though archeological finds indicate a long, earlier presence of various cultures in the general area.