 Karlsruhe Institute of Technology
The
Karlsruhe Institute of Technology
(
KIT
) is a German academic research and education institution with university status resulting from a merger of the university (
Universität Karlsruhe (TH)
) and the research center (
Forschungszentrum Karlsruhe
) of the city of
Karlsruhe
Karlsruhe
The City of Karlsruhe is a city in the southwest of Germany, in the state of Baden-Württemberg, located near the French-German border.Karlsruhe was founded in 1715 as Karlsruhe Palace, when Germany was a series of principalities and city states...
. The university, also known as
Fridericiana
, was founded in 1825. In 2009, it merged with the former national nuclear research center founded in 1956 as the
Kernforschungszentrum Karlsruhe (KfK)
. One of nine German Excellence Universities, the KIT is one of the leading universities in science and engineering in Europe, ranking 6th overall in terms of
citation impact
Citation impact
Citation is the process of acknowledging or citing the author, year, title, and locus of publication of a source used in a published work. Such citations can be counted as measures of the usage and impact of the cited work. This is called citation analysis or bibliometrics...
.
Historical background
The University of Karlsruhe was founded as
Polytechnische Schule
, a polytechnical school, on 7 October 1825. It was modeled upon the
École polytechnique
École Polytechnique
The École Polytechnique is a state-run institution of higher education and research in Palaiseau, Essonne, France, near Paris. Polytechnique is renowned for its four year undergraduate/graduate Master's program...
in Paris. In 1865,
Grand Duke
Grand Duke
The title grand duke is used in Western Europe and particularly in Germanic countries for provincial sovereigns. Grand duke is of a protocolary rank below a king but higher than a sovereign duke. Grand duke is also the usual and established translation of grand prince in languages which do not...
Frederick I of Baden (German:
Friedrich
) raised the school to the status of a
Hochschule
Hochschule
Hochschule is a German term with two meanings.The literal meaning of the word Hochschule is "high school" which is not appropriate as a translation.- Generic term :...
, an institution of
higher education
Higher education
Higher, post-secondary, tertiary, or third level education refers to the stage of learning that occurs at universities, academies, colleges, seminaries, and institutes of technology...
. Since 1902 the university has also been known as the
Fridericiana
in his honour.
In 1885, the institution was renamed a
Technische Hochschule
Technische Hochschule
Technische Hochschule is what an Institute of Technology used to be called in German-speaking countries, as well as in the Netherlands, before most of them changed their name to Technische Universität or Technische Universiteit in the 1970s and in the...
, Institute of Technology, and in 1967 it became an
Universität
, a full
university
University
A university is an institution of higher education and research, which grants academic degrees in a variety of subjects. A university is an organisation that provides both undergraduate education and postgraduate education...
, entailing the right to award regular doctorate degrees. Nevertheless in 1899 all technical universities, therefore including the University of Karlsruhe, were granted the right to award doctorate degrees for engineering identified as
Dr. Ing.
.
The University of Karlsruhe has been one of the leading German institutions in
computer science
Computer science
Computer science or computing science is the study of the theoretical foundations of information and computation and of practical techniques for their implementation and application in computer systems...
. A central computer laboratory was founded in 1966. The department of informatics was established three years later along with the possibility to study informatics in a regular course. On 2 August 1984, the university received Germany's first
email
Email
Electronic mail, commonly known as email or e-mail, is a method of exchanging digital messages from an author to one or more recipients. Modern email operates across the Internet or other computer networks. Some early email systems required that the author and the recipient both be online at the...
.
On 6 April 2006, a contract for the foundation of the Karlsruhe Institute of Technology (KIT) was signed by Professor Horst Hippler and Dr. Dieter Ertmann from the University of Karlsruhe, and Professor Manfred Popp and Assistant Jur. Sigurd Lettow from Forschungszentrum Karlsruhe. The name was selected to emulate the
Massachusetts Institute of Technology
Massachusetts Institute of Technology
The Massachusetts Institute of Technology is a private research university located in Cambridge, Massachusetts. MIT has five schools and one college, containing a total of 32 academic departments, with a strong emphasis on scientific and technological education and research.Founded in 1861 in...
(MIT), the leading technical university in the United States.
In 2008, Hans-Werner Hector,
SAP
SAP AG
SAP AG is a German software corporation that makes enterprise software to manage business operations and customer relations. Headquartered in Walldorf, Baden-Württemberg, with regional offices around the world, SAP is the market leader in enterprise application software...
Co-Founder, raised a 200 million Euros fund to support excellent researchers within the university. Interestingly, Hans-Werner Hector is the only founder of SAP who did not graduate regularly at the University of Karlsruhe but was given an honorary doctorate degree for his support of intellectually gifted children in 2003.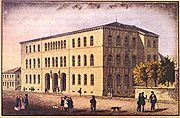 The first step to bring together the university and the research center was already made in 1985, when the
Institut für Meteorologie und Klimaforschung (Institute for Meteorology and Climate Research)
was founded. Both institutes, the university and the research center were merged.
The university and the research center have always cooperated but the cooperation increased by July 2006 when the KIT was formally founded. The main reason for establishing the KIT was the participation of the university of Karlsruhe in the
German Universities Excellence Initiative
German Universities Excellence Initiative
The Excellence Initiative of the German Federal Ministry of Education and Research and the German Research Foundation aims to promote cutting-edge research and to create outstanding conditions for young scientists at universities, to deepen cooperation between disciplines and institutions, to...
, including the chance to get a maximum
grant
Grant (money)
Grants are funds disbursed by one party , often a Government Department, Corporation, Foundation or Trust, to a recipient, often a nonprofit entity, educational institution, business or an individual. In order to receive a grant, some form of "Grant Writing" often referred to as either a proposal...
of 50 million Euros p.a. from the excellence initiative.
In February 2008, the merger of the University of Karlsruhe and the Forschungszentrum Karlsruhe forming the Karlsruhe Institute of Technology was agreed upon by the state
Baden-Württemberg
Baden-Württemberg
Baden-Württemberg is one of the 16 states of Germany. Baden-Württemberg is in the southwestern part of the country to the east of the Upper Rhine, and is the third largest in both area and population of Germany's sixteen states, with an area of and 10.7 million inhabitants...
and the federal German government. The corresponding state law was passed on 8 July 2009. KIT was formally established on 1 October 2009.
Admission and education
Since the winter semester of 2008/2009, the University of Karlsruhe completed the change from the
Diplom
Diplom
A Diplom is an academic degree in the German-speaking countries Germany, Austria, and Switzerland and a similarly named degree in some other European countries including Belarus, Bosnia and Herzegovina, Croatia, Estonia, Finland , Greece, Hungary, Russia, Serbia, Macedonia, Slovenia, and Ukraine...
system to a
bachelor
Bachelor
A bachelor is a man above the age of majority who has never been married . Unlike his female counterpart, the spinster, a bachelor may have had children...
and
master
Master's degree
A master's is an academic degree granted to individuals who have undergone study demonstrating a mastery or high-order overview of a specific field of study or area of professional practice...
based system. Students working towards a diplom degree can finish their studies while new students are just allowed to apply for a bachelor or master degree.
The admission policies are based on the different departments. While students are chosen by the quality of their school degree and their extracurricular activities for some courses like business engineering (27% admission in 2008), other departments do not preselect for their courses, for example in physics, informatics or meteorology. The philosophy of a non preselective procedure is a natural selection during course time. All courses require a minimum amount of passed exams, called "Orientierungsprüfung" (engl.: orientational assessment), in the first three semesters to allow continuing the course to its end.
In the first semesters of a course, education tends to be theoretically-oriented at the University of Karlsruhe, requiring a high concentration of mathematical courses for engineering and natural science courses. It is possible to specialize in more practical or theoretical topics in later semesters.
Interdisciplinary education and research
The university allows a broad band of education with the possibility of cross studies and work. The
studium generale
Studium Generale
Studium generale is the old customary name for a Medieval university.- Definition :There is no clear official definition of what constituted a Studium generale...
(Engl.: General studies) was established in 1949 allowing students to attend lectures not directly pertaining their study field.
The "Zentrum für Angewandte Kulturwissenschaft und Studium Generale" (Engl.: Center for applied culture and general studies) was founded in 1989 to support the students as a central institution for their interdisciplinary study. Nowadays it offers specialised qualifications in the fields of "Leadership and Entrepreneurship", "Media - Culture - Communication", "Internationalisation and intercultural decision-making and responsibility", "Diversity Management", "European Integration and Identity Studies", as well as the classical studium generale. A possibility for a concomitant study in applied culture science is given as well.
In 1979, the "Interfakultatives Institut für Anwendungen der Informatik" (Engl.: Interfacultative institute for applications of informatics) was founded. It binds together research in the fields of physics, mathematics and engineering which are based on computer science. Its mathematical pendant is the "Institut für Wissenschaftliches Rechnen und Mathem. Modellbildung" (Engl.: Institute for scientific calculations and mathematical modeling). Its aim is to enhance the exchange between mathematics and engineering in the fields of scientific calculations.
The "Interfakultatives Institut für Entrepreneurship" (Engl.: Interfacultative institute for entrepreneurship) was established by SAP funding. Its teaching professors were entrepreneurs on their own. Before being shut down in 2010 the former professor was
Götz Werner
Götz Werner
Götz Wolfgang Werner is the founder, co-owner, and member of the advisory board of dm-drogerie markt, a German drugstore chain. He was leading the company for 35 years. Since October 2003, he is the head of Cross-Department Group for Entrepreneurial Studies at the Karlsruhe Institute of Technology...
, founder of
dm
DM
-Academia:* Doctor of Management, an academic management degree* Doctorate in Medicine, an academic medical degree* Doctor of Music, an academic music-performance degree, also known as D.M.A-Science:* Adamsite, a chemical agent used in riot control...
- Drogeriemarkt.
In 2001, the Center for Functional Nanostructures (CFN) was established. It merges the fields of material sciences, biology, chemistry, engineering, and physics which are related to nano technology. The CFN is one of the three Exzellenzzentren (Engl.: Excellence Instituitions) of the University of Karlsruhe. A second interdisciplinary excellence institution is the Center for Disaster Management and Risk Reduction Technology (CEDIM).
The Karlsruhe School of Optics & Photonics (KSOP) was established in 2006 as a public funded project by the Deutsche Forschungsgemeinschaft (DFG) within the scope of the Excellence Initiative by the German Federal and State Governments to promote Science and Research at German universities. KSOP is the first graduate school at the Universität Karlsruhe (TH) and covers the research areas Photonic Materials & Devices, Advanced Spectroscopy, Biomedical Photonics and Optical Systems. It is supported by several Institutes and Professors of the university.
Reputation
According to the Ranking of Scientific Impact of Leading European Research Universities, an official document compiled by the
European Commission
European Commission
The European Commission is the executive body of the European Union. The body is responsible for proposing legislation, implementing decisions, upholding the Union's treaties and the general day-to-day running of the Union....
, Karlsruhe ranks 2nd nationally and 6th in Europe in terms of scholarly impact.
With the exception of the department of biology, this university receives more funding from the
Deutsche Forschungsgemeinschaft
Deutsche Forschungsgemeinschaft
The Deutsche Forschungsgemeinschaft is an important German research funding organization and the largest such organization in Europe.-Function:...
than any other university specializing in the natural sciences in Germany. However, when compared to Germany's other universities, the university receives average funding. In the engineering sciences (Computer Science, Electrical and Mechanical Engineering), the university is in the top three together with
University of Stuttgart
University of Stuttgart
The University of Stuttgart is a university located in Stuttgart, Germany. It was founded in 1829 and is organized in 10 faculties....
and the
RWTH Aachen
RWTH Aachen
RWTH Aachen University is a research university located in Aachen, North Rhine-Westphalia, Germany with roughly 33,000 students enrolled in 101 study programs....
. It also consistently ranks top in the course business engineering and management, concerning the overall study situation as well as popularity with employers. However the university is not in the top twenty in the subject of mathematics.
More than 20% of its students are attracted from other nations and 0.6% of its students receive grants from the German Studienstiftung (German National Academic Foundation).
In 1998, ScienceWatch
http://www.sciencewatch.com/
ranked its chemistry faculty as belonging to "the cream of the crop in chemistry" internationally.
In 2006, the University of Karlsruhe was chosen to be one of the first three universities with the best future concept within the scope of the
German Universities Excellence Initiative
German Universities Excellence Initiative
The Excellence Initiative of the German Federal Ministry of Education and Research and the German Research Foundation aims to promote cutting-edge research and to create outstanding conditions for young scientists at universities, to deepen cooperation between disciplines and institutions, to...
. These universities have been called "elite universities" in general public and media from that day on.
For many years the department for Computer Science has been the number one institution in this field in Germany. Hence, the University of Karlsruhe has established international reputation.
In the 2011
QS World University Rankings
QS World University Rankings
The QS World University Rankings is a ranking of the world's top 500 universities by Quacquarelli Symonds using a method that has published annually since 2004....
the university was ranked 147th in the world, two places above the German university Georg-August-Universität Göttingen. Its subject rankings were 51st in Engineering & IT and 67th in Natural Sciences.
Campus Nord
The
Campus Nord
(engl. Campus North), the former
Forschungszentrum
was founded in 1956 as
Kernforschungszentrum Karlsruhe (KfK)
(Karlsruhe Nuclear Research Centre). Initial activities concentrated around the
Forschungsreaktor 2 (FR2)
Forschungsreaktor 2 (FR2)
Forschungsreaktor 2 was the first nuclear reactor built in and by Germany after restrictions on nuclear research imposed as a result of the Second World War were lifted in 1955. Construction began in 1957 in Eggenstein-Leopoldshafen/BW...
, the first nuclear reactor built by Germany. With the decline of nuclear energy activities in Germany, Kernforschungszentrum Karlsruhe directed its work increasingly towards alternative areas of basic and applied sciences. This change is reflected in the change of name from
Kernforschungszentrum Karlsruhe
to
Forschungszentrum Karlsruhe
with the subheading
Technik und Umwelt
(technology and environment) in 1995. This subheading was replaced by
in der Helmholtz-Gemeinschaft
in 2002.
The Campus Nord is the site of the main German national nuclear engineering research centre and the
Institute for Transuranium Elements
Institute for Transuranium Elements
The Institute for Transuranium Elements is a European Commission nuclear research institute in Karlsruhe, Germany. The ITU is one of the seven institutes of the Joint Research Centre , a Directorate-General of the European Commission . The ITU has about 300 staff...
. Also present on the site is a
nanotechnology
Nanotechnology
Nanotechnology is the study of manipulating matter on an atomic and molecular scale. Generally, nanotechnology deals with developing materials, devices, or other structures possessing at least one dimension sized from 1 to 100 nanometres...
research centre and the neutrino experiment
KATRIN
KATRIN
KATRIN is an experiment to measure the mass of the electron antineutrino with sub-eV precision by examining the spectrum of electrons emitted from the beta decay of tritium...
.
There is further a 200 metre tall guyed
mast for meteorological measurements
Measurement tower
A measurement tower is a free standing tower or a removed mast, which carries measuring instruments with meteorological instruments such as thermometers and wind velocity measurers. Measuring towers are an essential component of rocket launching sites, since one must know exact wind conditions for...
at Campus Nord.
Computer facilities
The Steinbuch Centre for Computing (SCC), named after
Karl Steinbuch
Karl Steinbuch
Dr. Karl W. Steinbuch was a German computer scientist, cyberneticist, and electrical engineer. He is one of the pioneers of the German computer science, as well as with his Lernmatrix an early pioneer of artificial neural networks...
, is the institution which was formed in 2008 out of the merging process between the main computer facilities of the University of Karlsruhe and the Forschungszentrum Karlsruhe. It is responsible for the university's IP connectivity and provides central services (Mail, Web, Campus management) for students and employees. It supplies students with 10 fully equipped computer rooms, one professional print office and a wireless network over the whole campus area. Some departments, like computer science, physics, and mathematics, run their own computer rooms as well.
The SCC runs some of the fastest computers in Germany:
HP XC3000 (334 nodes with 8 cores each, 27.04 TFLOPS

FLOPS

In computing, FLOPS is a measure of a computer's performance, especially in fields of scientific calculations that make heavy use of floating-point calculations, similar to the older, simpler, instructions per second...


),
HP XC4000 (750 nodes with 4 cores each, 15.77 TFLOPS

FLOPS

In computing, FLOPS is a measure of a computer's performance, especially in fields of scientific calculations that make heavy use of floating-point calculations, similar to the older, simpler, instructions per second...


),
a cluster bought by a corporation of institutes of different disciplines (200 nodes with 8 cores each, 17.57 TFLOPS

FLOPS

In computing, FLOPS is a measure of a computer's performance, especially in fields of scientific calculations that make heavy use of floating-point calculations, similar to the older, simpler, instructions per second...


),
the two vector parallel calculators NEC SX-8R and NEC SX-9
On 2 August 1984, Michael Rotert, a research fellow at University of Karlsruhe, received the first email ever sent to Germany at his address
rotert@germany
.
Libraries
The
KIT Library
is the main library of KIT. Its two branches on Campus South and Campus North provide literature for research and study for about 25,000 students and 8000 scientists with a widespread, interdisciplinary book stock of over 2 million volumes, reports and 28,000 periodicals in print and electronic form. The emphasis of the collection lies on natural and engineering sciences.
KIT Library South
The 24-hour library at Campus South was extended in 2006. It became a 24h library with many working places and a relaxing area and is now open around the clock. The combination of a special book security system and an automated issue desk make it possible to use the 1000 workplaces anytime, day or night. Current and contemporary literature is freely accessible in the four specialised reading rooms. Each reading room provides cross-linked, modern and well-equipped study and work stations as well as printers, scanners and copy machines.
KIT Library North
The research library at Campus North provides a large specialised book stock (especially reports and primary reports) on energy and nuclear energy. The complete literature is freely accessible to the user. Thirty modern workplaces, as well as printers, scanners, copy machines and cubicles for individual work are available.
Further libraries at KIT
Additional literature is located in the two specialised reading rooms for chemistry and physics, as well as in the Library of the University of Applied Sciences at Campus Moltkestrasse, which is administrated by the KIT Library. The faculty of physics, the faculty of mathematics, the faculty of computer science and the faculty of economics and business management have got their own libraries to supply students and researchers with topic related literature.
Center for Innovation & Entrepreneurship
The
CIE
is an entrepreneurial driven platform for students, scientist and alumni of the KIT and the region Karlsruhe who are interested in starting a business. The CIE platform is developing towards an entrepreneur club where entrepreneurs support each other to raise successful businesses. Prospective entrepreneurs seek advise from the very first idea, how to develop business concepts and how to find co-workers.
Founded in 2008 by two alumni of the KIT, the CIE offers a wide portfolio of services including consulting and concept development. The CIE also provides facilities like a StartUp-office where new entrepreneur teams can work on their ideas. All services are for free. Entrepreneurs who benefit from the active club are asked to support the CIE financially and with own services.
As a project of the KIT the CIE receives financial support from the Federal Ministry of Economics and Technology and the European Social Fund.
Faculties
The university has eleven faculties:
Many departments cooperate, some are shared with the Forschungszentrum Karlsruhe.
Famous people and discoveries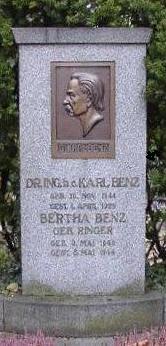 Famous students
Department
Names
Architecture

Architecture

Architecture is both the process and product of planning, designing and construction. Architectural works, in the material form of buildings, are often perceived as cultural and political symbols and as works of art...



Hans Kollhoff

Hans Kollhoff

Hans Kollhoff is a German architect and professor.He studied architecture from 1968 to 1973 at the University of Karlsruhe with Egon Eiermann and studied abroad in 1974 at the Vienna University of Technology in Austria. He received his diploma in 1975 in Karlsruhe...


, Oswald Mathias Ungers

Oswald Mathias Ungers

Oswald Mathias Ungers was a German architect and architectural theorist, known for his rationalist designs and the use of cubic forms. Among his notable projects are museums in Frankfurt, Hamburg and Cologne....


, Albert Speer

Albert Speer

Albert Speer, born Berthold Konrad Hermann Albert Speer, was a German architect who was, for a part of World War II, Minister of Armaments and War Production for the Third Reich. Speer was Adolf Hitler's chief architect before assuming ministerial office...



Civil Engineering

Civil engineering

Civil engineering is a professional engineering discipline that deals with the design, construction, and maintenance of the physical and naturally built environment, including works like roads, bridges, canals, dams, and buildings...


and Geology

Geology

Geology is the science comprising the study of solid Earth, the rocks of which it is composed, and the processes by which it evolves. Geology gives insight into the history of the Earth, as it provides the primary evidence for plate tectonics, the evolutionary history of life, and past climates...



Robert Gerwig

Robert Gerwig

Robert Gerwig was a German civil engineer.Gerwig was born on 2 May 1820 and attended the Großherzogliches Polytechnikum where he studied civil engineering, primarily road construction....


, Dieter Ludwig
German language

German language

German is a West Germanic language, related to and classified alongside English and Dutch. With an estimated 90 – 98 million native speakers, German is one of the world's major languages and is the most widely-spoken first language in the European Union....



Herbert Wetterauer

Herbert Wetterauer

Herbert Wetterauer is a German painter, sculptor and author. He is known for his drawings with paintbrushes and life-sized figures made of paperboard, for which he developed his own technique....



Mechanical Engineering

Mechanical engineering

Mechanical engineering is a discipline of engineering that applies the principles of physics and materials science for analysis, design, manufacturing, and maintenance of mechanical systems. It is the branch of engineering that involves the production and usage of heat and mechanical power for the...



Karl Benz

Karl Benz

Karl Friedrich Benz, was a German engine designer and car engineer, generally regarded as the inventor of the gasoline-powered car, and together with Bertha Benz pioneering founder of the automobile manufacturer Mercedes-Benz...


, Emil Škoda

Emil Škoda

Emil Ritter von Škoda was a Bohemian engineer and industrialist, working during the time of the Austro-Hungarian Empire.-Biography:...


, Bernhard Howaldt, Franz Reuleaux

Franz Reuleaux

Franz Reuleaux , was a mechanical engineer and a lecturer of the Berlin Royal Technical Academy, later appointed as the President of the Academy. He was often called the father of kinematics...


, August Thyssen

August Thyssen

August Thyssen was a German industrialist.-Career and marriage:...


, Roland Mack

Roland Mack

Roland Mack is a German entrepreneur. Roland Mack grew up as a son of the entrepreneur Franz Mack, in Waldkirch. In 1975, he became the founder of Europa-Park in Germany....



Mathematics

Mathematics

Mathematics is the study of quantity, space, structure, and change. Mathematicians seek out patterns and formulate new conjectures. Mathematicians resolve the truth or falsity of conjectures by mathematical proofs, which are arguments sufficient to convince other mathematicians of their validity...



Fritz Noether

Fritz Noether

Fritz Alexander Ernst Noether was a German-born mathematician.Fritz Noether's father Max Noether was a mathematician and professor in Erlangen. The notable mathematician Emmy Noether was his elder sister; the mathematician Gottfried Noether was his son.Fritz Noether was also an able mathematician...



Physics

Physics

Physics is a natural science that involves the study of matter and its motion through spacetime, along with related concepts such as energy and force. More broadly, it is the general analysis of nature, conducted in order to understand how the universe behaves.Physics is one of the oldest academic...



Johann Jakob Balmer

Johann Jakob Balmer

Johann Jakob Balmer was a Swiss mathematician and mathematical physicist.-Biography :Balmer was born in Lausen, Switzerland, the son of a Chief Justice also named Johann Jakob Balmer. His mother was Elizabeth Rolle Balmer, and he was the oldest son...


, Fritz-Rudolf Güntsch, Edward Teller

Edward Teller

Edward Teller was a Hungarian-American theoretical physicist, known colloquially as "the father of the hydrogen bomb," even though he did not care for the title. Teller made numerous contributions to nuclear and molecular physics, spectroscopy , and surface physics...


, Klaus Tschira

Klaus Tschira

Klaus Tschira is a german entrepreneur. After gaining his physics diploma and working at IBM, he co-founded the German software giant SAP AG in 1972 in Walldorf, Germany together with Hans-Werner Hector, Dietmar Hopp, Hasso Plattner and Claus Wellenreuther...


, Bernd Schmidbauer
Chemical Engineering

Chemical engineering

Chemical engineering is the branch of engineering that deals with physical science , and life sciences with mathematics and economics, to the process of converting raw materials or chemicals into more useful or valuable forms...



Wilhelm Steinkopf

Wilhelm Steinkopf

Georg Wilhelm Steinkopf was a German chemist. Today he is mostly remembered for his work on the production of mustard gas during World War I.-Life:...



Electrical Engineering

Electrical engineering

Electrical engineering is a field of engineering that generally deals with the study and application of electricity, electronics and electromagnetism. The field first became an identifiable occupation in the late nineteenth century after commercialization of the electric telegraph and electrical...


, Informational Technology
Rolf Wideröe

Rolf Wideröe

Rolf Widerøe , was a Norwegian particle physicist who was the originator of many particle acceleration concepts, including the resonance accelerator, the betatron accelerator.-Early life:...


, Dieter Zetsche

Dieter Zetsche

Dieter Zetsche is a German businessman and the Chairman of Daimler AG and Head of Mercedes-Benz Cars since 2006 as well as member of the company's Board of Management since 1998....


, Hasso Plattner

Hasso Plattner

Hasso Plattner is a cofounder of software giant SAP AG. Today he is Chairman of the Supervisory Board of SAP AG.- Biography :Hasso Plattner is a German entrepreneur...


, Dietmar Hopp

Dietmar Hopp

Dietmar Hopp is a German software entrepreneur. He was one of the founders of SAP AG in 1972 with other former IBM employees Hans Werner Hector, Klaus Tschira, Claus Wellenreuther and Hasso Plattner...


, Thom Barron

Thom Barron

Thom Barron , is the stage name of a pornographic actor appearing in gay pornography. He is considered to be Germany's best-known international gay adult star.- Biography and career :...



Industrial Engineering

Industrial engineering

Industrial engineering is a branch of engineering dealing with the optimization of complex processes or systems. It is concerned with the development, improvement, implementation and evaluation of integrated systems of people, money, knowledge, information, equipment, energy, materials, analysis...



Franz Fehrenbach

Franz Fehrenbach

Franz Fehrenbach is the chairman of Robert Bosch GmbH.He studied industrial engineering at the University of Karlsruhe and joined Robert Bosch GmbH in 1975. In 1988, he was transferred to the United States, but he returned to Germany in 1989. In 1990, Fehrenbach became Vice-CEO of the corporation...


, Stefan Quandt

Stefan Quandt

Stefan Quandt is a German engineer and industrialist. He is ranked as the 72nd richest person in the world in the Forbes list of billionaires, who put his personal wealth at $10.7 billion...


, Michael Rogowski
Presidents
1968 - 1983 Professor Dr. Ing. h. c. Heinz Draheim
1983 - 1994 Professor Dr. h.c. Heinz Kunle
1994 - 2002 Professor Dr.-Ing. Dr.-Ing. E.h. Dr.h.c.mult. Sigmar Wittig

Sigmar Wittig

Dr. Sigmar Wittig has been the Chairman of the Executive Board of the German Aerospace Center since March 2002...



2002 - current Professor Dr. sc. tech. Horst Hippler
Points of interest
Botanischer Garten der Universität Karlsruhe

Botanischer Garten der Universität Karlsruhe

The Botanischer Garten der Universität Karlsruhe is a botanical garden maintained by the University of Karlsruhe. It is located at Am Fasanengarten 2, Karlsruhe, Baden-Württemberg, Germany, and is open weekdays and Sundays; admission is free....


, the university's botanical garden

Botanical garden

A botanical garden The terms botanic and botanical, and garden or gardens are used more-or-less interchangeably, although the word botanic is generally reserved for the earlier, more traditional gardens. is a well-tended area displaying a wide range of plants labelled with their botanical names...



External links