 German Universities Excellence Initiative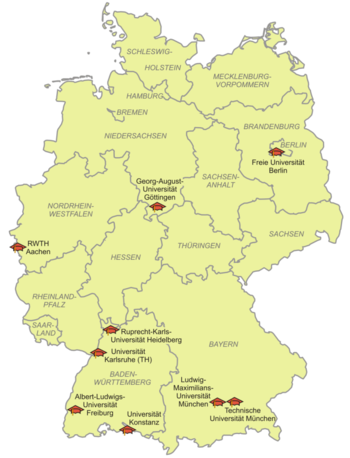 The Excellence Initiative of the German Federal Ministry of Education and Research and the
German Research Foundation
Deutsche Forschungsgemeinschaft
The Deutsche Forschungsgemeinschaft is an important German research funding organization and the largest such organization in Europe.-Function:...
aims to promote cutting-edge research and to create outstanding conditions for young scientists at universities, to deepen cooperation between disciplines and institutions, to strengthen international cooperation of research, and to enhance the international appeal of excellent German universities. It is the result of lengthy negotiations between the federal government and the German states.
The Excellence Initiative is conducted by the German Research Foundation (DFG) together with the German Council of Science and Humanities (WR). More than 30 universities in total received funding. It includes three lines of funding:
1st line of funding: The establishment of more than 40
research schools
Graduate school
A graduate school is a school that awards advanced academic degrees with the general requirement that students must have earned a previous undergraduate degree...
for young scientists and
PhD
PHD
PHD may refer to:*Ph.D., a doctorate of philosophy*Ph.D. , a 1980s British group*PHD finger, a protein sequence*PHD Mountain Software, an outdoor clothing and equipment company*PhD Docbook renderer, an XML renderer...
candidates, which will receive one million euros each per year.
2nd line of funding: The creation of thirty so-called Clusters of Excellence, that connect universities with leading German research institutes and businesses. Annually, these clusters will receive around 6.5 million euros each to fund their work.
3rd line of funding: The selection of 9 Universities of Excellence, which will be funded highly for their "future concepts", i.e., institutional strategies to promote top-level university research. Particularly this third line of funding has drawn appreciable international attention, both in academia and media.
Altogether 1.9 billion euros of additional funds will be distributed over the coming five years, most of this coming from the federal government. The German Council of Science and Humanities is responsible for the third line of funding, and the German Research Foundation is responsible for the first and second lines of funding. These funds are to be available in the first instance for the universities and their partner institutions until 2012.
Winners: Future Concept
Commonly referred to by the media as "elite universities", nine Universities of Excellence receive funding for their future concepts:
University
Title
Year of Award
Ludwig Maximilian University of Munich
LMUexcellent: Working brains – Networking minds – Living knowledge
2006
Technical University of Munich

Technical University of Munich

The Technische Universität München is a research university with campuses in Munich, Garching, and Weihenstephan...



TUM. The Entrepreneurial University
2006
University of Karlsruhe (TH)
A Concept for the Future of the University of Karlsruhe. The Foundation of the Karlsruhe Institute of Technology

Karlsruhe Institute of Technology

The Karlsruhe Institute of Technology is a German academic research and education institution with university status resulting from a merger of the university and the research center of the city of Karlsruhe. The university, also known as Fridericiana, was founded in 1825...


(KIT)
2006
RWTH Aachen University
RWTH 2020: Meeting Global Challenges
2007
Freie Universität Berlin
International Network University
2007
University of Freiburg

University of Freiburg

The University of Freiburg , sometimes referred to in English as the Albert Ludwig University of Freiburg, is a public research university located in Freiburg im Breisgau, Baden-Württemberg, Germany.The university was founded in 1457 by the Habsburg dynasty as the...



Windows for Research, New Universitas
2007
University of Göttingen
Göttingen. Tradition – Innovation – Autonomy
2007
University of Heidelberg
Heidelberg: Realizing the Potential of a Comprehensive University
2007
University of Konstanz

University of Konstanz

The University of Konstanz is a university in the city of Konstanz in Baden-Württemberg, Germany. It was founded in 1966, and the main campus on the Gießberg was opened in 1972. As one of nine German Excellence Universities today University of Konstanz is counted among Germany's most prestigious...



Model Konstanz - towards a culture of creativity
2007
The funding for a future concept does often, but not necessarily result in a superior overall budget compared to other German universities. For example, due to its small size, the University of Constance is despite this additional means, not included in the top 20 funded universities in Germany.
Current international standing
According to the Third European Report on Science & Technology Indicators, an official document compiled by the
European Commission
European Commission
The European Commission is the executive body of the European Union. The body is responsible for proposing legislation, implementing decisions, upholding the Union's treaties and the general day-to-day running of the Union....
, four of the Universities of Excellence are among Europe's top 10 universities: Technical University of Munich (joint 3rd), Freiburg (joint 6th), Karlsruhe (joint 6th), and Heidelberg (joint 9th).
In the
Academic Ranking of World Universities
Academic Ranking of World Universities
The Academic Ranking of World Universities , commonly known as the Shanghai ranking, is a publication that was founded and compiled by the Shanghai Jiaotong University to rank universities globally. The rankings have been conducted since 2003 and updated annually...
2009, LMU Munich (55), Technical University of Munich (57), Heidelberg (63), Göttingen (90), and Freiburg (96) are included in the global top 100, heading the field of German universities by those criteria.
Eight of the nine Universities of Excellence are included in the world's top 250 universities, according to the THES - QS Top Universities 2008 and U.S. News and World Report World's Best Colleges and Universities Ranking 2008 respectively: Heidelberg (57); Technical University of Munich (78); LMU Munich (93); Free University of Berlin (137); Freiburg (147); Göttingen (166); Karlsruhe (207); RWTH Aachen (217); Constance (325). As for the separate THES - QS / USN rankings of broad subject areas, Heidelberg ranks within the global top 50 in three of five categories, Technical University of Munich in two of five, and both LMU Munich and Free University of Berlin in one of five. All of the chosen universities are included in the global top 150 in at least one of the subject area rankings.
Federal Education Minister
Annette Schavan
Annette Schavan
' is a German politician . She has been the Federal Minister of Education and Research since November 22, 2005.From 1995-2005, she served as the Minister of Culture, Youth and Sports of the German state of Baden-Württemberg...
said following the awards ceremony, "The excellence initiative is writing scientific history. Research at German universities finds itself on a successful, international course."
Winners: Graduate Schools
Source: Federal Ministry of Education
(coordinating) University
Graduate School
Year of Award
RWTH Aachen University
Aachen Institute for Advanced Study in Computational Engineering Science
2006
Free University Berlin
Graduate School of North American Studies

Graduate School of North American Studies

The Berlin Graduate School of North American Studies is affiliated with the John F. Kennedy Institute for North American Studies at the Free University Berlin. It was distinguished by the German Universities Excellence Initiative in 2006, a nationwide competition carried out by the Federal...


(John F. Kennedy-Institute for North American Studies

John F. Kennedy-Institute for North American Studies

The John F. Kennedy Institute for North American Studies is a central institute at the Free University Berlin. The JFKI was founded in 1963 by Ernst Fraenkel, a political scientist and was named in the honor of John F. Kennedy after his assassination....


)
2006
Humboldt University of Berlin

Humboldt University of Berlin

The Humboldt University of Berlin is Berlin's oldest university, founded in 1810 as the University of Berlin by the liberal Prussian educational reformer and linguist Wilhelm von Humboldt, whose university model has strongly influenced other European and Western universities...



Berlin School of Mind and Brain
2006
Berlin Institute of Technology
Berlin Mathematical School

Berlin Mathematical School

The Berlin Mathematical School is a joint graduate school of the three renowned math departments of the public research universities in Berlin: Freie Universität, Technische Universität Berlin, and Humboldt-Universität zu Berlin....



2006
Ruhr University Bochum
Ruhr University Research School
2006
University of Bonn

University of Bonn

The University of Bonn is a public research university located in Bonn, Germany. Founded in its present form in 1818, as the linear successor of earlier academic institutions, the University of Bonn is today one of the leading universities in Germany. The University of Bonn offers a large number...



Bonn Graduate School of Economics
2006
University of Bremen

University of Bremen

The University of Bremen is a university of approximately 23,500 people from 126 countries that are studying, teaching, researching, and working in Bremen, Germany...



Global Change in the Marine Realm
2006
Dresden University of Technology

Dresden University of Technology

The Technische Universität Dresden is the largest institute of higher education in the city of Dresden, the largest university in Saxony and one of the 10 largest universities in Germany with 36,066 students...



Dresden International Graduate School for Biomedicine and Bioengineering
2006
University of Erlangen-Nuremberg
Erlangen Graduate School in Advanced Optical Technologies
2006
University of Freiburg

University of Freiburg

The University of Freiburg , sometimes referred to in English as the Albert Ludwig University of Freiburg, is a public research university located in Freiburg im Breisgau, Baden-Württemberg, Germany.The university was founded in 1457 by the Habsburg dynasty as the...



Spemann Graduate School of Biology and Medicine
2006
University of Gießen
International Graduate Centre for the Study of Culture
2006
2006
Hannover Medical School

Hannover Medical School

The Hannover Medical School , founded in 1965, is a university medical centre in Germany, part of a regional medical network.-International:...



Hannover Biomedical Research School
2006
2006
University of Heidelberg
Heidelberg Graduate School of Fundamental Physics
2006
University of Karlsruhe (TH)
Karlsruhe School of Optics and Photonics
2006
University of Mannheim

University of Mannheim

The University of Mannheim is one of the younger German universities. It offers Bachelor, Master, and PhD degrees.The University is mainly located in Mannheim's palace the largest baroque palace in Germany. The whole city center of Mannheim is aligned symmetrically to the palace.About 800 scholars...



Empirical and Quantitative Methods in the Economic and Social Sciences
2006
Ludwig Maximilian University of Munich
Graduate School of Systemic Neurosciences
2006
Technical University of Munich

Technical University of Munich

The Technische Universität München is a research university with campuses in Munich, Garching, and Weihenstephan...



International Graduate School of Science and Engineering
2006
Saarland University

Saarland University

Saarland University is a university located in Saarbrücken, the capital of the German state of Saarland, and Homburg. It was founded in 1948 in Homburg in co-operation with France and is organized in 8 faculties that cover all major fields of science...



Multimodal Computing and Interaction
2006
University of Würzburg

University of Würzburg

The University of Würzburg is a university in Würzburg, Germany, founded in 1402. The university is a member of the distinguished Coimbra Group.-Name:...



Graduate School for Life Sciences
2006
University of Bayreuth

University of Bayreuth

The University of Bayreuth is a public research university situated in Bayreuth, Germany. It was founded in 1975 as a campus university focusing on international collaboration and interdisciplinarity...



Bayreuth International Graduate School of African Studies
2007
Free University of Berlin

Free University of Berlin

Freie Universität Berlin is one of the leading and most prestigious research universities in Germany and continental Europe. It distinguishes itself through its modern and international character. It is the largest of the four universities in Berlin. Research at the university is focused on the...



Muslim Cultures and Societies: Unity and Diversity
2007
Free University of Berlin

Free University of Berlin

Freie Universität Berlin is one of the leading and most prestigious research universities in Germany and continental Europe. It distinguishes itself through its modern and international character. It is the largest of the four universities in Berlin. Research at the university is focused on the...



Friedrich Schlegel Graduate School of Literary Studies
2007
Humboldt University of Berlin

Humboldt University of Berlin

The Humboldt University of Berlin is Berlin's oldest university, founded in 1810 as the University of Berlin by the liberal Prussian educational reformer and linguist Wilhelm von Humboldt, whose university model has strongly influenced other European and Western universities...



Berlin-Brandenburg School for Regenerative Therapies
2007
Humboldt University of Berlin

Humboldt University of Berlin

The Humboldt University of Berlin is Berlin's oldest university, founded in 1810 as the University of Berlin by the liberal Prussian educational reformer and linguist Wilhelm von Humboldt, whose university model has strongly influenced other European and Western universities...



Berlin Graduate School of Social Sciences
2007
University of Bielefeld
Bielefeld Graduate School in History and Sociology
2007
University of Bonn

University of Bonn

The University of Bonn is a public research university located in Bonn, Germany. Founded in its present form in 1818, as the linear successor of earlier academic institutions, the University of Bonn is today one of the leading universities in Germany. The University of Bonn offers a large number...



Bonn-Cologne Graduate School of Physics and Astronomy

Bonn-Cologne Graduate School of Physics and Astronomy

The Bonn-Cologne Graduate School of Physics and Astronomy is a joint venture of the Universities of Bonn and Cologne, offering a combined Master's and Doctorate program in Physics....



2007
University of Bremen

University of Bremen

The University of Bremen is a university of approximately 23,500 people from 126 countries that are studying, teaching, researching, and working in Bremen, Germany...



Bremen International Graduate School of Social Sciences
2007
Darmstadt University of Technology

Darmstadt University of Technology

The Technische Universität Darmstadt, abbreviated TU Darmstadt, is a university in the city of Darmstadt, Germany...



Graduate School of Computational Engineering "Beyond Traditional Sciences"
2007
University of Göttingen
Göttingen Graduate School for Neurosciences and Molecular Biosciences
2007
University of Heidelberg
Heidelberg Graduate School of Mathematical and Computational Methods for the Sciences
2007
University of Heidelberg
The Hartmut Hoffmann-Berling International Graduate School of Molecular and Cellular Biology
2007
University of Jena
Jena School for Microbial Communication
2007
University of Kiel

University of Kiel

The University of Kiel is a university in the city of Kiel, Germany. It was founded in 1665 as the Academia Holsatorum Chiloniensis by Christian Albert, Duke of Holstein-Gottorp and has approximately 23,000 students today...



Graduate School for Integrated Studies of Human Development in Landscapes
2007
University of Konstanz

University of Konstanz

The University of Konstanz is a university in the city of Konstanz in Baden-Württemberg, Germany. It was founded in 1966, and the main campus on the Gießberg was opened in 1972. As one of nine German Excellence Universities today University of Konstanz is counted among Germany's most prestigious...



Konstanz Research School "Chemical Biology"
2007
University of Leipzig

University of Leipzig

The University of Leipzig , located in Leipzig in the Free State of Saxony, Germany, is one of the oldest universities in the world and the second-oldest university in Germany...



Building with Molecules and Nano-Objects

BuildMoNa

The Graduate School BuildMoNa at Universität Leipzig, Germany, focuses on interdisciplinary graduate education through top-level, synergistic research in the areas of physics, chemistry and biosciences. The Graduate School BuildMoNa was founded in November 2007 within the German Excellence...



2007
University of Lübeck

University of Lübeck

Medicine has been the focal point of learning, teaching and research at the University of Lübeck. In both 2006 and 2009, the University of Lübeck remains No. 1 in medicine among all universities in Germany, Austria and Switzerland according to the...



Graduate School for Computing in Medicine and Life Sciences

Graduate School Lübeck

The Graduate School for Computing in Medicine and Life Sciences is an interdisciplinary scientific institution of the University of Lübeck. It was established in 2007 within the framework of the Excellence Initiative funded by the federal and state governments in Germany. It aims to provide a...



2007
University of Mainz
Materials Science in Mainz
2007
Saarland University

Saarland University

Saarland University is a university located in Saarbrücken, the capital of the German state of Saarland, and Homburg. It was founded in 1948 in Homburg in co-operation with France and is organized in 8 faculties that cover all major fields of science...



Saarbrücken Graduate School of Computer Science
2007
University of Stuttgart

University of Stuttgart

The University of Stuttgart is a university located in Stuttgart, Germany. It was founded in 1829 and is organized in 10 faculties....



Graduate School for advanced Manufacturing Engineering in Stuttgart (GSaME)
2007
University of Ulm

University of Ulm

The University of Ulm is a public university in the city of Ulm, in the South German state of Baden-Württemberg. The university was founded in 1967 and focuses on natural sciences, medicine, engineering sciences, mathematics, economics and computer science...



International Graduate School in Molecular Medicine Ulm

International Graduate School in Molecular Medicine Ulm

The International Graduate School in Molecular Medicine Ulm of Ulm University has been established in 2006 and is supported by the Excellence Initiative of the German Federal and State Governments since 2007. It promotes and supports graduate education and training in the field of biomedical...



2007
Winners: Clusters of Excellence
(coordinating) University
Clusters of Excellence
Year of Award
RWTH Aachen University
Integrative Production Technology for High-Wage Countries

Integrative Production Technology for High-Wage Countries

The Cluster of Excellence Integrative Production Technology for High-Wage Countries is an interdisciplinary research project of RWTH Aachen University combined in the "Aachen House of Integrative Production"....



2006
RWTH Aachen University
Ultra High-Speed Mobile Information and Communication (UMIC)
2006
Free University of Berlin

Free University of Berlin

Freie Universität Berlin is one of the leading and most prestigious research universities in Germany and continental Europe. It distinguishes itself through its modern and international character. It is the largest of the four universities in Berlin. Research at the university is focused on the...


/ Humboldt University of Berlin

Humboldt University of Berlin

The Humboldt University of Berlin is Berlin's oldest university, founded in 1810 as the University of Berlin by the liberal Prussian educational reformer and linguist Wilhelm von Humboldt, whose university model has strongly influenced other European and Western universities...



Topoi. The Formation and Transformation of Space and Knowledge in Ancient Civilizations
2006
University of Bonn

University of Bonn

The University of Bonn is a public research university located in Bonn, Germany. Founded in its present form in 1818, as the linear successor of earlier academic institutions, the University of Bonn is today one of the leading universities in Germany. The University of Bonn offers a large number...



Mathematics: Foundations, Models, Applications
2006
Dresden University of Technology

Dresden University of Technology

The Technische Universität Dresden is the largest institute of higher education in the city of Dresden, the largest university in Saxony and one of the 10 largest universities in Germany with 36,066 students...



From Cells to Tissues to Therapies: Engineering the Cellular Basis of Regeneration
2006
Johann Wolfgang Goethe University Frankfurt am Main
Macromolecular Complexes
2006
University of Gießen
Cardio-Pulmonary System
2006
University of Göttingen
Microscopy at the Nanometer Range
2006
Hannover Medical School

Hannover Medical School

The Hannover Medical School , founded in 1965, is a university medical centre in Germany, part of a regional medical network.-International:...



From Regenerative Biology to Reconstructive Therapy
2006
University of Heidelberg
Cellular Networks: From Analysis of Molecular Mechanisms to a Quantitative Understanding of Complex Functions
2006
University of Karlsruhe (TH) (Technische Hochschule)
Center for Functional Nanostructures
2006
University of Kiel

University of Kiel

The University of Kiel is a university in the city of Kiel, Germany. It was founded in 1665 as the Academia Holsatorum Chiloniensis by Christian Albert, Duke of Holstein-Gottorp and has approximately 23,000 students today...



The Future Ocean
2006
University of Konstanz

University of Konstanz

The University of Konstanz is a university in the city of Konstanz in Baden-Württemberg, Germany. It was founded in 1966, and the main campus on the Gießberg was opened in 1972. As one of nine German Excellence Universities today University of Konstanz is counted among Germany's most prestigious...



Cultural Foundations of Social Integration
2006
Ludwig Maximilian University of Munich
Center for Integrated Protein Science Munich

Center for Integrated Protein Science Munich

The Center for Integrated Protein Science Munich is a cluster of excellence in sciences located in Munich. It is an association of research groups of the Ludwig Maximilian University of Munich, the Technical University of Munich, the Helmholtz Center Munich, and the Max Planck Institutes of...



2006
Ludwig Maximilian University of Munich
Munich Center for Advanced Photonics
2006
Ludwig Maximilian University of Munich
Nanosystems Initiative Munich
2006
Technical University of Munich

Technical University of Munich

The Technische Universität München is a research university with campuses in Munich, Garching, and Weihenstephan...



Cognition for Technical Systems
2006
Technical University of Munich

Technical University of Munich

The Technische Universität München is a research university with campuses in Munich, Garching, and Weihenstephan...



Origin and Structure of the Universe – The Cluster of Excellence for Fundamental Physics
2006
RWTH Aachen University
Tailor-Made Fuels from Biomass
2007
Free University of Berlin

Free University of Berlin

Freie Universität Berlin is one of the leading and most prestigious research universities in Germany and continental Europe. It distinguishes itself through its modern and international character. It is the largest of the four universities in Berlin. Research at the university is focused on the...



Languages of Emotion
2007
Humboldt-Universität Berlin

Humboldt University of Berlin

The Humboldt University of Berlin is Berlin's oldest university, founded in 1810 as the University of Berlin by the liberal Prussian educational reformer and linguist Wilhelm von Humboldt, whose university model has strongly influenced other European and Western universities...



NeuroCure: Towards a Better Outcome of Neurological Disorders
2007
Technical University of Berlin

Technical University of Berlin

The Technische Universität Berlin is a research university located in Berlin, Germany. Translating the name into English is discouraged by the university, however paraphrasing as Berlin Institute of Technology is recommended by the university if necessary .The TU Berlin was founded...



Unifying Concepts in Catalysis

BIG-NSE

The Berlin Graduate School of Natural Sciences and Engineering is part of the Cluster of Excellence "Unifying Concepts in Catalysis" founded in November 2007 by the Technical University of Berlin and five further institutions in the Berlin area within the framework of the German government's ...



2007
University of Bielefeld
Cognitive Interaction Technology
2007
University of Bremen

University of Bremen

The University of Bremen is a university of approximately 23,500 people from 126 countries that are studying, teaching, researching, and working in Bremen, Germany...



The Ocean in the Earth System
2007
Darmstadt University of Technology

Darmstadt University of Technology

The Technische Universität Darmstadt, abbreviated TU Darmstadt, is a university in the city of Darmstadt, Germany...



Smart Interfaces: Understanding and Designing Fluid Boundaries
2007
University of Erlangen-Nuremberg
Engineering of Advanced Materials – Hierarchical Structure Formation for Functional Devices
2007
Johann Wolfgang Goethe University Frankfurt am Main
Formation of Normative Orders
2007
University of Freiburg

University of Freiburg

The University of Freiburg , sometimes referred to in English as the Albert Ludwig University of Freiburg, is a public research university located in Freiburg im Breisgau, Baden-Württemberg, Germany.The university was founded in 1457 by the Habsburg dynasty as the...



Centre for Biological Signalling Studies – From Analysis to Synthesis
2007
University of Hamburg

University of Hamburg

The University of Hamburg is a university in Hamburg, Germany. It was founded on 28 March 1919 by Wilhelm Stern and others. It grew out of the previous Allgemeines Vorlesungswesen and the Kolonialinstitut as well as the Akademisches Gymnasium. There are around 38,000 students as of the start of...



Integrated Climate System Analysis and Prediction
2007
University of Hannover
Centre for Quantum Engineering and Space-Time Research (QUEST)

QUEST (Cluster of Excellence)

The Cluster of Excellence QUEST - Centre for Quantum Engineering and Space-Time Research has been funded since November 2007 in the framework of the German Universities Excellence Initiative of the federal and state governments of Germany. The key research areas of the cluster are the quantum...



2007
University of Heidelberg
Asia and Europe in a Global Context: Shifting Asymmetries in Cultural Flows (EXC270)
2007
University of Kiel

University of Kiel

The University of Kiel is a university in the city of Kiel, Germany. It was founded in 1665 as the Academia Holsatorum Chiloniensis by Christian Albert, Duke of Holstein-Gottorp and has approximately 23,000 students today...



Inflammation at Interfaces
2007
University of Cologne

University of Cologne

The University of Cologne is one of the oldest universities in Europe and, with over 44,000 students, one of the largest universities in Germany. The university is part of the Deutsche Forschungsgemeinschaft, an association of Germany's leading research universities...



Cellular Stress Responses in Aging-Associated Diseases
2007
University of Münster

University of Münster

The University of Münster is a public university located in the city of Münster, North Rhine-Westphalia in Germany. The WWU is part of the Deutsche Forschungsgemeinschaft, a society of Germany's leading research universities...



Religion and Politics in Pre-Modern and Modern Cultures
2007
Saarland University

Saarland University

Saarland University is a university located in Saarbrücken, the capital of the German state of Saarland, and Homburg. It was founded in 1948 in Homburg in co-operation with France and is organized in 8 faculties that cover all major fields of science...



Multimodal Computing and Interaction
2007
University of Stuttgart

University of Stuttgart

The University of Stuttgart is a university located in Stuttgart, Germany. It was founded in 1829 and is organized in 10 faculties....



Simulation Technology
2007
University of Tübingen
CIN – Centre for Integrative Neuroscience
2007