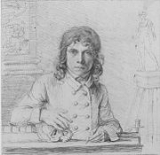 John Flaxman
John Flaxman
was an
English
England
England is a country that is part of the United Kingdom. It shares land borders with Scotland to the north and Wales to the west; the Irish Sea is to the north west, the Celtic Sea to the south west, with the North Sea to the east and the English Channel to the south separating it from continental...
sculptor
Sculpture
Sculpture is three-dimensional artwork created by shaping or combining hard materials—typically stone such as marble—or metal, glass, or wood. Softer materials can also be used, such as clay, textiles, plastics, polymers and softer metals...
and
draughtsman
Drawing
Drawing is a form of visual art that makes use of any number of drawing instruments to mark a two-dimensional medium. Common instruments include graphite pencils, pen and ink, inked brushes, wax color pencils, crayons, charcoal, chalk, pastels, markers, styluses, and various metals .An artist who...
.
Early life
He was born in
York
York
York is a walled city, situated at the confluence of the Rivers Ouse and Foss in North Yorkshire, England. The city has a rich heritage and has provided the backdrop to major political events throughout much of its two millennia of existence...
. His father was also named John, after an ancestor who, according to family tradition, had fought for Parliament at the
Battle of Naseby
Battle of Naseby
The Battle of Naseby was the key battle of the first English Civil War. On 14 June 1645, the main army of King Charles I was destroyed by the Parliamentarian New Model Army commanded by Sir Thomas Fairfax and Oliver Cromwell.-The Campaign:...
, and afterwards settled as a carrier or farmer in
Buckinghamshire
Buckinghamshire
Buckinghamshire is a ceremonial and non-metropolitan home county in South East England. The county town is Aylesbury, the largest town in the ceremonial county is Milton Keynes and largest town in the non-metropolitan county is High Wycombe....
. John Flaxman the father was well known as a moulder and seller of
plaster cast
Plaster cast
A plaster cast is a copy made in plaster of another 3-dimensional form. The original from which the cast is taken may be a sculpture, building, a face, a fossil or other remains such as fresh or fossilised footprints – particularly in palaeontology .Sometimes a...
s at the sign of the Golden Head, New Street,
Covent Garden
Covent Garden
Covent Garden is a district in London on the eastern fringes of the West End, between St. Martin's Lane and Drury Lane. It is associated with the former fruit and vegetable market in the central square, now a popular shopping and tourist site, and the Royal Opera House, which is also known as...
,
London
London
London is the capital city of :England and the :United Kingdom, the largest metropolitan area in the United Kingdom, and the largest urban zone in the European Union by most measures. Located on the River Thames, London has been a major settlement for two millennia, its history going back to its...
. His wife's maiden name was Lee, and John was their second son. Within six months of his birth the family returned to London. He was a sickly child, and his figure was high-shouldered, his head too large for his body. His mother died when he was nine, and his father re-married. He had little schooling, and was largely self-educated. He took delight in drawing and modelling from his father's stock-in-trade, and studied translations from classic literature in an effort to understand them.
Customers of his father took a fancy to the child, and helped him with books, advice, and later with commissions. Particular admirers from his youth were the painter
George Romney
George Romney (painter)
George Romney was an English portrait painter. He was the most fashionable artist of his day, painting many leading society figures - including his artistic muse, Emma Hamilton, mistress of Lord Nelson....
, and a cultivated clergyman, Anthony Stephen Mathew and his wife Mrs. Mathew, in whose house in Rathbone Place the young Flaxman used to meet the best "blue-stocking" society of the day and, among associates of his own age, the artists
William Blake
William Blake
William Blake was an English poet, painter, and printmaker. Largely unrecognised during his lifetime, Blake is now considered a seminal figure in the history of both the poetry and visual arts of the Romantic Age...
and
Thomas Stothard
Thomas Stothard
Thomas Stothard was an English painter, illustrator and engraver.-Life and work:Stothard was born in London, the son of a well-to-do innkeeper in Long Acre, London. A delicate child, he was sent at the age of five to a relative in Yorkshire, and attended school at Acomb, and afterwards at...
, who became his closest friends. He had already begun to work in clay as well as in pencil. At 12 years of age he won the first prize of the Society of Arts for a medallion, and became a public exhibitor in the gallery of the Free Society of Artists; at 15 he won a second prize from the Society of Arts and began to exhibit at the
Royal Academy
Royal Academy
The Royal Academy of Arts is an art institution based in Burlington House on Piccadilly, London. The Royal Academy of Arts has a unique position in being an independent, privately funded institution led by eminent artists and architects whose purpose is to promote the creation, enjoyment and...
. In the same year, 1770, he entered as an Academy student and won the silver medal. Not all of his artistic endeavours resulted in success however. In the competition for the gold medal of the Academy in 1772, Flaxman was defeated, the prize being awarded by the president, Sir
Joshua Reynolds
Joshua Reynolds
Sir Joshua Reynolds RA FRS FRSA was an influential 18th-century English painter, specialising in portraits and promoting the "Grand Style" in painting which depended on idealization of the imperfect. He was one of the founders and first President of the Royal Academy...
, to a competitor named Engleheart. Rather than being a discouragement, this episode seemed to help cure Flaxman of a tendency to conceit, about which
Thomas Wedgwood
Thomas Wedgwood
Thomas Wedgwood may refer to:* Thomas Wedgwood III , English potter* Thomas Wedgwood IV , English master potter* Thomas Wedgwood , English pioneer of photography...
said of him in 1775, "It is but a few years since he was a most supreme coxcomb."
He continued to work diligently, both as a student and as an exhibitor at the Academy, with occasional attempts at painting. To the Academy he contributed a wax model of Neptune (1770); four portrait models in wax (1771); a terracotta bust, a wax figure of a child, an historical figure (1772); a figure of Comedy; and a relief of a Vestal (1773). During this period he received a commission from a friend of the Mathew family for a statue of
Alexander the Great
, but he was unable to obtain a regular income from private contracts. When he was 19 years old he was employed by
Josiah Wedgwood
Josiah Wedgwood
Josiah Wedgwood was an English potter, founder of the Wedgwood company, credited with the industrialization of the manufacture of pottery. A prominent abolitionist, Wedgwood is remembered for his "Am I Not A Man And A Brother?" anti-slavery medallion. He was a member of the Darwin–Wedgwood family...
and his partner Bentley, as a modeller of classic and domestic friezes, plaques, ornamental vessels and medallion portraits. It was in these inventive
jasper
Jasperware
Jasperware, or jasper ware, is a type of stoneware first developed by Josiah Wedgwood, although some authorities have described it as a type of porcelain...
" and "
basalt
Basalt
Basalt is a common extrusive volcanic rock. It is usually grey to black and fine-grained due to rapid cooling of lava at the surface of a planet. It may be porphyritic containing larger crystals in a fine matrix, or vesicular, or frothy scoria. Unweathered basalt is black or grey...
" ware compositions that the manufacturers of the age, who had conceived and perfected the style, earned their great reputation.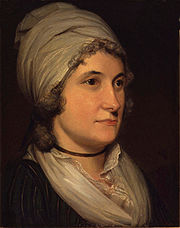 In the same year, 1775, John Flaxman the elder moved from New Street to a bigger house at no. 420 the Strand. For 12 years Flaxman junior lived chiefly by his work for the Wedgwood company. The beauty of the product is undeniable, and the skills which Flaxman acquired in the delicacies of modelling in low relief and on a minute scale were invaluable. By 1780 Flaxman had also begun to earn money by sculpting grave monuments. His early memorial work included monuments for
Thomas Chatterton
Thomas Chatterton
Thomas Chatterton was an English poet and forger of pseudo-medieval poetry. He died of arsenic poisoning, either from a suicide attempt or self-medication for a venereal disease.-Childhood:...
in the church of
St Mary Redcliffe
St Mary Redcliffe
St. Mary Redcliffe is an Anglican parish church located in the Redcliffe district of the English port city of Bristol, close to the city centre. Constructed from the 12th to the 15th centuries, the church is a Grade 1 listed building, St...
in Bristol (1780), Mrs Morley in
Gloucester Cathedral
Gloucester Cathedral
Gloucester Cathedral, or the Cathedral Church of St Peter and the Holy and Indivisible Trinity, in Gloucester, England, stands in the north of the city near the river. It originated in 678 or 679 with the foundation of an abbey dedicated to Saint Peter .-Foundations:The foundations of the present...
(1784), and the Rev. T and Mrs Margaret Ball in
Chichester Cathedral
Chichester Cathedral
The Cathedral Church of the Holy Trinity, otherwise called Chichester Cathedral, is the seat of the Anglican Bishop of Chichester. It is located in Chichester, in Sussex, England...
(1785). During the rest of Flaxman's career memorial bas-reliefs of this type made up the bulk of his output; and may be found in many churches throughout England. One example, the monument to
George Steevens
George Steevens
George Steevens was an English Shakespearean commentator.He was born at Poplar, the son of a captain and later director of the East India Company. He was educated at Eton College and at King's College, Cambridge, where he remained from 1753 to 1756...
originally in St Matthais Old Church, is now to be found in the
Fitzwilliam Museum
Fitzwilliam Museum
The Fitzwilliam Museum is the art and antiquities museum of the University of Cambridge, located on Trumpington Street opposite Fitzwilliam Street in central Cambridge, England. It receives around 300,000 visitors annually. Admission is free....
,
Cambridge
Cambridge
The city of Cambridge is a university town and the administrative centre of the county of Cambridgeshire, England. It lies in East Anglia about north of London. Cambridge is at the heart of the high-technology centre known as Silicon Fen – a play on Silicon Valley and the fens surrounding the...
. His best monumental work is admired for its pathos and simplicity, and for the alliance of a truly Greek instinct for rhythmical design and composition with the spirit of domestic tenderness and innocence that is one of the secrets of the modern soul.
Marriage
In 1782, aged 27, Flaxman married Anne Denman, who assisted him throughout his career. She was well-educated, and the devoted companion of her husband's fortunes and of his travels. They set up house in Wardour Street, and usually spent their summer holidays as guests of the poet Hayley, at Eartham in
Sussex
Sussex
Sussex , from the Old English Sūþsēaxe , is an historic county in South East England corresponding roughly in area to the ancient Kingdom of Sussex. It is bounded on the north by Surrey, east by Kent, south by the English Channel, and west by Hampshire, and is divided for local government into West...
. After five years, in 1787, they found themselves with means enough to travel, and set out for
Rome
Rome
Rome is the capital of Italy and the country's largest and most populated city and comune, with over 2.7 million residents in . The city is located in the central-western portion of the Italian Peninsula, on the Tiber River within the Lazio region of Italy.Rome's history spans two and a half...
, where they took up their quarters in the Via Felice.
Records of Flaxman's residence in
Italy
Italy
Italy , officially the Italian Republic languages]] under the European Charter for Regional or Minority Languages. In each of these, Italy's official name is as follows:;;;;;;;;), is a unitary parliamentary republic in South-Central Europe. To the north it borders France, Switzerland, Austria and...
exist in the shape of drawings and studies. He stopped modelling for Wedgwood, but continued to direct the work of other modellers employed for the manufacture at Rome. He had intended to return after a stay of a little more than two years, but was detained by a commission for a marble group of a
Fury of Athamas
, a commission attended in the sequel with circumstances of infinite trouble and annoyance, from the notorious Comte-Evéque, Frederick Augustus Hervey, 4th Earl of Bristol.
He did not, as it turned out, return until the summer of 1794, after an absence of seven years, having in the meantime executed another ideal commission (a "Cephalus and Aurora") for Thomas Hope, and having sent home models for several sepulchral monuments, including one in relief for the poet
William Collins
William Collins
William Collins may refer to:* William Collins , Bishop of Gibraltar in the Church of England* William Collins , English poet* William Collins , English landscape artist...
in Chichester cathedral, and one in the round for Lord Mansfield in
Westminster Abbey
Westminster Abbey
The Collegiate Church of St Peter at Westminster, popularly known as Westminster Abbey, is a large, mainly Gothic church, in the City of Westminster, London, United Kingdom, located just to the west of the Palace of Westminster. It is the traditional place of coronation and burial site for English,...
.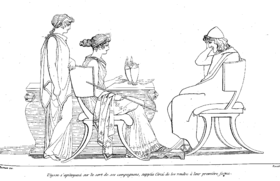 What gained Flaxman his general fame was not his work in sculpture proper, but those outline designs to the poets, in which he showed not only to what purpose he had made his own the principles of ancient design in vase paintings and bas reliefs, but also by what a natural affinity, better than all mere learning, he was bound to the ancients and belonged to them. The designs for the
Iliad
Iliad
The Iliad is an epic poem in dactylic hexameters, traditionally attributed to Homer. Set during the Trojan War, the ten-year siege of the city of Troy by a coalition of Greek states, it tells of the battles and events during the weeks of a quarrel between King Agamemnon and the warrior Achilles...
and
Odyssey
Odyssey
The Odyssey is one of two major ancient Greek epic poems attributed to Homer. It is, in part, a sequel to the Iliad, the other work ascribed to Homer. The poem is fundamental to the modern Western canon, and is the second—the Iliad being the first—extant work of Western literature...
were commissioned by Mrs Hare Naylor; those for
Dante
Dante Alighieri
Durante degli Alighieri, mononymously referred to as Dante , was an Italian poet, prose writer, literary theorist, moral philosopher, and political thinker. He is best known for the monumental epic poem La commedia, later named La divina commedia ...
by Hope; those for
Aeschylus
Aeschylus
Aeschylus was the first of the three ancient Greek tragedians whose work has survived, the others being Sophocles and Euripides, and is often described as the father of tragedy. His name derives from the Greek word aiskhos , meaning "shame"...
by Lady Spencer; they were all engraved by Piroli, not without considerable loss of the finer and more sensitive qualities of Flaxman's own lines.
During their homeward journey the Flaxmans travelled through central and northern Italy. On their return they took a house in Buckingham Street, Fitzroy Square. Immediately afterwards the sculptor published a spirited protest against the scheme already entertained by the
Directory
French Directory
The Directory was a body of five Directors that held executive power in France following the Convention and preceding the Consulate...
, and carried out two years later by Napoleon, of equipping at Paris a vast central museum of art with the spoils of conquered Europe.
Later life
The rest of Flaxman's life was uneventful, and his work brought sufficient rewards and a good reputation, being praised by
Antonio Canova
Antonio Canova
Antonio Canova was an Italian sculptor from the Republic of Venice who became famous for his marble sculptures that delicately rendered nude flesh...
,
Schlegel
August Wilhelm von Schlegel
August Wilhelm Schlegel was a German poet, translator, critic, and a foremost leader of German Romanticism. His translations of Shakespeare made the English dramatist's works into German classics.-Life and work:Schlegel was born at Hanover, where his father, Johann Adolf Schlegel, was a Lutheran...
and
Henry Fuseli
Henry Fuseli
Henry Fuseli was a British painter, draughtsman, and writer on art, of Swiss origin.-Biography:...
. He took as his pupil a son of
William Hayley
William Hayley
William Hayley was an English writer, best known as the friend and biographer of William Cowper.-Biography:...
's, who became ill and died. In 1797 he was made an associate of the
Royal Academy
Royal Academy
The Royal Academy of Arts is an art institution based in Burlington House on Piccadilly, London. The Royal Academy of Arts has a unique position in being an independent, privately funded institution led by eminent artists and architects whose purpose is to promote the creation, enjoyment and...
. Every year he exhibited work of one class or another: occasionally a public monument in the round, like those of
Pasquale Paoli
Pasquale Paoli
Filippo Antonio Pasquale di Paoli , was a Corsican patriot and leader, the president of the Executive Council of the General Diet of the People of Corsica...
(1798) or Captain Montague (1802) for Westminster Abbey, of
Sir William Jones
William Jones (philologist)
Sir William Jones was an English philologist and scholar of ancient India, particularly known for his proposition of the existence of a relationship among Indo-European languages...
for
University College, Oxford
University College, Oxford
.University College , is a constituent college of the University of Oxford in England. As of 2009 the college had an estimated financial endowment of £110m...
(1797–1801), of Nelson or
Howe
Richard Howe, 1st Earl Howe
Admiral of the Fleet Richard Howe, 1st Earl Howe KG was a British naval officer, notable in particular for his service during the American War of Independence and French Revolutionary Wars. He was the brother of William Howe and George Howe.Howe joined the navy at the age of thirteen and served...
for
St Paul's Cathedral
St Paul's Cathedral
St Paul's Cathedral, London, is a Church of England cathedral and seat of the Bishop of London. Its dedication to Paul the Apostle dates back to the original church on this site, founded in AD 604. St Paul's sits at the top of Ludgate Hill, the highest point in the City of London, and is the mother...
; more often memorials for churches, with symbolic Acts of Mercy or illustrations of Scripture texts, both commonly in low relief (1801), Miss Cromwell, Chichester (1800), Mrs Knight, Milton, Cambridge (1802), and many more; and these pious labours he would vary from time to time with a classical piece like those of his earliest predilection. Soon after his election as associate, he published a scheme, half grandiose, half childish, for a monument to be erected on Greenwich Hill, in the shape of a
Britannia
Britannia
Britannia is an ancient term for Great Britain, and also a female personification of the island. The name is Latin, and derives from the Greek form Prettanike or Brettaniai, which originally designated a collection of islands with individual names, including Albion or Great Britain. However, by the...
200 ft (61 m). high, in honour of the naval victories of his country.
In 1800 he was elected a full Academician. During the peace of Amiens he went to
Paris
Paris
Paris is the capital and largest city in France, situated on the river Seine, in northern France, at the heart of the Île-de-France region...
to see the despoiled treasures collected there, but bore himself according to the spirit of protest that was in him. The next event which makes any mark in his life is his appointment to a chair specially created for him by the Royal Academy, the chair of Sculpture: this took place in 1810. There is ample evidence of his thoroughness and judiciousness as a teacher in the Academy schools, and his professorial lectures have been often reprinted. With many excellent observations, and with one singular merit — that of doing justice, as in those days justice was hardly ever done, to the sculpture of the medieval schools — these lectures lack point and felicity of expression, just as they are reported to have lacked fire in delivery, and are somewhat heavy reading. The most important works that occupied Flaxman in the years next following this appointment were the monument to Mrs Baring in Micheldever church, the richest of all his monuments in relief (1805–1811); that for the Worsley family at Campsall church,
Yorkshire
Yorkshire
Yorkshire is a historic county of northern England and the largest in the United Kingdom. Because of its great size in comparison to other English counties, functions have been increasingly undertaken over time by its subdivisions, which have also been subject to periodic reform...
, which is the next richest; those to Sir
Joshua Reynolds
Joshua Reynolds
Sir Joshua Reynolds RA FRS FRSA was an influential 18th-century English painter, specialising in portraits and promoting the "Grand Style" in painting which depended on idealization of the imperfect. He was one of the founders and first President of the Royal Academy...
for St Paul's (1807); to Captain Webbe for India (1810); to Captains Walker and Beckett for Leeds (1811); to Lord Cornwallis for Prince of Wales's Island (1812); and to Sir John Moore for Glasgow (1813). At this time the antiquarian world was much occupied with the vexed question of the merits of the
Elgin marbles
Elgin Marbles
The Parthenon Marbles, forming a part of the collection known as the Elgin Marbles , are a collection of classical Greek marble sculptures , inscriptions and architectural members that originally were part of the Parthenon and other buildings on the Acropolis of Athens...
, and Flaxman was one of those whose evidence before the parliamentary commission had most weight in favour of the purchase which was ultimately effected in 1816.
After his Roman period he produced fewer outline designs for the engraver except three for
William Cowper
William Cowper
William Cowper was an English poet and hymnodist. One of the most popular poets of his time, Cowper changed the direction of 18th century nature poetry by writing of everyday life and scenes of the English countryside. In many ways, he was one of the forerunners of Romantic poetry...
's translations of the
Latin
Latin
Latin is an Italic language originally spoken in Latium and Ancient Rome. It, along with most European languages, is a descendant of the ancient Proto-Indo-European language. Although it is considered a dead language, a number of scholars and members of the Christian clergy speak it fluently, and...
poems of
John Milton
John Milton
John Milton was an English poet, polemicist, a scholarly man of letters, and a civil servant for the Commonwealth of England under Oliver Cromwell...
(1810). Other sets of outline illustrations drawn about the same time, but not published, were one for the
Pilgrim's Progress
, and one for a Chinese tale in verse, "The Casket", which he wrote himself for his family. In 1817 we find him returning to his old practice of classical outline illustrations and publishing the happiest of all his series in that kind, the designs to
Hesiod
Hesiod
Hesiod was a Greek oral poet generally thought by scholars to have been active between 750 and 650 BC, around the same time as Homer. His is the first European poetry in which the poet regards himself as a topic, an individual with a distinctive role to play. Ancient authors credited him and...
, excellently engraved by the sympathetic hand of Blake, Immediately afterwards he was much engaged designing for the goldsmiths — a testimonial cup in honour of
John Kemble
John Kemble
John Kemble may refer to:*John Kemble , Roman Catholic martyr*John Philip Kemble, English actor and manager*John H. Kemble, American maritime historian...
, and following that, the famous and beautiful (though quite un-
Homer
Homer
In the Western classical tradition Homer , is the author of the Iliad and the Odyssey, and is revered as the greatest ancient Greek epic poet. These epics lie at the beginning of the Western canon of literature, and have had an enormous influence on the history of literature.When he lived is...
ic) "Shield of
Achilles
Achilles
In Greek mythology, Achilles was a Greek hero of the Trojan War, the central character and the greatest warrior of Homer's Iliad.Plato named Achilles the handsomest of the heroes assembled against Troy....
". Almost at the same time he undertook a frieze of "Peace, Liberty and Plenty," for the Duke of Bedford's sculpture gallery at
Woburn Abbey
Woburn Abbey
Woburn Abbey , near Woburn, Bedfordshire, England, is a country house, the seat of the Duke of Bedford and the location of the Woburn Safari Park.- Pre-20th century :...
, and an heroic group of Michael overthrowing Satan, for Lord Egremont's
Petworth House
Petworth House
Petworth House in Petworth, West Sussex, England, is a late 17th-century mansion, rebuilt in 1688 by Charles Seymour, 6th Duke of Somerset, and altered in the 1870s by Anthony Salvin...
. His literary industry at the same time is shown by several articles on art and
archaeology
Archaeology
Archaeology, or archeology , is the study of human society, primarily through the recovery and analysis of the material culture and environmental data that they have left behind, which includes artifacts, architecture, biofacts and cultural landscapes...
contributed to
Rees's Encyclopaedia
(1819–1820).
He was commissioned to create the monument to
Matthew Boulton
Matthew Boulton
Matthew Boulton, FRS was an English manufacturer and business partner of Scottish engineer James Watt. In the final quarter of the 18th century the partnership installed hundreds of Boulton & Watt steam engines, which were a great advance on the state of the art, making possible the...
(died 1809), by Boulton's son, which is on the north wall of the
sanctuary
Sanctuary
A sanctuary is any place of safety. They may be categorized into human and non-human .- Religious sanctuary :A religious sanctuary can be a sacred place , or a consecrated area of a church or temple around its tabernacle or altar.- Sanctuary as a sacred place :#Sanctuary as a sacred place:#:In...
of
St. Mary's Church, Handsworth
St. Mary's Church, Handsworth
St. Mary's Church, Handsworth, also known as Handsworth Old Church, is an Anglican church in Handsworth, Birmingham, England. Its ten-acre grounds are contiguous with Handsworth Park and it is just off the Birmingham Outer Circle and south of a cutting housing the site of the former Handsworth...
,
Birmingham
Birmingham
Birmingham is a city and metropolitan borough in the West Midlands of England. It is the most populous British city outside the capital London, with a population of 1,036,900 , and lies at the heart of the West Midlands conurbation, the second most populous urban area in the United Kingdom with a...
, where Boulton is buried. It includes a marble bust of Boulton, set in a circular opening above two
putti
Putto
A putto is a figure of an infant often depicted as a young male. Putti are defined as chubby, winged or wingless, male child figure in nude. Putti are distinct from cherubim, but some English-speakers confuse them with each other, except that in the plural, "the Cherubim" refers to the biblical...
, one holding an engraving of the
Soho Manufactory
Soho Manufactory
The Soho Manufactory was an early factory which pioneered mass production on the assembly line principle, in Soho, Smethwick, England, during the Industrial Revolution.-Beginnings:...
.
Death
In 1820 Flaxman's wife died. Her younger sister, Maria Denman, and his own sister,
Maria Flaxman
Maria Flaxman
Maria Flaxman was an English illustrator.Maria, also noted as Mary Ann or Maria T Flaxman, was the half-sister of John Flaxman, she was influenced by his work and assisted him in the last years of his life. Maria Flaxman was employed as a governess to the Hare Naylor family residences in Italy...
, continued to live with him, and he continued to work hard. In 1822 he delivered at the Academy a lecture in memory of his old friend and generous fellow-craftsman, Canova, then recently dead; in 1823 he received a visit from
Schlegel
Schlegel
Schlegel is a name of German origin, related to Schlägel "sledgehammer, mallet". It may refer to:-Places:*Schlegel, Saxony, a village in the district of Löbau-Zittau in Saxony belonging to the town of Zittau...
, of which the latter wrote an account. From an illness occurring soon after this he recovered sufficiently to resume both work and exhibition, but on 3 December 1826, he caught cold in church, and died four days later, in his 72nd year. Among a few intimate associates, he left a memory singularly dear; having been in companionship, although susceptible and obstinate when his religious creed — a devout Christianity with
Swedenborg
Emanuel Swedenborg
was a Swedish scientist, philosopher, and theologian. He has been termed a Christian mystic by some sources, including the Encyclopædia Britannica online version, and the Encyclopedia of Religion , which starts its article with the description that he was a "Swedish scientist and mystic." Others...
ian admixtures — was crossed or slighted, yet in other things genial and sweet-tempered beyond most men, full of modesty and playfulness and withal of a homely dignity, a true friend and a kind master, a pure and blameless spirit.
Reception


Flaxman's complicated monuments in the round, such as the three in
Westminster Abbey
Westminster Abbey
The Collegiate Church of St Peter at Westminster, popularly known as Westminster Abbey, is a large, mainly Gothic church, in the City of Westminster, London, United Kingdom, located just to the west of the Palace of Westminster. It is the traditional place of coronation and burial site for English,...
and the four in
St Paul's Cathedral
St Paul's Cathedral
St Paul's Cathedral, London, is a Church of England cathedral and seat of the Bishop of London. Its dedication to Paul the Apostle dates back to the original church on this site, founded in AD 604. St Paul's sits at the top of Ludgate Hill, the highest point in the City of London, and is the mother...
, are considered too "heavy" ; but his simple monuments in relief are of finer quality. He thoroughly understood relief, and it gave better scope for his particular talents. His compositions are best studied in the casts from his studio sketches, of which a comprehensive collection is preserved in the Flaxman gallery at University College, London. Going back to the rudiments and first conceptions of his art helps to realize the essential charm of his genius in the study, not of his modelled work at all, but of his sketches in pen and wash on paper. The principal public collections are at University College, in the
British Museum
British Museum
The British Museum is a museum of human history and culture in London. Its collections, which number more than seven million objects, are amongst the largest and most comprehensive in the world and originate from all continents, illustrating and documenting the story of human culture from its...
, and the
Victoria and Albert Museum
Victoria and Albert Museum
The Victoria and Albert Museum , set in the Brompton district of The Royal Borough of Kensington and Chelsea, London, England, is the world's largest museum of decorative arts and design, housing a permanent collection of over 4.5 million objects...
.
External links
Further Reading
Deanna Petherbridge, 'Some Thoughts on Flaxman and the Engraved Outlines', Print Quarterly, XXVIII, 2011, pp. 385-91.