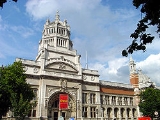 Victoria and Albert Museum
The
Victoria and Albert Museum
(often abbreviated as the
V&A
), set in the Brompton district of The
Royal Borough of Kensington and Chelsea
Royal Borough of Kensington and Chelsea
The Royal Borough of Kensington and Chelsea is a central London borough of Royal borough status. After the City of Westminster, it is the wealthiest borough in England....
,
London
London
London is the capital city of :England and the :United Kingdom, the largest metropolitan area in the United Kingdom, and the largest urban zone in the European Union by most measures. Located on the River Thames, London has been a major settlement for two millennia, its history going back to its...
,
England
England
England is a country that is part of the United Kingdom. It shares land borders with Scotland to the north and Wales to the west; the Irish Sea is to the north west, the Celtic Sea to the south west, with the North Sea to the east and the English Channel to the south separating it from continental...
, is the world's largest museum of decorative arts and design, housing a permanent collection of over 4.5 million objects. Named after Prince Albert and
Queen Victoria
Victoria of the United Kingdom
Victoria was the monarch of the United Kingdom of Great Britain and Ireland from 20 June 1837 until her death. From 1 May 1876, she used the additional title of Empress of India....
, it was founded in 1852, and has since grown to cover 12.5 acres (50,585.8 m²) and 145 galleries. Its collection spans 5,000 years of art, from ancient times to the present day, in virtually every medium, from the cultures of
Europe
History of Europe
History of Europe describes the history of humans inhabiting the European continent since it was first populated in prehistoric times to present, with the first human settlement between 45,000 and 25,000 BC.-Overview:...
,
North America
Classification of indigenous peoples of the Americas
Classification of indigenous peoples of the Americas is based upon cultural regions, geography, and linguistics. Anthropologists have named various cultural regions, with fluid boundaries, that are generally agreed upon with some variation...
,
Asia
Eastern world
__FORCETOC__The term Eastern world refers very broadly to the various cultures or social structures and philosophical systems of Eastern Asia or geographically the Eastern Culture...
and
North Africa
Culture of North Africa
The people of the Maghreb and the Sahara speak various dialects of Berber and Arabic, and almost exclusively follow Islam. The Arabic and Berber groups of languages are distantly related, both being members of the Afro-Asiatic family. The Sahara dialects are notably more conservative than those of...
.