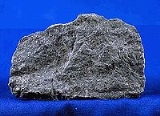 Basalt
Basalt
is a common extrusive
volcanic rock
Volcanic rock
Volcanic rock is a rock formed from magma erupted from a volcano. In other words, it is an igneous rock of volcanic origin...
. It is usually grey to black and fine-grained due to rapid cooling of
lava
Lava
Lava refers both to molten rock expelled by a volcano during an eruption and the resulting rock after solidification and cooling. This molten rock is formed in the interior of some planets, including Earth, and some of their satellites. When first erupted from a volcanic vent, lava is a liquid at...
at the surface of a planet. It may be
porphyritic
Porphyritic
Porphyritic is an adjective used in geology, specifically for igneous rocks, for a rock that has a distinct difference in the size of the crystals, with at least one group of crystals obviously larger than another group...
containing larger crystals in a fine
matrix
Matrix (geology)
The matrix or groundmass of rock is the finer grained mass of material in which larger grains, crystals or clasts are embedded.The matrix of an igneous rock consists of finer grained, often microscopic, crystals in which larger crystals are embedded. This porphyritic texture is indicative of...
, or
vesicular
Vesicular texture
Vesicular texture is a volcanic rock texture characterised by a rock being pitted with many cavities at its surface and inside. The texture is often found in extrusive aphanitic, or glassy, igneous rock...
, or frothy
scoria
Scoria
Scoria is a volcanic rock containing many holes or vesicles. It is most generally dark in color , and basaltic or andesitic in composition. Scoria is relatively low in mass as a result of its numerous macroscopic ellipsoidal vesicles, but in contrast to pumice, all scoria has a specific gravity...
. Unweathered basalt is black or grey. According to the
official definition
QAPF diagram
A QAPF diagram is a double triangle diagram which is used to classify igneous rocks based on mineralogic composition. The acronym, QAPF, stands for "Quartz, Alkali feldspar, Plagioclase, Feldspathoid ". These are the mineral groups used for classification in QAPF diagram...
, basalt is defined as an aphanitic
igneous rock
Igneous rock
Igneous rock is one of the three main rock types, the others being sedimentary and metamorphic rock. Igneous rock is formed through the cooling and solidification of magma or lava...
that contains, by volume, less than 20%
quartz
Quartz
Quartz is the second-most-abundant mineral in the Earth's continental crust, after feldspar. It is made up of a continuous framework of SiO4 silicon–oxygen tetrahedra, with each oxygen being shared between two tetrahedra, giving an overall formula SiO2. There are many different varieties of quartz,...
and less than 10%
feldspathoid
Feldspathoid
The feldspathoids are a group of tectosilicate minerals which resemble feldspars but have a different structure and much lower silica content. They occur in rare and unusual types of igneous rocks....
and where at least 65% of the
feldspar
Feldspar
Feldspars are a group of rock-forming tectosilicate minerals which make up as much as 60% of the Earth's crust....
is in the form of
plagioclase
Plagioclase
Plagioclase is an important series of tectosilicate minerals within the feldspar family. Rather than referring to a particular mineral with a specific chemical composition, plagioclase is a solid solution series, more properly known as the plagioclase feldspar series...
.
On Earth, most basalt
magma
Magma
Magma is a mixture of molten rock, volatiles and solids that is found beneath the surface of the Earth, and is expected to exist on other terrestrial planets. Besides molten rock, magma may also contain suspended crystals and dissolved gas and sometimes also gas bubbles. Magma often collects in...
s have formed by decompression melting of the
mantle
Mantle (geology)
The mantle is a part of a terrestrial planet or other rocky body large enough to have differentiation by density. The interior of the Earth, similar to the other terrestrial planets, is chemically divided into layers. The mantle is a highly viscous layer between the crust and the outer core....
.