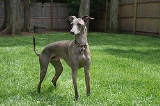 Italian Greyhound
The
Italian Greyhound
is a small
breed
Dog breed
Dog breeds are groups of closely related and visibly similar domestic dogs, which are all of the subspecies Canis lupus familiaris, having characteristic traits that are selected and maintained by humans, bred from a known foundation stock....
of
dog
Dog
The domestic dog is a domesticated form of the gray wolf, a member of the Canidae family of the order Carnivora. The term is used for both feral and pet varieties. The dog may have been the first animal to be domesticated, and has been the most widely kept working, hunting, and companion animal in...
of the sight hound
type
Dog type
Dog types are broad categories of dogs based on function, with dogs identified primarily by specific function or style of work rather than by lineage or appearance....
, sometimes called an "I.G.", or "Iggy" for short.
Appearance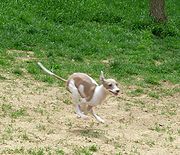 The Italian Greyhound is the smallest of the sighthounds, typically weighing about 8 to 18 lb (3.6 to 8.2 kg) and standing about 13 to 15 in (33 to 38.1 cm) tall at the
withers
Withers
The withers is the ridge between the shoulder blades of a four-legged animal. In many species it is the tallest point of the body, and in horses and dogs it is the standard place to measure the animal's height .-Horses:The withers in horses are formed by the dorsal spinal processes of roughly the...
. Though they are in the "toy" group based on their weight, they are larger than other dogs in the category due to their slender bodies, so owners must be careful when sizing clothing or accommodations.
The Italian Greyhound's chest is deep, with a tucked up abdomen, long slender legs and a long neck that tapers down to a small head. The face is long and pointed, like a full sized greyhound. Overall, they look like "miniature"
Greyhound
Greyhound
The Greyhound is a breed of sighthound that has been primarily bred for coursing game and racing, and the breed has also recently seen a resurgence in its popularity as a pedigree show dog and family pet. It is a gentle and intelligent breed...
s, though many Italian Greyhound owners dispute the use of the term "miniature Greyhound", in reference to the breed itself. By definition of the American Kennel Club - they are true genetic greyhounds, with a bloodline extending back over 2000 years. Their current small stature is a function of selective breeding. Their gait is distinctive and should be high stepping and free, rather like that of a horse. They are able to run at top speed with a double suspension gallop, and can achieve a top speed of up to 25 miles per hour (40.2 km/h).
The color of the coat is a subject of much discussion. For
The Kennel Club
The Kennel Club
The Kennel Club is a kennel club based in London and Aylesbury, United Kingdom.The Kennel Club registration system divides dogs into seven breed groups. The Kennel Club Groups are: Hound, Working, Terrier, Gundog, Pastoral, Utility and Toy...
(UK), the
American Kennel Club
American Kennel Club
The American Kennel Club is a registry of purebred dog pedigrees in the United States. Beyond maintaining its pedigree registry, this kennel club also promotes and sanctions events for purebred dogs, including the Westminster Kennel Club Dog Show, an annual event which predates the official...
, and the
Australian National Kennel Council
Australian National Kennel Council
The Australian National Kennel Council is the peak body in Australia responsible for promoting breeding, showing, trialling, obedience, and other canine-related activities and the ownership of temperamentally and physically sound purebred dogs by individuals across Australia. It was formed in...
,
parti colored
Coat (dog)
The coat of the domestic dog refers to the hair that covers its body. A dog's coat may be a double coat, made up of a soft undercoat and a coarser topcoat, or a single coat, which lacks an undercoat...
Italian Greyhounds are accepted, while the
Fédération Cynologique Internationale
Fédération Cynologique Internationale
Fédération Cynologique Internationale is an international federation of kennel clubs based in Thuin, Belgium. The English language translation, World Canine Organisation, is not often used.Its goals are described in Article 2 of their regulations:...
standard for international shows allows white only on the chest and feet.
The modern Italian Greyhound's appearance is a result of breeders throughout Europe, particularly
Austria
Austria
Austria , officially the Republic of Austria , is a landlocked country of roughly 8.4 million people in Central Europe. It is bordered by the Czech Republic and Germany to the north, Slovakia and Hungary to the east, Slovenia and Italy to the south, and Switzerland and Liechtenstein to the...
n,
German
Germany
Germany , officially the Federal Republic of Germany , is a federal parliamentary republic in Europe. The country consists of 16 states while the capital and largest city is Berlin. Germany covers an area of 357,021 km2 and has a largely temperate seasonal climate...
,
Italian
Italy
Italy , officially the Italian Republic languages]] under the European Charter for Regional or Minority Languages. In each of these, Italy's official name is as follows:;;;;;;;;), is a unitary parliamentary republic in South-Central Europe. To the north it borders France, Switzerland, Austria and...
,
French
France
The French Republic , The French Republic , The French Republic , (commonly known as France , is a unitary semi-presidential republic in Western Europe with several overseas territories and islands located on other continents and in the Indian, Pacific, and Atlantic oceans. Metropolitan France...
and
British
United Kingdom
The United Kingdom of Great Britain and Northern IrelandIn the United Kingdom and Dependencies, other languages have been officially recognised as legitimate autochthonous languages under the European Charter for Regional or Minority Languages...
breeders, making great contributions to the forming of this
breed
Breed
A breed is a group of domestic animals or plants with a homogeneous appearance, behavior, and other characteristics that distinguish it from other animals or plants of the same species. Despite the centrality of the idea of "breeds" to animal husbandry, there is no scientifically accepted...
. The Italian Greyhound should resemble a small Greyhound, or rather a
Sloughi
Sloughi
The Sloughi is a North African breed of dog, specifically a member of the sighthound family. It is found in Morocco, Algeria, Tunisia and Libya. Sloughis are likely closely related to the Azawakh, but not to the Saluki .-Appearance:...
, though they are in appearance more elegant and graceful.
Temperament
The Italian Greyhound makes a good
companion dog
Companion dog
Companion dog usually describes a dog that does not work, providing only companionship as a pet, rather than usefulness by doing specific tasks. Many of the toy dog breeds are used only for the pleasure of their company, not as workers...
and enjoys the company of people. However, the breed's slim build and short coat make them somewhat fragile, and injury can result from rough or careless play with children.
The breed is good with the elderly or a couple without any children for it prefers a quiet household but they are also generally fine with older children. They also are equally at home in the city or the country, although they tend to do best in spacious areas. They are fast, agile and athletic. Like any dog, daily exercise is a must for a happier, well-adjusted pet. Italian greyhounds love to run. The young dog is often particularly active, and this high level of activity may lead them to attempt ill-advised feats of athleticism that can result in injury. Due to their size, and in some lineages poor bone density, they are prone to broken legs.
Italian Greyhounds make reasonably good watchdogs, as they bark at unfamiliar sounds. They may also bark at passers-by and other animals. However, they should not be considered "true" guard dogs as they are often aloof with strangers and easily spooked to run.
As gazehounds, Italian Greyhounds instinctively hunt by sight and have an extremely high
predator drive
Prey drive
Prey drive is the instinctive inclination of a carnivore to pursue and capture prey.In dog training, prey drive can be used as an advantage because dogs with strong prey drive are also willing to pursue moving objects such as toys, which can then be used to encourage certain kinds of behavior, such...
. Owners of Italian Greyhounds should typically keep their dogs leashed at all times when not in an enclosed area to avoid the risk of even a well-behaved pet breaking away at high speed after a small animal. Like most sight hounds, the Italian Greyhound's slender skulls are near the same width of the dog's neck, and the use of a "martingale" style collar is advised for walking Italian Greyhounds, it tightens up when pulled while remaining comfortable slack when the dog is walking politely. This prevents the dog backing out and escaping. Breakaway collars are advised for identification, because this active and acrobatic breed could easily injure themselves when put in a collar they cannot escape from, and this leads to possible neck injuries and strangling.
Grooming
Dogs of this breed have an extremely short and almost odorless coat that requires little more than an occasional bath, but a wipe-down with a damp cloth is recommended after walks as seeds, burrs and floating dust in the air can get into the coat and irritate the skin. This breed sheds little to no hair.
Oral
The teeth of an Italian Greyhound should be brushed daily. Their scissor-bite and thin jaw bones make them susceptible to
periodontal disease
Periodontal disease
Periodontitis is a set of inflammatory diseases affecting the periodontium, i.e., the tissues that surround and support the teeth. Periodontitis involves progressive loss of the alveolar bone around the teeth, and if left untreated, can lead to the loosening and subsequent loss of teeth...
, which can be avoided with good dental care. Daily brushing has been shown to be very beneficial as well as regular dental cleanings from the vet.
Health
Health problems that can be found in the breed:
Epilepsy

Epilepsy in animals

Epilepsy can occur in animals other than humans . It is characterized by recurrent, unprovoked seizures. Canine epilepsy is often genetic. Epilepsy in cats and other pets is rarer, likely because there is no hereditary component to epilepsy in these animals.-Canine epilepsy:In dogs, epilepsy is...



Legg-Perthes disease (degeneration of the hip)
Patellar Luxation

Luxating patella

Luxating patella is a condition in which the patella, or kneecap, dislocates or moves out of its normal location....


(slipped stifles)
von Willebrand disease

Von Willebrand disease

von Willebrand disease is the most common hereditary coagulation abnormality described in humans, although it can also be acquired as a result of other medical conditions. It arises from a qualitative or quantitative deficiency of von Willebrand factor , a multimeric protein that is required for...


(vWD) (Bleeding disorder)
Progressive retinal atrophy

Progressive retinal atrophy

Progressive retinal atrophy is a group of genetic diseases seen in certain breeds of dogs and, more rarely, cats. Similar to retinitis pigmentosa in humans, it is characterized by the bilateral degeneration of the retina, causing progressive vision loss culminating in blindness...


(PRA)
Color dilution alopecia (hair loss in dilute pigmented dogs, i.e.: blues, blue fawns, etc.)
Leg Breaks (most common under the age of 2)
Cataract

Cataract

A cataract is a clouding that develops in the crystalline lens of the eye or in its envelope, varying in degree from slight to complete opacity and obstructing the passage of light...


s
Vitreous degeneration
Liver shunts
Autoimmune hemolytic anemia

Autoimmune hemolytic anemia

Autoimmune hemolytic anemia occurs when antibodies directed against the person's own red blood cells cause the RBCs to burst , leading to insufficient plasma concentration. The lifetime of the RBCs is reduced from the normal 100–120 days to just a few days in serious cases...



Periodontal disease

Periodontal disease

Periodontitis is a set of inflammatory diseases affecting the periodontium, i.e., the tissues that surround and support the teeth. Periodontitis involves progressive loss of the alveolar bone around the teeth, and if left untreated, can lead to the loosening and subsequent loss of teeth...


, gum recession, early tooth loss, bad tooth enamel
Hypothyroidism

Hypothyroidism

Hypothyroidism is a condition in which the thyroid gland does not make enough thyroid hormone.Iodine deficiency is the most common cause of hypothyroidism worldwide but it can be caused by other causes such as several conditions of the thyroid gland or, less commonly, the pituitary gland or...


, Autoimmune Thyroid Disease (Hashimoto's disease)
Responsible breeders will routinely check their dogs for the onset of various inherited disorders, these commonly include (but are not limited to):
CERF
examinations on eyes,
OFA
patellar examinations,
OFA
thyroid function panels, von Willebrand's factor,
OFA
hip and Legg-Perthes disease x-rays, and others.In research by the Ortheopedic Foundation for Animals, the Italian Greyhound was found to be the least affected by
hip dysplasia
Hip dysplasia
Hip dysplasia is an abnormal formation of the hip socket that, in its more severe form, can eventually cause crippling lameness and painful arthritis of the joints. It is a genetic trait that is affected by environmental factors...
out of 157 breeds. Tests were conducted on 169 individual Italian Greyhounds, of which none were found to have hip dysplasia and 59.2% scored excellent on their hip evaluations.
History
The name of the breed is a reference to the breed's popularity in Renaissance Italy.
Mummified
Mummy
A mummy is a body, human or animal, whose skin and organs have been preserved by either intentional or incidental exposure to chemicals, extreme coldness , very low humidity, or lack of air when bodies are submerged in bogs, so that the recovered body will not decay further if kept in cool and dry...
dogs very similar to the Italian Greyhound (or small Greyhounds) have been found in Egypt, and pictorials of small Greyhounds have been found in
Pompeii
Pompeii
The city of Pompeii is a partially buried Roman town-city near modern Naples in the Italian region of Campania, in the territory of the comune of Pompei. Along with Herculaneum, Pompeii was destroyed and completely buried during a long catastrophic eruption of the volcano Mount Vesuvius spanning...
, and they were probably the only accepted companion-dog there. Dogs similar to Italian Greyhounds are recorded as having been seen around Emperor
Nero
Nero
Nero , was Roman Emperor from 54 to 68, and the last in the Julio-Claudian dynasty. Nero was adopted by his great-uncle Claudius to become his heir and successor, and succeeded to the throne in 54 following Claudius' death....
's court in Rome in the first century AD.
Although the small dogs are mainly companionship dogs they have in fact been used for
hunting
Hunting
Hunting is the practice of pursuing any living thing, usually wildlife, for food, recreation, or trade. In present-day use, the term refers to lawful hunting, as distinguished from poaching, which is the killing, trapping or capture of the hunted species contrary to applicable law...
rats or mice, often in combination with hunting
falcon
Falcon
A falcon is any species of raptor in the genus Falco. The genus contains 37 species, widely distributed throughout Europe, Asia, and North America....
s. Citation needed
The Italian Greyhound is the smallest of the family of gazehounds (dogs that hunt by sight). The breed is an old one and is believed to have originated more than 4,000 years ago in the countries now known as Greece and Turkey. This belief is based on the depiction of miniature greyhounds in the early decorative arts of these countries and on the archaeological discovery of small greyhound skeletons. By the Middle Ages, the breed had become distributed throughout Southern Europe and was later a favorite of the Italians of the sixteenth century, among whom miniature dogs were in great demand. Sadly, though, 'designer' breeders tried, and failed, to make the breed even smaller by crossbreeding it with other breeds of dogs. This only led to mutations with deformed skulls, bulging eyes and dental problems. The original Italian Greyhound had almost disappeared when groups of breeders got together and managed to return the breed to normal. From this period onward the history of the breed can be fairly well traced as it spread through Europe, arriving in England in the seventeenth century.
Italian Greyhounds in the arts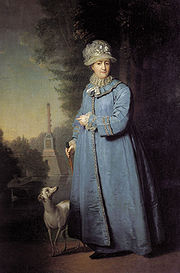 The grace of the breed has prompted several artists to include the dogs in paintings, among others
Velázquez
Diego Velázquez
Diego Rodríguez de Silva y Velázquez was a Spanish painter who was the leading artist in the court of King Philip IV. He was an individualistic artist of the contemporary Baroque period, important as a portrait artist...
,
Pisanello
Pisanello
Pisanello , known professionally as Antonio di Puccio Pisano or Antonio di Puccio da Cereto, also erroneously called Vittore Pisano by Giorgio Vasari, was one of the most distinguished painters of the early Italian Renaissance and Quattrocento...
and
Giotto
Giotto di Bondone
Giotto di Bondone , better known simply as Giotto, was an Italian painter and architect from Florence in the late Middle Ages...
.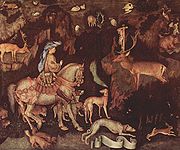 The breed has been popular with
royalty
Royal family
A royal family is the extended family of a king or queen regnant. The term imperial family appropriately describes the extended family of an emperor or empress, while the terms "ducal family", "grand ducal family" or "princely family" are more appropriate to describe the relatives of a reigning...
throughout, among the best known royal aficionados were Mary Stuart, Queen Anne, Queen Victoria,
Catherine The Great
Catherine II of Russia
Catherine II, also known as Catherine the Great , Empress of Russia, was born in Stettin, Pomerania, Prussia on as Sophie Friederike Auguste von Anhalt-Zerbst-Dornburg...
,
Frederick the Great
Frederick II of Prussia
Frederick II was a King in Prussia and a King of Prussia from the Hohenzollern dynasty. In his role as a prince-elector of the Holy Roman Empire, he was also Elector of Brandenburg. He was in personal union the sovereign prince of the Principality of Neuchâtel...
and the
Norwegian
Norway
Norway , officially the Kingdom of Norway, is a Nordic unitary constitutional monarchy whose territory comprises the western portion of the Scandinavian Peninsula, Jan Mayen, and the Arctic archipelago of Svalbard and Bouvet Island. Norway has a total area of and a population of about 4.9 million...
Queen Maud.
Italian Greyhounds in popular culture
Nelly from the film Good Boy!

Good Boy!

Good Boy! is a 2003 film produced by Jim Henson Pictures and Metro-Goldwyn-Mayer, starring talking alien dogs. The film stars Liam Aiken as Owen Baker, as well as Matthew Broderick, Delta Burke, Donald Faison, Cheech Marin, Brittany Murphy, Vanessa Redgrave, and Carl Reiner were the voice cast for...


is an Italian Greyhound played by "Motif" and "Imp".
The American rock

Rock music

Rock music is a genre of popular music that developed during and after the 1960s, particularly in the United Kingdom and the United States. It has its roots in 1940s and 1950s rock and roll, itself heavily influenced by rhythm and blues and country music...


band Shellac

Shellac (band)

Shellac is an American group composed of Steve Albini , Bob Weston and Todd Trainer...


named their fourth album Excellent Italian Greyhound

Excellent Italian Greyhound

Excellent Italian Greyhound is the title of Shellac's fourth album. It was released on June 5, 2007. The album's title is a reference to drummer Todd Trainer's Italian Greyhound, Uffizi. The album was recorded at Electrical Audio and mastered at Abbey Road by Steve Rooke. The drawings for Excellent...


in reference to drummer

Drum kit

A drum kit is a collection of drums, cymbals and often other percussion instruments, such as cowbells, wood blocks, triangles, chimes, or tambourines, arranged for convenient playing by a single person ....


Todd Trainer

Todd Trainer

Todd Stanford Trainer is the drummer for the band Shellac. He also performs as a solo artist under the name Brick Layer Cake. He previously played drums for the bands Breaking Circus and Rifle Sport, and he played drums with Scout Niblett in 2005....


's pet Italian Greyhound, Uffizi.
The 3.5 Edition of the Player's Handbook

Player's Handbook

The Player's Handbook is a book of rules for the fantasy role-playing game Dungeons & Dragons . It does not contain the complete set of rules, but only those for use by players of the game...


for Dungeons & Dragons

Dungeons & Dragons

Dungeons & Dragons is a fantasy role-playing game originally designed by Gary Gygax and Dave Arneson, and first published in 1974 by Tactical Studies Rules, Inc. . The game has been published by Wizards of the Coast since 1997...


features a sketch of an Italian Greyhound under its description for "handle animal."
Vienna Teng

Vienna Teng

Cynthia Yih Shih , better known by her stage name Vienna Teng, is a Taiwanese American pianist and singer-songwriter based in Ann Arbor, Michigan. Teng has released four studio albums: Waking Hour , Warm Strangers , Dreaming Through the Noise , and Inland Territory...


wrote a song titled "Stray Italian Greyhound" that was inspired by Barack Obama

Barack Obama

Barack Hussein Obama II is the 44th and current President of the United States. He is the first African American to hold the office. Obama previously served as a United States Senator from Illinois, from January 2005 until he resigned following his victory in the 2008 presidential election.Born in...


's 2004 DNC keynote address.
youtube.com star Jenna Marbles features her Italian Greyhound, "Kermit," in her weekly videos.
Activities
Some Italian Greyhounds enjoy
dog agility
Dog agility
Dog agility is a dog sport in which a handler directs a dog through an obstacle course in a race for both time and accuracy. Dogs run off-leash with no food or toys as incentives, and the handler can touch neither dog nor obstacles...
. The breed's lithe body and its love of action provide potential to do well at this sport, although not many Italian Greyhounds participate, and their natural inclination is for straight-out racing rather than for working tightly as a team with a handler on a technical course.
Lure coursing
Lure coursing
Lure coursing is a sport for dogs that involves chasing a mechanically operated lure. Competition is usually limited to dogs of purebred sighthound breeds.-Lure course:...
is another activity well-fitted to the Italian Greyhound, and they seem to enjoy it tremendously. Although the Italian Greyhound is a very fast dog, it is not as well suited to racing as its larger cousin. Regardless, many Italian Greyhounds participate in amateur straight-track and oval-track racing.
Rescue
See also
External links