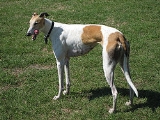 Greyhound
The
Greyhound
is a
breed
Dog breed
Dog breeds are groups of closely related and visibly similar domestic dogs, which are all of the subspecies Canis lupus familiaris, having characteristic traits that are selected and maintained by humans, bred from a known foundation stock....
of
sighthound
Sighthound
Sighthounds, also called gazehounds, are hounds that primarily hunt by speed and sight, instead of by scent and endurance as scent hounds do.-Appearance:...
that has been primarily bred for
coursing
Coursing
Coursing is the pursuit of game or other animals by dogs—chiefly greyhounds and other sighthounds—catching their prey by speed, running by sight and not by scent. Coursing was a common hunting technique, practised by the nobility, the landed and wealthy, and commoners with sighthounds and lurchers...
game and
racing
Greyhound racing
Greyhound racing is the sport of racing greyhounds. The dogs chase a lure on a track until they arrive at the finish line. The one that arrives first is the winner....
, and the breed has also recently seen a resurgence in its popularity as a pedigree show dog and family pet. It is a gentle and intelligent breed. A combination of long, powerful legs, deep chest, flexible spine, and slim build allows it to reach average race speeds in excess of 18 metres per second (59 feet per second) or 63 kilometres per hour (39.1 mph).
Males are usually 71 to 76 cm (28 to 29.9 in) tall at the
withers
Withers
The withers is the ridge between the shoulder blades of a four-legged animal. In many species it is the tallest point of the body, and in horses and dogs it is the standard place to measure the animal's height .-Horses:The withers in horses are formed by the dorsal spinal processes of roughly the...
and weigh around 27 to 40 kg (59.5 to 88.2 lb).