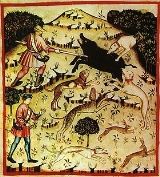 Hunting
Hunting
is the practice of pursuing any living thing, usually
wildlife
Wildlife
Wildlife includes all non-domesticated plants, animals and other organisms. Domesticating wild plant and animal species for human benefit has occurred many times all over the planet, and has a major impact on the environment, both positive and negative....
, for food,
recreation
Recreation
Recreation is an activity of leisure, leisure being discretionary time. The "need to do something for recreation" is an essential element of human biology and psychology. Recreational activities are often done for enjoyment, amusement, or pleasure and are considered to be "fun"...
, or trade. In present-day use, the term refers to lawful hunting, as distinguished from
poaching
Poaching
Poaching is the illegal taking of wild plants or animals contrary to local and international conservation and wildlife management laws. Violations of hunting laws and regulations are normally punishable by law and, collectively, such violations are known as poaching.It may be illegal and in...
, which is the killing, trapping or capture of the hunted species contrary to applicable law. The species which are hunted are referred to as
game
Game (food)
Game is any animal hunted for food or not normally domesticated. Game animals are also hunted for sport.The type and range of animals hunted for food varies in different parts of the world. This will be influenced by climate, animal diversity, local taste and locally accepted view about what can or...
, and are usually
mammal
Mammal
Mammals are members of a class of air-breathing vertebrate animals characterised by the possession of endothermy, hair, three middle ear bones, and mammary glands functional in mothers with young...
s and
migratory
Bird migration
Bird migration is the regular seasonal journey undertaken by many species of birds. Bird movements include those made in response to changes in food availability, habitat or weather. Sometimes, journeys are not termed "true migration" because they are irregular or in only one direction...
or non-migratory gamebirds.
Hunting can also involve the elimination of
vermin
Vermin
Vermin is a term applied to various animal species regarded by some as pests or nuisances and especially to those associated with the carrying of disease. Since the term is defined in relation to human activities, which species are included will vary from area to area and even person to person...
, as a means of
pest control
Pest control
Pest control refers to the regulation or management of a species defined as a pest, usually because it is perceived to be detrimental to a person's health, the ecology or the economy.-History:...
to prevent diseases caused by
overpopulation
Overpopulation
Overpopulation is a condition where an organism's numbers exceed the carrying capacity of its habitat. The term often refers to the relationship between the human population and its environment, the Earth...
.