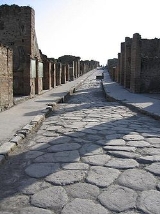 Pompeii
The city of
Pompeii
is a partially buried
Roman
Ancient Rome
Ancient Rome was a thriving civilization that grew on the Italian Peninsula as early as the 8th century BC. Located along the Mediterranean Sea and centered on the city of Rome, it expanded to one of the largest empires in the ancient world....
town-city near modern
Naples
Naples
Naples is a city in Southern Italy, situated on the country's west coast by the Gulf of Naples. Lying between two notable volcanic regions, Mount Vesuvius and the Phlegraean Fields, it is the capital of the region of Campania and of the province of Naples...
in the Italian region of
Campania
Campania
Campania is a region in southern Italy. The region has a population of around 5.8 million people, making it the second-most-populous region of Italy; its total area of 13,590 km² makes it the most densely populated region in the country...
, in the territory of the
comune
Comune
In Italy, the comune is the basic administrative division, and may be properly approximated in casual speech by the English word township or municipality.-Importance and function:...
of
Pompei
Pompei
Pompei is a city and comune in the province of Naples in Campania, southern Italy, famous for its ancient Roman ruins. As of 2010 its population was of 25,671.-History:...
. Along with
Herculaneum
Herculaneum
Herculaneum was an ancient Roman town destroyed by volcanic pyroclastic flows in AD 79, located in the territory of the current commune of Ercolano, in the Italian region of Campania in the shadow of Mt...
, Pompeii was destroyed and completely buried during a long catastrophic eruption of the
volcano
Volcano
2. Bedrock3. Conduit 4. Base5. Sill6. Dike7. Layers of ash emitted by the volcano8. Flank| 9. Layers of lava emitted by the volcano10. Throat11. Parasitic cone12. Lava flow13. Vent14. Crater15...
Mount Vesuvius
Mount Vesuvius
Mount Vesuvius is a stratovolcano in the Gulf of Naples, Italy, about east of Naples and a short distance from the shore. It is the only volcano on the European mainland to have erupted within the last hundred years, although it is not currently erupting...
spanning two days in the year AD 79. The eruption buried Pompeii under 4 metre of
ash
Volcanic ash
Volcanic ash consists of small tephra, which are bits of pulverized rock and glass created by volcanic eruptions, less than in diameter. There are three mechanisms of volcanic ash formation: gas release under decompression causing magmatic eruptions; thermal contraction from chilling on contact...
and
pumice
Pumice
Pumice is a textural term for a volcanic rock that is a solidified frothy lava typically created when super-heated, highly pressurized rock is violently ejected from a volcano. It can be formed when lava and water are mixed. This unusual formation is due to the simultaneous actions of rapid...
, and it was lost for nearly 1700 years before its accidental rediscovery in 1749.