 Green Sauce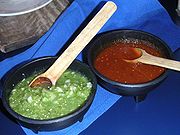 Green sauce
is the name of several different
sauce
Sauce
In cooking, a sauce is liquid, creaming or semi-solid food served on or used in preparing other foods. Sauces are not normally consumed by themselves; they add flavor, moisture, and visual appeal to another dish. Sauce is a French word taken from the Latin salsus, meaning salted...
s containing mainly herbs, namely the
Italian
Italian language
Italian is a Romance language spoken mainly in Europe: Italy, Switzerland, San Marino, Vatican City, by minorities in Malta, Monaco, Croatia, Slovenia, France, Libya, Eritrea, and Somalia, and by immigrant communities in the Americas and Australia...
salsa verde
, the
French
French language
French is a Romance language spoken as a first language in France, the Romandy region in Switzerland, Wallonia and Brussels in Belgium, Monaco, the regions of Quebec and Acadia in Canada, and by various communities elsewhere. Second-language speakers of French are distributed throughout many parts...
sauce verte
, the
Spanish
Spanish language
Spanish , also known as Castilian , is a Romance language in the Ibero-Romance group that evolved from several languages and dialects in central-northern Iberia around the 9th century and gradually spread with the expansion of the Kingdom of Castile into central and southern Iberia during the...
salsa verde
and the
German
German language
German is a West Germanic language, related to and classified alongside English and Dutch. With an estimated 90 – 98 million native speakers, German is one of the world's major languages and is the most widely-spoken first language in the European Union....
Grüne Soße
or
Frankfurter Grie Soß
(Frankfurt dialect).
History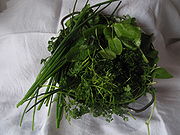 The basic recipe is probably from the
Near East
Near East
The Near East is a geographical term that covers different countries for geographers, archeologists, and historians, on the one hand, and for political scientists, economists, and journalists, on the other...
and, as such, is probably at least 2,000 years old. Roman legionaries brought it to
Italy
Italy
Italy , officially the Italian Republic languages]] under the European Charter for Regional or Minority Languages. In each of these, Italy's official name is as follows:;;;;;;;;), is a unitary parliamentary republic in South-Central Europe. To the north it borders France, Switzerland, Austria and...
, from where it was exported to
France
France
The French Republic , The French Republic , The French Republic , (commonly known as France , is a unitary semi-presidential republic in Western Europe with several overseas territories and islands located on other continents and in the Indian, Pacific, and Atlantic oceans. Metropolitan France...
and
Germany
Germany
Germany , officially the Federal Republic of Germany , is a federal parliamentary republic in Europe. The country consists of 16 states while the capital and largest city is Berlin. Germany covers an area of 357,021 km2 and has a largely temperate seasonal climate...
. Evidence suggests that it was introduced in Frankfurt am Main by the Italian trading families Bolongaro and Crevenna around 1700. A possible origin of the German variant are French Protestant immigrants emigrating to Kurhessen in the 18th century. The German variant uses a different mix of herbs, since Mediterranean herbs were not available in Germany at the time.
Italian salsa verde
The Italian
salsa verde
is a cold rustic sauce, and includes
parsley
Parsley
Parsley is a species of Petroselinum in the family Apiaceae, native to the central Mediterranean region , naturalized elsewhere in Europe, and widely cultivated as an herb, a spice and a vegetable.- Description :Garden parsley is a bright green hairless biennial herbaceous plant in temperate...
,
vinegar
Vinegar
Vinegar is a liquid substance consisting mainly of acetic acid and water, the acetic acid being produced through the fermentation of ethanol by acetic acid bacteria. Commercial vinegar is produced either by fast or slow fermentation processes. Slow methods generally are used with traditional...
,
caper
Caper
Capparis spinosa, the caper bush, is a perennial winter-deciduous species that bears rounded, fleshy leaves and large white to pinkish-white flowers. A caper is also the pickled bud of this plant...
s,
garlic
Garlic
Allium sativum, commonly known as garlic, is a species in the onion genus, Allium. Its close relatives include the onion, shallot, leek, chive, and rakkyo. Dating back over 6,000 years, garlic is native to central Asia, and has long been a staple in the Mediterranean region, as well as a frequent...
,
onion
Onion
The onion , also known as the bulb onion, common onion and garden onion, is the most widely cultivated species of the genus Allium. The genus Allium also contains a number of other species variously referred to as onions and cultivated for food, such as the Japanese bunching onion The onion...
,
anchovies
Anchovy
Anchovies are a family of small, common salt-water forage fish. There are 144 species in 17 genera, found in the Atlantic, Indian, and Pacific Oceans. Anchovies are usually classified as an oily fish.-Description:...
,
olive oil
Olive oil
Olive oil is an oil obtained from the olive , a traditional tree crop of the Mediterranean Basin. It is commonly used in cooking, cosmetics, pharmaceuticals, and soaps and as a fuel for traditional oil lamps...
, and possibly
mustard
Mustard (condiment)
Mustard is a condiment made from the seeds of a mustard plant...
. Traditionally, ingredients were coarsely chopped by hand but now it is frequently blended into a coarse sauce using a
food processor
Food processor
A food processor is a kitchen appliance used to facilitate various repetitive tasks in the process of preparation of food. Today, the term almost always refers to an electric-motor-driven appliance, although there are some manual devices also referred to as "food processors".Food processors are...
. In some regions, cubed bread is soaked in vinegar and blended with the other ingredients, which creates an emulsion somewhat similar to a
vinaigrette
Vinaigrette
The word vinaigrette or vinegarette can refer to:*Vinaigrette, the salad dressing or sauce...
. In other regions, there is no bread. Salsa verde is used as a condiment or dipping sauce for meats, fish, poultry, or vegetables.
One well-known salsa verde is
gremolata
Gremolata
Gremolata or gremolada is a chopped herb condiment typically made of lemon zest, garlic, and parsley. It is a traditional accompaniment to the Milanese braised veal shank dish ossobuco alla milanese.-Ingredients:...
, the usual accompaniment to ossobuco alla milanese.
Argentinian Chimichurri
Argentinian Chimichurri is a green sauce used in
Argentina
Argentina
Argentina , officially the Argentine Republic , is the second largest country in South America by land area, after Brazil. It is constituted as a federation of 23 provinces and an autonomous city, Buenos Aires...
for roast meat and sausages. This recipe for Chimichurri has been widely used and adapted in certain parts of
Latin America
Latin America
Latin America is a region of the Americas where Romance languages – particularly Spanish and Portuguese, and variably French – are primarily spoken. Latin America has an area of approximately 21,069,500 km² , almost 3.9% of the Earth's surface or 14.1% of its land surface area...
. The recipe can be found as far north as
Nicaragua
Nicaragua
Nicaragua is the largest country in the Central American American isthmus, bordered by Honduras to the north and Costa Rica to the south. The country is situated between 11 and 14 degrees north of the Equator in the Northern Hemisphere, which places it entirely within the tropics. The Pacific Ocean...
in
Central America
Central America
Central America is the central geographic region of the Americas. It is the southernmost, isthmian portion of the North American continent, which connects with South America on the southeast. When considered part of the unified continental model, it is considered a subcontinent...
.
French sauce verte
The French
sauce verte au pain
was already known in the
Renaissance
Renaissance
The Renaissance was a cultural movement that spanned roughly the 14th to the 17th century, beginning in Italy in the Late Middle Ages and later spreading to the rest of Europe. The term is also used more loosely to refer to the historical era, but since the changes of the Renaissance were not...
, and was originally a bread sauce very similar to the Italian. Today, however, the term frequently refers to a kind of
mayonnaise
Mayonnaise
Mayonnaise, , often abbreviated as mayo, is a sauce. It is a stable emulsion of oil, egg yolk and either vinegar or lemon juice, with many options for embellishment with other herbs and spices. Lecithin in the egg yolk is the emulsifier. Mayonnaise varies in color but is often white, cream, or pale...
flavoured with
tarragon
Tarragon
Tarragon or dragon's-wort is a perennial herb in the family Asteraceae related to wormwood. Corresponding to its species name, a common term for the plant is "dragon herb". It is native to a wide area of the Northern Hemisphere from easternmost Europe across central and eastern Asia to India,...
, and sometimes
parsley
Parsley
Parsley is a species of Petroselinum in the family Apiaceae, native to the central Mediterranean region , naturalized elsewhere in Europe, and widely cultivated as an herb, a spice and a vegetable.- Description :Garden parsley is a bright green hairless biennial herbaceous plant in temperate...
and
sage
Common sage
Salvia officinalis is a small, perennial, evergreen subshrub, with woody stems, grayish leaves, and blue to purplish flowers. It is a member of the family Lamiaceae and is native to the Mediterranean region, though it has naturalized in many places throughout the world...
. Lemon juice is often used instead of vinegar.
German Grüne Soße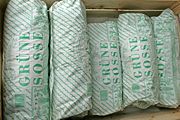 There are two traditional types of
Hessian
Hesse
Hesse or Hessia is both a cultural region of Germany and the name of an individual German state.* The cultural region of Hesse includes both the State of Hesse and the area known as Rhenish Hesse in the neighbouring Rhineland-Palatinate state...
Green Sauce which are popular in the Frankfurt am Main and
Kassel
Kassel
Kassel is a town located on the Fulda River in northern Hesse, Germany. It is the administrative seat of the Kassel Regierungsbezirk and the Kreis of the same name and has approximately 195,000 inhabitants.- History :...
area. The Frankfurt-style is made from hard-boiled eggs, oil, vinegar, salt, and generous amount of seven fresh herbs, namely
borage
Borage
Borage, , also known as a starflower, is an annual herb originating in Syria, but naturalized throughout the Mediterranean region, as well as Asia Minor, Europe, North Africa, and South America. It grows to a height of , and is bristly or hairy all over the stems and leaves; the leaves are...
,
sorrel
Sorrel
Common sorrel or garden sorrel , often simply called sorrel, is a perennial herb that is cultivated as a garden herb or leaf vegetable...
,
garden cress
Garden cress
Garden cress is a fast-growing, edible herb that is botanically related to watercress and mustard, sharing their peppery, tangy flavor and aroma...
,
chervil
Chervil
Chervil is a delicate annual herb related to parsley. Sometimes called garden chervil, it is used to season mild-flavoured dishes and is a constituent of the French herb mixture fines herbes.-Biology:...
,
chives
Chives
Chives are the smallest species of the edible onions. A perennial plant, they are native to Europe, Asia and North America.. Allium schoenoprasum is the only species of Allium native to both the New and the Old World....
,
parsley
Parsley
Parsley is a species of Petroselinum in the family Apiaceae, native to the central Mediterranean region , naturalized elsewhere in Europe, and widely cultivated as an herb, a spice and a vegetable.- Description :Garden parsley is a bright green hairless biennial herbaceous plant in temperate...
, and
salad burnet
Salad Burnet
Sanguisorba minor is a plant in the family Rosaceae that is native to western, central and southern Europe; northwest Africa and southwest Western Asia; and which has naturalized in most of North America...
. Variants, often due to seasonal availability include
dill
Dill
Dill is a perennial herb. It is the sole species of the genus Anethum, though classified by some botanists in a related genus as Peucedanum graveolens C.B.Clarke.-Growth:...
,
lovage
Lovage
Lovage is a tall perennial plant, the sole species in the genus Levisticum, in the family Apiaceae, subfamily Apioideae, tribe Apieae.-Distribution:...
,
lemon balm
Lemon balm
Lemon balm , not to be confused with bee balm, Monarda species, is a perennial herb in the mint family Lamiaceae, native to southern Europe and the Mediterranean region....
and even
spinach
Spinach
Spinach is an edible flowering plant in the family of Amaranthaceae. It is native to central and southwestern Asia. It is an annual plant , which grows to a height of up to 30 cm. Spinach may survive over winter in temperate regions...
. In more frugal times, daisy leaves, broad
plantain
Plantago
Plantago is a genus of about 200 species of small, inconspicuous plants commonly called plantains. They share this name with the very dissimilar plantain, a kind of banana. Most are herbaceous plants, though a few are subshrubs growing to 60 cm tall. The leaves are sessile, but have a narrow...
leaves, and dandelion leaves were also used. Different from the way
mayonnaise
Mayonnaise
Mayonnaise, , often abbreviated as mayo, is a sauce. It is a stable emulsion of oil, egg yolk and either vinegar or lemon juice, with many options for embellishment with other herbs and spices. Lecithin in the egg yolk is the emulsifier. Mayonnaise varies in color but is often white, cream, or pale...
is prepared, in Grüne Soße, cooked complete eggs are used together with
sour cream
Sour cream
Sour cream is a dairy product rich in fats obtained by fermenting a regular cream by certain kinds of lactic acid bacteria. The bacterial culture, which is introduced either deliberately or naturally, sours and thickens the cream. Its name stems from the production of lactic acid by bacterial...
as creamy base of the sauce. Some variations use
buttermilk
Buttermilk
Buttermilk refers to a number of dairy drinks. Originally, buttermilk was the liquid left behind after churning butter out of cream. It also refers to a range of fermented milk drinks, common in warm climates where unrefrigerated fresh milk otherwise sours quickly...
or quark, or yogurt. The green sauce of the city of Kassel is based on a combination of sour cream and Schmand.
The sauce is served with peeled boiled potatoes, accompanying either hard-boiled eggs or roasted beef brisket. Even cooked fish or roast beef are served together with the cold and refreshing sauce as main courses. Green sauce is as well served as a side dish to barbecue. A local schnitzel specialty, called Frankfurter Schnitzel, is served with green sauce, along with apple
cider
Cider
Cider or cyder is a fermented alcoholic beverage made from apple juice. Cider varies in alcohol content from 2% abv to 8.5% abv or more in traditional English ciders. In some regions, such as Germany and America, cider may be termed "apple wine"...
(
Apfelwein
Apfelwein
Cider in Germany is called Apfelwein , as the German language has not used the word cider. It is also regionally known as ebbelwoi, äppler, stöffsche, apfelmost , viez , and saurer most . It has an alcohol content of 5.5%–7% and a tart, sour taste...
) as a possible accompanying drink. Green sauce was supposedly Goethe's favourite meal; a legend that his mother invented it is likely apocryphal.
The local importance of the famous dish is shown by the abundance of green sauce on local markets and by the monument for green sauce installed in Frankfurt-Oberrad in 2007. The latter consists of seven small greenhouses with the main herbal ingredients and was part of the Luminale, a local art and light event.
In many Hessian families, Green Sauce is the traditional meal eaten on
Maundy Thursday
Maundy Thursday
Maundy Thursday, also known as Holy Thursday, Covenant Thursday, Great & Holy Thursday, and Thursday of Mysteries, is the Christian feast or holy day falling on the Thursday before Easter that commemorates the Last Supper of Jesus Christ with the Apostles as described in the Canonical gospels...
, relating to its German name Gründonnerstag (literally Green Thursday).
Mexican salsa verde
Green sauces are common in
Mexican
Mexican cuisine
Mexican cuisine, a style of food that originates in Mexico, is known for its varied flavors, colourful decoration and variety of spices and ingredients, most of which are native to the country. The cuisine of Mexico has evolved through thousands of years of blending indigenous cultures, with later...
cuisine. The basis of the green sauce (known as salsa verde) is typically
puree
Purée
Purée and mash are general terms for cooked food, usually vegetables or legumes, that have been ground, pressed, blended, and/or sieved to the consistency of a soft creamy paste or thick liquid. Purées of specific foods are often known by specific names, e.g., mashed potatoes or apple sauce...
d cooked or raw
tomatillo
Tomatillo
The tomatillo is a plant of the nightshade family, related to the cape gooseberry, bearing small, spherical and green or green-purple fruit of the same name. Tomatillos are a staple in Mexican cuisine. Tomatillos are grown as annuals throughout the Western Hemisphere...
s, with
jalapeño
Jalapeño
The jalapeño is a medium-sized chili pepper that has a warm, burning sensation when eaten. A mature jalapeño fruit is 2–3½ inches long and is commonly picked and consumed while still green, but occasionally it is allowed to fully ripen and turn crimson red...
s or other chiles,
white onion
White onion
White onion is a type of dry onion that has a pure white skin and a sweet, mild white flesh.This onion is used in Mexican foods or complementing the flavors of other ingredients....
, cilantro, and sometimes
lime
Lime (fruit)
Lime is a term referring to a number of different citrus fruits, both species and hybrids, which are typically round, green to yellow in color, 3–6 cm in diameter, and containing sour and acidic pulp. Limes are a good source of vitamin C. Limes are often used to accent the flavors of foods and...
added to taste. Salsa verde can range in spiciness from mild to mouth-searing. It may be warm, as in a chile verde, or cold, as a condiment. In Mexican cuisine, a green sauce is frequently used as a dip for
tortilla chip
Tortilla chip
A tortilla chip is a snack food made from corn tortillas, which are cut into wedges and then fried . Corn tortillas are made of corn, vegetable oil, salt and water. Although first mass-produced in Los Angeles in the late 1940s, tortilla chips are considered to be a Mexican food, known as tostados...
s and served with
taco
Taco
A taco is a traditional Mexican dish composed of a corn or wheat tortilla folded or rolled around a filling. A taco can be made with a variety of fillings, including beef, chicken, seafood, vegetables and cheese, allowing for great versatility and variety...
s, grilled pork, grilled meats and even fish.