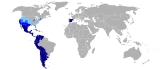 Spanish language
Spanish
also known as Castilian
Names given to the Spanish language
There are two names given to the Spanish language: Spanish and Castilian . Spanish speakers from different countries or backgrounds can show a preference for one term or the other, or use them indiscriminately, but political issues or common usage might lead speakers to prefer one term over the...
, is a
Romance language
Romance languages
The Romance languages are a branch of the Indo-European language family, more precisely of the Italic languages subfamily, comprising all the languages that descend from Vulgar Latin, the language of ancient Rome...
in the
Ibero-Romance group
Iberian Romance languages
The Iberian Romance languages or Ibero-Romance languages are the Romance languages that developed on the Iberian Peninsula, an area consisting primarily of Spain, Portugal, and Andorra....
that evolved from several languages and dialects in central-northern
Iberia
Iberian Peninsula
The Iberian Peninsula , sometimes called Iberia, is located in the extreme southwest of Europe and includes the modern-day sovereign states of Spain, Portugal and Andorra, as well as the British Overseas Territory of Gibraltar...
around the 9th century and gradually spread with the expansion of the
Kingdom of Castile
Kingdom of Castile
Kingdom of Castile was one of the medieval kingdoms of the Iberian Peninsula. It emerged as a political autonomous entity in the 9th century. It was called County of Castile and was held in vassalage from the Kingdom of León. Its name comes from the host of castles constructed in the region...
(present northern
Spain
Spain
Spain , officially the Kingdom of Spain languages]] under the European Charter for Regional or Minority Languages. In each of these, Spain's official name is as follows:;;;;;;), is a country and member state of the European Union located in southwestern Europe on the Iberian Peninsula...
) into central and southern Iberia during the later Medieval period.
Modern Spanish developed with the readjustment of consonants that began in 15th century. The language continues to adopt foreign words from a variety of other languages as well as developing new words.