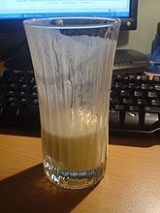 Buttermilk
Buttermilk
refers to a number of dairy drinks. Originally, buttermilk was the liquid left behind after churning
butter
Butter
Butter is a dairy product made by churning fresh or fermented cream or milk. It is generally used as a spread and a condiment, as well as in cooking applications, such as baking, sauce making, and pan frying...
out of
cream
Cream
Cream is a dairy product that is composed of the higher-butterfat layer skimmed from the top of milk before homogenization. In un-homogenized milk, over time, the lighter fat rises to the top. In the industrial production of cream this process is accelerated by using centrifuges called "separators"...
. It also refers to a range of fermented milk drinks, common in warm climates (e.g., Middle East, Pakistan, India, and the Southern United States) where unrefrigerated fresh milk otherwise sours quickly. It is also popular in Germany, Scandinavia and the Netherlands, despite the colder climates.
Buttermilk can also refer to a fermented dairy product produced from cow's milk, with a characteristically sour taste caused by lactic acid bacteria.