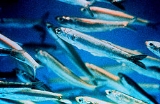 Anchovy
Anchovies
are a
family
Family (biology)
In biological classification, family is* a taxonomic rank. Other well-known ranks are life, domain, kingdom, phylum, class, order, genus, and species, with family fitting between order and genus. As for the other well-known ranks, there is the option of an immediately lower rank, indicated by the...
(Engraulidae) of small, common salt-water
forage fish
Forage fish
Forage fish, also called prey fish or bait fish, are small fish which are preyed on by larger predators for food. Predators include other larger fish, seabirds and marine mammals. Typical ocean forage fish feed near the base of the food chain on plankton, often by filter feeding...
. There are 144 species in 17 genera, found in the Atlantic, Indian, and Pacific Oceans. Anchovies are usually classified as an
oily fish
Oily fish
Oily fish have oil in their tissues and in the belly cavity around the gut. Their fillets contain up to 30 percent oil, although this figure varies both within and between species...
.
Anchovies are small, green fish with blue reflections due to a silver longitudinal stripe that runs from the base of the caudal fin. They range from 2 centimetre (0.78740157480315 in) to 40 centimetres (15.7 in) in adult length, and the body shape is variable with more slender fish in northern populations.
The snout is blunt with tiny, sharp teeth in both jaws.