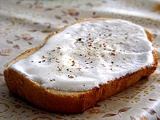 Sour cream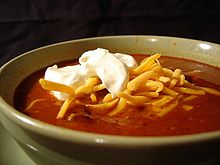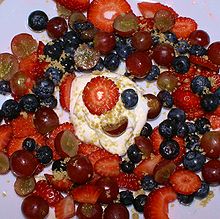 Sour cream
is a
dairy product
Dairy product
Dairy products are generally defined as foods produced from cow's or domestic buffalo's milk. They are usually high-energy-yielding food products. A production plant for such processing is called a dairy or a dairy factory. Raw milk for processing comes mainly from cows, and, to a lesser extent,...
rich in
fat
Fat
Fats consist of a wide group of compounds that are generally soluble in organic solvents and generally insoluble in water. Chemically, fats are triglycerides, triesters of glycerol and any of several fatty acids. Fats may be either solid or liquid at room temperature, depending on their structure...
s obtained by fermenting a regular
cream
Cream
Cream is a dairy product that is composed of the higher-butterfat layer skimmed from the top of milk before homogenization. In un-homogenized milk, over time, the lighter fat rises to the top. In the industrial production of cream this process is accelerated by using centrifuges called "separators"...
by certain kinds of
lactic acid bacteria
Lactic acid bacteria
The lactic acid bacteria comprise a clade of Gram-positive, low-GC, acid-tolerant, generally non-sporulating, non-respiring rod or cocci that are associated by their common metabolic and physiological characteristics. These bacteria, usually found in decomposing plants and lactic products, produce...
. The bacterial culture, which is introduced either deliberately or naturally, sours and thickens the cream. Its name stems from the production of lactic acid by bacterial fermentation, which is called
souring
Souring
Souring is a cooking technique that uses exposure to an acid to effect a physical and chemical change in food. This acid can be added explicitly , or can be produced within the food itself by a microbe such as Lactobacillus.Souring is similar to pickling or fermentation, but souring typically...
. The taste of sour cream is only mildly sour.
Traditional
Sour cream, made out of cream, contains from 18 to 20 percent
butterfat
Butterfat
Butterfat or milkfat is the fatty portion of milk. Milk and cream are often sold according to the amount of butterfat they contain.- Composition :The fatty acids of butterfat are typically composed as follows :...
–about 14 grams per 4 ounce serving–and gets its characteristic tang from the
lactic acid
Lactic acid
Lactic acid, also known as milk acid, is a chemical compound that plays a role in various biochemical processes and was first isolated in 1780 by the Swedish chemist Carl Wilhelm Scheele. Lactic acid is a carboxylic acid with the chemical formula C3H6O3...
created by the
bacteria
Bacteria
Bacteria are a large domain of prokaryotic microorganisms. Typically a few micrometres in length, bacteria have a wide range of shapes, ranging from spheres to rods and spirals...
. Commercially produced sour cream often contains additional thickening agents such as
gelatin
Gelatin
Gelatin is a translucent, colorless, brittle , flavorless solid substance, derived from the collagen inside animals' skin and bones. It is commonly used as a gelling agent in food, pharmaceuticals, photography, and cosmetic manufacturing. Substances containing gelatin or functioning in a similar...
,
rennet
Rennet
Rennet is a complex of enzymes produced in any mammalian stomach to digest the mother's milk, and is often used in the production of cheese. Rennet contains many enzymes, including a proteolytic enzyme that coagulates the milk, causing it to separate into solids and liquid...
,
guar
Guar
The guar/guwar/guvar bean or cluster bean is an annual legume and the source of guar gum. It grows best under conditions with frequent rainfall, but tolerates arid conditions well. About 80% of world production occurs in India, but, due to strong demand, the plant is being introduced into new areas...
and carrageen, as well as acids to artificially sour the product.
Light varieties
Light, or reduced-fat, sour cream contains about 40 percent less butterfat than regular sour cream because it is made from a mixture of
milk
Milk
Milk is a white liquid produced by the mammary glands of mammals. It is the primary source of nutrition for young mammals before they are able to digest other types of food. Early-lactation milk contains colostrum, which carries the mother's antibodies to the baby and can reduce the risk of many...
and cream rather than just cream. Fat-free "sour cream" contains no cream at all, and is made primarily from non-fat milk, modified cornstarch, thickeners and flavoring agents.
Storage
Sour cream is not fully fermented, and as such must be stored under
refrigeration
Refrigeration
Refrigeration is a process in which work is done to move heat from one location to another. This work is traditionally done by mechanical work, but can also be done by magnetism, laser or other means...
. As with other dairy products, it is usually sold with an expiration date stamped on the container, though whether this is a "sell by" a "best by" or a "use by" date varies with local regulation. Food authorities, such as the USDA, advise that sour cream with visible
mold
Mold
Molds are fungi that grow in the form of multicellular filaments called hyphae. Molds are not considered to be microbes but microscopic fungi that grow as single cells called yeasts...
should be discarded, as it may be contaminated below the surface and could contain dangerous mycotoxins and aflatoxin.
Uses
Sour cream is used primarily in the cuisines of
Europe
Europe
Europe is, by convention, one of the world's seven continents. Comprising the westernmost peninsula of Eurasia, Europe is generally 'divided' from Asia to its east by the watershed divides of the Ural and Caucasus Mountains, the Ural River, the Caspian and Black Seas, and the waterways connecting...
and
North America
North America
North America is a continent wholly within the Northern Hemisphere and almost wholly within the Western Hemisphere. It is also considered a northern subcontinent of the Americas...
, often as a
condiment
Condiment
A condiment is an edible substance, such as sauce or seasoning, added to food to impart a particular flavor, enhance its flavor, or in some cultures, to complement the dish. Many condiments are available packaged in single-serving sachets , like mustard or ketchup, particularly when supplied with...
. It is a traditional topping for
baked potato
Baked potato
A baked potato, or jacket potato, is the edible result of baking a potato. When well cooked, a baked potato has a fluffy interior and a crisp skin. It may be served with fillings and condiments such as butter, cheese or ham....
es, added cold along with chopped fresh chives. It is used as the base for some creamy salad dressings and can also be used in
baking
Baking
Baking is the technique of prolonged cooking of food by dry heat acting by convection, and not by radiation, normally in an oven, but also in hot ashes, or on hot stones. It is primarily used for the preparation of bread, cakes, pastries and pies, tarts, quiches, cookies and crackers. Such items...
, added to the mix for cakes, cookies, American-style
biscuit
Biscuit
A biscuit is a baked, edible, and commonly flour-based product. The term is used to apply to two distinctly different products in North America and the Commonwealth Nations....
s,
doughnut
Doughnut
A doughnut or donut is a fried dough food and is popular in many countries and prepared in various forms as a sweet snack that can be homemade or purchased in bakeries, supermarkets, food stalls, and franchised specialty outlets...
s and scones. It can be eaten as a dessert, with fruits or berries and sugar topping. In
Central America
Central America
Central America is the central geographic region of the Americas. It is the southernmost, isthmian portion of the North American continent, which connects with South America on the southeast. When considered part of the unified continental model, it is considered a subcontinent...
,
crema
(a variation of sour cream) is a staple ingredient of a
full breakfast
Full breakfast
A full breakfast is a meal that consists of several courses, traditionally a starter , a main course, tea with milk, toast and marmalade or other preserves. Many variations are possible....
.
Sour cream can also provide the base for various forms of dip used for dipping potato chips or
crackers
Cracker (food)
A cracker is a baked good commonly made from grain flour dough and typically made in quantity in various hand-sized or smaller shapes. Flavorings or seasonings, such as salt, herbs, seeds, and/or cheese, may be added to the dough or sprinkled on top before baking...
, such as onion dip.
In
Tex-Mex cuisine
Tex-Mex cuisine
"Tex-Mex" is a term used to describe a regional American cuisine that blends food products available in the United States and the culinary creations of Mexican-Americans influenced by the cuisines of Mexico. The cuisine has spread from border states such as Texas and those in the Southwestern...
, it is often used as a substitute for crema in
nachos
Nachos
Nachos are a popular food based on nixtamalized corn, of Mexican origin associated with Tex-Mex cuisine that can be either made quickly to serve as a snack or prepared with more ingredients to make a full meal. In their simplest form, nachos are tortilla chips or totopos covered in melted cheese...
, burritos, taquitos or
guacamole
Guacamole
Guacamole , is an avocado-based dip that originated in Mexico. It is traditionally made by mashing ripe avocados with a molcajete with sea salt. Some recipes call for limited tomato, spicy Asian spices such as white onion, lime juice, and/or additional seasonings.-History:Guacamole was made by...
. It is one of the main ingredients in chicken paprikas and
beef Stroganoff
Beef Stroganoff
Beef Stroganoff or Beef Stroganov is a Russian dish of sautéed pieces of beef served in a sauce with smetana or sour cream...
.
See also
Crème fraîche

Crème fraîche

Crème fraîche is a soured cream containing about 28% butterfat and with a pH of around 4.5. It is soured with bacterial culture, but is less sour than sour cream. It has a comparatively high viscosity and a higher fat content....



Fermented milk products

Fermented milk products

Fermented milk products, also known as cultured dairy foods, cultured dairy products, or cultured milk products, are dairy foods that have been fermented with lactic acid bacteria such as Lactobacillus, Lactococcus, and Leuconostoc...



Smetana
Souring

Souring

Souring is a cooking technique that uses exposure to an acid to effect a physical and chemical change in food. This acid can be added explicitly , or can be produced within the food itself by a microbe such as Lactobacillus.Souring is similar to pickling or fermentation, but souring typically...



Yoghurt

Yoghurt

Yoghurt, yogurt or yogourt is a dairy product produced by bacterial fermentation of milk. The bacteria used to make yoghurt are known as "yoghurt cultures"...