 Galitzine
For Orthodox clergyman and theologian, see Alexander Golitzin.

The Galitzines are one of the largest and noblest
prince
Prince
Prince is a general term for a ruler, monarch or member of a monarch's or former monarch's family, and is a hereditary title in the nobility of some European states. The feminine equivalent is a princess...
ly houses of
Russia
Russia
Russia or , officially known as both Russia and the Russian Federation , is a country in northern Eurasia. It is a federal semi-presidential republic, comprising 83 federal subjects...
. Since the extinction of the Korecki family in the 17th century, the Golitsyns have claimed dynastic seniority in the
House of Gediminas
Gediminids
The Gediminids were a dynasty of monarchs of Grand Duchy of Lithuania that reigned from the 14th to the 16th century. One branch of this dynasty, known as the Jagiellons, reigned also in Kingdom of Poland, Kingdom of Hungary and Kingdom of Bohemia...
. Its most notable members were
Vasily Vasilyevich Galitzine
Vasily Vasilyevich Galitzine
Prince Vasily Vasilyevich was probably the greatest Russian statesman of the 17th century. He belonged to the Galitzine family and his main political opponent was his cousin Boris Alexeyevich Galitzine.-Life:...
,
Boris Alexeyevich Galitzine
Boris Alexeyevich Galitzine
Prince Boris Alexeevich was a Russian nobleman of the Galitzine family. His chief political opponent was his own cousin Vasily Vasilyevich Galitzine.-Life:Boris was a court Chamberlain since 1676...
and
Dmitry Mikhaylovich Galitzine
Dmitry Mikhaylovich Galitzine
Prince Dmitry Mikhaylovich was a Russian nobleman of the Galitzine family. A cousin of Vasily Vasilyevich Galitzine, he was noted for his noble attempt to turn Russia into a constitutional monarchy...
.
Origins
The family descends from a
Lithuania
Lithuania
Lithuania , officially the Republic of Lithuania is a country in Northern Europe, the biggest of the three Baltic states. It is situated along the southeastern shore of the Baltic Sea, whereby to the west lie Sweden and Denmark...
n prince George, son of
Patrikas
Patrikas
Patrikas Narimantaitis was a grandson of Gediminas who exchanged his lands in and near Starodub in Siveria for the Korela and Oreshek fortresses in the Novgorod Republic. He also founded the town of Yamburg in Ingria...
and grandson of Narimantas. He emigrated to the court of
Vasily I
Vasili I of Russia
Vasiliy I Dmitriyevich was Grand Prince of Moscow from 1389.He was the oldest son of Dmitri Donskoi and Grand Princess Eudoxia, daughter of Grand Prince Dmitry Konstantinovich of Nizhny Novgorod.-Domestic policy:...
and married his sister. His children and grandchildren, such as
Vassian Patrikeyev
Vassian Patrikeyev
Vassian Patrikeyev, also known as Vassian Kosoy was a Russian ecclesiastic and political figure and writer...
, were considered premier Russian boyars. One of them, Prince Mikhail Bulgakov, was nicknamed Galitsa for an iron glove he wore in the
Battle of Orsha
Battle of Orsha
The Battle of Orsha was fought on 8 September 1514, between the allied forces of the Grand Duchy of Lithuania and Kingdom of Poland, under the command of Hetman Konstanty Ostrogski, and the army of Grand Duchy of Moscow under Konyushy Ivan Chelyadnin and Kniaz Mikhail Golitsin...
(1514). His great grandson Prince Vasily Golitsyn (+1619) was active during the
Time of Troubles
Time of Troubles
The Time of Troubles was a period of Russian history comprising the years of interregnum between the death of the last Russian Tsar of the Rurik Dynasty, Feodor Ivanovich, in 1598, and the establishment of the Romanov Dynasty in 1613. In 1601-1603, Russia suffered a famine that killed one-third...
and went as an ambassador to
Poland
Poland
Poland , officially the Republic of Poland , is a country in Central Europe bordered by Germany to the west; the Czech Republic and Slovakia to the south; Ukraine, Belarus and Lithuania to the east; and the Baltic Sea and Kaliningrad Oblast, a Russian exclave, to the north...
to offer the Russian crown to Prince Władysław.
Other notable Golitsyns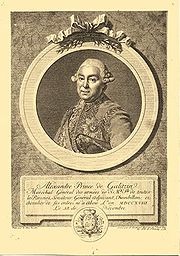 Dmitry
Dmitry Mikhaylovich Galitzine
Prince Dmitry Mikhaylovich was a Russian nobleman of the Galitzine family. A cousin of Vasily Vasilyevich Galitzine, he was noted for his noble attempt to turn Russia into a constitutional monarchy...
's brother Mikhail (c.1674–1730) was a celebrated heroical soldier, 'prince valiant', who is best known for his governorship of
Finland
Finland
Finland , officially the Republic of Finland, is a Nordic country situated in the Fennoscandian region of Northern Europe. It is bordered by Sweden in the west, Norway in the north and Russia in the east, while Estonia lies to its south across the Gulf of Finland.Around 5.4 million people reside...
(1714–1721), where his magnanimous rule was remembered as noble and exemplary by the people he had conquered as the
Greater Wrath
Greater Wrath
The Greater Wrath is a term used in Finnish history for the Russian invasion and subsequent military occupation of Eastern Sweden, now Finland, from 1714 until the treaty of Nystad 1721, which ended the Great Northern War, although sometimes the term is used to denote all of the Great Northern...
(Swedish: Stora ofreden). General field marshal.
His younger brother, another Mikhail Mikhaylovich Golitsyn (1684–1764) was general admiral of the Russian fleet (1756)
And Mikhail's son
Alexander Mikhaylovich
Aleksandr Mikhailovich Golitsyn (field marshal)
Aleksandr Mikhailovich Golitsyn was a Russian prince of the Galitzine and field marshal. He was the governor of Saint Petersburg in 1780 to 1783.-Early life:...
(1718–1783) was a diplomat and soldier, who likewise rose to be field-marshal and governor of
St. Petersburg
Saint Petersburg
Saint Petersburg is a city and a federal subject of Russia located on the Neva River at the head of the Gulf of Finland on the Baltic Sea...
.
Another son of Mikhail's, Dmitry Mikhaylovich (1721–1793), was the Russian ambassador in
Vienna
Vienna
Vienna is the capital and largest city of the Republic of Austria and one of the nine states of Austria. Vienna is Austria's primary city, with a population of about 1.723 million , and is by far the largest city in Austria, as well as its cultural, economic, and political centre...
during the reign of Catherine the Great. Primarily remembered for the splendid Galitzine Hospital he opened in Moscow, he should also be noted as a great friend and patron of Mozart.
Another Alexander Mikhaylovich Golitsyn (1723–1804) son of general admiral Mikhail Mikhaylovich Golitsyn
Prince
Dmitry Alekseyevech Golitsyn
Demetrius Alekseyevich Gallitzin
Prince Demetrius Alexeievich Gallitzin FRS was a Russian diplomat.He was Russian ambassador to the Kingdom of the Netherlands.-Family:...
(1738 - 1803) was the Russian ambassador to
Netherlands
Netherlands
The Netherlands is a constituent country of the Kingdom of the Netherlands, located mainly in North-West Europe and with several islands in the Caribbean. Mainland Netherlands borders the North Sea to the north and west, Belgium to the south, and Germany to the east, and shares maritime borders...
and a Fellow of the Royal Society.
A son of Dmitry Alekseyevich, prince
Dmitry Dmitriyevich Golitsyn
Demetrius Augustine Gallitzin
Prince Demetrius Augustine Gallitzin was an emigre Russian aristocrat and Catholic priest known as The Apostle of the Alleghenies. Since 2005, he has been under investigation for possible canonization by the Catholic Church...
(1770–1840), also known as the Apostle of the Alleghanies, was the first Roman Catholic priest ordained in America; a settlement in
Pennsylvania
Pennsylvania
The Commonwealth of Pennsylvania is a U.S. state that is located in the Northeastern and Mid-Atlantic regions of the United States. The state borders Delaware and Maryland to the south, West Virginia to the southwest, Ohio to the west, New York and Ontario, Canada, to the north, and New Jersey to...
is named after him. He is currently under investigation for possible Sainthood, his current title is
Servant of God
Servant of God
Servant of God is a title given to individuals by various religions, but in general the phrase is used to describe a person believed to be pious in his or her faith tradition. In the Catholic Church, it designates someone who is being investigated by the Church for possibly being recognized as a...
.
Prince Dmitri Vladimirovich Golitsyn (1771–1844) fought bravely during the Napoleonic wars, was promoted to the rank of
Lieutenant General
Lieutenant General
Lieutenant General is a military rank used in many countries. The rank traces its origins to the Middle Ages where the title of Lieutenant General was held by the second in command on the battlefield, who was normally subordinate to a Captain General....
and governed
Moscow
Moscow
Moscow is the capital, the most populous city, and the most populous federal subject of Russia. The city is a major political, economic, cultural, scientific, religious, financial, educational, and transportation centre of Russia and the continent...
for 25 years.
Prince Alexander Nikolayevich (1773–1844) was a reactionary minister of education in the government of
Alexander I
Alexander I of Russia
Alexander I of Russia , served as Emperor of Russia from 23 March 1801 to 1 December 1825 and the first Russian King of Poland from 1815 to 1825. He was also the first Russian Grand Duke of Finland and Lithuania....
. He headed an investigation into masonic involvement in the Decembrist uprising of 1825 and served as the Chairman of
the State Council
State Council of Imperial Russia
The State Council was the supreme state advisory body to the Tsar in Imperial Russia.-18th century:Early Tsars' Councils were small and dealt primarily with the external politics....
from 1838 to 1841.
Prince Nikolay Borisovich (1794–1866) was an amateur cellist who commissioned
Beethoven
Ludwig van Beethoven
Ludwig van Beethoven was a German composer and pianist. A crucial figure in the transition between the Classical and Romantic eras in Western art music, he remains one of the most famous and influential composers of all time.Born in Bonn, then the capital of the Electorate of Cologne and part of...
to write his last string quartets, sometimes called the
Galitzin quartets
String Quartets Nos. 12 - 16 and Grosse Fuge, Opus 127, 130 - 135 (Beethoven)
The following set of string quartets is generally referred to as Beethoven's Late String Quartets, including the Grosse Fuge :*Opus 127: String Quartet No. 12 in E flat major...
.
Prince Alexey Vasilyevich (1832–1901) was a friend of
Pyotr Ilyich Tchaikovsky
Pyotr Ilyich Tchaikovsky
Pyotr Ilyich Tchaikovsky Pyotr Ilyich Tchaikovsky Pyotr Ilyich Tchaikovsky (Russian: Пётр Ильи́ч Чайко́вский ; often "Peter Ilich Tchaikovsky" in English. His names are also transliterated "Piotr" or "Petr"; "Ilitsch", "Il'ich" or "Illyich"; and "Tschaikowski", "Tschaikowsky", "Chajkovskij"...
. Like the composer, Golitsyn was homosexual; but unlike the composer, he lived openly with his lover, Nikolay Vasilyevich Masalitinov (d. 1884).
Prince
Grigory Sergeyevich Golitsin
Grigory Sergeyevich Golitsin
Prince Grigory Sergeyevich Golitsin was a Russian general and statesman.Grigory Golitsin fought in Caucasian War, studied at General Staff Academy, commanded regiments...
(1838—1907) was a general and the Governor of Transcaucasia in 1897-1904.
Prince Lev Sergeyevich (June 24, 1845 - January 8, 1916 (June 12, 1845 - December 26, 1915, Old Style)) was one of the founders of
wine
Wine
Wine is an alcoholic beverage, made of fermented fruit juice, usually from grapes. The natural chemical balance of grapes lets them ferment without the addition of sugars, acids, enzymes, or other nutrients. Grape wine is produced by fermenting crushed grapes using various types of yeast. Yeast...
-making in
Crimea
Crimea
Crimea , or the Autonomous Republic of Crimea , is a sub-national unit, an autonomous republic, of Ukraine. It is located on the northern coast of the Black Sea, occupying a peninsula of the same name...
. In his Crimean estate of
Novyi Svet
Novyi Svet
Novyi Svit is a resort town in Crimea, Ukraine, known for Novy Svet sparkling wine produced there. Champagne production was introduced into Novy Svet by a local landowner, Prince Lev Golitsyn, in the late 19th century....
he built the first Russian factory of champagne wines. In 1889 the production of this winery won the Gold Medal at the
Paris
Paris
Paris is the capital and largest city in France, situated on the river Seine, in northern France, at the heart of the Île-de-France region...
exhibition in the nomination for
sparkling wine
Sparkling wine
Sparkling wine is a wine with significant levels of carbon dioxide in it making it fizzy. The carbon dioxide may result from natural fermentation, either in a bottle, as with the méthode champenoise, in a large tank designed to withstand the pressures involved , or as a result of carbon dioxide...
s. He became the surveyor of imperial vineyards at
Abrau-Dyurso
Abrau-Dyurso
Abrau-Dyurso or Abrau-Durso is a village under the jurisdiction of the city of Novorossiysk, Krasnodar Krai, Russia. It is located on the shore of Lake Abrau, west of Novorossiysk...
in 1891.
Prince Boris Borisovich (1862–1916) was a prominent physicist who invented the first electromagnetic seismograph in 1906.
Prince
Nikolay Dmitriyevich Golitsyn
Nikolai Golitsyn
Prince Nikolai Dmitriyevitch Galitsyn was a member of the Galitzine family. He was the last Imperial prime minister of Russia from January 1917 until his government fell during the revolution of March 1917, when the Tsar was also forced to abdicate....
(1850–1925) was the last Tsarist prime minister of Russia, at the time of the
February Revolution
February Revolution
The February Revolution of 1917 was the first of two revolutions in Russia in 1917. Centered around the then capital Petrograd in March . Its immediate result was the abdication of Tsar Nicholas II, the end of the Romanov dynasty, and the end of the Russian Empire...
.
Sergei Golitsyn
Sergei Golitsyn
Sergei Mikhailovich Golitsyn — 7 November 1989) was a Russian-Soviet writer.-Biography:Sergei Mikhailovich Galitsyn was born on 14 March 1909 at an estate in the Tula guberniya. His father was prince Mikhail Vladimirovich Galitsyn ,a member of the powerful Russian Golitsyn family, and his...
(1909–1989) wrote Memoirs of a Survivor: The Golitsyn Family in Stalin's Russia, a memoir of his experiences of the period from the start of the Revolution in 1917 to Russia's entry into World War II in 1941.
Prince Yuri Galitzine Born Yokoharma Japan 1919 One of the founders of public relations having written the hand book on the subject and pushed research on the family forward to being published in a book. He was also a member of The Right Society and yet championed action against concentration camps after being the first allied officer to witness one firsthand (Natzweiler)
Princess
Irene Galitzine
Irene Galitzine
Princess Irene Galitzine was a Russian-Georgian-born fashion designer whose most renowned creation was the "palazzo pyjama"...
(1916–2006) fashion designer.
Prince
Georgy Sergeyevich Golitsyn
Georgy Galitzine
Georgy Sergeyevich Golitsyn is a prominent Russian scientist in the field of Atmospheric Physics, full member of the Academy of Sciences of the USSR since 1987, Editor-in-Chief of , member of the Academia Europaea since 1999.1990-2009 - Director of the A.M...
(born 1935) is a Russian physicist noted for his research on the concept of
nuclear winter
Nuclear winter
Nuclear winter is a predicted climatic effect of nuclear war. It has been theorized that severely cold weather and reduced sunlight for a period of months or even years could be caused by detonating large numbers of nuclear weapons, especially over flammable targets such as cities, where large...
.
Prince Leo Galitzine. Escaped from Soviet Russia during World War I, came to settle in Canada by 1932 when he was active in the mineral rush to
Great Bear Lake
Great Bear Lake
Great Bear Lake is the largest lake entirely within Canada , the third or fourth largest in North America, and the seventh or eighth largest in the world...
,
Northwest Territories
Northwest Territories
The Northwest Territories is a federal territory of Canada.Located in northern Canada, the territory borders Canada's two other territories, Yukon to the west and Nunavut to the east, and three provinces: British Columbia to the southwest, and Alberta and Saskatchewan to the south...
, the site of a silver and radium boom town. Galitzine, together with his wife
Princess, bought an airplane and started a charter company at Great Bear Lake. By 1933, Galitzine was living in Edmonton, Alberta.
Prince George Golitzin was the associate producer for Pollyanna and Parent Trap.
His brother, Prince
Alexander Golitzen
Alexander Golitzen
Alexander Golitzen, oversaw art direction on more than 300 movies.Prince Alexander Golitzen was born in Moscow, but fled the country with his family during the Russian Revolution. Travelling via Siberia and China, they arrived in Seattle, where Alexander graduated from high school...
was art director for hundreds of movies. He also built the sets for many an award ceremony.
Prince George's children are Alexander, John, Katherin and George. Father Alexander (Golitzin) (born 1948), is an Orthodox priest, monk, patristic scholar and professor of theology at Marquette University in Milwaukee, Wisconsin, USA. His work focuses on the discerning the roots of eastern Christian spirituality in Second Temple Judaism. John Golitzin was an opera singer, now deceased. George Golitzin received his bachelors in Mathematics from
Harvard University
Harvard University
Harvard University is a private Ivy League university located in Cambridge, Massachusetts, United States, established in 1636 by the Massachusetts legislature. Harvard is the oldest institution of higher learning in the United States and the first corporation chartered in the country...
and PhD in Mathematics from
Yale university
Yale University
Yale University is a private, Ivy League university located in New Haven, Connecticut, United States. Founded in 1701 in the Colony of Connecticut, the university is the third-oldest institution of higher education in the United States...
, specializing in
Algebraic Number Theory
Algebraic number theory
Algebraic number theory is a major branch of number theory which studies algebraic structures related to algebraic integers. This is generally accomplished by considering a ring of algebraic integers O in an algebraic number field K/Q, and studying their algebraic properties such as factorization,...
.
http://www.marquette.edu/maqom/

.
Prince Vincent Blagoïevitch Golitsyn (born 1970): Officer in the French Army: Ordering with the BRGE (Intelligence Services for Electronic War). President of the Russian company EKKOIL (January 2009). Advisor in political communication of Russian President Vladimir Poutine (2007 +)
Allen William Galitzen: born in California, U.S.A. (1918 - 1996): United States Navy machinist and US Army transportation corp during World War II. "Seabee". Merchant Marines. Awarded Pacific War Zone Bar. Underwater demolition/constuction in Pacific. Served 20 years in the U.S. Navy. USAT "Ludington", USAT "Evangeline", USAT "Frederick Funston", USS "Coral Sea", USAT "ADM. E.W. Eberle", USAT "Gen. M.M. Patrick", USAT "Gen. W.F. Hase", USS "Enterprise". Also served at US naval shipyards at Hunters Point, CA, and Mare Island, CA. Later in his career he worked on advanced ballistics for military grade submarine launched ballistic missiles, i.e. Trident and Polaris. Owner of a famous Hohner accordion which was passed down through three consecutive generations and now under restoration in Vancouver, WA. Married to June Bicoff in 1941. 2 children, Robert Allen Galitzen (b. 1943 - 2004), Bonnie Louise Galitzen (b. 1948 - )
Michael Riley Galitzen, also known as Mickey Riley (September 6, 1909, Los Angeles, California – June 6, 1959, Hollywood, California) was an American diver who won four total medals, one gold, at the 1928 Summer Olympics and 1932 Summer Olympics.
Galitzen was a native of southern California, and won acclaim both for his individual diving and as a tandem diver with his brother John. He won two medals in diving at Amsterdam in 1928 as Michael Galitzen. In 1931, he began calling himself Mickey Riley, and won gold and silver medals in Los Angeles in 1932 under that name. After the Olympics, he worked as a film editor, and he and John appeared frequently in diving shows. He was found dead in his Hollywood apartment in 1959; the death was attributed to natural causes.
Galitzen was inducted into the International Swimming Hall of Fame in 1977.
Alexander Golitzen
Alexander Golitzen
Alexander Golitzen, oversaw art direction on more than 300 movies.Prince Alexander Golitzen was born in Moscow, but fled the country with his family during the Russian Revolution. Travelling via Siberia and China, they arrived in Seattle, where Alexander graduated from high school...
, (Moscow, February 28, 1908 – San Diego, July 26, 2005) oversaw art direction on more than 300 movies.
Prince Alexander Golitzen was born in Moscow, but fled the country with his family during the Russian Revolution. Travelling via Siberia and China, they arrived in Seattle, where Alexander graduated from high school. He then attended the University of Washington, where he achieved a degree in architecture.
He started his art direction career in Los Angeles, as an assistant to Alexander Toluboff, an art director for MGM. He started working with Walter Wanger (a producer) in 1939 and they worked together for many movies. Starting in 1942, and continuing for the next 30 years, he became a unit art director, and later a supervising art director at Universal, overseeing dozens of productions.
Alexander Golitzen earned an Academy Award nomination for Foreign Correspondent (1940), and received three Oscars for Phantom of the Opera in 1943, Spartacus in 1960 and To Kill a Mockingbird in 1962.
He was also nominated for an Academy Award for his work on Sundown (1941), Arabian Nights (1942), The Climax (1944), Flower Drum Song (1961), That Touch of Mink (1962), Gambit (1966), Thoroughly Modern Millie (1967), Sweet Charity (1969), Airport (1970), and Earthquake (1974). He served on the Academy's board of directors for several years.
Alexander was married for 72 years to Frances, who survived him. They had a daughter Cynthia, a son Peter, five grandchildren and a great-granddaughter.
External links