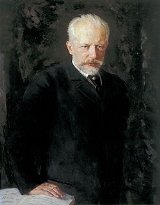 Pyotr Ilyich Tchaikovsky
Pyotr Ilyich Tchaikovsky
tʃaɪˈkɒfski (
Russian
Russian language
Russian is a Slavic language used primarily in Russia, Belarus, Uzbekistan, Kazakhstan, Tajikistan and Kyrgyzstan. It is an unofficial but widely spoken language in Ukraine, Moldova, Latvia, Turkmenistan and Estonia and, to a lesser extent, the other countries that were once constituent republics...
: Пётр Ильи́ч Чайко́вский
ˈpʲɵtr ɪlʲˈjitɕ tɕɪjˈkofskʲɪj; often "Peter Ilich Tchaikovsky" ˈpiːtər ˈɪlɨtʃ tʃaɪˈkɒvski in English. His names are also transliterated "Piotr" or "Petr"; "Ilitsch", "Il'ich" or "Illyich"; and "Tschaikowski", "Tschaikowsky", "Chajkovskij" and "Chaikovsky" (and other versions; the transliteration varies among languages).